By, Khalif Ali Husain2, The Alternate Gazette
(The Alternate Gazette)-Alternate History Fandom admin User:TheCrimsonOracle has just been implicated in a controversy. This controversy came to be due to the banning of the user User:Emaliay, reportedly largely due to his influence, sources say.
In fact several people have said that much of the drama currently on the wiki can be traced back to User:TheCrimsonOracle's attacks on a group of new users, Ema among them, who joined MDM at roughly the same time. After the map game had ended, several users report that Crim possibly continued his harassment, targeting User:Emaliay, banning T0oxi, and deleting a timeline, in a series of actions that were disputed and eventually rolled back.
Some now are even suggesting admin impeachment, but does User:TheCrimsonOracle deserve to be impeached ?
It is stated an admin must be fair, restrained, and/or constructive with their dealings with other editors, the base for the impeachment of Crim lay at the fact, that Crim has demonstrated he is far from fair, and is better described as arbitrary, feeling the need to support the wanton permanent banning of several users - which is the harshest crime on the wiki for minor offences, if they exist at all, or because of his personal opinion of them or their associates.
But what about Crim's accomplishments ?
Crim has certainly done some very good things for this wiki, contributing to articles, moderating map games, and creating timelines, should that all go to waste ?
But should he be impeached ?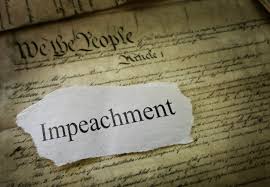 Well it is up to the users to decide, if you want to let your voice be known, go to Alternative History:Request for user rights#TheCrimsonOracle, then either support impeachment, or object to it.
If you want more research : https://imgur.com/a/3lPuFDj
The Alternate Gazette doesn't support of object to the impeachment of TheCrimsonOracle,
-Khalif Ali Husain2, December 31, 2020.