Edward III of England
was born on November 13, 1312 to
Edward II of England
and
Isabella of France
.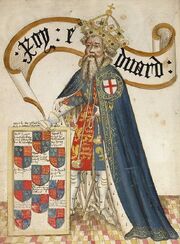 Changes in timeline created chain reaction causing Edward II to make his son crowned 21 more days than in our timeline. When he received the krown on February 22, 1327 he became Young King and later that year when Edward died he became ruler of state heading into war. June 26 (1 month and 2 days earlier than in our timeline), 1337 army sails from London. The Breton War of Succesion breaks out and starts
13 Years' War
. Thanks to Black Death 13 Years' War causes north of France to fall to England. On November 23, 1350 it is sained that Edward will rule north or English France and
John II of France
will rule South France. Later he gives Paris as land to his son
Edward
, born October 11, 1338 to his wife Phillipa. Meanwhile he also got Luxembourg from John the Blind by marriage of Edward to John's daughter
Joan
. On May 28, 1341 his second child and daughter was born called
Margaret
. He died in London on March 27, 1389. On day of his death he made both king titles joined and so his son had two titles and not three (duke and 2 king titles). He was one of
Plantagenets
.
Community content is available under
CC-BY-SA
unless otherwise noted.