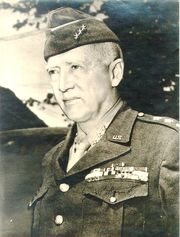 George Smith Patton was born San Gabriel Township, California on November 11, 1885.
As a boy, Patton read widely in the classics and military history. His father was a friend of John Singleton Mosby, the noted cavalry leader of the Confederate Army in the American Civil War who served first under J.E.B. Stuart and then as a guerrilla fighter. Patton grew up hearing Mosby's stories of his adventures, and longed to become a general himself. Patton came from a military family, his grandfather being a colonel in the Confederate army.
Patton entered the Virginia Military Institute and was regarded as an excellent student, graduating in 1908 with a commission as a cavalry officer. Patton was promoted to Lieutenant after only 6 months service and was a captain 3 years later. He served in Panama and Cuba before returning home in early 1914. He then served as a staff officer at Fort Scott, where he remained until war was declared in 1915. In May 1915 he arrived in Britain with a Cavalry Battalion and remained there until June 1916 when he took part in the Dutch landings. He fought at the battles of Rotterdam and Bruxelles before being sent home in December 1916 to raise a tank regiment. He spent the next year at Fort Lee, Virginia training a tank force ready to be used for a major offensive. This force was then shipped to Brest where it was used in the Brittany campaign, under Patton's command. In March 1918 Patton was sent home and made commander at Fort Lee which had recently been made a tank school. Patton remained there until 1921 when he was sent to Cuba to oversee tank forces there. In 1923 he was sent to Germany to help them set up an armoured force. He spent the next five years touring the world on similar missions to Mexico, Argentina, Spain, Italy, Turkey and India. In 1928 he returned to Fort Lee as commander and remained there for 8 more years. In 1936 he then went off to take command of the 1st US Armoured Division, he remained in command until 1942, leading the Division through the first year of the war in China. Then in November he was transferred to Europe to lead a corps in Libya and later Sicily. He then went to Britain to take command of the US 5th Army (1943 - 44), and later the US 9th Army Group (1944) which he led during the invasion of europe.
In 1946 he returned to the US to a hero's welcome. He served as commander of US home forces (1946 - 1948) before being sent as chief of the US military mission in China (1948 - 1949). In April 1950 he founded the Army of the Star Spangled Banner (ASSB) and American veterans group. In 1951 he critisized President Marshall's policy of "dialogue", two months later he was sacked from the army and returned to his native California. He had a strong relationship with Vice President McCarthy and continued giving pro Republican speeches until his death in 1959.
| | | |
| --- | --- | --- |
| | Lieutenant, Regular Army | January 10, 1909 |
| | Captain, Regular Army | July 25, 1912 |
| | Major, Regular Army | February 16, 1914 |
| | Lieutenant Colonel, National Army | January 8, 1917 |
| | Colonel, National Army | March 27, 1918 |
| | Lieutenant Colonel, Regular Army | June 8, 1919 |
| | Colonel, Regular Army | April 13, 1930 |
| | Brigadier General, Regular Army | November 12, 1934 |
| | Major General, Regular Army | December 5, 1935 |
| | Lieutenant General, Regular Army | November 1, 1942 |
| | General, National Army | August 28, 1943 |
| | General of the Army, Regular Army | January 1, 1945 |
Community content is available under
CC-BY-SA
unless otherwise noted.