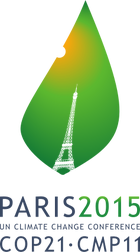 The 2015 United Nations Climate Change Conference, COP 21 or CMP 11 was a United Nations conference held in Paris, France, from 30 November to 12 December 2015. It was the 21st yearly session of the Conference of the Parties (COP) to the 1992 United Nations Framework Convention on Climate Change (UNFCCC) and the 11th session of the Meeting of the Parties to the 1997 Kyoto Protocol. It was the first time Scotland attended, as an independent nation. The Conference took place just weeks after the Daesh terrorist attacks in Paris, leading to an increase in police and military forces as it took place.
The Conference was seen to be quite successful though had some issues. However, Scotland agreed to many ecologically positive methods, and has pledged to become one of the most ecologically friendly nations by 2025.
On June 1, 2017, U.S. President Donald Trump confirmed that the United States will withdraw from the 2015 UNCC, to the chagrin of most of the signatories of the deal.