Welcome to the Alternate History Wiki,

We currently have

55,826

articles, and look forward to growth!

Since: 26 January 2005.


How You Can Contribute
Any and all original alternate histories are permitted here. You are welcome to contribute any pages you wish, whether it be a minor sketch of an alternate history or an entire story that's fully-fleshed out. Should you have suggestions or material you'd wish to add to an existing alt-history, please contact the author to discuss integration, or propose it on the discussion pages. Please make sure you understand the typical definition of Alternate History, found in the
What is Alternate History
page. While Future Histories are interesting, as is Science Fiction, these are not within the scope of our wiki. Note that only those timelines which are created by the author should be posted and not those which are derivative work.
While at this time we are only exhibiting pages relating to our Alternate histories, we aren't ruling out the possibilities of discussion, or description pages to help would-be alt-historians get off to a good start.
Please read and adhere to the Conventions in use in this wiki before you start contributing!
To add an althist, just begin editing in the
List of Alternate histories


This Month's Featured Althist
Washington Shot at Murdering Town!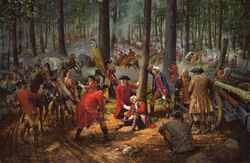 Young Major George Washington was executing his first important mission under Virginia's Governor Dinwiddie. French troops were said to be building forts west of the Blue Ridge Mountains, which the Governor knew to be within Britain's territory. Washington was in command of a small group which was to travel through the inhospitable region and deliver a note to the French. These were essentially the first written words leading to the Seven Years War (The French and Indian War). Having exhausted his horses, Washington and his companions continued on foot through the snow. They reached a village called Murdering Town. The first inhabitant they encountered shot at them at point-blank range. In our timeline neither Washington nor Christopher Ghist was hit. But what if Major Washington was shot there beside the Monongahela?
---
This timeline explores an America that develops without its greatest Founding Father. The farthest-reaching consequences are in a different British Empire, a lack of sovereign Nations in the New World, and a recoil against the liberal ideals created by intellectuals in the 17th and 18th centuries. Today, most nations are still directed by large imperial blocs. The values of man have changed: he has come to see the value in lasting security rather than the vague concept of "freedom" associated with old liberal philosophers. The theme is not about famous hinge points changing the world, but the lesson that ideas, nations and individuals are at a crossroads; the activities of all people are linked.
This is an Open Timeline. Community members may add to it if they wish.
Check out the current nominations for featured alternate history
Community content is available under
CC-BY-SA
unless otherwise noted.