Acot Huasac
Timeline: Aztec Empire

1st Dictator of the Inca Empire
August 23, 1957 - December 8, 1943

Born
April 02 1881
Arequipa
Died
December 08, 1943
Tomebamba
Profession
Politician, Military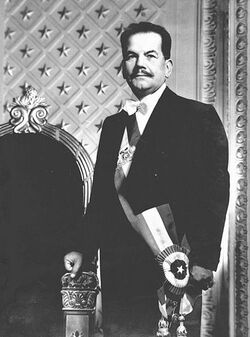 Acot Huasac (02 April 1881 – 08 December 1943) was an Incan politician and the leader of the Jaguar Party. He was the ruler of the Incan Empire from 1930 to 1943, serving as chancellor from 1934 to 1943 and as head of state (since he reduce the emperor's power) from 1935 to 1943.
A decorated air force veteran of World War I, Huasac joined the Jaguar Party in 1920 and became its leader in 1921. Following his imprisonment after a failed coup in 1923, he gained support by promoting nationalism and anti-Aztec with charismatic oratory and propaganda. He was appointed chancellor in 1934, and quickly established a totalitarian and fascist dictatorship. Acot Huasac pursued a foreign policy with the declared goal of economic reactive for the Inca people, directing the resources of the state toward this goal. He signed pacts with the Axis forces, thanks to common Fascist ideas.
During the drop of the first Aztec/American atomic bomb in Tomebamba, Huasac died.
Community content is available under
CC-BY-SA
unless otherwise noted.