Adolf Hitler
Born
20 April 1889
Braunau am Inn, Austria-Hungary
Died
23 September 1962 (aged 73)
Hanover, Germany
Occupation
Philosopher, painter, mystic, linguist
Political party
Hitlerist Unification Party
Religion
Vanatru (Asatru/Germanic neopaganism)

Spouse(s)

Eva Braun (m. 1948)
Children
Hans, Andreas, Agnes
Adolf Hitler (20 April 1889 – 23 September 1962) was a German philosopher, painter, mystic, religious leader, and linguist. He is considered one of the most influential thinkers of the 20th century, having developed a Pan-Germanic cultural and political movement called Hitlerism, which involved the foundation of the Germanic League, the creation of an auxiliary Germanic language called Teedish, and the spread of the Vanatru, a new religious movement, throughout Europe. Hitler helped create the concept of a Germanic world, still widely influential on the politics and culture of central and northern European nations to this day.
Hitler's main intellectual influences were aspects of the philosophies of Kant, Schopenhauer, and Nietzsche, particularly the criticism of traditional religions and racial relations, whereas certain other aspects were rejected. As a mystic, Hitler acquired his knowledge and inspiration from English occultists Aleister Crowley and Gerald Gardner. He was also strongly influenced by the 19th-century Völkisch movement.
Biography
Hitler was born in Braunau am Inn, Austria-Hungary, and was raised near Linz. He moved to Germany in 1913 and was decorated during his service in the German Army in the Great War. In his twenties, Hitler gained popular support by attacking the Treaty of Versailles and promoting Pan-Germanism, anti-semitism, anti-communism, and the restoration of Germanic neopaganism, also known as Vanatru. With charismatic oratory, he frequently denounced international capitalism and communism as part of a Jewish conspiracy and supported the creation of a greater social democratic state uniting all Germanic peoples of Europe. Hitler believed these countries were a single nation that was fragmented and weak, and endorsed a modern restoration of it under one powerful state with its own language and religion.
An accomplished academician, Hitler rose to prominence in the 1940s and strongly supported Germany in the Polish-German War, during which he founded the Germanic League. After Germany's defeat in the war, Hitler lost faith in military and political ambitions and began focusing his efforts on a cultural integration of Germanic countries. He created Teedish, a constructed language based on common Germanic lexicon intended to be easy to learn. He believed that Teedish would eventually replace English as an international auxiliary language. Hitler opposed Esperanto because its grammar and vocabulary relied very little on Germanic roots, being mostly based on Romance and Slavic languages, and because it was created by L.L. Zamenhof, a Pole of Jewish origin.
Hitler criticized and opposed the world's widely-practiced monotheistic religions of Christianity, Judaism, and Zoroastrianism, and their influence on Europe. He had a strong interest in occultism and Germanic mythology. In the late 1940s, he developed a friendship with Gerald Gardner and Aleister Crowley, the respective founders of Wicca and Thelema, and became fascinated with the magic and practices of their cults. In 1948, he founded a henotheistic religious movement called Vanatru, which revered gods of the Germanic pantheon, with Odin above all them, and practiced several rituals of magic. Vanatru gained adherents in Germany, Austria, and Denmark, but also suffered public criticism, especially from Christian groups.
Hitlerism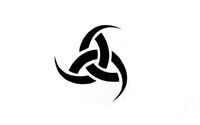 According to Hitler's sociocultural philosophy, called Hitlerism (German: Hitlerismus), Europe was an overly fragmented continent, with tens of different states, while in an ideal world it would hold only a few nations based around ethnicity. He saw that the largest, richest, and most powerful of them would be a Germanic nation comprising not only the areas where Germanic languages are spoken, but also former territories of the Frankish and Holy Roman Empires. He called that imaginary nation the "Great Germanic Reich" (Großdeutsches Reich), and sought to unite it under a single language and religion, eliminating foreign Abrahamic influence (mainly Jewish and Christian) and dividing aspects such as distinct languages and governments. During his youth, Hitler traveled through Europe and wrote numerous treatises and books. One of his main goals was to initiate a political and militaristic movement to create the unitary superstate he envisioned.
During the Great War, Hitler served in Germany's Bavarian Army as a Gefreiter, despite being born in Austria. He was wounded at the Battle of the Somme and was decorated with the Iron Cross for his bravery. He described the war as "the greatest of all experiences" and developed an interest in militarism that grew over time, while still pursuing his artistic career as a painter. For a number of factors, however, he failed to gain support for his political cause. In the 1940s, he strongly supported Germany in the Polish-German War. However, after Germany lost the war and received international sanctions and prohibitions even more strict than those of the Treaty of Versailles, he lost his interest in militarism and decided to focus solely on the cultural aspects of his philosophy.
After the end of the Polish-German War in 1941, Hitler started developing an easy-to-learn constructed language called Teedish in the hope of integrating Germanic nations. While English and Esperanto were already potentially auxiliary languages at the time, he rejected both because he wanted something new, unique, and devoid of bias and Jewish influence (Esperanto was created by the Jewish physician L. L. Zamenhof). Contrarily to those heavily Latinized languages, Teedish words rely solely on Germanic etymology and can be easily understood by speakers of German, Dutch and Nordic languages. Despite rejecting Esperanto lexicon, Hitler relied strongly on Esperanto grammar to formulate Teedish grammar.
In 1942, Hitler promoted his linguistic invention profusely, with exhaustive campaigns in many intellectual and political circles. He made it the official language of the Germanic League, which he had created two years earlier, and also inserted it into his native Austria-Hungary, a multilinguistic country which lacked an unbiased lingua franca (even though Teedish was more familiar to Austrians than to Hungarians and Slavs, its simplicity and artificiality made it much more interesting than German).
Having created his envisioned Germanic language and promoted it with relative success by the half of the decade, Hitler's efforts were shifted towards a religious movement afterwards. In his works, he often attacked Christianity and Judaism and their influence on the European society. Over time, he developed a strong interest in Germanic mythology and Neopagan movements. From 1946 to 1948, he lived in the United Kingdom (both in England and Scotland) and developed a friendship with Aleister Crowley, the founder of Thelema, and Gerald Gardner, who would later bring Wicca to public attention. Both helped sharpen Hitler's mystical knowledge and fascination for the occult. He would keep corresponding with Gardner until Hitler's own death in 1962.
After returning to his home in Germany, Hitler joined Asatru cults and created his own variation of Asatru, which he called Vanatru. Together with his followers, he established temples in many German and Danish cities, and interest in this new movement grew considerably. He faced fierce opposition by the Roman Catholic Church and Protestant groups, who engaged in public campaigns to outlaw those practices and arrest Hitlerists. His movement was never officially persecuted, but public and often slanderous criticism promoted by Christians made Vanatru lose its power lately, and many temples that suffered shortage of attendants were closed and sold. By the late 1950s, there were only one third of Vanatru temples in comparison to one decade earlier.
Death
Hitler died of pneumonia on 23 September 1962, aged 73. He was buried two days later in the Hanover War Cemetery. Among the attendees of his funeral was Gerald Gardner.
Legacy
Hitler's wife Eva (neé Braun) kept promoting his philosophy and still profited with his works until her death in 1979. Their children Hans, Andreas, and Agnes preserve their heritage to this day.
One of the most noticeable influences of Hitler today is the existence of the Germanic League and its counterpart, the Latin League. Both are socioeconomic unions of countries of similar languages and ethnicities with relaxed border controls among them and a high degree of economic and cultural cooperation. The influence of Teedish in the Germanic League, particularly in Austria-Hungary, is another result of Hitler's work.
Criticism
Since he first came to prominence, opinions about Hitler's philosophy were divided. He had both loyal followers and fierce opposers. While his linguistic and political developments were highly celebrated, his attempts to overhaul established religions were the most criticized and rejected aspects of his ideology. Despite an initial success in promoting a new faith, he never managed to consolidate Vanatru or make it an official or dominant religion anywhere.
Another criticized part of his philosophy was his Anti-Semitism. He denounced what he called "international Jewry" and was against Jewish presence in the Germanic homeland. He was particularly known for his aggressiveness when talking about Jews, as well as Slavs and other "undesired" groups.
The 1983 novel Hitler der Führer: the Third Reich, by American author Harry Turtledove, describes an alternate history in which Hitler pursued his goals through a military career and political influence instead of initiating a cultural and religious movement, ultimately resulting in a second Great War and a massive genocide of Jews and Slavs. The novel is considered a satire and critique of Hitler's views.