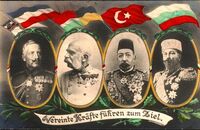 This Central World page is a Proposal.
It has not been ratified and is therefore not yet an official part of the Central World Timeline. You are welcome to correct errors and/or comment at the Talk Page of this article. If you add this label to an article, please do not forget to make mention of it on the main Discussion page for the Timeline.

Albert Speer, born Berthold Konrad Hermann Albert Speer, (March 19, 1905 – September 1, 1981), is one of the most well-known German architects of the Modern Era, and was responsible for the designing of such buildings as the Headquarters of the European Community, and for the major reconstruction of Berlin after the Second World War.
The majority of the buildings he has designed were massive feats of engineering, bigger than the majority of the buildings he based his designs on, such as the massive Victory Arch in Berlin, which was several times larger than the Arc de Triumphe in Paris. In his later years, he began to scale down the size of his projects, but still retaining the splendor and grandeur of his early buildings.
While supportive of the Nazi Party, and friends with its leader, Adolf Hitler, he never did join the party, wishing to not become involved in politics.
He died in 1981 of natural causes while on a trip to London, England.
Community content is available under
CC-BY-SA
unless otherwise noted.