This page explores the fates and destinies of real-life people who we know in our world, and how their lives were different in the timeline shaped by Napoleon's victory in 1815 over England. In many cases, figures who went into politics in OTL never entered that arena and people who are in the entertainment or sporting industries did. The timeline assumes some real-life persons never existed, and that some existed who never would have. The following list is alphabetical.
A
John Adams
(1735-1824) Adams, following a term as the second President of the United States, spent the latter half of the Canadian War grooming his son John Quincy Adams to one day ascend to the Presidency. As his age caught up to him, Adams wrote stern warnings of the coming centuries of tension with France; he, like most educated Americans at the time, recognized a frightening new world order emerging with the victory of Napoleonic France.
John Quincy Adams
(1767-1846) The younger Adams made his name in politics as a diplomat before, during and after the Canadian War; in 1816, William Crawford asked Adams to be his Secretary of State, seeing a need to have a skilled diplomat with a dangerous, powerful France occupying a colony (Quebec) on the nation's doorstep. Adams ran in the 1820 election as Crawford's health suffered for the Presidency only to be upset in a stunning and narrow electoral loss to William Clark. Adams returned to native Massachusetts and served in the Senate, establishing himself early on as an enemy of William Clark and part of the quickly forming National Party's conservative faction.
Mahmoud Ahmadinejad
(1956-)
Rick Astley
(1966-)
B
Antonio Banderas
(1960-) Jose Antonio Dominguez Banderas, better known as Antonio Banderas, is the current President of Spain, a mostly formal role with little actual power. As a young Andalucian boy, he became a skilled soccer player and eventually became an alternate for the Spanish Youth Club, the junior league of the government program. However, at the age of seventeen, Banderas defected from Spain along with three friends to play professional soccer in England, traveling almost five hundred miles by foot to reach the Portuguese border. Banderas used his mother's last name professionally as two well-known players in the English Premier League were already called Dominguez and he wanted to be more recognizable. He had a very skilled career in England, winning two championships with Arsenal before his 26th birthday.
In 1987, after the fall of the Communist government the year before, Banderas repatriated voluntarily to Spain along with many in London's Spanish community, and joined the Spanish national team, playing with them in the 1988 (second place) and 1992 (third place) World Cups, along with at the 1990 Summer Olympics in Hanseong, where Spain won Gold. In 1993, Banderas severely injured his knee in a match against Ireland, and retired shortly after his 33rd birthday.
As a national soccer icon, Banderas leveraged his wealth, notoriety and popularity into a surprising run for the Parliament of Spain as a member of the right-of-center People's Party, winning his Madrid-area constituency in a landslide. However, Banderas' term in Parliament did not offer him any significant influence, but Banderas made it clear he would seek the Presidency in 2006, which he did, winning in a landslide with little contest. He was reelected in 2011 for another term as President, shadowing the successful 2011 elections which brought the People's Party back to power in Parliament after years in the minority.
John Belushi
(1949-)
Joe Biden
(1942-) Joseph "Joe" Biden was, until October 1st, 2010, the host of CBS' enormously successful late-night talk show The Late Show with Joe Biden, which has dominated the late-night time slot since Biden took over as host in 1980. A Delawarean comedian for most of the 1960's and early 1970's, Biden got his big break in the 1971 comedy milestone Adventures of Billy Ray Gumbel, which made him a household name overnight. He starred in numerous comedies in the 1970's and had his own sitcom, the Biden Show, between 1974 and 1977. His show was cancelled before the 1978 season and he took over as the lead role of Detective Velasco on the popular, somewhat comedic ABC detective series Velasco until the fall of 1980, when he announced he was taking over the position as host of the Late Show when Doug O'Brien stepped down.
In 30 years on CBS, Biden made the show less about the interview of guests (O'Brien sometimes had as many as four or five in one night) and more about an entertaining and comedic program that lampooned everything from politics to popular culture. Biden, a film fanatic, often starred in intentionally poorly-produced trailers that mocked a popular film at the time while simultaneously referencing the hot topic of the day. He also did numerous Man on the Street interviews with various Los Angelites (and thus exposing their ignorance about relatively mundane topics), and in the 1990's began regularly doing the same interviews in Las Vegas or at the campus of UC-San Diego.
In 1994, Biden was directly challenged by the growing popularity of the rival Eddie Murphy Show on NBC, which starred popular black comedian Eddie Murphy and stormed past Biden's program throughout 1994 in the ratings. CBS considered hiring a younger, fresher host for its show to more directly compete - however, Murphy's controversial comments on the sexual orientation of numerous popular actors in 1995 led to a quick drop in the NBC program's ratings and Biden survived, with his show becoming stronger than ever.
When actor-turned-politician Robert De Niro announced in 2002 that he sought the governorship of California, his announcement was made on the Late Show to thunderous applause and a lot of surprise. When De Niro (who won an Academy Award for playing a President) wound up winning the election, many cited the "Biden factor."
Biden, while mocking the Democratic regimes of John Burwin and Jay Leno as much as the Nationalist administrations of Liz Shannon, Robert Redford and Mitt Romney, is a committed liberal and has spent millions in donations to various Democratic candidates around the country and to a number of humanitarian causes. In 2005, following the disastrous Hurricane Katrina that devastated New Orleans and the Gulf Coast, he donated $10 million of his own wealth as well as pledging to auction off two motorcycles signed by his guests to help in the relief effort.
At the age of 67, Biden retired on October 1st, 2010 after 30 years on the air, and was replaced on October 4th by Sam Conan.
John Boehner
(1949-) John Boehner is a former American football coach, who coached in both college and the professional leagues in a career spanning three decades. Boehner hailed from a blue-collar family in Cincinnati, and managed to obtain a scholarship to play football at Ohio State University in the late 1960's. Due to a chronic back problem, however, he was unable to maintain his position on the roster. Knowing that Boehner's family, of which he was the first child to attend university, could not afford to pay his tuition, Buckeyes head football coach Dennis Thibodeau offered Boehner a chance to earn his scholarship as a ball boy and equipment manager. Boehner gladly accepted and by his would-be senior season in 1971, he was promoted to defensive graduate assistant.
Boehner remained on the Buckeye staff as an assistant coach throughout the 1970's, winning a national championship as the defensive backs coach and co-defensive coordinator in 1979, Thibodeau's last year. He was not retained when Bo Schembechler took over at Ohio State in 1980, and instead earned the head coaching job at Division II school Xavier, also located in Ohio. Boehner coached Xavier to the 1983 Division II NCAA national title and in 1985 was invited to join the Cincinnati Bengals defensive staff as defensive backs coach, a position he described as his "dream job." He was part of the 1988 Bengals AFL championship team, thus earning him his third championship at an Ohio football program in ten years.
In 1991, longtime Bengals coach Marty Schottenheimer announced he was stepping down after the season, and many suspected that offensive coordinator Mike Russell would replace him. However, Russell took the head coaching job with the Mesa Cardinals before the season ended and the Bengals instead hired defensive coordinator and Cincinnati native Boehner as the new head coach.
Boehner missed the playoffs in his first two seasons, although the 1993 team showed promise behind rookie quarterback Jesse Hall. In 1994, the Bengals advanced to the playoffs in the Northern Division but lost to Yorktown in the first round. In 1995, behind AFL Rookie of the Year running back Scottie Richards, the Bengals beat Chicago on the road as the No. 3 seed, then went into reigning AFL champion Minnesota's home stadium and defeated the Vikings 42-38 thanks to a last-second pass from Hall to tight end Cordell Clarke. Two weeks later, the Bengals defeated the heavily favored Dallas Cowboys 23-14, sealing the win thanks to an interception return for a touchdown by AFL Championship MVP Curtis Myron.
The Bengals dominated the 1996 season and finished with an 11-1 record thanks to what was being termed "Boehner Ball" - an aggressive, brash defense and a conservative offense schemed by offensive coordinator Tom Osgood. They were also helped by Boehner's young protege, Brett Estevez, who was hired in 1996 to coordinate the defense at only the age of 34. Cincinnati had the No. 1 seed in the North Division and defeated Green Bay, led by rookie head coach Mike Brooks, to advance to their second consecutive title match, where they defeated the Indiana Pontiacs 33-30 in overtime. The '96 title game featured a legendary 40-yard run by Richards named "the Stiff Arm," a play in which he warded off Pontiac defender Ryan Toomey to set up the game-tying field goal. Boehner's Bengals would be defeated in the first round of the 1997 playoffs by Green Bay and lost once again to Green Bay in 1998 in the semifinals en route to Green Bay's first of four title between 1998-2003. Estevez left after the 1997 season to become the head coach at the University of Huron.
In 1999, Hall had an MVP season in which he led the traditionally run-first Bengals to an 11-1 season thanks to his franchise record-setting campaign, and the Bengals ended the year on an eight game win streak, including a blowout win over Green Bay in the semifinals and a gutsy 14-10 win over St. Louis in the championship.
Boehner's final trip to the playoffs came in 2000, when the Bengals were ousted in the first round by Minnesota. In 2001, the Bengals missed a trip barely thanks to their 8-4 mark, and in 2002 and 2003, the Bengals only managed 6-6 seasons. Richards retirement in 2002 and Hall's age were attributed to the drop-off in play. 2004, Boehner's last in Cincinnati, was his worst, with a 4-8 record, his only losing mark while with the franchise. Boehner retired following the final game and accepted a job covering pro football for ESPN as an analyst. His name emerged in early 2007 as a potential replacement for the fired Ving Rhames as the head coach at Ohio State, but Boehner declined the position, and the job went instead to Paul Castello, who would in turn be fired after three abysmal seasons.
Boehner was named the #1 Ohio Sports Icon in 2008 thanks to his time at Xavier and in Cincinnati and his legacy as a Buckeye.
Humphrey Bogart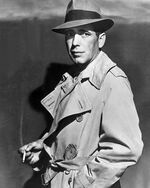 (1899-1947) Humphrey Bogart was one of the most notorious gangsters in history, who ran a huge Organized Crime syndicate based in Chicago. His success was largely due to Prohibition, enacted by President Charles Evan Hughes in 1921, which created an illicit market for bootlegged alcohol; which Bogart exploited very successfully throughout the 1920s. Ultimately, despite his lifetime of criminal activity, the only charge which the Government could arrest him on was Tax Evasion, and he was sent to the famous Alcatraz Prison. Upon his release, his health had deteriorated, and he eventually died aged 47, from Syphilis-related illnesses.
Rebecca Black
(1997-) Rebecca Black is an American classical violinist who achieved global fame with her 2011 debut album Venerdì. Born in California in the mid 1990s, Black showed signs of musical talent from an early age, and learned to play the piano, guitar and clarinet along with her signature instrument, the violin. By age six, it was clear that Black was a child prodigy, and she began to gain recognition from local news outlets. This was amplified in 2004, when, in a TV competition, Black won an opportunity to play with the Los Angeles Philharmonic Orchestra. What was intended to be a 'fluff piece' on the local news ended up launching Black's career, as her musical talent stunned the entire Philharmonic Orchestra, with one critic calling her "the most talented person of her age I have ever seen, by a wide margin".
This gained Black statewide fame throughout California, and for the next few years, she became steadily more involved in her music career, which included frequent 'guest appearances' at Los Angeles Philharmonic concerts. In the summer of 2010, she finally achieved nationwide fame, when the internet video "Epic Violin Girl" (an unofficial recording of a solo performance by Black) went viral, achieving millions of views in a few days. Shortly after the video shot her to internet fame, Black was interviewed on several national TV shows, and was one of Joe Biden's last guests on The Late Show. Biden, among others, praised her apparent modesty, saying "Most kids, if they had as much talent and fame as she does, they'd get sort of full of themselves, you know? I think it's great that, despite everything, she's still just a regular kid".
In March 2011, Black released Venerdì, a mostly instrumental album featuring both classical pieces and covers of more mainstream songs, such as "Flick's Theme" from the original soundtrack to Jack Kennedy's iconic 1962 film Oahu. She has announced her intention to tour at some point in the near future, hoping to perform with some of the finest orchestras around the world.
Tony Blair
(1953-) Tony Blair is an English soccer legend, who is often credited with helping bring the sport back to popularity following the Anarchy and Reconstruction era as a player, capstoned by his captaincy of the English national team that captured the 1980 World Cup, hosted in England.
Blair grew up in Scotland as the son of English expatriates - in 1959, the Blair family moved back to London to seek employment under the Phoenix Program. Blair neglected much of his studies and chose instead to focus on his soccer career, excelling and become quite adept at the game. During his time in secondary, he was recruited by FC Sussex and signed a contract at only the age of 17 in 1970.
With the young, raw Blair at striker, FC Sussex became an English Republican League powerhouse in the ERL's early years. Sussex won four ERL championships (1973, '75, '76, '77), including the stretch in which they defeated perennial power Bristol three straight years (1975-77), and after the 1976-77 season Blair signed a monstrous contract with previous mid-range squad Arsenal, which had just signed young goalie Pete Stone. Blair and Stone led Arsenal to four straight titles from 1979 to 1982, and Blair would retire in 1985 after a 15-year professional career.
Blair's greatest triumph, however, was when he led the 1980 English soccer team to victory at the 1980 World Cup, held in England itself. The English defeated Ireland in the semifinals before facing down the defending World Cup champion, the French Empire, in London. England won a narrow match on a late Blair kick and he was immortalized as a national hero.
Blair also led the English national team to the silver medal for soccer in the 1982 Calgary Olympics and, after his retirement, considered entering into coaching. He lived off his sponsorships for many years, becoming the most-sought after national icon, before signing on as Arsenal's coach in 1994. Arsenal won the title for the first time since Blair's retirement with their former legend at the reins in 1996, and would win again in 1999 after played for the championship four straight years, going 2-2 in the championship match under Blair.
Blair coached the English national team in the 2000 and 2004 World Cups, but declined to be the coach at the 2002 Bogota Olympics. However, he stayed on as the coach for the 2006 Vancouver Olympics due to his good relationship with the '04 team and led the English to the gold medal in Vancouver. He permanently retired from coaching following the victory and became the majority owner of London City football club in 2008.
Few sports icons can be compared in such a national way in any other country; Blair's support for Andrew Brantle was considered a significant reason in Labour's 1981 landslide general election win.
Béla Blaskó
(1882-1931) Béla Blaskó was a notorious French serial killer who murdered an estimated 87 people between 1915 and 1931. Obsessed with the legend of the vampire, he styled himself after the notorious Count Dracula, and evidence shows that all of his victims were drained of blood after being killed.
Garth Brooks
(1962-) Garth Brooks is one of the foremost and well-known journalists on television today - he has at times been referred to as the "successor to Ronald Reagan" and his show, Garth Brooks Live, has often eclipsed Bill Clinton's shows in ratings. Following Clinton's retirement in 2006, Brooks has held a dominant ratings lead over his competitors on political commentary programs.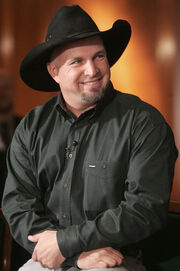 Brooks grew up in Tulsa, Sequoyah, and played football, baseball and track and field for East Tulsa High School. As the state champion in javelin from his sophomore to senior year, Brooks was given a full athletic ride to the University of Sequoyah, where he continued to compete. He was selected, shortly following his graduation from high school, to the 1982 US Olympic team headed to Calgary. He placed fifth in javelin in 1982, the highest finish for an American in the event in 20 years. He finished his undergraduate degree in journalism at Sequoyah in 1984 and was editor of the Daily Brave, the student newspaper, his senior year. He enrolled in the graduate journalism program and volunteered as an assistant coach for the school's track program. He returned to the Olympics for the 1986 Cairo Games, where he won the bronze in javelin, the first medal won in a throwing event for the Americans since 1950.
Brooks moved to Covenant where he got a job with the Arkansas Press, but soon was offered a job writing interview research for Tonight with Ronald Reagan in Los Angeles. While Reagan retired in March of 1988, Brooks had exposure to get a job with the LA Times up until late 1990, when he was given a studio job once more - this time writing for Reagan's successor, Dan Quayle.
Brooks had his breakthrough as one of the reporters getting the break on the John Lipcourt scandal - because Quayle was still getting ready for the taping of his show, the producers at NBC put the unknown Brooks on in an emergency broadcast to be the first studio to break the story. The moment became immortalized and Brooks was given a late-night Friday political show.
In 1994, the Garth Brooks Show was moved into the slot held by Quayle since 1988 and renamed Garth Brooks Live - it was broadcast completely live (unlike the Reagan/Quayle Tonight series, which were prerecorded) and shown for a half-hour following the 6:00 news. He was later given a full hour on Fridays and Saturdays. His dedication to research helped him in his many interviews, and his most famous interview was with embattled President John Burwin, concerning his extramarital affairs - Brooks grilled the President, and many saw the interview, coupled with Mitt Romney's charming and hilarious friendly spar with Jeff Foxworthy a month later, as integral to the outcome of the 1996 Presidential election.
Brooks was awarded a Pulitzer in 2000 for his extensive investigations into the corruption of the Burwin administration, and was invited to speak at the 2000 National Party Convention to renominate Mitt Romney in Atlanta, but he declined the offer. After Bill Clinton retired in 2006, Brooks surged to the top of the ratings and still holds the top spot in TV ratings for political commentary programs.
George H. W. Bush
(1924-2008) George Bush was born in 1924 to Prescott Bush, the patriarch of the Bush family, in 1924. Growing up privileged in Connecticut, Bush took an interest in politics and business at a young age, looking up to his powerful father who served in the state government and as a banker, one of the richest men in New England. He attended Yale University starting in 1941, and graduated shortly after his father was elected President in one of the most bizarre elections in history. Bush worked for his father's government intermittently.
George W. Bush
(1946-) The grandson of a President and son of a Vice President, George W. Bush is one of the most successful and richest men in the world, with a fortune tied up in a variety of fields from oil in Texas to banks on Wall Street. Having attended Yale in the 1960's, Bush rode his family's inherited wealth into the economic prosperity of the early and mid 1970's. Insulated somewhat from the lengthy depression of the 1980's, Bush used the weakness of companies around the nation to purchase those companies and consolidate them under Bush Ventures, his national conglomerate. With his father's ascension to the Vice Presidency in 1989, Bush served on several economic advisory boards for the Redford administration, at one point in consideration for Chairman of the National Bank.
During the 1990's, as the economy improved to a level of mediocre stagnation, the Bush Foundation worked to improve the lives of impoverished Americans in Texas and New Mexico, and Bush Ventures spent billions of dollars on employee benefits that few other companies could afford. Bush rode this goodwill through the brutal Romney Recession, and contributed to the 2000 Mitt Romney reelection campaign when the economy swung back in force.
Following his retirement from active business ventures in 2004 but remaining involved in Bush Ventures, Bush appeared on a reality television program called where he gave advice to aspiring business people, finally picking one to work on a project for Bush Ventures as his high-level employee. Beating Bush enjoys high ratings through five seasons, and will be renewed for a sixth season in 2010.
Prescott Bush
(1895-1970) Prescott Bush served as the 30th President of the United States and is remembered as one of the best of the 20th century. His son George served as Vice President from 1989 to 1993, his other son Jonathon was Governor of Connecticut in the 1980's and his grandson Jeb ran for President against Jay Leno in 2004. Bush is seen as the patriarch of the extremely successful Bush family, which is a counterpart to the Kennedys of Massachusetts.
Bush attended Yale where he earned a business degree and quickly went to work for Richard Claiborne, one of the most successful bankers in New England at the time. The 1920's were meager times for the Bushes - Prescott found himself at the mercy of the Smith Slump that threatened his comfortable Connecticut lifestyle. He took an interest in politics and was successfully elected as a state senator in 1928, serving until 1934.
During the 1930's, Bush found that his old bank, the Central Bank of Connecticut, was booming. He retired from politics to return to the business world, becoming one of the richest men in New England by 1938. Despite the unprecedented economic boom, Bush had difficulty remaining in his leadership position in the bank, still eyeing a potential political position. His Hartford-based bank had a known rivalry with the powerful Democratic Party boss Joe Kennedy in Boston, who somehow won the Presidency in 1940 in what was heralded as a Democratic coup.
Bush began allying himself with major Nationalist Party leaders in the early 1940's, especially as the French Civil War began to truly pick up steam and it was clear that Kennedy's support of Emperor Edmond was in vain. Bush submitted his candidacy for the Presidency as a party-boss favorite, but even he himself considered the campaign a formality, not believing he had much chance of winning.
In the 1944 Nationalist Convention in New York, the winner of most primaries, Christian Norris, inexplicably backed out on the eve of accepting his nomination after evidence came forward that he had accepted bribes from union heads while governor of Ohio. This put Bush in the unique position, having received the third-most primary votes, of being the presumptive Vice President (at the time, the Nationalist Party uniformly handed the ticket to the first and second-place vote getters). The new presumptive nominee, Samuel Denver, entered conference with party leaders and Bush to discuss the new steps forward. Norris was seen as a big-ticket national candidate; Denver's appeal had been his ability to stir the West, due to his Oregon roots. Bush was seen as far more able to take on Kennedy in the general election and Denver agreed to back out of the race entirely for the sake of the Party, being promised chairmanship in a few years time.
This "Backroom Election," as it was called, came under fierce criticism from the media and Kennedy's campaign. Nevertheless, the "New England Faceoff" in November 1944, with France flexing its military muscles to threaten war and the economy tanking after a brief gasp of fresh air in the early days of the Kennedy administration, became one of the most bizarre and contentious elections in American history. At first, it appeared that Kennedy had won after early returns from the East Coast were broadcast via radio. However, it soon became clear that the early returns had been announced by Democrats seeking to sway Western voters, and had little credibility. Immediately, the Nationalists launched a campaign in the afternoon to slam the attempted manipulation of voters. Kennedy realized that he was not going to earn enough electoral votes after Democrats unconnected to his campaign had lied to the country, so he prepared a concession speech. Bush won a narrow electoral victory and became the 30th President of the United States.
Bush was seen as a sweeping agent of reform and goodwill that defined the 1940's and early 50's. While never at the booming level it had seen in the 30's, the economy was healthy and stable during the 1940's, and the era was defined by an increasing interconnectivity among different businesses and cities. Air travel boomed and America began to shift towards the suburbs. Bush's domestic program included extending aid to the elderly from federal funds, an unprecedented measure, when it became clear that pensioners were some of the poorest people in America. He also reworked military policy on race; he forbid the use of Negro Divisions, as they were called, and integrated the military. The United Aid and Dove Brigade organizations were founded under his administration, and he is is thus heralded as one of the great social workers of the 20th century.
Bush was also a noted foreign relations expert. Despite having little political experience prior to his Presidency, Bush had dealt with foreign companies during his time in the banking industry. He invested heavily in repairing relations with Sebastienite France, and entertained Phillippe Montre, the Emperor's right-hand man, at the White House in 1947. Nevertheless, Bush understood that Sebastien viewed France as world power economically and militarily, and he quickly established the National Intelligence Cabinet (NIC), which would serve a precursor to the CIA, in 1948.
He was reelected in a landslide in 1948 and continued his work in foreign relations as his priority for his second term, considering his social programs largely successful. He delivered the first TV address by a US President in 1950 and in 1951 sent American soldiers to South Africa to fight a brief war to ward off the Boer Republic's assault on American-owned property. In 1952, he began sending aid to the devastated Republic of England and in that summer, prior to the election, he sent a military expedition to help ease the Anarchy. Many Americans wanted Bush to run for a third term, for which he was eligible, but he chose to retire, and in 1954 an amendment was passed forbidding the election of a President to a third term once Democrats seized power again, fearing a lengthy Nationalist leader.
Bush lived out his retirement in comfort in Connecticut until his death in 1970.
John Wilkes Booth
(1838-1913) John Wilkes Booth was born on a farm near Bel Air in Hartford County, Maryland. He was born into a family of stage actors, and showed all signs of following in his father's foot steps. He made his stage debut on August 14, 1855, in a supporting role in Richard III. He became intensely popular on Broadway as a somewhat comedic actor. However, by the 1860's, Booth showed he can act in serious roles as well. Having solidified himself as one of the top actors in the United States, he traveled to England in 1880 to act on the West End. After ten years, Booth brought back both money and experience. Though he retired from acting shortly after, Booth began funding the arts and theatres nationwide. He died in 1913 as one of the most famous stage actors in American history having starred in over 100 productions in both England and the U.S. The town of Bel Air voted to change its name to Booth on the centennial of his birth May 10th, 1938. His childhood home Tudor Hall, the house he lived in during his time in London, and the Washington home in which he died are all preserved as museums. Ford's Theatre, Booth's favorite, was preserved as a shrine to the memory of Booth.
Osama Bin Laden
Osama bin Laden (born March 10, 1957) was born in Riyhad, a city in the Arabic Empire. He was born into an wealthy family with his father being an billionaire construction magnate and his mother being his father's tenth wife. He graduated from college in 1974 and built his first project in 1978 and his latest project was the Burj Khalifa, the world's tallest building in the world. He currently is married to his 12th wife and has fathered over 30 children from all 11 wives.
Ted Bundy
Kyle Busch
(b.1986) Kyle Busch was born in a military family stationed at Pensacola Air Station in Florida were his father was an training officer and his mother was a civilian worker. Every summer, Busch would stand by his father and watch fighter jets fly by and overhead. In 2004, Busch graduated from high school with straight A's and in 2005 he was accepted into the Naval Aviator School in Pensacola, Florida. He continued to maintain his grades and graduated at the top of his class in 2009. He flew combat missions for six months and is currently stationed at Marine Corps Air Station Miramar in California. He currently has an apartment in San Diego and is dating the vice-admiral's daughter.
C
Alphonse Capone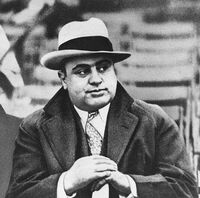 (1899-1957) Alphonse Capone was an American actor who became the quintessential Film Noir actor, and was voted the Greatest Male Star of All Time by the American Film Institute. He is well remembered for many legendary films, including High Sierra, The Maltese Falcon and most famously Casablanca, in which he played an American expatriate in French-controlled North Africa during the French Civil War.
James Carrey
(1962-) James Carrey was born in Newmarket, Huron. While he grew up it became all the more apparent that he was a charismatic and very popular child. He graduated from Newmarket East High School, where he had been active in student leadership, and attended the nearby University of Huron. In 1982 he joined the local branch of the Democratic Party, and served as the chair of the Campus Democrats at UH. With a degree in economics, he returned to Newmarket, where he was still well-known and went to work for the city. In 1987, at the age of 25 he became the youngest mayor in Newmarket's history when he was selected by the town's elected council. His projects for the city (including a measure to restore the Old Town Hall) made him a popular mayor, and it earned him considerable exposure. Yorktown party boss Herman Miskie took him under his wing for the next seven years and made the young Carrey one of the most visible Democrats in the state.. In 1994 he ran for Governor of Huron in what was a notably weak field for the Democrats, and won a surprise victory over a National Party favorite. As Governor, his projects included a measure that helped reduce the crime rate in Yorktown and a revamped freeway system, as well as a spending cut in 1997 that saved the state and taxpayers almost two billion dollars. His measures were so popular that he was elected to a second term in office in 1998, and Huron posted a staggering six billion dollar surplus, the highest in history for any single state to achieve, at the end of the 2001 fiscal year.
Much of Carrey's popularity in Huron was tied to his own charisma and ability to squeeze the powerful, entrenched National Party elite in Yorktown and Hamilton to compromise. His state voted overwhelmingly for Mitt Romney in the 2000 Presidential election and his Democratic would-be successor, Tim Reese, lost in a landslide to popular National Party figure Patrick Mead in the 2002 gubernatorial elections once Carrey was term limited.
As a telegenic, young and likable governor, Carrey was regarded as one of the State of Huron's best governors in history - he was also considered a strong candidate for the 2004 Democratic Presidential nomination. Carrey announced in 2003, a few months after he left the office of Governor, that he would seek the Democratic nomination and was assembling a campaign staff. Bill Clinton, on his program, commented that Carrey had accumulated possibly the "finest campaign staff I have seen for a Presidential election in the past 30 years" and that his campaign manager, Hank Axleyan, was a political strategist of "Anthony Nicci-like intelligence."
Although "Carreymania" was strong throughout the summer of 2003, in the Democrat's first primary, in Florida, Carrey placed a stunning third behind Massachusetts Governor Jay Leno and Pacifica Senator Charlie Posey. In the next primary, two days later in Kansas, Carrey placed second behind New Jersey Senator Bruce Springsteen, which his campaign hailed as a "major victory."
When Jay Leno won a resounding victory in the Illinois primary the next week and Carrey again placed third behind Leno and Posey, pundits agreed that Carrey needed to place first in the Peninsula primary, the last such contest before 12 states held their primaries simultaneously on Super Tuesday in early February. Despite heavy canvassing and spending enormous amounts of cash in Peninsula, which included a massive rally in La Paz's football stadium, Carrey placed second behind Posey. Springsteen backed out and endorsed Leno the next day, and Carrey would only place first in the Huron primary on Super Tuesday, finishing third in all but one contest that day.
A week later, Carrey announced he was ending his campaign and endorsed Leno. Leno's lead over Posey was finalized with a sweep of Texas, Pennsylvania and Kentucky in the ensuing weeks. Many expected Carrey to be the natural choice for Leno's running mate, and Posey himself even said that had he won the nomination, Carrey would have been a surefire addition to his ticket. However, Leno instead chose Springsteen in a somewhat puzzling move, a move that nonetheless paid off when Leno won a razor-thin victory over Jeb Bush.
Carrey has since retired himself towards speaking engagements and campaigned heavily for Democratic candidates in the 2006 midterms and for Jay Leno in 2008, speaking at the DNC that year - which he had declined to do in '04. He is seen as a leading candidate for the 2012 Democratic nomination, especially in lieu of Leno's resignation and Springsteen's unpopularity among Democratic leadership.
Fidel Castro
(1926-2009) Fidel Castro is widely regarded as one of the best baseball players in Major League history, and is held in high regard due to his groundbreaking play for the New York Americans in the 1940's and his later work in expanding the recruitment of Cuban players into what was previously a largely white sport. Castro is seen as a reason for the integration of the game in 1953.
Castro grew up in Cuba, the son of a wealthy family, and took up a love for the game of baseball. While in secondary school, at the age of 17, recruiters from the Havana Cubanos, one of two teams in the Major Leagues which recruited native Cuban players, saw Castro playing at infield and offered him a contract, which would be legitimate upon his 18th birthday. After turning 18, Castro left school to play the rest of the 1944 season with the Cubanos.
His play surprised many in the league - famous Long Island Sounders commentator Lou Camp commented, "I've never seen a kid bat like this Cuban boy, Castro. He's got a bright future ahead of him down in Havana."
Havana qualified for the National League Series, but they were blown out in the championship round by Philadelphia. Castro returned to school following the playoff loss, although he attended the World Series in New York to see the Americans win yet another title. While in New York, he met infamous Americans owner Bill Osternecker, whose Americans had, with the World Series title in '44, won six championships since Osternecker bought the team in 1928. Osternecker had heard from his scouts about Castro's play in the American League series against Philadelphia, and offered him a contract worth twice what Havana was paying him. The move was revolutionary: no major baseball power on the East Coast, especially not New York, had ever offered a contract to a non-white player.
Castro signed on for the last half of the 1945 season, wanting to finish secondary school first and train in New York for a few months. His batting helped the Americans win another title that fall, and his first full MLB season, in 1946, he was the leading batter in the country, leading the Americans to their second threepeat (the first being 1932-34).
The Americans lost to the Chargers two consecutive years during the fabled Nicky Mularkey years in Covenant, but Castro led the Majors in runs and had the best batting average two additional years. While he was not the leading batter in 1949, Castro did lead them to another World Series title, which they won in a "cakewalk" over the Brooklyn Dodgers.
In the 1950 World Series, the Dodgers took the Americans to seven games - in the eighth inning, Castro caught an infield out in a spectacular catch that saved the Americans' title hopes and gave New York their second straight title, their sixth since 1942 and their 15th all-time. New York would never again win a World Series, and has not qualified for the World Series since their humiliating thrashing at the hands of the Brooklyn Dodgers in 1988.
Castro, now with four championships under his belt, played in New York for four more years, enduring a World Series loss in 1954 to Cincinnati after the Americans were knocked out in the ALCS the three previous years. In 1955, Castro announced that he would not return to New York due to his increasing difficulties with Osternecker's new manager, Pete Uwell, and that he was looking for a new team and desired to win another World Series.
In the first-ever case of a free agent scramble in baseball, Castro visited several teams to see where he wanted to play. He finally decided to return to the Cubanos, whom he had shunned ten years prior for the money and opportunity of New York. Havana at this point had a new manager in Oscar Cristan, a talented homegrown team, and was luring native born Cubans back to the island in the late 1950's for a run at a World Series. They won in 1959 in a stunning upset of the highly favored Yorktown Indians, and soon thereafter signed Chris Walken, who was considered the best young catcher coming into the league, and soon emerged as the best batting catcher in major league history. With Walken and Castro paired up, the Cubanos won the 1961 and 1964 titles as well.
Castro retired in 1964 at the age of 38, and accepted a position as coach in San Diego in 1965. He led the Padres to a lone World Series appearance in 1975 before retiring from his position in 1982, having headed the successful Padres for seventeen seasons. In 1984 he returned to managing when Tacoma fired their coach, Tom Witten, when it became clear they could get Castro with a large contract. Castro succeeded where he had failed with the Padres and led the Rainiers to the 1986 World Series title. He stayed in Tacoma until 1991, having become the whipping post of former player Chris Walken, who had taken over as the coach of the Vancouver Pioneers and had earned revenge for Castro's unbeaten record against the Cardinals, the team Walken had formerly coached, during the 1980's.
Castro briefly returned to coaching in 1997, when he accepted a position as interim manager for the Chicago Cubs after the death of coach Tim Stark. He became the official manager in Chicago for the 1998 season, before he took over in the front office in 1999 and 2000. After the 2000 season, Castro retired permanently and lived in Cuba until his death in 2009 from cancer.
Castro is considered a state hero in Cuba, and one of the greatest batters in baseball history. The Havana Cubanos new ballpark, opened in 1998, was built on Fidel Castro Way in Havana. Castro has had statues and murals dedicated to him in Havana, New York, San Diego and Tacoma.
Lon Chaney
(1883-1969)
Hugo Chavez
(1954-) Hugo Chavez, born in 1954, is a controversial Colombian newspaper publisher currently living in exile in Chile. A self-avowed "Bolivarian socialist," Chavez's newspaper El Bolivariano was started in 1995 as an anti-Republican publication supportive of the Social Party and describing itself and its followers as determinedly left-wing. The paper decried the fall of socialist regimes in Peru and Paraguay in the late 1980's and early 1990's and mourned the collapse of Communist Chile, decrying the "Yankeefication" of Latin America following the end of the Brazilian War. In 1999, Chavez was imprisoned for two years on dubious charges which he claimed were fabricated by the Colombian government to keep him quiet.
In 2002, he attempted a run for Governor of the Caracas department, nearly winning a runoff against the preferred Republican candidate. His victory in the Socialist primary was blamed for the Social Party not being able to capitalize on their other gains in Caracas and most of eastern Colombia, where they scored huge victories in longtime Republican strongholds as they rode the coattails of Alvaro Uribe's national Presidential victory. In 2006, he challenged Uribe in the Social Party's presidential primary, losing badly but eradicating much of the sympathy the left wing of the party had for him. Chavez is credited with pushing Uribe even further to the center in the lead up to the 2006 campaign and in his second term. In 2008, Chavez was charged with libel, again a dubious charge, and he fled to Chile, where he continues to controversially publish El Bolivariano, which still enjoys a readership of as high as five million in Colombia and 20 million throughout Latin America.
Dick Cheney
(1941-2009) Cheney grew up in Clark, Apachia, and from a young age had an intense love of football. He played football for Clark Hills High School, playing both offensive line, linebacker and special teams. In 1959 he was awarded a scholarship to play at the University of Apachia as a linebacker. From 1959-63, Cheney was one of the country's most gifted defensive players, winning the Sarrelli Award given out to the best linebacker twice, the first and last time that has happened. In his senior season, Apachia was one loss away from playing for the national title.
Cheney played for the American Football League's San Diego Bulldogs until 1970, when he was cut during one of the small professional league's numerous financial shakeups. He accepted the head coaching position at Foster High School in Aurora, AP. The Foster Vikings won three state championships and were considered one of the top teams in the country between 1970-77. Cheney was named National High School Coach of the Year after Foster completed their first-ever undefeated season in 1976 to win their third title.
In 1977, Apachia head coach Vernon Gilly called one of the Buffaloes' most decorated alumni and offered him a position as linebackers coach. Cheney served on the Apachia staff until 1983, when Gilly was fired after two consecutive losing seasons. Cheney was considered an odds-on favorite to win the job, but it was given instead to David Josephs, former head coach of a very successful Rutgers program.
Cheney was removed from the Josephs staff, although he said later that he would have quit regardless. "It was obvious I was no longer needed at the University of Apachia, otherwise I would have been promoted to head coach or at least coordinator. They had to make their decision, and Mr. Josephs is a great coach and a great recruiter."
With a still-young and obviously talented potential coordinator on the market, Huron head coach Robert Edison offered Cheney a position as defensive coordinator. The job proved to be a major stepping stone; not only did Cheney now coordinate for one of the best programs in the country, he got national exposure with top-tier recruits. After the 1990 season he was offered the head coaching position at the University of Virginia, which had suffered through many dark years of mediocrity since their glory days of the late 1970's. While confident he could win a national title at Huron with a team that had barely missed the big game, Cheney accepted. The next year, Huron would win the national championship, just as he had suspected, and he did not earn the ring he dreamed of.
At Virginia, Cheney suffered through four years of terrible play and poor recruiting. The first winning season under Cheney was 1995, when the Cavaliers went 7-5. Hardly the result the school had dreamed of when hiring the sought-after Cheney, they told him he had two more years to get to a nine-win season. Cheney did it in one year, getting the Cavs ten wins in 1996 and a berth in the Sugar Bowl, which they wound up losing.
Virginia became a defensive powerhouse in the late 90's, but time and time again the elusive title escaped Cheney. In 2000, he was once again a loss away from contention.
In 2002, the chips fell in his favor at last. Virginia ran the table and, in a twist of fate, their opponent was the Apachia Buffaloes. Cheney blasted the Buffs in the championship game, punishing them for passing on him all those years ago. Beating his alma mater and winning a national title in the same game enshrined Cheney as the only head coach in history to accomplish that feat. After the game, he was quoted, "I may have played as a Buffalo, but I will always have won as a Cavalier."
The Cavs were a missed field-goal against Maryland away from playing in the 2004 title game and receiver Reggie Oliver dropped an end zone pass that would have pitted them against 'Bama in 2006. That dropped pass against North Carolina would be the lasting legacy for the Cheney coaching regime; he suffered a major heart attack a few days before Virginia's Texas Bowl appearance. Virginia went on to win, but Cheney retired that off season. He worked in a somewhat advisory role until his death in March of 2009. Virginia dedicated their season to their deceased and beloved former head coach, and named their new training complex after him. There are plans underway for his statue to be erected near the football stadium.
Kurt Cobain
(February 20,1967-) Kurt Cobain is famed soccer forward who was playing for Liverpool FC (1984-1991), Paris Saint-Germain (1991-2002) and Bombay FC (2002-2007). Kurt Cobain was born in Aberdeen, Washington. Kurt and his family shortly moved to England, thanks to the Phoenix Program (During the 1960's USA and England had reached an economic agreement, where hundreds of thousands of Americans would work in England to help England industrialize and Kurt's family is one of the examples). That's where in England he became fan of football especially Liverpool FC, his new hometown club. When he was 12 he was discovered by a youth coach and brought to Liverpool FC youth sector. Because of his talent, he became well-received and became even main captain, free-kick, corner-kick and penalty-kick taker. He helped Liverpool win FA Youth Cups in 1982, 1983, 1984 and he was both named best player and top-scorers of the tournament. Because of that he was promoted to first team in 1984, where in debut match he shockingly scored 7 goals in 11-0 match against Queens Park Rangers. During his time with Liverpool he scored 308 league goals and helped them win treble of European Cups in 1987, 1988 and 1989 and also 1991. Afterwards he was bought by the most richest club in the world Paris Saint-Germain where he formed successful attacking partnership with Liberian George Weah and Brazilian Rai. With them he scored 345 league goals and helped them win European Cups in 1993, 1996, 1997 and UEFA Cup in 2000. During time with Liverpool and PSG he won record nine Ballon d'Ors and scored for them 774 goals in league, cups and international championships. Afterwards he was replaced by Brazilian striker Ronaldo and he was moved to Hindustan where he played for Bombay FC where he helped them win AFC Asian Club Championships in 2004, 2005, 2007. At his last match AFC Asian Club Championship Final in May 12, 2007 he scored memorable hat trick against the strongest club in Asia: Jakarta Tigers of Oceania and the match ended 3-2, which he after the match retired. He scored 899 club goals ever. He played for United States national soccer team where he scored 50 goals and he's the top-scorer ever. During his football career he was known for his very aggressive, creative attacking style and also named one of the best soccer players ever. He used it also as manager where he became shortly sworn in February 2008 as the new manager of Ireland, where some of his ancestors are coming from. His style even in managing became successful where he won unexceptionally two FISA World Cups: in 2008 and 2012. During his managing tenure with Ireland he began using 4-3-3 formation that was used in PSG for the team,
Sean Connery
(1930-) Thomas Sean Connery is one of the more well-known dictators of the 20th century, and defined an era of Scotland known as the "Connery Age" by most historians. He was born in 1930 in Glasgow to a poor family, and started going by his middle name at a young age because he had a good friend named Tom, and he wanted to avoid confusion. His humble roots afforded Connery a resentment of the elite class of Scotland, which was entrenched and often cared little for the growing number of poor in the country, and a jealous drive to achieve such wealth himself. In 1948 he enlisted in the military - when the Scottish Royal Regulars were deployed to England in late 1950, he reenlisted and spent four years fighting in the Yorkshire Wars. He was presumed dead on two occasions and was injured numerous times, only to request to be sent back to the front. With five Medals of Valour after the disastrous conflict, Connery was something of a celebrity in Scottish military circles in the late 1950's, and he was promoted to Captain at the relatively young age of 29, and was made a Major in 1962.
Throughout the 1960's, Connery observed the growing discontent in Scotland somewhat warily. The military and nobility, two long-married entities, were growing distant, and the lower class was beginning to rise up in arms over the widespread poverty and economic instability. He and associate Donald McLuire are suspected of having funneled hundreds of thousands of pounds to various organizations throughout the country in anticipation of a coming conflict. In 1968, Connery, by then a Colonel and well-known national figure, gave a speech in Edinburgh where he denounced the royal family and offered a solution: the Middle-Road Plan, as he called it, would divide wealth equally among laborers and management and would create a system in which the royal family was personally responsible for the well-being of the country's inhabitants.
King John III rejected the proposal and in early 1969, the military, much with Connery's help, staged a violent coup in Edinburgh that began the Scottish Civil War.
Calvin Coolidge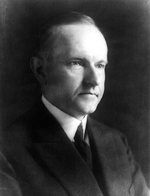 (1872-1933) John Calvin Coolidge, Jr., was an American lawyer, Nationalist Party politician, poet and author, who served as Vice President of the United States under President Charles Evan Hughes from 1921 to 1925. Coolidge also made his own bid for the Presidency in 1924, but was unsuccessful due to a lack of party support and his own personal distractions from the campaign (his 16-year-old son died less than four months before the election). After losing the election, Coolidge retired from politics altogether, and returned to his home state of Vermont, where he went into semi-retirement, and began writing for a small local newspaper.
Coolidge's natural quiet wit, coupled with his bitterness and depression over the death of his son, resulted in a dry, cynical style of writing; and he quickly became a popular poet and novelist. Many modern-day critics and writers have called Coolidge "the father of American black comedy", due to his early use of twisted humor for subjects such as murder (East of the River), insanity (Mr. Fitzpatrick) and War (Northampton to Marrakech).
His most controversial book, The Friendly Isles, which was set in the then-ongoing Pacific War, was boycotted by several institutions for being distasteful. In 1962, world-famous director Jack Kennedy released the visionary war epic Oahu, partly based on The Friendly Isles. This film went on to become the highest-grossing movie of all time (though this record was later broken by Star Wars ) and is considered one of the greatest masterpieces in the history of cinema.
Aside from his Black Comedy, Coolidge also wrote numerous less macabre pieces, especially in the form of poetry. Common themes of his poems are topics such as "everyday beauty", as well as uncharacteristically positive descriptions of New England scenery and culture.
Francis "Frankie" Coppola
(1934-) Francis Coppola is the head of Southern California's largest organized crime syndicate, known as the Coppola family, which was founded by his father, Carmine, in the late 1930's as the Golden Age of Hollywood came to rely on studios using local gangs as muscle. The Coppolas were closely aligned with United Studios during the 1940's and 50's heyday, and "Frankie" grew up as the heir-in-waiting behind his father.
After the Robbie Bonaducci trial shed light on the organized crime world in Los Angeles in 1962, Carmine was sent to jail for 20 years and Frankie Coppola took over the family. When Hollywood deregulated in the early 1970's, the Coppolas expanded their grasp over the LA and even San Diego region. They soon controlled amateur film distribution, helping United squash some of the minor studios, and also dabbled in traditional smuggling operations. Governor Robert Redford said in his last year of office that the one thing he felt he had needed more time to accomplish was to break the stranglehold the Coppola family held over the region. It is estimated that the Coppolas took in as much as a 15 percent profit of all movies shot in Southern California between 1974 and 1980.
In the 1980's, with Carmine's release from prison and the stabilization of the deregulated Hollywood, combined with the buyout of United by the Edison Company, the Coppolas had to shift their power towards cutting deals with smaller studios in order to keep them afloat in the market and smuggling goods. Frankie Coppola was arrested in 1983 on extortion charges but let off - in 1988, he was arrested again, and this time sentenced to ten years. He was paroled in 1995 due to good behavior and removed himself somewhat from the operations of the family, instead choosing to move to Hawai'i to avoid tax evasion charges on his illicit earnings.
In 2004, Frankie returned to Los Angeles and was arrested after a week for tax evasion. He is currently serving out a seven-year sentence passed in 2006, and is up for parole in 2011. His cousin, Nicolas "Handsome Nic" Coppola is currently the primary operator of the Coppola family, although under his watch the family has seemed to move into more peaceful and legitimate business operations.
Bill Cosby
(1937-1991) Cosby was born in Philadelphia to a working-class mother and a father serving in the United States Navy. He grew up in one of the larger black neighborhoods in Philadelphia and went to an almost all-black school up until high school. When he was 11, he met Prescott Bush, then President of the United States, while campaigning for reelection. He would be the first of many Presidents to meet Cosby. In the 1950's, Cosby attended Temple University in Philadelphia, but in 1959 a race riot occurred on campus and all African-Americans were immediately expelled, even though Cosby was not a participant.
Cosby would finish his degree at Temple in 1961 after working as a gas station attendant for two years, but he was denied several positions in the insurance industry with multiple firms because he was black. "The racism was unbelievable," Cosby said in an interview shortly before his death. "You'd go in for an interview having talked to these fellas on the phone, and the second they see you were black, they said, 'Job's taken.' I had a bachelor of arts from Temple University, I was an intellectual person. But I sure as hell wasn't white, and that was the prerequisite for getting a real job."
Cosby worked as a bartender in Philadelphia until 1966, when he finally bought his own restaurant in a richer part of the city and moved himself and his young family in. Managing a restaurant made Cosby a great deal of money and his place, West Philly Ribs, made him one of the richest and most well-known African-Americans in Philadelphia. In 1970, during the Philly race riots, Cosby famously grabbed a megaphone from Chief of Police Earl Snooker and tried to get the mob to calm down. Finally, after his famous words "Fighting whites ain't gonna get us their respect," Cosby used his connections in the community to help the police and then-Mayor Adam Eisler, who was preparing for his gubernatorial race, call a ceasefire in the most destructive race riot in American history up to that point.
Cosby's work as a mediator won him great praise, and throughout the Seventies he became a well-known figure in the burgeoning civil rights movement inspiring by the writings of Martin Luther King. King and Cosby met in 1974, when King passed the proverbial torch on to the younger civil rights leader, telling him, "I have written about what we must do for 20 years, now it's time for you to do it." After that point, Cosby was effectively the national leader of the civil rights movement, once he had the admired King's movement.
Cosby continuously campaigned, rose funds, and used his charm to build a powerful black coalition that peacefully, but firmly, demanded action. When his friend Adam Eisler was elected on the Democratic ticket in 1976, Cosby seemed guaranteed of honest results in the coming years. Eisler, however, still had to appeal to the powerful Southern Democrats who wanted the progress being made during the previous two Nationalist presidents to be stymied, and Eisler's priority was social welfare and health care - and anyway, he was assassinated in 1978. The new President Neill Wallace met with Cosby on several occasions to encourage him to continue his work, but implied that he would receive little or no help from the federal government.
The Brazilian War and slumping economy caused even more strife in America, and the progress Cosby had made seemed all but lost. In 1982 Cosby arranged a march in Philadelphia, followed soon thereafter by marches in Nashville, Atlanta and Baltimore. President Elizabeth Shannon advised Cosby to organize a protest in Washington to help convince a stubborn Congress to look into civil rights issues, which she harbored public sympathies for. Cosby's rally near the Capitol in Washington was met with fanfare around the nation.
Three months later, in January, 1983, the Covenant Race Riots broke out in Covenant, Arkansas. The violence claimed nearly 1,500 lives as the National Guard fought for two weeks to control the bloodshed and racial violence. Cosby's leadership during the Philly Race Riots couldn't help here; the confusion and mayhem of that riot in 1970 was nothing compared to the war-like conditions of 1983. Despite televised appeals for peace and an attempt to travel to Covenant, Cosby was helpless to prevent the horrors of Covenant, a city which even today feels the scars of the Riot.
The Race Riots were a massive step back for Cosby's movement and racial tolerance as a whole across America. Race fear permeated the South and major cities of the East. To go along with growing discontent over the Shannon administration's withdrawal from Brazil in late 1983, which was met with embarrassing debacles and unnecessary loss of life, the hardships of the early 1980's created a darkened mood in the United States. With the last American soldiers removed from Brazil in May 1984, the Nationalist Party made racial equality their priority and brought Cosby back into the fold. Several state governors went so far as to publicly endorse Cosby.
Even with Nationalists in power, however, Cosby was charged in January of 1986 with treason when it was found that a militant group with ties to members of his inner circle had been responsible for the murder of several city council members in Richmond, Virginia. He went on trial in a highly publicized and hyped television spectacle in which there was little to no evidence to incriminate him, and he was eventually acquitted by a jury of all charges. Nevertheless, the incident stained his record, and Cosby removed himself from public eye for the rest of the 1980's, especially while the economy improved and the Equality Amendment went into consideration after years stagnating in a reluctant Congress.
When noted black author Martin Luther King died in 1990, Cosby was delivered the keynote eulogy at his funeral. He appeared shortly thereafter on Tonight with Ronald Reagan to announce the publication of his autobiography and also his critical book on the works of MLK. He went on a massive speaking tour across the country in late 1990 and early 1991, decrying that race relations were only improving slightly and that the true struggle was in the minds of people, not in the laws of a nation. He gave one final interview on national television on Bill Clinton Tonight to promote his two books and speaking tour on June 6th, 1991. On June 19th, he was shot to death outside of the Apachia State Capitol in Aurora while leaving a function with Governor John Seagley. He was on his way to a peace demonstration to protest Japanese brutality in the Philippines. The assassin, Guy Daton, was connected to the White Army, a militant white supremacist group operating in Apachia at the time.
Bill Cosby was, for 20 years, the seminal leader in civil rights in America. He was inspired by Martin Luther King's works before the 1970's and all the way up until the famed author's death. In Philadelphia, he is noted as one of the greatest children of that city in history, having a high school, library, street, bridge and hospital named after him, and multiple universities have dedicated buildings in his name. The William H. Cosby Center is based out of his final home in Trenton, New Jersey, and the William Cosby Foundation is one of the largest charities in the nation.
"Equality isn't who can vote and who gets a job over who; equality is looking another man in the eye and neither looking away in shame." - Bill Cosby
Bill Clinton
(1946-) Born in Arkansas in the middle of a sagging economy and with tensions with Sebastienite France at an all-time high, Clinton grew up with an interest in politics. As he grew up, he found his likability and knack for communicating a bonus, leading him to write a political commentary for his high school's monthly newspaper publication. Clinton graduated from the University of Arkansas with a degree in political science with a minor in journalism, and looked for a foray into the political scene. In 1965 he met then-President Dick Van Dyke at a function in Chicago, where Clinton had moved at that time. Clinton managed to get a job writing an editorial for a Chicago magazine which picked up steam as it went along. Clinton's views were that of a centrist Democrat, and he often criticized the Ronald Reagan Show's more conservative approaches, feeling that the popular TV personality should take a more moderate stance.
Clinton returned to Arkansas during the 1970's to run the Southern Republic, a Democratic circulation in the South that focused on the ideals of the party with a heavy dose of commentary. Clinton wrote as a decided moderate, giving light criticism to the Nationalist government and hesitantly welcoming the Eisler presidency. In 1977, Clinton was selected by ABC to be on their political weekend talk show American Forum, which was designed to compete with the titanic Ronald Reagan Show on arch rival NBC. Clinton's time on Forum as the centrist Southerner earned him national recognition, especially due to his youth and charm, as well as his ability to hold his ground with guests as well as his fellow forum members. In 1981, Forum aired its final episode, but Clinton was renewed by ABC for a two-man forum-style show where he and liberal personality Gary Hart debated issues from a two-pronged Democratic front called Political Review, which was also meant to attempt to compete with NBC's new Tonight with Ronald Reagan, the overhauled version of the old show. Clinton and Hart's partnership would eventually end in 1986 after Hart chose to run for political office in the Senate, and Clinton took over ABC's Bill Clinton Tonight, a position he has held ever since. With the retirement of Reagan in 1988, after 30 years on NBC, Clinton became the effective heir to the mantle of primary American political commentator on prime time weekend television.
In 2006, Clinton finally retired at the age of sixty from television work, having been on ABC on several different programs since 1977. Bill Clinton Tonight was overhauled into Political Discourse, which features Will Dean, a considerably more liberal commentator than Clinton, as the host. Clinton has since involved himself in charity work and campaigned vigorously for Jay Leno in the 2008 presidential election.
Important moments in the history of Clinton's tenure were Neill Wallace's first formal interview since leaving office (the interview was conducted in 1981), an interview with Robert Redford during the violent 1983 Covenant Race Riot in which the Vice President was nearly brought to tears, two important interviews with Bill Cosby - one immediately after his acquittal in 1986, and one only two weeks before his assassination in 1991. Clinton also hosted Bruce Springsteen's announcement that he would run for President in 2004 (he would wind up on the Vice Presidential ticket), as well as Jack Kennedy Jr., Wade Phillips and Chris Rock's announcements to seek political office.
Leon Czolgosz
(1873-1942)
D
Timothy Dalton
(1946-) Timothy Dalton was one of the biggest international film stars during the late 1980's and 1990's, known for his roles in the Lord Shetland series, Jurassic Park, Die Hard With a Vengeance, Deception, the 1997 Thieves remake, and Sebastien, for which he was nominated for an Academy Award for Best Actor. In the 2000's, Dalton starred in a variety of smaller roles in critically-acclaimed films, although he had a cameo in the 2005 remake of Shetland, this time with Christian Bale in the starring role, and starred as a retired English intelligence operative in 2007's Taken.
James Dean
(1931-)
Walt Disney
(1901-1976) Walt Disney was one of the foremost pioneers of feature-length animation in the late 1930's and all of the 1940's - his Walt Disney Studios has become synonymous with animated films, and his Disneyland/Disneyworld theme parks are the largest and most popular theme parks in the world. Disney's mid-20th century rivalry with the animation wing of Price Studios was known as the Cartoon War in Hollywood, although the two enemies became friendly rivals later in life.
Disney was born in Chicago, but at the age of eight his family moved to Hamilton, Huron. When asked to describe his childhood in Hamilton, Disney once sarcastically remarked that it was the "Unhappiest Place on Earth," a play on Disneyland's motto. In 1920, at the age of nineteen, Disney enlisted in the army. He finished his tour of service in 1923 but was recalled from the reserves during the Japanese invasion of California in the summer of 1925, and was wounded at Caldwell. Lieutenant Disney was honorably discharged in January of 1926 as he recovered from his leg injury, which left him with a noticeable limp for the rest of his life.
Already in California, Disney became active in the Restoration projects of the late 1920's and eventually got a job at Capital Pictures as a reserve animator for their films. His vision and skill within the field was noticeable and he quickly rose to the head of Capital's animation department by 1931.
In 1932, Disney and his friend Charles Kupp started the Disney-Kupp Animation Studio, producing animated shorts to be broadcast before feature-length films. While performing essentially the same task as had been done at Capital, Disney and Kupp were now selling their shorts, which starred the lovable Mitchell the Mouse and his gang of friends, to even bigger, stronger studios - and, they were selling them in full color. With a demand of typically two five-minute shorts a month, Disney and Kupp were scouring successful animators from other studios. Soon enough, Disney-Kupp Studios had a virtual monopoly on the short animation field in Hollywood.
In 1938, Disney undertook a major gamble by releasing Snow White, the first feature-length animated film in history. Snow White was a massive success and propelled Disney and Kupp into producing a series of enormously successful films deep into the 1940's. They built their own studio campus in Burbank, produced a string of feature length animated features which raked in millions, and soon divided the studio in half - half to work exclusively on features, the other to work on shorts, which were being released at a rate of seven or eight per month in series. In fact, people went to movie theaters to watch three or four ten-minute shorts in a package.
In 1947, while undertaking a feature-length Mitchell Mouse film, Kupp announced he was leaving the studio in order to pursue work in live-action films. Disney's stock tumbled in the following years, and in 1951 Vincent Price Studios released Don Quixote, the most expensive animated film ever made up until that point and the most ambitious.
Bob Dole
(1923-) Robert Dole is a college football legend, having won three national championships with the Nebraska Cornhuskers in the 1970's and guiding Kansas to an unbeaten season in 1963. He was inducted to the College Football Hall of Fame in 1984.
Dole was a football player in the early 1940's at Nebraska, where he played defensive end, tight end and punter. He briefly dabbled in professional football, playing two seasons with the Chicago Bears, before being hired in 1948 as an assistant coach at Kansas. Dole stayed at Kansas, in his home state, through the 1950's, until he was elevated to head coach in 1958 at the relatively young age of 35.
Dole was a huge success at Kansas, leading the Jayhawks to unbeaten seasons in 1963 and barely missing out on playing for the national title twice, in 1965 and 1966. In 1968, his alma mater Nebraska contacted him about taking over for deceased Cornhusker head coach Dwight Maren and Dole accepted the position.
Dole brought his hard-nosed style of play from Kansas to the more talented and storied Nebraska program and wound up winning a national championship in his third season in 1970. During the 1970's, Dole would win two more titles ('74, '78) and went on a string of 14 consecutive Top Ten finishes. The highlight was a 1975 upset of Texas on the road that kept Texas from an unbeaten record that season. The rivalry between Dole's Cornhuskers and Chuck Noll's Texas Longhorns was storied and oftentimes violent.
In the 1980's, the Heartlands and Lone Star conferences became less important with the reemergence of the Lakes and NEC as the primary power conferences. Dole would eventually retire in 1988 after 20 years as the head man at Nebraska and hand the reins off to his defensive coordinator Bill Kaplan, who would stay on as NU head coach until 2010.
Sanford Dole
(1844-1926) was a 19th century Hawai'ian statesman of American descent. Born and raised in Hawai'i by Protestant Missionaries, he developed a strong relationship with both the local Hawai'ians as well as white immigrants who labored as planters. In the 1880's, he was one of four whites in the Assembly of the Kingdom of Hawai'i.
In 1887, ten white landowners began discussing a potential coup. Dole, by then one of the most influential members of the white community in Hawai'i, was reluctant to go along, aware that the whites were fewer in number and believing that military support from the United States would be unlikely following the devastating Alaskan War. Due to the lack of Dole's support and disinterest from the mainland, teh coup fell apart. Six years later, a second coup formed in the power vacuum following the death of King Kamehameha V, and Dole sold out the conspriators to then-Prince Kualuani, who ordered them executed and promoted Dole to Chief Minister of the King. Later, he would serve two separate four-year terms as Prime Minister of Hawai'i, to date the only non-Native Hawai'ian to serve as Prime Minister. During his reign, he helped align Hawai'i with the United States, westernized the Hawai'ian culture, helped King Kualuani I suppress political enemies, and by the time of the Japanese invasion of 1921, had become a respected elder statesman. He was exiled from Hawai'i by the Japanese puppet government in 1922 and died in exile at the age of 82 in 1926. The Sanford Dole International Airport in Hilo is named in his honor, as is the Dole School of International Relations at the University of Hilo.
E
Thomas Edison
(1847-1931) Thomas Alva Edison was the first great film director in the history of the world. When the Einschraft brothers perfected the art of producing motion pictures, the 43-year old Edison dedicated his life to producing motion pictures. He founded Edison Studios, which became the world's first successful film studio, in 1896. Though many of his earlier films were short silent films filled with sight gags, they evolved over time as motion pictures slowly changed from a novelty fad into a serious artform. His greatest film was the heartwarming (and suprisingly racially tolerant) film The Birth of a Nation.
Albert Einstein
(1879-1955)
Dale Earnhardt Jr.
(b.1974-) Dale Earnhardt currently runs Earnhardt Trucking Company that ships goods to the US, Alaska, and Mexico. Earnhardt didn't go directly in the trucking industry, but joined the North Carolina National Guard and stayed in it for seven years. He left the National Guard and got into the trucking business three years after; his company was employed by the Target and Walmart Corperatioons to transport their goods cross the borders and into Alaska and Mexico. He and his company has been doing that job ever since. His company is featured on Ice Road Trucker's, an show on the History Channel.
F
Harrison Ford
(1942-) Harrison Ford is one of college football's most successful coaches, having accumulated five national championships during his 32-year tenure at the University of Massachusetts in Boston (1983, 1986, 1988, 1995, 2008). He has only experienced three losing seasons since becoming head coach of the Minutemen in 1977 (1978, 1992, 2002) and has made U-Mass one of the most prolific and perennial powerhouses in the college game.
Ford was born in Chicago in 1942, where he was raised - he attended Radcliffe Academy, where he starred as a runningback, safety and punter. In 1960 he was offered a scholarship to play at the University of Chicago, and he started at runningback all four years during his career for the Maroons, and was integral in their Rose Bowl win in 1962 as a junior. He attempted a stint with the Sequoyah City Wranglers in the upstart Major League Football, which collapsed in 1967 along with Ford's unimpressive professional career.
Ford took over as Chicago's offensive coordinator between 1968 and 1973, a time when the Maroons sported one of the most bruising rushing attacks in the NCAA behind Stewie Jackson and Morgan Emmert. Chicago was a pioneering school in the respect that few other colleges allowed black men to play on their teams - Ford, however, recruited the black communities of Chicago and nearby Indiana heavily, and the Maroons offense clicked as a result of premier talent. In 1972, Chicago finished ranked No. 4 in the nation, their highest-ever ranking.
Ford was eventually lured away from Chicago by lucrative big-school money, finally settling in at the University of North Carolina as the offensive coordinator. In 1975, North Carolina won its first and to date only college football national championship behind the running of Terrance Clark, who won the Bosch Trophy that year.
In 1977, longtime Massachusetts Minutemen head coach Bill Mooney retired after 11 years as the head coach of the Northeastern Conference's good, but never great team. While a signature hockey program, U-Mass had only recorded two winning seasons since 1970 and had not won a bowl game since 1965. Ford was offered the head coaching position, and he left North Carolina after the 1977 season - which ended with an Orange Bowl victory to earn a No. 4 ranking - to take over at Massachusetts.
1978 was a dismal season for the Minutemen, who would only win three games. The next year, however, behind the running of Trent Williams and the throwing of Tim Hooper, they posted a 6-win season and would go on to play in the Texas Bowl, losing to Louisiana.
Ford would not win his first bowl game as U-Mass's coach until 1981, when the No. 20 Minutemen went to the Paradise Bowl in La Paz and beat the then-10th ranked New Mexico Coyotes 34-30. Ford's team would end with a No. 12 ranking after their impressive victory.
In 1983, the Minutemen ran the table in the Northeastern Conference to set up a massive showdown with their two hated rivals at the end of the season - the Aroostook Golden Eagles and Nova Scotia Sea Lions. Massachusetts faced off against the Golden Eagles and defeated them 46-14 at home to earn them a No. 2 ranking and an outright Northeastern Conference championship. They went on the road to Nova Scotia the next week and defeated the No. 7 Sea Lions 24-14 to earn their spot in the Philadelphia Bowl, that year's selected site for the national championship game; the first time Massachusetts had ever competed for the national title.
They were facing off against Chuck Noll's amazingly successful Texas Longhorns, who had been winning national titles every few years since the 1960's and were one of the best teams in the nation at the time. Ford upset Texas in one of the most surprising games ever; "The Upset of the Century" ended Texas's national dominance, the Longhorns would not win another title until 1998.
In 1984, the Minutemen were the hot team in the country, winning seven games to open the season before their home showdown against Nova Scotia - the No. 1 Minutemen lost by a last-second field goal to the No. 5 Sea Lions, who eventually won the national championship. The next week, Ford's U-Mass squad headed to Rutgers, where they were upset by another last-second field goal. In their final game of the season, they went north to face Aroostook and lost in a massive blowout.
In 1985, Ford reinsituted the tradition that had ended ten years prior of wearing red jerseys at every homecoming game - he also returned to the tradition of wearing a suit and red-and-blue striped tie on the sidelines for homecoming and for senior night. That season, the Minutemen lost three games before they faced off against No. 2 Aroostook at home in the final game. In what is now considered one of the greatest games in Massachusetts and maybe even college football history, No. 23 U-Mass beat Aroostook with a ninety-two yard drive in six minutes in the fourth quarter to throw a touchdown pass from true freshman Kirk Fletcher to stud receiver Luke Preston in heavy traffic in the corner of the endzone with only seven seconds remaining to win 35-34. The "Victory March", as it was known, was the first time in U-Mass history that fans rushed onto the field and tore down the goalposts - such an epic end, on senior night with the Pilgrim's Cup at stake and to stick it to their archrival which otherwise had the easy way into the national title game.
In 1986, Fletcher and Preston returned, along with running back Jim Spencer, who would win the Bosch trophy that year as a senior leading the Minutemen to their second national title in four years. In 1987, with the graduation of Spencer and Preston, the Minutemen started the season slowly, falling to 2-4 before peeling off six straight wins to put them in the Philly Bowl, where they won a wild matchup against the Dakota Fighting Sioux.
Jeff Foxworthy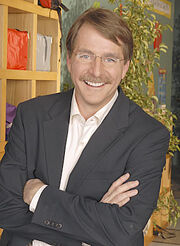 (1958-) Jeff Foxworthy, the current host of "The Daily Show with Jeff Foxworthy", is one of the most recognizable faces on TV today, and is considered the "King of News", for his satirical look at the daily news stories.
Born in Georgia, Foxworthy graduated from Georgia State University with a degree in General Arts, and moved to Los Angeles, and began working with ABC's American Forum as a cameraman, and later a writer, forming a close bond with its star, Bill Clinton. When ABC considered a new show after American Forum was cancelled, Clinton suggested Foxworthy, considered one of the funniest men on the set, get his own show. ABC brass was hesitant, but when they brought in the writer for an interview, they were blown away. He was given a slot after Bill Clinton Tonight in 1989, which was called The Jeff Foxworthy Show, but in 1992, it was morphed into The Daily Show with Jeff Foxworthy, considered the first, and best, satirical news show. The show won its first Emmy in 1994, and another one for either Best Writing, Best Comedy or Variety Show, or Best Lead for every year after. Foxworthy would also later host the 2006 and 2008 Academy Awards.
With his southern accent and trademark tie-less suit, Foxworthy is a "blue collar man," and usually makes joke about his upbringing in Georgia, calling himself a "redneck," although he usually is focused on the news stories that make his show the most popular show in the 11:05 slot. One of his most popular guests was with presidential candidate Mitt Romney in 1996, where the two engaged in a heated debate, where Romney, exasperated, exclaimed while discussing foreign affairs, which was not Romney's strong point: "Fine, Foxworthy, I concede the point. But you have most likely guaranteed my election, nevertheless." Foxworthy replied with "So what? You conceded the point, so I win this!" He covered both elections in the immensely popular "America Choosicion Extravaganza!" in 1996, 2000, 2004 and 2008, as well as the smaller "American Choosicion Not-so-Extravaganza!" for midterm elections, and modified forms for different elections in American states and foreign nations.
However, Foxworthy announced his intention to retire from television in 2013 after the inauguration of the next president, to spend more time with his wife and two daughters.
Francisco Franco
(1892-1975)
G
Charles de Gaulle
(1890-1945) Charles de Gaulle was one of the "Fingers of Tyranny" during the reign of Emperor Edmond in the French Civil War, serving as head of the Churat between 1940 and 1943, largely thanks to his notoriety from hunting down turncoat Heinrich Himmler immediately after the Prievnya Campaign. De Gaulle was a proponent of a "scientific solution" to Edmond's enemies, and commissioned as many as a dozen death camps in rural France and Germany where dissidents were sent to be systematically executed with poison gas and furnaces. He also arranged for slave labor consisted of undesirables - Belgians, homosexuals, Eastern Europeans and the Spanish. De Gaulle was one of the few Churat members who espoused a belief in a "Frenchified Empire," and supported exterminating the Russian people once and for all.
De Gaulle was captured trying to escape Paris during the Fall of Paris in September 1943 and was incarcerated in the Bastille, where he wrote a number of letters. He was the "prize defendant" during the revanchist Guttendorp Commission's inquiries into war crimes both real, assumed and invented, and was prosecuted by French legal legend Eubert Descaines, and defended by a reluctant Francois Aroscard, who would later become a renowned judge in the 1960's, during the Guttendorp Trials in the fall of 1944. He was found guilty on all charges and scheduled to death by guillotining on Shroud Day 1945 - on the day of his execution, de Gaulle was found in his solitary cell, having hung himself.
Richard Gere
(1949-) Richard Gere is an American film actor, producer and director, as well as a noted humanitarian. Gere was born in Philadelphia, Pennsylvania, and attended the University of Massachusetts, of which he is still a major benefactor. In fact, Gere has attended every U-Mass home game since 1973 and is a close personal friend of legendary Minutemen head coach Harrison Ford.
Gere participated in minor plays throughout college and performed at the Philadelphia Playhouse after his graduation. In 1975, independent director Sid Herman saw Gere performing a play and offered him a role in his upcoming picture, Dirty Boys. The film, released in 1976, was a cult hit and one of the highest grossing films of the 1970's, and proved that films financed beyond the major studio system could work, boosting the popularity of independent films, Robert Redford's plan to deregulate the industry and made Gere an instantly recognizable figure and he appeared in numerous other films in the late 1970's, slowly becoming a major celebrity.
In the early 1980's, Gere shied away from international stardom. He appeared in 1982's Blade Runner, but turned down numerous other roles, including a part in the film adaptation of Ron Hubbard's Xenu. His serious turn in An Officer and a Gentleman was well received and made him an emerging star. In 1988, Gere appeared in the career-saving role of John McClane in the enormously successful and popular Die Hard. His sardonic character became an action-film icon, and the original Die Hard spawned four sequels: Die Hard 2 (1990), Die Hard With a Vengeance (1995), Die Hardest (1999) and the supposed final film, Die Hard 24/7 (2004), although there have been rumors about a sixth film, despite Gere's age.
With the success of the Die Hard series, Gere established himself as an action star throughout the 1990's, although he appeared in numerous serious roles as well, including a lauded and brief cameo in 1998's Welcome to Hollywood and 2001's The Watchers. He directed his first feature film, Snake, in 2003 and directed another independent film, Alone in the Woods, in 2008.
Newt Gingrich
(1943-) Newt Gingrich is an American comedian, actor, writer and director, regarded in many circles as a comedy legend. Hailing from Georgia, Gingrich worked as a bartender until he was 25, when he joined the Atlanta improvisational troupe Southern Hospitality. Eventually, he moved to New York in 1972, where he joined the fame Silver Street Comedy Theatre.
Gingrich's comedic style was largely self-deprecatory, where he made fun of life in the South and also his own personality and background. When Saturday Night Live began on ABC in 1975, he joined as a writer and in 1976 became a performer.
On SNL, Gingrich became a nationally-known star. He replaced Dan Aykroyd as the comedian in charge of lampooning President Clyde Dawley, although Gingrich ceased his impersonation by the time the election approached, feeling that the show had gone beyond satire and was writing him a character intentionally portrayed as an idiotic bumpkin to try to influence the audience. Gingrich also was the anchor on the faux news report Weekend Update from 1977 to 1979, and had a famous character known as "Jonesy," a high-energy shopkeeper in the South. Gingrich left the show in 1979, feeling that the program had become too liberalized and political for his tastes.
In the 1980's, Gingrich starred in a variety of comedy films, including 1982's Guantanamo and as the inept principal in 1984's Passing Grade and as the dictatorial principal in 1986's Ferris Bueller's Day Off. Gingrich would also play a principal on the high school TV show Homeroom from 1988 to 1991. Gingrich once jokingly commented that he was quitting acting to become a principal, since apparently that was what "God wants me to do." In 1988, he wrote and starred in A Fish Called Wanda, which he received an Oscar nomination for.
Gingrich also starred in 1991's Father of the Bride remake and in 1989's Dirty Rotten Scoundrels with Timothy Dalton. He provided the voice acting for the genie in 1992's Aladdin and also did voice work for the 2001 video game Halo. In a somewhat comedic turn, Gingrich played an over-the-top villain in 1992's James Bond film Agent Under Fire.
Gingrich also did several serious roles. He played a detective obsessed with a woman he's been hired to spy on in 1987's Dangerous Times and portrayed a corrupt police officer in 1990's The Montgomery Files. Gingrich would begin appearing in more and more serious parts as the 1990's progressed, including a role as a serial killer in 1998's Hidden. He was considered for the role of Lex Luthor in 2002's Batman vs. Superman, but he had obligations to Cheaper by the Dozen.
Hermann Göring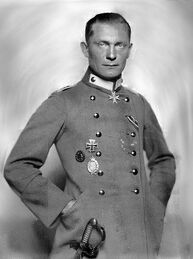 (1893-1958) Hermann Göring was born on 12 January, 1893 at the Marienbad sanatorium in Rosenheim, Bavaria. During his teenage years he developed a fascination with art. However, most evidence shows that he was, at best, only a mildly talented artist. From 1914 to 1918 he served a rather uneventful tour of duty in the French Air Corps. In 1922 a chance encounter with famous artist Adolf Hitler changed his life forever. After the meeting the 29-year-old Göring vowed to dedicate himself to art. In 1925 he appointed himself head of a small art gallery he had set up in one of his family's estates. Under his leadership the number of visitors exploded and the gallery was able to expand from a single room to the entire mansion. For a 20-year period Göring traveled throughout the Empire establishing art galleries. In the end Göring had founded 87 art galleries, most of which still survive to this date. In 1945, Göring received the only non-Frenchman to ever be chosen to be the Director of the famous Louvre in Paris. He spent the last years of his life improving the quality of the famous Louvre museum. It was thanks to his efforts in personally collecting artwork for the museum that its collection had reached its present size. Hermann Göring died in 1958 of liver failure, due to a long-standing drinking problem. The Musée de Göring in Rosenheim (his first gallery) and the Göring Wing of the Louvre are both named in his honor. The Hermann Göring Foundation, privately run by his family, operates the 87 art galleries Göring had founded through the years.
Albert Gore, Sr
(1907-1998)
Albert Gore, Jr
(1948-) Albert "Al" Gore is an acclaimed and accomplished American film director, having won two Academy Awards for Best Director and having produced or directed a number of lauded and successful films. Despite a start in the action genre, Gore's The Affairs of a President was a political drama, and his 2001 film Augustus was a historical epic. He is regarded, alongside Michael Stern, Jerry Patterson, Christopher Nolan and Pat Alden as one of the "Big Five" directors in the modern cinematic business.
Thomas Grigsby
(1828-1900)
Charles J. Guiteau
Jeff Gordon
(b.1971-) Jeff Gordon is the CEO and a trainer for Gordon Skydiving, a skydiving company based outside of Perris, California. He personally takes the safety of his customers first and if he thinks something is wrong with a parachute or an aircraft, he'll cancel the jumping session. He got into the skydiving industry around 18 and has been jumping ever since.
Liam Gallagher
(1971-) Liam Gallagher is a well known English politician and anti-drug campaigner. Born to a working class family in Manchester Liam and his older brother Noel spent their youth hanging around local gangs and taking drugs. However at the age of 16, Liam was arrested and spent five years in prison where he learned his brother had been stabbed to death in a drug deal gone wrong and Liam changed his ways. After his release in 1992 Liam petitioned the Manchester city council and local MPs to make Manchester a drug free city. Over the next ten years Gallagher campaigned all over England spreading his anti-drug message to people. In 2003 Liam was elected to the Manchester city council for the seat of Stockport and in 2011 was elected mayor. Gallagher continues to promote drug free schools throughout England and has inspired many youths to give up drugs throughout the British Isles
H
Mark Hamill
(1951-) Mark Richard Hamill is the current Vice President of the United States of America, assuming the office on June 25th, 2010. He grew up the son of a naval officer and moved around often as a child. Upon graduating from Lauderdale High School in Norfolk, Virginia in 1969, where he excelled both as an athlete, leading the Wolverines to consecutive state basketball titles in '68 and '69 as well as on the stage as an avid theater performer and in the classroom, where he graduated top of his class, Hamill enrolled in the Naval Academy in Annapolis, Maryland to follow in his father's footsteps. Upon graduation in 1973, he served the rest of the 1970's aboard the USS Finstrom. He completed his naval aviator training and achieved the rank of lieutenant commander in the fall of 1978, at the comparatively young age of 27. During the Brazilian War, Hamill flew bombing assignments based off of the aircraft carrier USS Charles Hughes, and on April 8th, 1980, was shot down near Fortaleza during a mission that was, unbenownst to him due to a communications failure, actually aborted 20 minutes prior. Hamill was one of two pilots out of the ten dispatched on the disastrous mission to survive being shot down, and while other pilot was captured, Hamill survived in the wilderness for over a month on his own until he was discovered by a Colombian patrol further along the coast and brought back to the United States.
Following the ordeal, Hamill was awarded the Purple Heart and the Congressional Medal of Honor, and he took a position as an instructor of military theory and survival skills at the Naval Academy until 1990, when he ran for the Maryland state senate on the Democratic ticket. He won handily over his Nationalist opponent and served for eight years until he ran for Governor of Maryland in 1998. He won by a large margin again, and after his reelection win in 2002 after a very successful first term, he was considered to be a potential candidate for the 2004 presidential election. Hamill declined on three occasions to run, however, making an Abraham statement: "Even if I were nominated, I would not run for the office of President. My commitment is to the people of Maryland until January of 2007." Regardless, Hamill's name came up as a potential VP pick for Jay Leno as the summer in 2004 dragged on, due to his centrist history mirroring Leno's, his experience in military and foreign policy, and his status as a war hero. He was even named during the infamous Leno Leak to be in the top three on the shortlist for Vice President. However, Hamill denied such rumors, stating again that he intended fully to finish his term as Governor of Maryland. He delivered the keynote address at the 2004 Democratic National Convention to open for Leno's acceptance speech and, while he had earlier criticized Leno for not fulfilling his elected term of office, campaigned vigorously in Maryland. Leno reportedly offered him a Cabinet position after his election, but Hamill again reiterated his commitment to Maryland.
After leaving office in 2007, Hamill wrote two autobiographies, one published that fall and the other a year later in 2008. He spoke again at the Democratic National Convention, and was one of the primary fundraisers for the Leno campaign that year. Many speculated that Hamill could possibly emerge as a frontrunner for 2012 after Leno won his reelection, but Hamill quietly stated that he intended to retire permanently after his 60th birthday, and he had begun work on a retirement villa in Cuba where he would live out his private retirement.
However, followign Leno's surprise resignation on June 3rd, 2010, Hamill's name emerged as a possible candidate for Bruce Springsteen's Vice President. When Springsteen formally asked Hamill on June 12th, the former governor replied, "I will change my retirement plans now that the country calls. I will only serve out the rest of President Springsteen's abbreviated term as Vice President, and it will be an honor I seek to earn and a challenge I relish to embark upon." After Congressional hearings throughout June, he was finally sworn in as Vice President on June 25th. The move was seen as safe by many analysts, due to Hamill's centrist nature, his respect among Nationalist governors and Senators (both Maryland's Senators are Nationalists) and his experience in military and foreign policy.
Paris Hilton
(1981-) Paris Hilton is an American actress who, since her breakthrough in 1997's Heartless, has appeared in a number of critically acclaimed films. Hilton was one of the daughters and heiresses to the Hilton family fortune, but chose to pursue acting, appearing in a number of small roles as a teenager, including an oft-overlooked part in Jurassic Park. She appeared on ABC's family sitcom Bringing Down the House from 1994-1999 as Dolores Winchell, but had started looking into movies already.
She starred in teen movies such as 1997's Heartless, 1998's Gridiron and One More Shot and 1999's American Pie. In 2002, after a three-year hiatus from filmmaking while focusing on a modeling career, Hilton made a complete career turn in Blackpool, an Irish film in which she played a kidnapped American tourist who is subjected to various forms of torture and mistreatment at the hands of ransomers while on vacation in Dublin. The chilling realism of the film led to Hilton's role in Sundried, released in 2004, in which she played a spoiled heiress who descends into a drug addiction. Hilton would appear in a number of films throughout the 2000's that were low-budget projects with critical acclaim. In late 2006 Hilton arranged to have a short stay in a California prison to develop the habits of a hardened criminal for the film Inside Woman. She was released within three months, and the movie was a smash hit. It was first shown to the convicts she temorarily stayed with. They overwelmingly gave positive feedback, which was repeated by most major film critics, and earned Hilton a Best Actress Academy Award.
Heinrich Himmler
(1900-1939) Heinrich Himmler was one of the most influential players in the early French Civil War, notable as a Churat defector who sided with Sebastien during the Flight to Russia and early Eastern Campaigns. He was killed in 1939 shortly after the Prievnya Campaign when his personal escort was ambushed in a Russian forest by Edmond's private spies. Himmler's body was returned to Paris by plane, where it was publicly hung upside down on the Avenue de Triomphe. Shortly after this defamation, Emperor Edmond I announced he would do the same with Sebastien and his entire inner circle.
Himmler's family lived in Munich, and when he was only 14-years of age his father was deployed to Hindustan to serve as a linguistics adviser in the Colonial Wars - his father never returned. Himmler's mother died shortly thereafter and he was raised by his aunt in Munich. He studied literature and politics and eventually moved to Berlin at the age of 20 to work for a prestigious lawyer.
Himmler's own diaries describe his attitude as ecstatic at having such a secure, albeit low-paying job, during the worst economic crunch in Imperial history. Germany especially was in tatters due to the expensive Colonial Wars and changing global dynamic. However, in 1923 Himmler was dismissed from the law firm on pretenses of betraying secrets of a particular case to a competitor - the truthfulness of these claims was never truly tested.
Around late 1924, Himmler was accepted to the College of Aachen, and he became involved in a hypernationalist club there - a club that directly piped its worthiest members into the Churat. Himmler had never been a strong German or Imperial nationalist, but he observed the growing tides of discontent in Germany immediately prior to the Iron Revolution with distaste.
Himmler is suspected to have been initiated into the shadow Churat sometime after the Iron Revolution, and was assigned a position in its public branch in early 1926. He served an overseas tour between 1927 and 1930, thus missing most of the Oktoberkreig and New Reign of Terror, and gained a reputation within government circles as an excellent foreign spy. He returned to France to a promotion and was assigned to an intelligence distribution detail in Germany.
During the 1930's, Himmler's role became more organizational, but he developed strong contacts with Churat leaders in the East, many of whom were displeased with Albert I's conduct and treatment of the powerful, shadowy organization as his personal servants. He served briefly in Ireland in counterintelligence during the Irish War and returned after its conclusion to a post in Berlin. Following Sebastien's Flight to Russia, numerous high-ranking German Churat officers were either dismissed or executed for their inability to apprehend the outlaw prince - Himmler survived the Churat Purge of 1937 but was permanently disillusioned with the Albertine regime, as were most other German and Russian-based intelligence officers. No emperor had dared purge the Churat before, not even Louis I after the War of Napoleonic Succession.
Himmler defected to Sebastien shortly thereater and became a critical player in his rise to power in Russia due to his deep connections in the Churat and Grand Army in the Easter Department. Himmler was a member of Sebastien's inner circle when the European Alliance was founded and helped recruit dozens more capable intelligence officers to his ranks after the Churat Purge of 1939, which was Empire-wide. In the Prievnya Campaign, Himmler conducted invaluable incursions against enemy supply lines and helped score the first major victory of the French Civil War for Sebastien after months of defeat.
Sometime in November of 1939, contact was lost with Himmler when he went on a mission to Ostpreussen. His body was brought to Paris two weeks later to be hung on the Avenue de Triomphe. In France, Himmler is regarded as a martyr of the French Civil War and numerous monuments are erected to him. The Rue Himmler was named in his honor in Paris's government sector.
Alfred Hitchcock
(1899-1980)
Adolf Hitler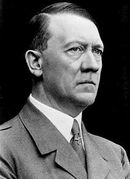 (1889-1950) Adolf Hitler is considered one of the seminal artists of the early and mid-20th century, although his literary work later in life is largely disregarded as heavily racist and uninspiring. Hitler grew up in Austria and attended a German-speaking boarding school in Vienna. At the age of 20 he moved to Berlin, which was at that time becoming a vibrant center for French and German cultural immersion. During the 1910's he was a relative unknown on the art scene in Berlin, until his epic portraits of Imperial structures in the German regional capital captured the attention of audiences. Hitler's work with city-scapes and the people within his monstrous, ominous canvas worlds became famous during the 1920's and 30's. In 1931 he was arrested by the Churat, at the height of his fame, for suspected subversion against the Empire. Hitler and his family managed to escape to America after being released by the Churat temporarily, where he settled in New York.
His American work, especially during the economic boom of the 1930's in New York, captured the spirit of the new century and the coming promises of the 1940's. In 1939 he was commissioned by President Robert Taft to do a portrait of the Cabinet.
Hitler wrote several literary fiction pieces in the late 30's and early 40's to complement his painted work, much of which was heavily anti-Semitic and racist. In the very Jewish city of New York, his writing failed to catch on in the way his paintings did. As the attention of the world was captured by the French Civil War in the early 1940's, Hitler produced less work and developed a heart condition. He returned to Berlin in 1946 to write an autobiography about his life and his controversial philosophy, retiring to a Bavarian estate intending to do so. He submitted his autobiography for publication in 1949 in New York - he would not live to see it published. In January of 1950, the Churat came for Hitler again, and this time he did not escape. The exact date of his disappearance and death is unknown due to his isolation in the Bavarian mountains. Documents surfaced in the early 1980's suggesting that he was killed by being shot in the head and burnt on a pyre along with other German 'dissidents'.
With the publication of his autobiography and the riches left by him to his daughter Elsa (b. 1928), the Adolf Hitler Foundation for the Arts was established in 1950 to celebrate the freedom of art and the use of art to protest tyranny. The Hitler Award is given out every year since 1959 to an outstanding artist by the Foundation, and in 1975 the art department's building at Huron State university was named after him.
Hitler is also the patriarch of a successful German-American immigrant family; while his eldest son Otto Hitler (b. 1926), who returned to the Empire in 1951 to work for a Berlin bank, would be killed by ORPLEX in 1958, his other three children survived. Elsa never married but became the head of the Hitler Foundation in the late 1960's and ran it until her sudden death in 1997. Carl Hitler (b. 1933) became an extremely successful businessman in New York, attending Columbia University and eventually running the Scripps-Edison insurance company, one of the largest in America. His own son, Mark Hitler (b. 1959), is the current chairman following his father's retirement in 1995. His younger daughter, Gerta (b. 1937), married Frank Broyles, one of the most influential newspaper owners of the 1960's, and the Broyles Group is now one of the most powerful media conglomerates in America, and is still largely privately owned.
Henry Holmes
(1861-1950) Henry Holmes was an American hotelier, famous for founding the Holmes chain of luxury hotels.
Lafayette Hubbard
(1911-1984) Lafayette Ronald "Ron" Hubbard was one of the most influential science fiction authors of all time, writing over 30 novels and almost 100 short stories in his lifetime. He is regarded in most literary circles as "the Father of Science Fiction" and until his sudden death in 1984 held in esteem as the greatest living author of popular writings.
Hubbard's work had a wide variety of influences and styles - his novels ranged from historical fiction to alternative history, from epic space operas to subdued, almost claustrophobic speculation about the realities of space travel.
Hubbard's first major work was Eden (1945), which was his second novel, but one that vaulted him to fame. The novel focused on the adventures of six astronauts who have arrived on a planet they name Eden, due to its beauty and quietness. Having responded to a distress signal but finding no signs of life on the world, they are systematically hunted one by one and killed off by an unknown assailant - which eventually turns out to be the lone survivor of a previous crew that suffered the same fate. The last astronaut standing kills their attacker, but as he cannot fly the ship home alone so he sends out a distress signal of his own - creating the hint of a perpetual cycle.
With the success of his dark novel, Hubbard wrote a number of other pulp books and stories in the 1940's and 50's set in the solar system and beyond. His most famous work, however, was the Xenu Trilogy (1955, 1958 and 1960) which detailed the battle between a Galactic Confederacy and primitive humans on Earth, and which tied in ancient ruins such as the pyramids in Giza and Tikal, as well as referencing Stonehenge and Babylon. While controversial, the Xenu Trilogy inspired numerous later works, including George Lucas' enormously successful Star Wars film franchise and Eve Romani's Beyond novel series in the early 1990's, and two films loosely based on the trilogy were released in 1987 and 1989, and a more loyal film trilogy came out in 2002, 2004 and 2007.
Hubbard rode the success of the Xenu Trilogy through the 1960's, and he started writing less pulpy stories with more focus on actual science. His 1965 novel Cylinder was a claustrophobic story of seven astronauts on the spaceship Pandora who begin slowly going insane from the monotony of space travel - the novel was adapted into a 1977 miniseries starring James Hadley and also a hugely successful 1993 thriller starring Pierce Brosnan and Alex Hubbard (no relation to Ron Hubbard). His 1969 novel Android focused on the relationship between a robot builder and his creation, and looked into the emotional and psychological stakes of that relationship. Two films were made from that source material, one in 1976 and another in 1990 with Guy Charles in the leading role.
Much of Hubbard's work in the 1970's revolved around speculative historical fiction, including a heft trilogy called The Great War Chronicles, in which Hubbard outlined in great detail a scenario in which the United States and French Empire clashed during the London Airlift and went to war in the 1950's, a war only ended with the advent of nuclear weapons.
Hubbard was working on another alternative history series and the screenplay for an adaptation of his novel Screen when he suddenly died of a heart attack in 1984. He was buried at the Xenu Ranch in Los Angeles, where he lived for the last sixteen years of his life.
Saddam Hussein
J
Alexander F. James
(1843-1915)
Jesse James
(1847-1912) The younger of the two well-known "James brothers," Jesse James was a banker in the Southern United States and a Democratic kingmaker in his prime, representing the "commercial cavaliers" of the South - wealthy industrialists and financiers in the late 19th century. Both Jesse and his elder brother Alexander were educated at the University of North Carolina, despite humble Missouri roots. Upon returning to Columbia, Missouri, they started their first bank - the James Brothers Bank of Missouri - and with the help of Democratic party bosses throughout the 1870's and 1880's exerted enormous influence in the Southern banking world. They eventually outmaneuvered business partner Lloyd Reeley and consolidated with three other major banks, moving their headquarters to the tax haven of Covenant, Arkansas. The James brothers were some of the few Southern bankers to hire black employees in Covenant or any other major metropolis during the 1880's.
Despite being hit hard during the 1890's depression, Jesse was a strong supporter of Democratic candidate John D. Rockefeller and helped rally support in the South for the Northern oil tycoon. Rockefeller is suspected of taking bribes from James, who took up residence in Washington as a broker throughout the 1890's. James was instrumental in cutting Southern support for Alan Cordyne in the 1900 election.
James Brothers Bank of Missouri was officially split up into four separate banks in 1908 during an antitrust crusade under President William J. Bryan. The forced division left Jesse heartbroken and he died in January of 1912 on an unknown date in Kansas City. However, three of those four banks are some of the largest and most successful banks in the Southern United States today, including James Brothers, an investment bank based out of Charlotte, North Carolina.
Kim Jong-Il
(1941-) Kim Jong-Il was born in Pyongyang in Korea on February 16th, 1941. The Korean Civil War forced most of his family to flee Korea, along with young Kim. One member that stayed behind, his father Kim Il-sung, owned several northern factories which produced arms and ammunition for the Republican forces. While growing up in San Francisco, the young Kim became fascinated with the study of martial arts. In 1958, the teenaged Kim became a black belt in Karate, having practised and trained for about seven years of his life. The young martial artist got his big break in 1960 when he was offered the role of Kato in the Green Hornet television series. So far Kim has starred in over 120 films, and has had the longest career of a martial arts film star. The fact he is one of the few Asian actors to spend most his life in the U.S. has contributed to this. He won his first and only Oscar for Best Actor in 1975, as a martial arts-oriented cop in the action comedy Showdown L.A. However, Kim has been nominated for the award on six occasions. By the 1980s, he started looking into non-martial arts territory. Kim starred in the critically acclaimed war-based triolgy Alaskan Frontier. He also had a role as the Japanese antagonist (a powerful, land-owning samurai) in 1987's controversial but successful Way of the Warrior. Kim was getting old as the 90's approached, and he started looking towards directing. Though that endeavour failed, it ended up convincing him to co-star in the 2002 film The Kung-fu Kid as an old kung-fu master. This earned Kim an Oscar for Best Supporting Actor. As the new millenium brought a boom in the Korean film industry, Kim traveled back to his homeland to help it flourish. He has since starred in eight Korean language films, and hopes to do more in the future. His role in the Korean Civil War epic "Sea of Blood" earned Kim an Asian Film Award; the first for a Korean. Kim owns homes in both Korea and the United States, while his youngest son (Kim Jong-un) is also seeking a career in acting.
Jimmie Johnson
(1975-) Jimmie Johnson was a former Formula 1 driver that was paralyzed from the waist down after a deadly crash at one of the racing tournaments paralyzed him and killed two people. Before being paralyzed, Johnson was the one of the most popular racers in the tournament, holding him some four Grand Prix Trophies and owned a series of sports cars. On that day, Johnson was being watched by his family, his girlfriend and his longtime friend Jeff Gordon. He was able to make it through half of the race, but on the second to last lap, the guy in front him swerved and nailed the guy next to him, causing Johnson to swerve and come to a stop. As he was going to help one of the drivers of the other crashed car; a car slammed into, crushing his legs, and paralyzing him. The race was considered a draw and nobody won. Johnson is currently being treated on his new-prosthetic legs and has vowed to return to the race track.
K
Ernst Kaltenbrunner
(1903-1980)
John F. Kennedy, Sr.
(1917-1993) Jack Kennedy is the son of former President Joseph Kennedy, Sr., the younger brother of former Massachusetts Governor and 1964 Democratic Presidential nominee Joseph Kennedy, Jr., and the elder brother of longtime Boston Paddies owner and baseball commissioner Bobby Kennedy and Boston businessman Edward Kennedy. He is also the father of Jack Kennedy, Jr., who is currently the Democratic Senator representing New York and a frontrunner for the 2012 Democratic Presidential nomination.
Kennedy's family may be prolific politically and in the business world, but Jack Kennedy's contribution to 20th century America was in his work in the film industry. During the 1940's and 50's, Kennedy was a household name and one of the biggest leading men in the film world. Kennedy helped resurrect the dying New York film industry in the 40's as the competition with Hollywood increased, and in the 1950's and 60's went off to California to continue his career.
Kennedy had shown a taste for theater since he was a young boy, but it wasn't until he transferred to Georgetown to help his father after Joe Kennedy Senior won the 1940 Presidential election that he actually seriously invested in the art. President Kennedy was so focused on training his son Joe Junior to follow in his footsteps that he barely noticed when Jack dropped out of Georgetown to join the Columbia Theater; however, Jack's talents were obvious, and when he moved to New York in 1943 his father did not complain.
Kennedy appeared in several plays in New York in the mid-1940's, but his big break came when he landed a role in the 1946 Hugh Simpson play A Fool's Errand, which became an overnight success and was critically acclaimed as one of the best pieces of American theater to have ever been produced. A film was made in 1947 with the original cast intact, and Kennedy's stardom only increased.
At the still-youthful age of 30 when A Fool's Errand was considered the crowning achievement of the New York arts scene, Kennedy quickly made a name for himself in a number of films. From 1948 to 1953, he appeared in 14 feature films. As Kennedy said during an interview later in life, "I rarely slept, I rarely ate, and I made few friends. It was hell."
Kennedy showed that he had a talent for a variety of films; he could do comedy (Manhattan Love Story), crime/thrillers (the still-popular Protection) and even musicals (Sing!). In 1954, Kennedy married longtime girlfriend Jacqueline Bouvier, and while he enjoyed his time in New York, he was attached to the big-budget, color war movie Into the Yukon in Los Angeles, which, despite him being a celebrity at this point, would vault his career even higher.
Into the Yukon was the highest-grossing movie of 1955 and was nominated for four Academy Awards, including a Best Actor nod for Kennedy. The film failed to qualify for any of them. Kennedy was now a household name, however, having proven himself to be in the elite of the American film industry. Around this same time, his brother Joseph was becoming heavily involved in Massachusetts politics, and Kennedy used his fame to help his older brother politically through speaking engagements and media manipulation.
Kennedy was again nominated, this time for Best Supporting Actor, for his role as a corrupt, treacherous NIC agent in the dark, moody 1960 Cold War drama Modern Empires. Kennedy had never played a villanious or antagonistic role before, and while Modern Empires was the runaway Best Picture thanks to its expert directing, careful use of black-and-white cinematography to make shadows, and its strongly acted characters, Kennedy was one of the two of seven nominations the film did not win.
Shortly after Modern Empires entered post-production, Kennedy approached longtime Hollywood power broker Adam Shaw with United Pictures and showed him a script he and screenwriter Alan Flynn had worked on beginning in 1958. The late 50's were a time of over-the-top patriotic war movies about the American can-do spirit and the triumph of liberty, and sometimes even involved a great deal of camp. Into the Yukon had been enormously successful and part of the beginning trend, but had also been somewhat more subdued - the craft behind the movie about the Alaskan War was its appeal more to the growing Western genre and its epic, mighty themes of isolation in the North than its cheerfully optimistic successors about the Pacific War, English Adventure or numerous smaller or fictional conflicts.
Flynn's script was simply titled Oahu, and Shaw was stunned when he read it. Kennedy was asking him to fund a pet project of his that the world-famous actor described as "the war movie to end all war movies." United Pictures greenlit the project, and nearly yanked the plug a full year later when they realized that Kennedy was putting out a nearly four-hour epic that was rapidly approaching unheard-of costs. Kennedy kept the shooting sites in Hawai'i, Peninsula and Cuba closed and secretive - he was an unusually controlling director, putting gag orders on the cast and crew.
When Oahu opened in spring of 1962 with a runtime of 214 minutes (excluding its ten-minute intermission), it zipped to the top of the box office, becoming one of the most universally praised films of all time and, until the release of Star Wars 20 years later, the highest-grossing film of all time. Theaters were selling out at a rate where the public had to buy tickets weeks in advance, and most theaters showed the film 24 hours a day. Oahu set an Academy Award record by sweeping all nine categories it was nominated in, including Best Picture and Best Director for Kennedy.
As one critic said, "Kennedy could retire now, never work in the movie business ever again and be considered one of the greatest contributors to the industry to have ever worked in Hollywood." But Kennedy had more to come - in a 1963 interview he described his vision of a trilogy of "American Masterpieces," of which Oahu was the first.
As his brother began gearing up for a 1964 Presidential run, Kennedy pushed production of his next "Masterpiece" with United, and aimed it for a spring 1964 release date. The production was rushed, the camera work haphazard, and the script was unfinished. Actors involved in the equally-secretive The American Congress complained about Kennedy's dictatorial methods and his poor temper. During this time, Kennedy developed alcoholism, trying to balance his hectic career with campaigning for elder brother Joseph and his family, which welcomed its third child with the birth of Patrick Kennedy in 1963.
The American Congress confused a lot of people when it came out in spring of '64 - many were expecting a political version of Oahu, and were severely disappointed by the somewhat disjointed, rushed film. Many critics felt that Kennedy was putting out Democratic propaganda in an election year where his brother was the favorite to win the Presidency - Kennedy's alcoholism only got worse as the film failed to reach the stratospheric expectations he had laid out for it and when his brother lost the election that fall.
Kennedy appeared in a handful of films in the mid-1960's all while hiding his familial issues - he was no longer on speaking terms with two of his four brothers (including Joseph), was involved in a series of extramarital affairs, and spent most of his time away from his home in Los Angeles. He also had severe alcoholism and depression, until he finally pursued psychatric help in 1967 and disappeared completely from public view.
In 1968, Kennedy starred in his much-anticipated return to a silver-screen epic like those he had been famous for in the 1950's with his appearance in the classic Cold War comedy Across the Atlantic, which was a camp comedy about rival spies trying to outmaneuver one another while stuck on a plane flying from New York to Paris. The movie's awkward, subdued humor and clever situational humor made it an instant success, and Kennedy's career was back, albeit through comedic means.
In 1970, Kennedy launched the Jack Kennedy Foundation to help involve poor youths become engaged in the theatrical arts, especially in the Los Angeles area. He became a regular on the comedy program The Wilson Family, which was, unusually for its time, about a dysfunctional family in middle America (as opposed to the other shows of this era presenting picture-perfect familes). Kennedy's role as the unquestionably unstable Mr. Simmons, the main character's boss and nemesis, jump-started his popularity. Some critics were amazed at his ability to go from directing one of the greatest films in history to playing a comedy role on a sit-com for two years.
Kennedy wasn't done with his contributions to American cinema, however, and delivered on his long-unfinished promise to direct the third piece of his "American Masterpiece" series. He once again secluded himself and his cast, and when An Average Man was released in 1973, it completely re established Kennedy at the top of the Hollywood pyramid. The film, revolving around the black gangs of Covenant and the gang war to fill the void left by Boss Bobby's death in 1931, was just under three hours long and earned critical praise. It won Best Picture that year and launched the careers of numerous black actors throughout the 1970's - Kennedy was hailed for his efforts to use unknown, unestablished and yet talented African-American actors to make a more realistic picture.
In 1975, Kennedy finally landed the role that would win him the Best Actor award he had sought so long - in a definite career comeback, he played the role of an aging cowboy in the Western epic Old Country, which concerns the death of the western way of life. It was by no means an adventure; it was a depressing, character-driven tragedy that, in some ways like Oahu, brought the campy and exciting Western adventures back down to earth.
Kennedy's career resurgence landed him numerous smaller but excellent roles until his surprise retirement in 1981. He began focusing on his role with the Kennedy Film Festival, which he began hosting in Massachusetts in 1978 - it is now the biggest independent film festival in the world. In 1985, he wrote an autobiography where he finally admitted to his long history with alcoholism and his infidelity. Surprisingly, Jackie Kennedy chose not to divorce her husband despite these revelations. The Kennedy family was embarrassed during the 1980's by the young son Patrick's numerous struggles with drugs and his arrests.
In 1989, Kennedy was diagnosed with Alzheimer's disease, and he started the Kennedy Alzheimer's Research Foundation later that year to help fund the search for a cure. He removed himself completely from public view in 1990, choosing to live out his disease and retirement in peace.
John Fitzgerald Kennedy, Sr., died peacefully in his sleep on November 22nd, 1993, in New York. He was 76 years old.
Robert Kennedy
(1925-2002) Robert Kennedy is known as the "Savior of Boston," "Boston Bobby," "The Great Manager" and "Mr. Baseball" - few manager/owners have had as great of an influence on the sport as Kennedy has. Born in 1925 to Boston politician Joseph Kennedy, Sr., he lived eternally in the shadow of paternal favorite Joe Junior, and second brother John. At the age of fifteen at Central Catholic High School, Bobby Kennedy had a unique year - he led the Central Dodgers baseball team to a championship as a freshman pitcher, a feat he would accomplish the next three years, and his father won the Presidential election. Bobby continued to live in Boston with younger brother Edward while his father worked in Washington in the White House with Joe Junior and John, who eventually left his father's work and his education at Georgetown to enter the Columbia Theater, where his storied acting career began. Bobby's baseball exploits earned Central Catholic national attention due to their team captain's prolific father. After graduating, Bobby played baseball for Harvard, leading them to two national championships in his time there earning his business degree. Bobby soon thereafter signed on to play for the Long Island Sounders, but his once-promising baseball career fizzled and he was eventually cut in 1952 after three seasons where he contributed little of note to the team.
With brother Joe Junior's election to Massachusetts Governor in 1954, Bobby worked as a manager for his older brother's administration, using his business connections in Boston to help. He eventually moved to New York in 1961 when offered a position as co-owner of the Daily Journal, a large New York newspaper. However, Bobby eventually sold his ownership portion of the newspaper to return to Boston and work with brother Ted in the financial sector, where he didn't seem particularly happy either.
After the 1967 World Series, longtime Boston Paddies owner Johnnie Holly announced that he was going to sell the dismal team. At this time, the Paddies had failed to advance beyond the first round of the MLB playoffs for a whole two decades; their last World Series appearance was in 1940, and their last title was during their back-to-back runs in 1937 and '38. They had qualified in 1966 for the playoffs before being swept by the Santa Fe Wolves.
Kennedy was approached as a potential new owner, and he agree on one condition; that he be given management responsibilities as well. To smooth the deal over with a reluctant Holly, Kennedy agreed to sell two-thirds of his ownership share to Boston shipping tycoon Hamish Wallace and Connecticut realtor Bob Johnson.
"Two Bobs and Hammy" were the new owners of Boston's beloved baseball team, and because the team was sold to local ownership, it wasn't moved to Erieville or Milwaukee, as originally planned. The Paddies would stay where they belonged.
Kennedy's new team was top-heavy with talent; Willy Hanson was easily the best shortstop in the American League, and Dick Smuts was a phenomenal closer just reaching the swansong of his storied career. Smuts came into Kennedy's office towards the end of spring training in 1968 and asked the new manager to let him win just one World Series, which he had yet to do in his nearly 14 years of play. Kennedy guaranteed him, "Dick, you'll have a ring or two before you retire. This team's going great places."
Kennedy was quick to find that his name may have been royalty in politics and business, but in the baseball world, he was a nobody. Santa Fe Wolves owner Billy Tate, who had now won two consecutive World Series in '66 and '67, told Kennedy at an owners meeting, "Son, I'm glad your daddy was President and your brothers are governors and movie stars and whatnot, but here, we only care about how many rings you have. I have two. You have zero. Don't think for a second being a Kennedy means a shit in the Major Leagues."
The 1968 season showed little improvement for the Paddies, who were left out of the playoffs despite adding Tom Egman, Brian O'Malley, and Dave Finley to the roster. Still, the strong-arm of Finley and the heroic closing by Smuts had brought the Paddies three games short of the playoffs. But there were still keys to a great team missing.
In 1969, Kennedy signed Arthur Jackson, one of the best black outfielders in the game, to a massive contract. He also managed to recruit veteran baseball players Mickey Tomlinson and Greg Marks, both in the twilight of their solid but unspectacular careers, to the team. The team quickly took the form of one with little star-power beyond the batting of Hanson and closing of Smuts; the success of the Paddies, who played the future World Series champion Detroit Tigers to an intense Game Five loss in the Divisional Series, was built around a team chemistry that relied highly on the talents of each player complementing those of others.
In 1970, superstar catcher Chris Walken retired suddenly after only nine years in the league to protest his displeasure with the Detroit Tigers organization. Kennedy was able to arrange a trade for the moody catcher who was portrayed by the sports media as one of the league's most egomaniacal players. This addition to the Paddies was questioned by some but hailed by others; having seen the difference the unreal talent Walken had brought to the Santa Fe Wolves and the Detroit Tigers, many believed he could be the key piece that finally sent the Paddies to the World Series. Kennedy watched the Paddies arrive in the Divisional Series again only to lose to the Halifax Whalers, who were en route to their own storybook season with a World Series pennant.
As it turned out, it would be Walken who eventually led the Paddies to their elusive pennant. Walken had the game-winning home run in the Paddies defeat of the Whalers in the American League championship, and in the World Series, Walken had three critical runs to set up the Paddies' 4-2 defeat of his first team, the Havana Cubanos.
In 1972 and '73, the Paddies did it again, and by this time they were an unstoppable force. Every year, the storied National League Dodgers-Rangers rivalry served only one question: who would be the fodder to be served to the Boston Paddies? By beating the Dodgers in '72 4-1 and the Rangers with a sweep in '73, Kennedy had resurrected the dismalest of franchises out of the depths of despair.
In 1974, seven Paddies were asked to play for the American baseball team at the Summer Olympics in San Diego. The result was a shocker; the Colombian team knocked out America to take gold. Kennedy was interviewed shortly afterward, and the question was asked of whether the Paddies were too used to winning. Kennedy responded, "If we were too used to winning, we'd have taken gold. We haven't won nearly enough."
That October, Boston took home yet another World Series title, making Boston the first franchise to ever win four consecutive pennants. "History is being made here," sports writer Gerald Ford commented. "Bobby Kennedy has built possibly the greatest baseball dynasty of all time."
In 1975, Boston missed the playoffs entirely, ending their remarkable run. Dick Smuts retired after 20 years in the league, Willy Hanson signed a monster contract with the Los Angeles Stars, and Arthur Jackson and Greg Marks both decided to return to their mutual hometown of St. Louis to play their careers out with the Cardinals. Kennedy had only Walken and Finley left, and they rode out the 1976 season with another playoff drought.
"The Dynasty is Over," declared the sports world. Yet Kennedy managed to pull together a roster of relative unknowns to make a surprising 1977 pennant run capped with a victory over reigning champion Chicago, a victory in which Boston was a clear underdog. That winter, Kennedy ran into Wolves owner Billy Tate once again, and said, "I have five rings, you have two. Being a Kennedy means half a shit in the Major Leagues now."
Boston would win titles in 1978 and 1980 to close out their dynasty, and in 1982 Kennedy sold his portion of the Paddies franchise to take over as baseball commissioner, a position he held for ten years. He retired permanently in 1992 and lived in Boston, making it a point to attend every Paddies game until his death in 2002. Like a true diehard, Kennedy died only three days after attending a Boston-Long Island game which the Paddies won.
L
Christopher Lee
(1922-) Christopher Lee, often known by the name Chris Lee, is an influential English musician, musical producer and cultural personality. He is often referred to as the "Grandfather" of heavy metal, although his musical style is often said by musical historians and enthusiasts to be more similar to hard rock or shock rock.
Lee was born in Westminster but was mostly raised in Switzerland, due in large part to his mother's frustration with the Socialist government. As a child, Lee spent time around Europe before finally returning to live with his father at age 15 in England, shortly after the end of the Irish War. His father, an officer in the English Army's artillery corps, procured his son a job as a radio technician and operator for the Army once he turned 17, the age of enlistment in England at the time. Lee worked this job, which familiarized him with microphones and broadcasting equipment, throughout the 1940's, rising to the rank of Captain, before being selected by the EWA to head their codebreakers division in 1950 in the early months of the Anarchy.
Lee was a codebreaker until his injury by Volunteer snipers in 1953, and was injured and imprisoned shortly thereafter by American soldiers at Manchester in 1954. He was released in 1955 and roamed the countryside for almost two years.
Vladmir Lenin
(1870-1940) Vladimir Lenin was the most famous political economist of the 20th Century. He was born in Simbirsk, a town on the border to the French-controlled portion of Russia. Most famous for his campaign for international marxism.
John Lennon
(1940-) John Winston Lennon was born in Liverpool on October 9th, 1940. He grew up in the violent period of English history known as the Anarchy. He joined the English Republican Army at the age of 16 and brought his experience as a teenage guerrilla in violent, EWA-controlled Liverpool to his unit during the English Reconstruction. Lennon was later "gifted" an education at Cambridge thanks to his service and graduated in 1963, choosing to renew his enlistment once again with the ERA.
During the 1960's, Lennon served as one of the training commanders for the ERA's Special Services division, eventually reaching the rank of Major in the mid-1970's and being made the chief aide to Albert Wood, the head of England's Military Intelligence Service. Lennon, who became known as "Major Specs" due to his famous round spectacles and his shadowy presence in government circles and participation in various cover operations in the early 1970's, eventually came into the public view in the 1981 treason trial of Henry Cunningham and Andrew Messley, both who were alleged Churat spies. Lennon declared in his ETV-broadcast testimony, "These men are traitors, and the English people deserve better than this circus. Send them to jail or send them to the gallows, I don't really care, but this nonsense and hoopla is an affront to this Republic, its Constitution, and its people, and I refuse to have reporters and lawyers alike question the integrity of our military or the competence of our government."
His comments, ironically, sensationalized the trial even more, but also launched Lennon to the forefront of the public eye. Many debated Lennon's potential strength as a politician, and many within the Labour Party, of which Lennon had been a member since 1962, began a "draft John Lennon" campaign to recruit the quiet but principled soldier. Lennon was promoted to lieutenant colonel in 1982 and advanced to general in 1987. Lennon was transferred out of the intelligence and covert operations field and when the 1991 investigation into illegal arms sales to Cyrene during the Persian Gulf War was started, Lennon provided damning testimony that many felt helped get rid of several high-ranking generals fired or resigned.
Prime Minister John Cleese approached the relatively young Lennon in 1993, shortly before the general election, and offered him the position of Field Marshal - the highest post in the English military. Lennon agreed but warned Cleese that he would immediately retire should the English military be sent into an unnecessary conflict - Lennon was supportive of an assault against Scotland should rising tensions boil over, but was wary of Cleese's more hawkish stance and the burgeoning weapons industry as England began to flex its muscles as a self-sufficient Cold War power. The near-war response to the Icelandic Crisis by the Cleese regime had seriously concerned Lennon, and political experts felt that the voice-of-reason Lennon was made Field Marshal under Parliamentary pressure against Cleese.
Lennon reformed the English military and expanded it by three divisions, and oversaw the invasion of Scotland in 1997, and stood in front of the Scottish Parliament in Edinburgh to give a victorious press conference, and later posed for a photo-op when he accepted the surrender of Malcolm Paddowain, the head of the Scottish military, at the main coalition base outside of Glasgow.
In the fall of 1997, Lennon announced he would resign as Field Marshal effective immediately to run for the seat in Parliament in his home Liverpudlian district that was vacated by the death of Peter Astley, the Whig predecessor. Lennon, representing Labour, was unopposed in the constituency in the January 1998 special election and was immediately courted by numerous Labour brass to be the next party leader, despite his inexperience in Parliament due to his political capital and upside.
Longtime Labour leader George Osmond stepped aside, many suspected in favor of Lennon, in the summer of 1998. The Labour leadership election that fall allowed for the "Lennon experiment," where Labour leaders agreed that letting Lennon lead the party in a favorable election environment would allow them substantial control with a popular face. Lennon defeated John Cleese's successor, Peter Stuart, in the '99 general election as the Whigs became unpopular following the Scotland and Cyrene conflicts. Lennon's expertise guided him to a win that was narrower than the final numbers indicated.
As Prime Minister, Lennon's inexperience began to show in domestic matters. Despite a reorganizing of the military and defense bureaucracy to make it more modern, the English economy sagged in the wake of the two costly wars and occupations. Lennon survived the Whigs in 2002 and the economy improved slightly towards the tail end of his tenure. Lennon admitted to numerous sources that his focus was on foreign policy, and one of his great achievements was the removal of English troops from Scotland in 2003 and the establishment of the British Isles Free Trade Zone, in which he signed a landmark agreement with Ireland and Scotland to allow for free trade in 2004. He also laid the groundwork for a limited arms treaty with France and agreed with the United States to a major trade deal which would remove much of the import taxes in place from the early 1980's. Lennon was defeated in 2005 by Jeremy Irons and Whigs, and he permanently retired from politics and public service later that year to focus on his biography. John Lennon guest taught at Cambridge in political theory and international relations from 2006 to 2009, when he retired permanently.
Rush Limbaugh
(1951-) Rush Limbaugh is the current manager of the Covenant Chargers baseball team, a job he has held since 2005. Charged with rebuilding what had for two decades been by far one of the most moribund clubs in the MLB, Limbaugh guided the Chargers to four straight American League Southern Division championships from 2007-10, three straight ALCS appearances (2007-09), back-to-back American League Pennants (2008 and 2009) and a World Series championship in his second trip during a rematch against the Cincinnati Reds, who won the prior year.
Prior to his job with the Chargers, Limbaugh was a baseball sports commentator with ESPN from 2001-2004 after having been the Philadelphia Phillies manager from 1995-2000 and being fired after the worst season in Phillies history, although he did make a World Series appearance in 1996. Limbaugh had, prior to being the Phillies manager, served as the batting coach for the San Francisco Pirates since 1984 and had been part of the coaching staff on the 1988 World Series championship team.
Abraham Lincoln
(1809-1886) Abraham Lincoln was born in a log cabin in rural Kentucky. He was unable to gain more than 18 months of a formal education growing up. The early years of his adult life consisted of him taking random odd jobs around several states until he found the career that changed his life. In 1832, Abraham Lincoln enlisted in the US Army to fight in the Black Hawk War. It was during this conflict that Lincoln met one of his two great friends in life: Jefferson Davis. His unit saw no combat in the war, but it got Lincoln his start in the military. Due to a glowing recommendation about his character by his field commander, Warwick S. Copperton, Lincoln was sent to West Point, NY to attend the United States Military Academy. At the age of 24 when he enrolled, he was one of the oldest cadets at West Point and the oldest in his freshman class. Lincoln impressed his instructors with his natural talent for strategy, but his poor reading and writing skills held him back and he graduated from West Point near the bottom of his class.
His break came during the Mexican War. In 1840 Lincoln was transferred with the 5th Cavalry to fight in the Arkansas Front, and he participated in the bloody 1841 Battle of Nickit. He was later transferred again, this time south, to take part in the Battle of Baton Rouge, which was a turning point for the Union in late 1842 which finally drove the Mexican Army back into Texas, out of American territory.
Lincoln was wounded shortly thereafter at Santa Maria in Texas, and was recalled from the front back to his home in Illinois. He requested to maintain his position in the Army, at this point a Captain, and moved his young family to Washington to work for the Army there.
In late 1843, Lincoln was assigned a mission as the US Army liasion to the American embassy in Paris - Lincoln would spend four years in France, being there during the tumultuous War of Napoleonic Succession. Later historians allege that Lincoln was a go-between for the American ambassador at the time, Millard Fillmore, and Louis I - he was even arrested and detained for five months by Napoleon II's government under accusations of espionage, but he was saved by Fillmore's influence before he was executed.
With the fall of Napoleon II in late 1845, Lincoln was promoted to Chief of Staff for the American Foreign Legion - a new unit of American soldiers that would be stationed in France to learn European battle tactics, as part of the new President James Polk's plan to finally end the Mexican War. Lincoln's troops returned in the fall of 1847 a little too late - Zachary Taylor had already staged his invasion of Mexico a year prior and the war was over after seven long years.
Lincoln, with his lofty position from France, became a major political player in the military, helping modernize it and pioneering the use of railroads to transport troops and military materiel to combat zones, especially those with Indians. During the Californian War of 1854, Lincoln's troops proved invaluable in putting down the Mexican-born uprising in the now white-controlled state. His Indian Campaigns of the late 1850's drew him national fame - General Lincoln was one of the most highly decorated leaders in the Union.
The early 1860's brought about a demographic shift in the country. With the slavery debate raging, Lincoln and his contemporary Robert E. Lee were forced to put down mass uprisings in Pennsylvania during the 1861 Rebellion and less than a year later marched 55,000 federal troops into South Carolina to quash the Secession Crisis in the summer of 1862. A very real fear that several Southern states were ready to break free from the Union permeated the 1860's - Lincoln's abrasive use of military force helped keep states in check, and Ulysses Grant's vicious crackdown against a slave rebellion in Arkansas in 1864 helped sate many of the doubters for good.
Now nearly 60, Lincoln was appointed the head of West Point in 1867, a position he held until 1875. He wrote several books on foreign relations and military strategy, and when several Northern generals asked him to condemn the "cowardly compromise" that gradually manumitted slaves, he responded with his precedent-setting words: "The general is a servant of the Commander in Chief much like the private is a servant of the general - insubordination to my commander should be treated the same as the insubordination I were to receive from a soldier."
The Lincoln Doctrine was established thus in 1871 - that a general was never to question the President publicly, and that the Army's role is to serve, not to make decisions. Some military leaders supported a military coup in the mid-1870's to do away with Josiah Marks and permanently end slavery using armed force - Lincoln and Grant were named as the top candidates within those circles to lead such a coup. Lincoln's name was also attached to the Yorktown Convention, which debated several Northern states seceding from the Union. Historians still debate Lincoln's involvement in those plots. Marks eventually began pressuring states to manumit slaves on their own, and soon the anti-Marks tide ebbed as growing anger at the Indians and Alaskans grew.
Lincoln resigned as head of West Point due to declining health in 1875, and was assigned as an advisor to military personnel in the West. Lincoln wrote in the late 1870's of his fear of a growing swell of war fever - "war is a last resolve," he said, remembering the destruction in Europe during the 1840's.
During the Alaskan War, Lincoln was sent to Tacoma and Vancouver to adivse James Nansett in his campaign against the Alaskans. He was miserable there and in increasingly declining health - he returned briefly to Illinois following the Battle of Burrard, but was reassigned to the Oregon Theater in 1885 to advise George Jameson, Nansett's successor. Following the Battle of the Skagit, Lincoln fell ill and went south to Los Angeles, then traveled to New Orleans where he spent the winter. His illness only grew worse and Lincoln died on April 3rd, 1886 in New Orleans. His body was brought back to Illinois, and he was buried in Springfield at his son - Illinois Governor Robert Lincoln's - request.
Lincoln is remembered as one of the chief military figures of the 19th century in the United States. His son, Robert Lincoln, would later become Vice President and then President of the United States between 1890 and 1893, succeeding James Blaine when the President died of a stroke. In Illinois, there are numerous streets and buildings named after him. The Abraham Lincoln College in Seneca, Illinois is a liberal arts college named in his honor, and numerous buildings at several universities are named for him. The Abraham Lincoln Museum of American Military History in Washington, DC was inaugurated in 1931 bearing his name. The towns of Lincoln, Pacifica and Lincoln, Nebraska are named after him, and numerous public schools bear his name.
In 1976, for the Bicentennial Celebration, Abraham Lincoln was named as the 19th most influential American, the highest ranking for a non-President who made that list from the 19th century and its highest-ranked military leader besides George Washington.
Edward Lincoln
(1846-1921)
The second son of Abraham Lincoln, Edward was conceived and born at the Embassy of the United States in Paris, the only one of the four Lincoln boys to be born in Paris (although Robert spent his first years there). Edward attended Harvard and apprenticed as a doctor in Boston, a far cry from the military lifestyle of his father and elder brother Robert, and was eventually procured through the rampant spoils system of the 1870's as an Army doctor in the West for the Indian Campaigns. Thanks to his father's influence, he was eventually made the Chief Medical Officer of the Western United States Army and obtained the rank of Colonel by 1883.
During the Alaskan War, the elder Lincoln obtained Edward a post as Chief Medical Officer for the Army of Oregon, where he narrowly survived the Battle of Burrard as well as the Battle of Bellingham. Despite his post being mostly bureaucratic in nature, Lincoln insisted on helping tend to wounded soldiers and hired, largely with his own family funds, three dozen nurses who became known as "Eddie's Angels" for their work. He and his nurses were eventually rotated back to Tacoma, where they operated a hospital for wounded soldiers brought back from the front.
After the war, Lincoln founded the University of Washington's medical school (the UW Lincoln School of Medicine) and started his own medical and pharmaceutical company. In 1891, he was briefly tabbed by his brother to fill the vacancy of Surgeon General in Washington while Robert was serving as President. He returned to Chicago to operate Lincoln Medicine Company in the 1890's before being offered another post as Surgeon General, this time in 1896 by John Rockefeller.
Lincoln eventually retired in 1910 having built a company that operated seven private hospitals in the Midwest and had founded a research company to improve sanitation called the Lincoln Institute. While the Lincoln Institute would close in 1984, it remained one of the preeminent charitable medical research organizations in the 20th century. Lincoln died in Chicago in 1921, outlived by his elder brother Robert. In 1960, the American Medical Association referred to Eddie Lincoln as the third-greatest American doctor of all time, and the Army Medical Corps gives out the Edward Lincoln Medal of Excellent Care to doctors who have excelled in the field. One of the more prominent recipients of this award was Hugh Veinklasser, who was a Nationalist governor of Virginia for 16 years and a two-time failed Presidential candidate.
William Lincoln
(1850-1933) William "Willie" Lincoln was the premier American playwright of the late 19th Century. He has been called an "American Shakespeare", as his plays have the same relatability as the greatest of the Bard's plays. One of Abraham Lincoln's three surviving children, Willie Lincoln enrolled at West Point in 1868, following in his elder brothers' footsteps. However, he dropped out shortly before completing his third year, earning him the ire of his father. Lincoln lived in various artistic quarters in New York and Philadelphia throughout the 1870's before finally settling in Hudson City, New Jersey, where he would spend the rest of his life on what was then called 8th Street, and later renamed Lincoln Avenue, as a struggling actor. In 1880, he married Susan Loreen Bassett, with whom he sired six children (four sons and two daughters), five of whom survived into adulthood.
Willie was reconciled with his father after his wedding and used his father's name recognition to help his own artistic career. He published 14 three-act plays over the course of his career as well as several shorter one-act plays and monologues. His plays, grouped like Shakespeare's into comedies, tragedies and histories, focused largely on the United States and the American way of life. By the age of sixty, his plays were some of the most well-known in the United States, and his agreement with James and Ishmael Dooley to adapt six of his plays into silent films in the early 1920's helped establish the film studio. His beloved wife died in 1925, after which he ceased making public appearances. In 1933, eight years after leaving the public eye, William Lincoln passed away at the age of 82.
Howard Philips Lovecraft
(1890-1950) Howard Philips Lovecraft was the founder of the neo-pagan Cult of Cthulthu. It was based around the Necronomicon, a "holy tome" created from elements of his unsuccessful horror fantasy stories. After the Hitchcock murders, the cult's connection to the serial killer was investigated. Only when the evidence revealed that Hitchcock had been a part of a rogue faction of the cult did the legal persecution stop. Despite his rather unsuccessful career writing horror fiction, Lovecraft died a rather wealthy man. The donations from Cthulthu Cult members allowed him to enjoy a rather cozy lifestyle. He was survived by his daughter Diana Lovecraft. Lovecraft's name is still influential, despite the 60 years since his death. When his granddaughter Rachel Lovecraft married in 2007, it was her husband who changed his name.
M
Rachel Maddow
(1973-) Rachel Maddow, D-CA, is the first openly gay Senator in American history, and only the third openly gay person to serve in the elected government of a Western democratic country. Elected in 2010 at the age of 37 to succeed the retiring Steven Spielberg, she was a State Senator in California from 2005-2011 and previously served as a trial attorney in Los Angeles, defending plaintiffs in civil rights cases. Her victory in California came as a surprise, as she won as an unabashed liberal succeeding a reliably centrist Democrat in an election in which the conservative Nationalists took back control of the US Senate.
Critics and pundits regard her electoral victory as the story of the 2010 elections and an "admirable achievement," especially as she was running against Frank Stephenson, a longtime California state heavyweight on the Nationalist side. Enthusiastic campaigning on her behalf by outgoing and popular Governor Robert De Niro as well as her personal appeal is credited with helping her victory.
Charles Manson
(1934-) Charles "Charlie" Manson was one of the most influential songwriters and musicians of 20th century America. He was born in Cincinnati, Ohio on November 12th, 1934. Manson's very origins are mysterious: he was born to an unmarried 16-year old named Kathleen Maddox. Manson's father was either a man named William Manson (could've possibly been his uncle) or an African-American cook named "Colonel Scott". Despite being neglected by his alcoholic mother, Manson found sanctuary in music. He learned guitar around age 10. Young Manson was sent to a foster home in 1942, where he was bullied for being possibly bi-racial. At that time, he started writing his own songs. In 1947, the county court sent Manson was selected to go to the Gibault School for Boys in Terre Haute. He dropped out and lived on the streets with three other friends. After being arrested for grand theft auto, Manson was sent to the National Training School for Boys in Washington, D.C. At this point (in 1951), Manson pulled through all 4 years of schooling with good grades. In 1958, he started drifting across the country performing at music clubs for money. Manson gained a lot of popularity in the folk rock scene. In September 1959 in Los Angeles, he got the chance to record his first album- LIE. Though it sold poorly, he became a fixture in L.A.'s underground music scene. Eventually, Manson was noticed and signed by ESP-Disk. Thus, his secon album The Love and Terror Cult (released in 1961), was a smash hit. As folk rock hit the mainstream, Manson went on tour across the county to bring it to the masses. His lyrics, deep and opinionated, became renowned.
Steve Martin
(1945-) Stephen Glenn Martin was the Governor of California from 1987-1995 and was a failed candidate for the 1996 Nationalist Party nomination, losing to Mitt Romney in one of the most divisive and contested primary races in United States history. He was the Associate Dean of the UCLA Business School from 1999-2003 and helped fundraise for Jeb Bush's 2004 Presidential campaign, and from 2005 to 2007 served as the chairman of the Nationalist Party Committee (NPC).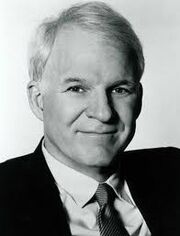 Martin was born in Texas but raised in Southern California, where he graduated from Garden Grove High School and soon thereafter attended Orance County Junior College before managing to secure a scholarship to the University of Nevada, where he studied business management.
In the 1970's, Martin became a self-made millionaire through his investments into Californian energy companies and various conglomerates, serving on the board of Calden Fuels from 1977 to 1980.
His interest in politics began when he ran and was successfully elected as the US Representative fro California's 27th District, in the suburban Los Angeles region, in 1980. He served as a US Representative for one term before returning to his home state to assume a position with a networking company that helped recent business school graduates in Southern California find work, and served on the California State Finance and Investment Committee by non-partisan appointment in 1985 and '86.
During the developing North-South Scandal in 1986, Martin, relatively unknown in the state compared to other politicians, announced he would run for Governor as an outsider. As outrage over the levels of corruption in the California government emerged, Martin ran as the candidate committed to "cleaning up Monterey" and successfully defeated incumbent Lieutenant Governor Gene Swallows in the Nationalist primary. In the general election, he defeated Marianne Hague of the Democratic Party, thanks to an endorsement by Vice President Robert Redford, himself a former California governor.
Martin's eight years in Monterey were celebrated due to his efforts to clean up corruption following the scandals. He polled the highest popularity of any governor in history and balanced the budget for his two terms, with minor surpluses in three years, the only Governor with such an achievement. California's private sector grew rapidly in the late 1980's thanks to the presence of Silicon Valley and the emerging technology boom in the early 1990's.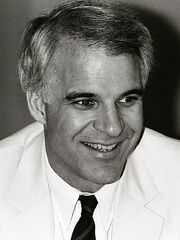 In 1995, after leaving due to term limits, Martin announced that he would run for President in 1996. He was seen as the safest choice by many pundits, who believed his centrist social stances and record of fiscal conservatism would make him a good foil to the growing unpopularity of President John Burwin. However, when Michigan's favorite son Mitt Romney leapt into the primaries and scored an upset win over Martin in Kansas, the primaries got heated. Martin and Romney exchanged wins and losses throughout the spring, and neither candidate managed to secure enough delegates to guarantee the nomination at the Nationalist Convention in Mesa, New Mexico that August. The 1996 Convention featured lively debates over the merits of both candidates, with speakers trading off glowing recommendations of both. Finally, former President Redford gave a fiery speech in which he gave no endorsements but begged the party to settle the matter. On the third ballot, Romney emerged victorious, and Martin refused to endorse him afterwards, claiming, "After all the things I've said about him, it would seem contradictory. Good luck to Mr. Romney this fall."
Martin removed himself from the public eye from then on, and served a position at UCLA in the late 1990's and early 2000's. In 2004, he denied rumors he might once again seek the Presidency as he said, "I think I've been shunned by the party establishment; my name leaves a bitter taste in their mouths. They think I nearly cost them the '96 election or something." He did, however, take an active role in the Jeb Bush/Debbie Harding campaign that fall and campaigned vigorously for Bush in California, helping Bush carry the state by a razor-thin margin and nearly helped him win the election over Jay Leno. Thanks to his efforts, Martin was selected by a panel of Nationalist governors to chair their national committee, and Martin was instrumental in helping the National Party take back the House of Representatives in the 2006 midterm elections.
Martin is rumored to be eyeing a 2012 Presidential run, although he is considered a dark horse and more likely a Vice Presidential option.
Paul McCartney
(1942-) Paul McCartney is an influential English environmentalist and political activist, although he has never successfully been elected on the Labour Party ticket despite efforts in 1987, 1990 and 1996 to run for Parliament representing a Liverpool-area constituency.
McCartney was born to Catholic family in Liverpool. After both of his parents and brother were killed during the Anarchy due to their faith by the EWA, McCartney escaped with a neighborhood friend south to Wales in 1952, where they survived for six months before being discovered and brought to safety by American soldiers in December of 1952. McCartney spent most of the next few years between refugee camps in Wales, and returned to Liverpool in 1957, where he got a job at a steel mill during the English Reconstruction.
McCartney became active in Liverpudlian union politics in the early 1960's at just the age of nineteen, taking part in the 1962 Liverpool General Strike and being arrested twice for assaulting strikebreaking police officers. He briefly attended a seminary in Manchester, and on a mission to Zululand, he came to be struck by the beauty of the natural landscape. While he withdrew from the seminary in 1967, McCartney became a member of the Labour Party and formed English Environmental Enthusiasts (Triple-E), the organization he still operates today, with Paul Williams. The two men dedicated much of their work in the early 1970's to preserving the English countryside.
Jimmy McMillan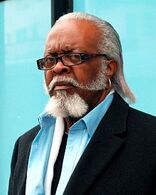 (1946-) James McMillan III is the incumbent Governor of New York, succeeding term-limited Brian Williams in 2011. A conservative Democrat, McMillan has been a perennial candidate for the Governorship, running as the Democratic nominee in the 2006 New York gubernatorial election and entering the primaries in 2002 to challenge incumbent Andrew Cuomo. From January 1994 to December 2001, McMillan was the Mayor of Brooklyn, often coming into disputes with Nationalist New York Mayor Rudy Giuliani throughout the 1990's, especially over the proposed "Greater New York Police" department that was endorsed by Nationalists but spurned by many Democratic lawmakers, including McMillan and influential New Jersey politicians at the state and national level.
Carlos Mencia
(1967-2008)
Josef Mengele
(1911-1979)
Frank Miller
Iván Moreira
(1956-) Iván Moreira Barros is a chilean Army General, and current Commander of 2nd Army Division, based in Santiago. He born in Santiago on December 8, 1956, and enter to Military School at the age 16, during the Communist regime of Salvador Allende. In 1976, after three years of study, he graduated with the rank of alférez in the infantry. In September 1976, Moreira was assigned to the "Chacabuco" Regiment, in Concepción. Two years later, in 1978, then with the rank of Sub-lieutenant, he moved to the "Maipo" Regiment, garrisoned in Valparaíso. He entered the War Academy located in Santiago during 1984. He was assigned to Army Group Santiago as aide-de-camp to Ronaldo Bexar in 1987, and participated in the 1989 coup d'etat. He was promoted to General in 2004 and made Commander of the 2nd Army Division in 2006.
Benito Mussolini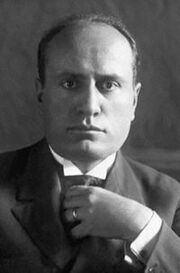 (1883-1963) Benito Mussolini was born in Dovia di Predappio, a small town in the province of Forlì in Emilia-Romagna in 1883. During his childhood he sang in the local church's choir, and was praised by everyone who heard him. His career skyrocketed when he was selected to the prestigious Sistine Chapel Choir in the Papal capital. After outgrowing this role, Mussolini sought a career in opera. However, it wouldn't be until the release of Giacomo Puccini's French-sanctioned Madame Butterfly in 1904 that he really became famous. Mussolini was surprisingly selected onto the premiere cast in the lead role. He quickly became one of the most revered opera singers in Europe, and by the time he was 40, was busy touring the continent. Mussolini impressed Louis II during his 69th birthday celebrations. This lead to him starring in French Imperial productions of many operas. Despite the wealth and fame France technically gave him, Mussolini continued to feverishly support artistic development in the Papal States instead. He retired from singing in 1933, not long before the start of the French Civil War. As said war began, Mussolini turned to songwriting in both opera and theatre. He collabarated with many composers, theatrical producers and opera companies in Europe (most notably with the Paris Imperial Opera) up until his death in 1963. L'Opera Mussolini in Paris and Teatro Mussolini in Rome are named in his honour.
Eddie Murphy
(1961-)
N
Carlos "Chuck" Norris
(1940-) Chuck Norris was born in Ryan, Sequoyah on March 10, 1940. In 1969 he made an appearance in the Dean Martin film The Wrecking Crew, which established him as a comedic actor. Norris then starred in over 30 films along his long and illustrious career. Two of his most famous roles are Kung Pow: Enter the Fist where he plays a bumbling martial artist who manages to save the day, and The In-laws which is about a potential husband who meets his soon-to-be wife's parents who then nearly drive him insane.
O
Barry Obama
(1961-) Barack Hussein Obama was born in Hawai'i in 1961 to a black, Zanzibari father and a white American mother. Growing up in the American expatriate community in the Kingdom of Hawai'i, Obama experienced a worldview that he described as "unlike anything you'll find in America - Hawai'i has whites, blacks, Japanese, Hawai'ian Islanders, Indonesians, Colombians, Gangestani, the works. It is a melting pot in every sense of the word."
Obama attended George Washington Preparatory for high school after being denied admission to Punahou, the most prestigious academy in Hawai]i. While at Washington Prep, he became heavily involved in theater, and after graduating in 1979 joined the Honolulu Thespian Group. In the early 1980's, Obama - going by the more American name Barry - made a name for himself on the stage, and briefly played small roles in Los Angeles staring in 1983 (even earning a credited role as Barry O), until he got into a drunken altercation in 1984. Due to his skin color, he was extradited to Hawai'i, where he still had citizenship. "I was kicked out of the United States for what was basically a drunken barfight, and it was largely because I was black. You bet it pissed me off."
Obama stayed in Hawai'i for the rest of the 1980's, where he became something of a local film star. Between appearing in locally-produced and filmed movies, Obama also became Hawai'i's most recognizable actor in American projects filmed in the islands. "Whenever an American movie company was going to shoot something in Hawai'i, and they filmed there a lot back then because there was a nasty economy and Oahu is cheap, my agent would come knock on my door and tell me they needed a black guy who likes to act and works for cheap."
From 1985 to 1991, Obama appeared in nearly 25 Hawai'ian and American films, although he received mostly smaller roles in the latter. Finally, in 1991, his role in Hawai'ian-made thriller Death Boat was noticed by American director Lee Wilkie and Obama was offered a two-film contract of smaller supporting roles in Los Angeles and Pat Alden cast him in a supporting role in 1993's Jurassic Park, which went on to hold the box-office gross record for 16 years, and vaulted Obama as a recognizable actor. With the 1984 incident a distant memory, Obama could safely come to the United States. In 2000, he became a citizen of the United States, and he jokingly said that it was so that "I can go beat up idiots in bars again and not get sent back to Hilo."
In the 1990's, Obama became one of the more recognizable black actors in Hollywood, although it was not until his role as Morpheus in 1998's The Matrix that he gained widespread national attention and became a household name. In 2001, he began turning towards more serious roles, and had a breakthrough in the Academy Award-nomianted film The Watchers, in which he played the role of Samuel Goodwin, one of the first black company leaders, appointed on the fly during the English Adventure of the 1950's as the head of an integrated unit.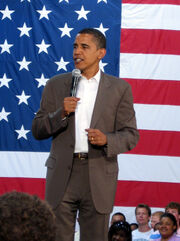 Obama built off of the success he enjoyed from The Watchers to establish himself as a serious character actor in ensuing years (although he would play Morpheus again in both of the Matrix sequels and appeared as Lucius Fox in the Batman reboots), and played a multitude of acclaimed roles. His role as a black Congressman suddenly appointed to the position in 1970's Alabama trying to gain the trust of his racist constituents in 2006's In Too Deep earned him another Best Actor nomination, and he was again declined the award. While some believed that racism played a factor, as both movies were about that still-controversial topic, Obama agreed with most critics and said, "I didn't lose because the Academy is racist, I lost because the winners gave better performances." He appeared in a few episodes of the acclaimed television show Dick as pioneering black journalist Freddie Ross, a man who Obama himself said is one of his heroes and inspirations. He also starred in the hugely successful black crime epic Blood and Money in 2007 as a criminal chased out of New Orleans trying to cash in on the success of an upstart in Covenant.
In 2009, Obama appeared in Hearty, a movie about a struggling working-class father with a serious heroin addiction taking care of a diabetic daughter. He has been nominated for a third Academy Award, and this could be the one that he finally wins. Due to his inability to win awards for acclaimed performances, Obama has sometimes been referred to as the "Black Jack Kennedy."
Obama lives in Los Angeles with his wife Michelle and two daughters, and is apparently set to appear in two thriller films in 2010, a role in the next Martin Jones film and to play the part of Captain Gustav Bass in the upcoming, big-budget adaptation of the popular science fiction novel series Beyond in 2011. He also has stated that he will return in the role of Lucius Fox in the final Batman movie, set to be released in 2012.
Filmography:
The Little Bungalow (1986)
Die Hard With a Vengeance (1995)
Big City, Big Guns (1995)
The Matrix Reloaded/The Matrix Revolutions (2003)
Christmas in Tokyo (2006)
Armed and Dangerous (2009)
In the Presence of Kings (2011)
Beyond: The Beginning (2011)
Christine O'Donnell
(1969-) Christine O'Donnell is a popular American actress known for her roles in television, romantic comedies and as Sarah Fernandez in 1999's Die Hardest.
O'Donnell grew up in New Jersey and struggled as an actress in the late 1980's, before her big break as young rookie cop Jamie Moran in the popular detective series Nova Scotia, a role she said she relished as she herself was from an Irish Catholic background and played the tough-talking Moran well in the ensemble cast alongside stars Alex Hubbard, Sandra Bullock and Jim Ames. O'Donnell left the show after its fifth and second-to-last season in 1994 and appeared dually as young Chicago legal clerk Geena Logan on the popular sitcom Legal Briefs and as Kendra McCormick in the 1996 summer blockbuster Summer Heat, where she played a Miami socialite who is a friend of the main characters.
O'Donnell appeared in 1998's Welcome to Hollywood as starlet Rosaline Jones and had her major breakthrough as a bankable star in 1999's Die Hardest as the romantic interest of hero John McClane. In the early 2000's, she appeared in a number of romantic comedies, and played a well-received dramatic role in 2004's Ordinary Gentlemen. She had minor roles in a number of dramatic films, and cemented her status as a well-known and well-liked comedic actress, although she expressed her regret at being "pigeonholed" as the "likable, funny brunette."
O'Donnell appeared in 2009's Ashlands, her first action role since Die Hardest, and is set to appear in the Beyond series, alongside Summer Heat costar Barry Obama, as alien linguist Taylor Quill. O'Donnell also revealed that she would appear in international thriller The Insider in 2011.
Bill O'Reilly
(1949-)
Lee Harvey Oswald
(1939-) Lee Harvey Oswald was an American actor who worked with John F. Kennedy on many of his projects. His first role was a brief role in Oahu as a soldier suffering from shell shock. As he worked with Kennedy over the years he developed a close friendship with him, and soon the two actors were nigh inseperable. Kennedy cast Oswald as an eager young clerk in The American Congress and helped score him a bevy of movie roles in the late 1960's. Oswald was cast as George Wilson on the sitcom The Wilsons in 1970 and helped land Kennedy a role as the antagonist on the program, and in turn was summarily cast in Kennedy's crime epic An Average Citizen in 1973, which earned Oswald an Academy Award nomination for Best Actor, and Oswald had a major role in the 1975 Western drama Old Country.
Although their professional friendship was limited to a few movies, Oswald and Kennedy were close for many years, Kennedy being a father figure of sorts to Oswald, whose own father had died when he was very young. Oswald's help from Kennedy in getting his start led to a successful film career, where Oswald was known for playing morose, temperamental, gritty characters. He starred on the detective sereis Nighttimes from 1979 to 1984, and appeared in almost a dozen films in that time. He had a large role in the 1985 crime epic An American's Story and was regarded as one of Hollywood's elder statesmen by the late 1980's. Oswald, who was temperamental in real life as well as on film, got in a scuffle with notorious "Bad Boy" Cooper Trent at the 1989 Academy Awards when Trent supposedly shoved him.
Oswald has been nominated for the Academy Award for Best Actor or Best Supporting Actor six times, and never won, despite having a lengthy and impressive resume of films.
P
Sarah Palin
(1964-) Sarah Palin is an American journalist and television personality known for her folksy style and typically conservative opinions. Palin grew up in eastern Oregon and attended Washington State University, where she played women's basketball (having been a women's basketball state champion her senior year of high school). However, Palin ruptured her ACL her sophomore season at WSU and resigned from the program, working instead to pay her tuition at the local student radio station while completing her broadcast journalism degree. Palin became the first woman to ever call a collegiate basketball game during the Cougars' 1986 upset of then-No. 1 Notre Dame at home. After graduation, Palin worked briefly as a sports correspondent in Boise and later in Aurora, before being assigned by the emerging Cable News Network (CNN) to their brand-new Alaskan bureau as a staffer in 1990. Only five months after moving to Sitka and struggling to learn Russian, Palin was reporting live for several months during the tumultuous Revolution of 1991 and broke the story of Alexander III's resignation before any of CNN's more veteran reporters could arrive on scene.
Palin was summarily promoted to a full-time foreign correspondent at CNN, where she worked throughout the 1990's, before requesting and receiving a transfer to ESPN in 1998, as her passion had always lain in sports. Palin was featured on the cover of a 2001 Sports Illustrated edition as "The Most Powerful Woman in Sports" due to her celebrity status and ability to take on the entrenched male hierarchy in the sportscasting industry. The same year, she received her own sports talk show, the Sportstalk with Sarah. For this, Palin is often hailed as a pioneer for female sportscaster, who previously had often struggled to be taken seriously within the "good ol' boys network." In 2004, Palin was sharply criticized for her on-air comments about then-Presidential candidate Jay Leno, whom she spent nearly four minutes condemning for what she regarded were misogynistic statements about former President Elizabeth Shannon. In 2006, in a highly-publicized controversy, Palin left ESPN under the guise of a contract dispute but which was claimed to be more based on her off-the-cuff remarks about political issues and her contempt for the politically biased statements made by liberal commentator Bill Clinton on a sports commentary program earlier that year. Palin was hired to a lucrative contract to have her own talk show in late 2006 by the conservative-leaning NBCable network, and in February of 2007 started her show, The Palin Hour. In 2010, NBCable cancelled her show due to poor ratings (especially compared to other female anchors or pundits on their network) and Palin has since then written a book and started two charities whose proceeds fund the Special Olympics.
Armando Perez
(1981-)
William Henry Pratt
(1887-1969) An influential diplomat, Pratt served both the Socialist regime in England as well as the provisional government afterwards, primarily as the Ambassador to the United States. While disaffected by the views of his more left-leaning superiors, Pratt was one of the lead negotiators for the English Foreign Ministry in its treaty to end the disastrous Irish War, and was credited with stripping many embarrassing amendments from the final treaty.
A close political ally of the decentralization-favoring Churchill, Pratt was granted the ambassadorship to the United States in 1944, shortly after Churchill's assassination, and sent to Washington, D.C., where he formed a close friendship with President Prescott Bush. Pratt, who through various investments (and alleged bribes) in the United States, maintained a close eye on England during the Anarchy, was instrumental in convincing Bush in 1952 to intervene in Wales and set up a potential buffer state, believing that Scotland - a close but impoverished US ally - would collapse should the French receive an ally in England. Pratt was also alleged to have agreed with various American business interests to help build a "pro-American" business environment in England in the aftermath of the war.
However, he was kept at the embassy by Provisional Prime Minister Charles Morgan, who was believed to fear Pratt's potential political influence. Pratt considered running for Parliament in 1960, but as he was 72, his wife discouraged him from what would surely have been a tiring campaign. Pratt retired in 1963, although he did not seek a seat in parliament that year, as many suspected the "Old Ambassador" may have. Pratt lived out his retirement shortly outside of Portsmouth, Hampshire, helping use many of his investments for charitable donations and even spent his considerable fortune on rebuilding many parts of the county. After his death in 1969, the main county road from Portsmouth to Winchester was renamed the William H. Pratt Highway, and Portsmouth built the William H. Pratt Center for International Relations in 1975. After renovations in 1980 to the building in Washington, D.C., housing the English Embassy, the structure was renamed the William H. Pratt Building.
Arturo Prat Chacón
(1848-1912) Arturo Prat was a chilean politician, born near Ninhue in April 3, 1848, and son of Agustín Prat del Barril and Rosario Chacón. He began his studies in the Escuela de la Campana in Santiago, and later, entered to the Naval Academy between 1861 until 1867. After his experience in the navy, he began the path of becoming a lawyer. Prat entered as a secondary student in Humanities at the Liceo de Valparaíso and the National Institute (span: Instituto Nacional). In 1871, he received his diploma in Philosophy and Humanities — a prerequisite for studying law. In the following year, he began his studies in Property Law in the Faculty of Law of the University of Chile. He succesfully passed his examination during 1874. In 1875, he began practicing law at a law firm in Valparaíso as a prerequisite to receiving his license. In the following years, Prat passed his remaining courses and become a lawyer at the age of 28 after approves his final exam before the Supreme Court president (and also former chilean president), Manuel Montt Torres.
He begin to political career when joined to the Liberal Party in 1878. He was appointed as undersecretary of Justice of the President Vicuña Mackenna in 1880. Resigned in 1883 for ran for a seat in the Chamber of Deputies, being successfully elected in representation of San Carlos. He was reelected for the same district in 1888, and in 1891 he reached the Presidency of the Chamber for one year.
Arturo Prat Carvajal
(1878-1942)
Jorge Prat Echaurren
(1918-1971) Jorge Prat was a Chilean politician, best known as one of the founders of the nationalist movement Patria y Libertad, created to fight against the Allende's Communist dictatorship.
Francisco Prat Alemparte
(1948-)
Elvis Presley
(1935-)
Vincent Price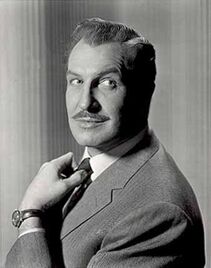 (1911-1993) Vincent Price was an American film producer, director, screenwriter, voice actor, animator, entrepreneur, entertainer, international icon and philanthropist. Price is famous for his influence in the field of entertainment during the 20th century. As the founder of Vincent Price Productions, Price became one of the best-known motion picture producers in the world. The corporation he founded, now known as The Vincent Price Company, today has annual revenues of approximately U.S. $35 billion.
Price got his start in the late 1940's as a minor producer working with Atlas Pictures - his big break came in his 1947 directorial debut, when he produced, wrote and directed Darkness, a psychological horror film that would influence the horror genre for decades. Price helped develop the hugely successful 1949 adventure film Hercules, which was shot in full color and helped save Atlas Pictures from bankruptcy. With the success of Hercules, Price hired six animators who had been fired by Walt Disney Studios and set to work on Don Quixote, in what he called "the first-ever animated epic." Don Quixote wound up being the highest-grossing film of 1951 and started the "Cartoon War" between Disney and the nascent Vincent Price Productions throughout the 1950's. Eventually, Disney's marketing and his family-friendly Disneyland park in Anaheim would earn his company higher revenues - however, critics still consider animated epics such as Don Quixote, Madame Butterfly, Diablo and The Fall of Troy by Price's studio to be far more significant works.
In 1960 Price produced what many considered his animated masterpiece - Tital, based on the works of Wilhelm Diess. The film evoked a directorial style similar to that of Disney, but replaced the main characters with animals. The film was the first animated film to be nominated for Best Picture at the Academy Awards, but ultimately lost to Modern Empires.
Price would later focus on live-action films, and on marketing. His studio was behind the enormously successful 1968 Robert Evans vehicle Peregrine, and also produced Showdown: LA. His studio survived many of the upheavals in Hollywood following deregulation in the 1970's as Price had moved his studio to Mesa, New Mexico in the early 1960's. As a result, the Vincent Price Company (as it was rebranded in 1975 in order to broaden its conglomerate) survived the turbulent 70's and 80's and was soon the strongest studio in the country.
Price removed himself largely from studio operations in the early 1980's as his health declined. He purchased television stations, film studios and publishing companies to build the first true "Media Monopoly," as his detractors called it. At age 80 in 1991, Price famously bought the San Francisco 49ers of the Western Football Association because he "needs to start providing entertainment in new forms." In 1993 he died of lung cancer, and while initial fears existed of his company's dispersal in the wake of the charismatic leader's death, the new shareholders voted to keep the conglomerate together and the Price Company is still one of the most powerful media companies in the world - second only, of course, to Disney.
Bill Pullman
(1953-) William Pullman is the current head coach of the University of California-San Diego Tritons football program, a position he has held since 1997, and one of the winningest head coaches of the past decade. Pullman, in his tenure, has never had a losing season and has only posted a season with fewer than eight wins once (1998). Since 2002, the Tritons have won the Pacific Division of the PCC every year, a feat unmatched by any other team in any other conference, and have won the PCC in 2002, 2004, 2005, and 2007, and have won Rose Bowls in 2004, 2006, and 2007, and a national title in 2005. He has coached a Bosch-winning quarterback, Malcolm Ross (2004) and Ross's successor, Corey Parker, placed second in 2007.
Pullman was a standout quarterback and free safety at Hornell High School in Hornell, New York, where he also played basketball. He won three straight state football championships between his sophomore and senior seasons and started every game in the three years he attended the school. His junior year, he helped lead the basketball team to a state title. Pullman was one of the biggest recruiting targets for college programs - he eventually chose Michigan State over Notre Dame and Nova Scotia. Even though the 1972 football season was the first in which true freshman were allowed to play, Pullman did not see any playing time until the final game of the season, against Indiana, when starter Mark Johnson went down. Pullman stepped in and led the Spartans to a heroic comeback win over the top-ranked Hoosiers, beginning what many called the "Hoosier Curse". The Spartans wound up winning the Chicago Bowl over Mississippi, led by Pullman, who was anointed by Sports Illustrated as "the reason we now let true freshmen play."
In 1973, the electric true freshman running back Denzel Washington was inserted into the backfield for the Spartans, and Michigan State, which opened at No. 17 to begin the season, tore off on a dominant undefeated streak with Pullman under center and Washington running the ball. They would blow out Tennessee in the Rose Bowl for a national championship, and Pullman was considered a legitimate Bosch frontrunner going into 1974.
Pullman would win his Bosch as the Spartans lost only to Ohio State and found themselves once more in the Rose Bowl, where they defeated the Washington Huskies of the Pacific Conference 61-21. Pullman today holds the record for the second-most passing yards in a Rose Bowl game and still has the record for most consecutive completions (15). In 1975, Pullman's senior season, many expected him to repeat his Bosch-winning performance as the Spartans opened at No. 1, where they stayed all season. Instead, the offense focused more around Denzel "Big Time" Washington, who placed second in Bosch votes. Michigan State wound up losing 23-20 thanks to a dropped pass on fourth down to Bosch winner Terrance Clark and the North Carolina Tar Heels.
Pullman graduated and was immediately drafted by the San Francisco 49ers of the Western Football Association, where he played from 1976 to 1984. The 49ers would reach the WFA title game once, in 1982, only to lose to San Diego. Pullman was cut by the 49ers after 1984, and he played two seasons for the Detroit Lions of the AFL before retiring from football before the 1987 season. He signed on as the quarterbacks coach at the University of Southern California for the 1988 season, a position he held until he was hired as Marty Buhl's offensive coordinator at Oregon in 1991.
At Oregon, Pullman excelled, helped Oregon win four straight PCC titles and even an undefeated season in 1994. The Ducks played for a national title in 1992, suffering their only loss in the title game to Maryland. In 1995, his name was attached to the vacant coaching job at Apachia, but Chris Brown was hired instead as the first black head coach in Central Conference history.
Pullman was once more looked over in 1996 for both the Washington and Alabama coaching vacancies, both of which were considered great fits. Finally, in 1997, Pullman went to San Diego to rebuild a program that had not won more than four games per season in the 1980's.
In 1999, his third season in San Diego, Pullman led the Tritons to an 8-4 record after back-to-back losing seasons and they placed second in the PCC Pacific behind Cal, who went on to lose in one of the most legendary PCC title games of all time to Oregon in Marty Buhl's final season. San Diego would wind up losing the San Diego Bowl to South Carolina on a wide-right field goal attempt.
In both 2000 and 2001, San Diego once again placed second behind Cal. The Tritons scored their first big bowl win under Pullman in 2001, when they beat Sequoyah in the San Antonio Classic. In 2002, Pullman and the Tritons at last won the PCC Pacific after knocking out Cal with a late TD pass, and would move on to top Oregon State in the PCC title game. However, the Tritons were blown out in the Rose Bowl by Don Trump and the Notre Dame Fighting Irish.
In 2003, Pullman gave sophomore Malcolm Ross the start after the Tritons started the season 1-2. The Tritons went on to win their next six straight games before losing to Washington twice in four weeks - once at Washington in a narrow contest, the next time in the PCC title game in Tacoma, which was an effective Washington home game. The Tritons would go to the Rose Bowl in Washington's stead when the Huskies qualified for the national title game in Havana, and lost once again to Notre Dame. Ross led the Tritons to an 11-1 season and PCC championship in 2004, in which he was awarded the Bosch trophy, and a No. 3 ranking behind only unbeaten Huron and Nebraska. Ross and San Diego reaped revenge against Notre Dame by winning the Rose Bowl that season in a tense, exciting match, and finishing at No. 2.
The Tritons went 11-1 in the regular season in 2005, once again behind Malcolm Ross, and knocked off the undefeated Pacifica State Ravens in the PCC title game. In a controversial decision, San Diego was elevated to the championship game despite many voters feeling that 11-1 Alabama was a stronger team. The Tritons would knock off 12-0 No. 1 Sequoyah in the Orange Bowl 49-24 to win the school's first-ever national championship.
2006 would once again see a one-loss Tritons team in the regular season, only to see their national title hopes slip away as 11-1 Washington knocked them out in the PCC title game. San Diego went to the Rose Bowl and ripped Michigan State in Pullman's first-ever meeting against his alma mater.
The next season, San Diego stormed out to a 10-0 lead behind Bosch-candidate quarterback Corey Parker. Pundits agreed that Parker would likely win the Bosch if the Tritons finished undefeated. Most everyone assumed that the 2007 title game at the Silver Bowl would be a match between the past two national champions. San Diego defeated then-undefeated and 10-0 Pacifica at home before heading south to Peninsula for their season finale. The Peninsula Raptors intercepted Parker three times and won with a last second field goal 23-21 to give San Diego a loss. Despite defeating Pacifica the next week in a rematch in the Tacoma Dome, the Tritons were denied a spot in the title game in favor of similar one-loss Sequoyah, who would lose to Alabama. San Diego defeated Michigan 38-27 in the Rose Bowl for back-to-back Rose Bowl wins and four straight Elite Series winds, including three Rose Bowls and a national championship.
2008 saw San Diego coast to 11-1, with a better record than the only team they had lost to, 10-2 PCC Northwest champion Washington, entering the PCC title game, along with a No. 4 ranking behind the three undefeateds at the top of the rankings. Washington blew out San Diego in Los Angeles to advance to the Rose Bowl, and now-No. 9 San Diego responded by ripping No. 6 Sequoyah in the Texas Bowl.
In 2009, San Diego had its sixth straight ten-or-better win season under Pullman and went to the PCC title game at 10-2, facing once again a Northwest team it had lost to prior in the season in unbeaten No. 2 Pacifica. The Orcas ripped San Diego in the same Tacoma Dome that the Tritons had embarrassed them in two years prior before advancing to the national title game - San Diego received the PCC's Rose Bowl bid, where they were manhandled 42-14 by Huron.
In 2010, the Tritons had their first season with less than 8 wins since 1999 when they went 7-5 and lost 5 conference games, three to divisional opponents - San Diego had not lost to a Pacific Division team since Peninsual in 2007.
R
Ronald Reagan
(1911-2005) Ronald Wilson Reagan is one of the most recognizable faces in entertainment history - besides a lengthy career as an actor in the 1930's and 40's, he was immortalized for his roles on political commentary programs in the 1950's and, starting in 1959, his own personal "political forum" program, a style which he pioneered. Reagan spent 29 years on the air with NBC, retiring on March 30th, 1988.
While Reagan's early life was marked largely by a blue-collar upbringing in Illinois, he was noted for his speaking abilities while at the University of Illinois in the late 1920's. Having turned 18 just shy of the end of the Pacific War, Reagan, unlike his older brother Neil, did not fight in the violent conflict. In 1933 he was hired by the University of Chicago to be the radio announcer for their football games, the youngest person ever awarded that role.
Reagan's brief career in Chicago changed when he was cast in a stage production of Hamlet in Chicago's famous Irish Theater. A casting agent from Hollywood saw the tall, attractive actor and offered him a role in the 1937 film Ivanhoe, which became an international sensation and propelled "Ron Reagan" to the top of the Hollywood elite. In 1941, he won a Best Actor Oscar at the comparatively young age of 30 for his role as Tim Swift in Huron, the story of a Pacific War veteran who returns home, presumed dead, to his blue-collar hometown outside of Yorktown to find that everyone, including his former fiancee, has moved on, in what is called "an iconic role in film history." Reagan's own upbringing was part of his inspiration for signing on with the role.
In 1944, Reagan accepted an invitation from Prescott Bush, the National Party Presidential nominee, to introduce him for a fundraiser in Los Angeles. Reagan's introduction was supposed to be brief and courteous - however, when a heckler who had snuck into the fundraiser started booing him and criticizing Bush's record as a Sebastienite sympathizer, Reagan tore off on a passionate, fifteen minute defense of Bush, the conservative values of the National Party, and a fierce critique of the Kennedy administration's support of the evils of the since-deposed Edmonian regime in France. Reagan received a standing ovation, and when Bush took the stage immediately afterwards to the sound of further thunderous applause, the nominee chuckled, adjusted his tie and said, "Wow, well, I don't really know how I'm going to follow that!" Bush would win over Kennedy in California by a wide margin in the general election.
While Reagan was encouraged following his speech to run for office, Reagan declined, feeling that he was not "built for the intricacies of politics." Reagan was a heavy critic of the contracts Hollywood studios held actors under and the corruption of the studio system. Reagan allegedly at one point refused to stand up and greet Carmine Coppola, one of Los Angeles' most powerful gangsters and an enforcer of one of its biggest studios, in Coppola's own nightclub.
By the late 1940's, Reagan was regarded as one of Hollywood's most respected elders and champions for actors rights. He was made the head of the Screen Actors Guild in 1950 and helped negotiate a truce between the SAG and the major studios in 1953, neatly staving off an actors' strike.
Robert Redford
(1936-) Robert Redford has been one of the late 20th centuries most notable political figures, serving as Governor of California from 1972 to 1979, Vice President of the United States between 1981 to 1989, President of the United States from 1989 to 1993, and served as US Ambassador to England between 1998 and 2001, and then US Ambassador to China between 2001 and 2006. In 2009, Redford was the honorary speaker for Jay Leno's second inauguration, despite them being of different political parties.
Redford originally had no intention of getting into a political career - growing up, he was an athlete with an interest in theater. He attended Stanford in the 1950's and was eventually drawn to a Nationalist club on campus and got talked into pursuing a career as a lawyer. Redford finished law school in early 1960 and got work in one of San Francisco's largest law firms.
Throughout the early 60's, Redford was connected to politicians and policymakers and worked constantly in Monterey. He was eventually offered the position of assistant state attorney general at the age of 32, shortly before incumbent governor Ray Whitier was up for reelection in 1970. With Whitier's loss to Democrat Jay Boothe, California state law required that the Governor and Lieutenant Governor be of different parties. Boothe found Redford to be the perfect candidate to present to the State Legislature; he was charming, well-liked though somewhat inexperienced, and already considered an emerging member of the National Party. Redford had been out of law school for about 11 years at this point, and was now the second-most powerful man in the state of California.
Redford continued to develop his connections and alliances with major Nationalists in California as Boothe began to get drawn into a major corruption scandal in late 1971, that dated all the way back to his time as mayor of San Diego. Eventually, Boothe was recommended for impeachment by the California State Legislature. Boothe resigned in disgrace before the actual impeachment hearing in February of 1972, and Redford was suddenly governor.
The "Accidental Governor" was left with a huge mess to clean up left by both Whitier and Boothe. California had a major issue of budget mismanagement, a long history of corruption at the state and local authority levels, the city of Los Angeles was the most violent in America, and the economic slowdown across the country was affecting California the hardest. Also, the 1974 San Diego Olympics were looming and preparations were barely adequate for the planned compeition.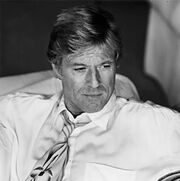 Redford, in his seven years as Governor, transformed California into the third-richest state in the Union, deregulated the film industry, successfully hosted an enormously profitable and heralded Olympics - albeit one that featured the Stunner in San Diego - and he pioneered the concept of in-state tuition. Redford was young upon the expiration of his term, only 43, but easily one of the leading young members of the National Party.
As Dean Warren, Redford's successor, was sworn in in 1979, Redford made the surprise announcement that he would seek the Nationalist nomination in 1980. The economy was souring in 1979 and America was beginning what would soon be apparent was a losing effort in the Brazilian War. Seen as a solid contender against Hugh Vienklasser and Roger Stampley, the two leading frontrunners, Redford found himself in a neck-in-neck race against Elizabeth Shannon, the former Governor of Michigan, for the nomination - a race the attractive, charming Californian lost to an older, "cold" woman.
Still, Redford was pleased when Shannon approached him shortly before the convention and asked him to be her running mate. The Shannon-Redford ticket won big that fall - Redford won the first Vice Presidential debate against Edward Johnson and the landslide that followed against the Carter-Johnson ticket propelled the Nationalist party to a position of power it had not held in nearly 20 years.
Following the tumultous transfer of power in France in the mid-1970's, the nuclear-aided war between China and Burma, the growth of alterior world powers and the ongoing war in Brazil, Shannon chose to focus her personal energy on foreign policy early on in her first term - a risky gamble, considering the financial collapse in 1979 of the US financial system following almost a decade of unfettered prosperity. A shallow depression had emerged in America, but the National Party managed to portray the troubles as inherited from the preceding Eisler-Wallace administrations, which was not completely false. Redford took point on economic recovery and tense social issues, becoming emotionally moved in a 1983 interview following the Covenant Race Riots. Redford was delegated more power as Vice President than any VP had before in American history, and siginificantly changed the expectations the public had for the second-in-command.
While deeply unpopular during the darkest hours of 1982 and '83, the SHannon-Redford team began to pick up steam again right in time for the 1984 election. Once thought to be in a fight for her life in the wake of a messy and prolonged withdrawal from Brazil, the Covenant riots and tense relations with France to go with the sour economy, Shannon won the 1984 election by a much smaller margin but a comfortable one. It was in the days following the reelection win that Redford was shot in the shoulder by deranged psychopath Martin Bloem after making a speech to a group of donors in Philadelphia.
Redford spent several months in 1985 recovering from his gunshot wound - the image of him in a sling became an iconic image of the 1980's. The economy began to improve notably in the late 80's, and despite several tense moments in the Cold War standoff with France, Redford retained his popularity to run for President in 1988 and win. Redford announced to the country, "We did it, as a country. We chose our future."
Whatever goodwill Redford had from the Shannon years evaporated shortly thereafter in 1989. In the aftermath of the destructive Persian Gulf War, a chemical weapon was released in Isfahan by Arabian agents, nearly prompting another war in the region. Redford was slow to react and the Persian navy seized an American battleship on the high seas, creating a tense diplomatic standoff with threats of nuclear reprisal.
Also in 1989, during a visit from Japanese shogun Jiro Hataka, Redford and Hataka were photographed and videotaped on the roof of the White House in the early morning hitting golf balls onto the lawn, in only dress shirts and boxers, both deeply intoxicated. The "Midnight Golfer" became the dark side of Redford's image; once portrayed as a heroic survivor, he was now a drunken buffoon. Few political cartoons or caricatures of Redford from then on included him wearing pants or not holding a golf club.
Redford managed to somewhat stir away memories of these two embarrassing episodes in 1990, when he oversaw a burgeoning boom in the personal computer and satellite industries, as well as signing the long-awaited Free Trade Agreement with Colombia. He also helped support Arabia and Cyrene, two countries in need of financial and political assistance in the wake of the Gulf War.
However, the boom of 1990 was soon overshadowed by the John Lipcourt scandal, which revealed serious flaws in the Redford administration's practice of foreign aid - flaws that bordered on the illegal. The scandal eventually reached Redford, who delivered a somber apology on national television for his negligence in the oversight over the distribution methods of aid to needy countries. As the scandal continued well into late 1991, many realized that economic success was Redford's sole bragging point going into the election. In early 1992, as Democrats began to rally behind Sequoyah Governor John Burwin, the computer boom collapsed upon itself and Redford's death warrant was signed. He struggled his way through the summer campaign months and suffered a narrow but clear defeat to Burwin in the fall general election.
Redford retired from the public sphere, wrote an autobiography and began a lengthy humanitarian tour in Africa and Southeast Asia from 1995-96. In 1996, he returned to the United States to deliver a fiery keynote address at the 1996 Nationalist Convention in support of Mitt Romney. He then lived in Brazil for two years as a private humanitarian working to improve education, before receiving the ambassadorship to England. He was given a new ambassadorship to China in 2001.
In 2006, Redford gave up his post in China to write his second autobiography and begin a lengthy lecturing and speaking tour in the United States and Alaska. On January 20th, 2009, he was asked by Jay Leno, a Democrat, to introduce him at his second presidential inauguration.
Redford now lives in California with his wife and recently opened his Presidential library.
Christopher Rock
(1965-) Chris Rock grew up in Brooklyn, NY in a working-class African American family during some of New York's most tumultuous race periods. In 1980, his older brother Sam was brutally murdered outside of the Rock family home.
His brother's death inspired him to work hard in school in order to make a difference in his community. He attended Syracuse University, which gave him a chance to get out of Brooklyn. At Syracuse, Rock said his eyes were opened to a new way of life and method of thinking. He decided to invest his time in political science and an expansion of civil rights. His brother's death had never been properly investigated by the police.
In the late 1980's, after his time at Syracuse, Rock began doing work in the Bronx with poor families as a community organizer. Soon thereafter, he met with civil rights leader Bill Cosby only weeks before Cosby's 1991 assassination. Rock soon became involved in the Civil Front during its turbulent, corrupt Martin Morgan years. By the late 1990's, Rock had usurped Morgan as the critical figure in the Civil Front, moving the focus of the organization from Philadelphia and the Rust Belt to the poorer East Coast slums. Rock was nearly killed in a 1999 drive-by shooting, some say by Morgan's men.
Rock officially disbanded the corrupt, bloated Civil Front in 2001, to criticism and acclaim. Morgan was convicted of fraud and embezzlement, and racketeering, in 2002 and Rock used many of the illicit Civil Front funds to fund homeless shelters and charities helping the underpriveleged in New Jersey and New York. In 2004, upon the announcement of longtime Senator Bruce Springsteen that he would give up his seat to run for President, Rock put in his name for consideration within the Democratic Party.
Rock's old connections in the black community gave him succuess in the primaries, and he narrowly won a brutal general election against Jim Stalling. Rock's Senate term was deemed a huge success for most African Americans - he was considered a potential 2012 candidate for the Presidency and immediately the most noticeable black member of government. However, in 2009 corruption scandals dating back to the late 90's and early 2000's emerged, and Rock is currently expected to be in a fight for his life against former Nationalist anti-corruption governor, Tim Houlighan.
George Romero
(1940-)
Erwin Rommel
(1891-1976)
Geoffrey Rush
(1951-) Geoffrey Rush is the current Prime Minister of Oceania, having served since 2000. He is the leader of the Progressive Liberal Party which is currently in a coalition with the Labour and Socialist parties. His current term, to which he was reelected in 2010, will expire in 2015.
Marco Rubio
(1971-) Marco Antonio Rubio is one of the most notable Hispanic players in NFL history, being the only Latino player to quarterback a championship team. Rubio grew up in Havana, Cuba and played quarterback, safety and kicker for the Castle Hill High School football program, leading them to two consecutive state title berths in his junior and senior seasons. He received a football scholarship to attend the University of Florida, where he played quarterback. Redshirted his freshman year, Rubio played in 1990, 1991 and 1992, declining to return in 1993 as he had already finished his degree in political science. As a freshman in the 1990 season, Rubio led the Gators to an 11-1 record, second in the Atlantic Conference to only eventual national champion South Carolina, and the Gators finished the year with a victory over Ohio State in the Orange Bowl to finish with a No. 3 ranking.
The next season, the Gators went undefeated thanks to the No. 1 defense in the country, and the Bosch-winning running back, Seward Samson, carrying the offense. Rubio finished the season with the second-highest completion percentage for a quarterback in Atlantic Conference history, and placed fifth in Bosch voting despite playing in a run-centric offense. The Gators wound up being defeated by No. 2 Huron in the national title game, however. The next season, in the first year the Atlantic conference played with two divisions, Florida went undefeated once again, this time with Rubio leading the offense as new running back Frank Clark got situated. However, in the conference title game, undefeated Maryland defeated Florida and the Gators once again had to settle for an Orange Bowl berth, this time losing on a last-second field goal to BYU. Rubio chose to go pro, and was drafted in the 1993 NFL Draft by the Tampa Pirates.
With the now-legendary Pirates defense already in place, the young Rubio became a factor in his second season, leading Tampa to the best record in the NFL at 11-1 in 1994, only to lose to Miami in the playoffs. In 1995, the Pirates once again opened with the top seed, only to lose to Miami once more.
Tampa missed the playoffs in 1996, but in 1997 entered as the No. 4 seed and dominated both Miami and then Baltimore before facing No. 1 Havana in the finals. Rubio led the Pirates on a game-winning drive to kick a field goal to defeat Havana 23-20 for Tampa's first ever NFL title. The next season, Tampa won another NFL title by defeating Philadelphia in overtime. Rubio was the first Latino quarterback to win a pro football title, and Tony Dungy became the first black head coach to win a football title at the professional level. Rubio became an endorsement star and made millions in endorsement deals as he led the Pirates to five more playoff appearances before retiring after the 2004 season. Since then, Rubio has dabbled in private enterprise including a sports training facility in St. Petersburg, opened Restaurante Rubio in Tampa, and is a beloved sports icon in Florida.
S
Harland Sanders
(1890-1980)
Nicolas Sarkozy
(1955-) Nicolas Sarkozy is the incumbent Chairman of the Grand Assembly in the French Empire, having held that position since 2004. His experience in the Imperial government stems largely from his background in provincial politics and dealing with the Grand Assembly, until his election in 1992 to the Grand Assembly itself from the 22nd Assembly District. He is generally seen as centrist, and his influence is seen by many as critical in the development of Emperor Maurice as a political entity following the sudden death of his young father in 2006. During the initial transition from Albert II to Maurice, Sarkozy ran day-to-day activities normally reserved for the Emperor. His influence has been noticed in increasing the relevance of the Grand Assembly from its point of stasis in the late 1990's and early 2000's.
Charlie Sheen
(1965-) Charlie Sheen, also known as "Clutch Chuck", is considered one of the greatest American football quarterbacks to ever play the game - and his troubled personal life and later comeback are considered one of the premier sports legends in America.
Sheen played high school football at Los Palos High School near Los Angeles, where he never lost a game in three years as a starter while leading the Bobcats to three straight high school championships. As one of the most heavily recruited football players in the control in the fall of 1983, Sheen decided that his best bet would be to go to Cal and play for the Bears, the team he had idolized as a child (two uncles were Berkeley alumni).
Sheen's first two seasons were spent largely on the bench and as a backup. In 1985, he came off the bench to lead the Bears to three straight wins to close out the season as their starter, and was given the starting job at the beginning of 1986. The Bears would go 8-0 and Sheen was considered a darkhorse Bosch candidate before the Bears closed the season 1-3, losing to archrival Stanford 45-0. Sheen was plagued by a hurt shoulder for the majority of this stretch.
In 1987, Sheen returned from shoulder surgery to lead the Bears to a 12-0 season and a then immediately afterwards a national championship in a wild game over the Florida Gators, in which Sheen would win on a last-second touchdown run from three yards out, barely getting the ball over the endzone. That season, Sheen won his deserved Bosch trophy.
In March of 1988, Sheen announced that he had been signed by the New York Metros football team of the National Football League, the East Coast based pro football league. The Metros were one of the worst clubs in the league in 1988, having suffered through five consecutive losing seasons, one of which they went winless (1986). With new head coach Ron Osborne and Sheen under the center, the Metros suddenly became the toast of the league - Sheen would lead them to championships in 1990, 1992, and 1993.
In 1995, with the Metros ranked second in the the NFL's North Division, Sheen was arrested after a domestic dispute with wife Caroline, in which he allegedly pushed her through a window in their Connecticut home. Without Sheen, the Metros imploded. A few months later, in 1996, Sheen was found after a suicide attempt due to his guilt over the Caroline incident and the ensuing public relations fallout. He had taken painkillers and cocaine and was near death.
Even after his release after a brief prison sentence in 1997, Sheen was largely considered damaged goods in the public eye. He became known as "Pro Football's Bad Boy," a new branding for one of the most decorated players (two MVP awards in '90 and '91) in football. Having long since been terminated by the Metros, Sheen went out west to attempt a comeback with the Vancouver Blazers of the Western Football Association, but the 1998 season was his worst-ever as a player and after another abysmal year in 1999, at the age of 34, he permanently retired from football, especially after tabloids exposed his fondness for strip clubs and two alcoholic altercations with police and bar patrons in early 2000.
For much of the early 2000's, Sheen left the public sphere, went to a rehab clinic and married his second wife, Diane. In 2004, Sheen announced that he had accepted the position of quarterbacks coach for the Massachusetts Minutemen, which seemed a strange move for the usually hard-discipline head coach Harrison Ford. However, Sheen excelled with quarterbacks Riley Dean, Michael Bradley and Jonathon White, watching the third protege win a national championship in 2008. In 2009, he was elevated to offensive coordinator, and Ford named Sheen his replacement when he retired in January 2010 after his Silver Bowl victory, his last bowl win as a head coach.
Since 2004, the influence of coaching seems to have paid off for Sheen, who is now a recognizable public figure in his charity work and for his tradition of contributing a third of his paycheck to Boston's homeless shelters. Sheen is reportedly working on his autobiography, which will most likely graphically detail his lifestyle in the mid and late 1990's.
Gene Simmons
(1949-) Gene Simmons is an American actor, writer, producer and director, as well as a political activist. Born Chaim Witz in New York in a conservative Jewish family, Simmons began using the stage name Gene Klein in the early 1970's when he acted part-time in an off-Broadway play while waiting tables. In 1973, he was cast in the touring show of Pretty Boy, in which he played Francois Baptiste. His comedic performance led to his casting as Morgan Meyers in 1976's Dirty Boys along with Richard Gere and Tom Selleck, under the new suggested stage name "Gene Simmons."
With the three young actors launched into superstardom due to the gritty hit, Simmons adopted the new stage name permanently and appeared in a number of comedies in the late 1970's and early 1980's. His first big solo hit, however, was appearing as the eponymous killing machine in 1983's The Terminator and starring as the villain in 1984's Runaways, reuniting him with Selleck. Not wanting to be pigeonholed as an action villain, Simmons accepted numerous serious, dramatic roles - as a corrupt, cocaine-addicted police officer in White City (1986), as the frustrated, estranged husband to an abrasive and emotionally cold career woman in The Bread Winner (1987), which earned him a Best Supporting Actor nomination, and as Charles Manson in the biopic on the iconic folk singer, also in 1987.
Josef Stalin
(1878-1930) Josef Stalin was one of the most infamous criminals to ever operate in Russia. He was born Iosef Dzhugashvili in the Georgian town of Gori. Like most of the Caucasus, Georgia was a poor region on the frontier of the French Empire and Persia. Gori was a town virtually ruled by outlaws with little law enforcement. Growing up, Stalin was constantly involved in brawls with other kids in the town. His family was working class, and a young Stalin could barely afford an education. His father was constantly complaining about the Russians and, by proxy, the French; a sentiment which passed on to his son. As a teenager, not being able to afford his tuition, Stalin began running with the gang that ruled Gori. He engaged in bank robberies, extortion, and a variety of illegal activities. Stalin travelled all over the Caucasus with his band of outlaws. In 1898, he returned to Gori after a 6 year absence. Stalin's parents were shocked at how much money he had. The gang's leader, the young Noe Zhordania, met Stalin a year later. He was so impressed with his character and devotion to the gang, Zhordania made him his apprentice. Stalin became involved in the gang's top activities, raking in the modern equivalent of a hundred million francs. In 1902, the 24-year old Stalin was arrested for assault. He spent 3 months in a Sebastopol prison, where his hatred for the government increased. In prison, Stalin also adopted his last name (from the Russian word for steel). In 1905, he was named head of the gang's new operations in the Persian city of Baku. As the centre of the local oil industry and the largest Persian city in the region, the city had far more policing than the rest of the Caucasus. Stalin used blackmail and even assassination to rise to the top of the city. By now, the gang (called the "Georgian Clique" by the Russian and Persian media) was infamous across both countries. Louis II, having caught wind of this trouble from Paris, ordered the Churat to investigate. However, it quickly became evident that government influence in the region had been dwindling for some time. The Churat decided to target their leader Zhordania. He was poisoned and died in 1911. Stalin became their new leader with a vengeance. Churat agents were hunted down and forced out of the region. Government officials (most of them Russians, not French) were either shot or corrupted. Not even 40 years old, Stalin was probably the richest man in the Caucasus. He raised up equally volatile lieutenants to rule the region. There was Anastas Mikoyan, Grigoriy Ordzhonikidze, and Lavrentiy Beria. Stalin was also involved in charitable causes. He donated large amounts of money to the various people of the Caucasus. Under his power, infrastructure and the economy improved (because the French-backed local government was being corrupted against draining the region's wealth). In 1922, the 44-year old Stalin organized his gang to begin operations in Russia proper. The "Caucasus Clique" was now running amock in southwestern Russia. The government was outraged at his influence. The gang began to ally itself with minority groups in the area and, by the time the Oktoberkreig rolled around, Stalin was one of the most vocal supporters of an independent Russian state. Stalin was making lots of money as the gang turned the area into wild, lawless territory. The government had had enough; they decided to kill the aging Stalin. In 1930, Stalin was visiting the rapidly growing city of Grozny. Soldiers from the Grand Army ambushed the car in the forest outside the city. Stalin and 2 of his 4 body guards were killed. He was 52 years old. At this time, the Russian populace became aware of his influence in the Caucasus. He owned 10 homes, all beautifully furnished. However, he continued to fund projects in the region. Officials who worked there revealed how Stalin payed them to pass resolutions which benefited the people and the economy. The French government was so surprised by the crime rate in the region, they ironically began funding education and social projects in the region. In the Caucasus, Stalin has the status of a Robin Hood-like folk hero. In Russia and, to a lesser extent, the Empire as a whole, people perceive him as a murderous criminal with no respect for anything. The "Stalin model" was the name given to the method of enforcement that the rural bosses of central Russia adopted following the Oktoberkreig in controlling their territory, inspired by the success of the infamous criminal.
Louis Suchet
(1770-1822) Louis Gabriel Suchet was one of the most brilliant generals of the Imperial Wars - his service in Spain during the Peninsular Wars was instrumental to the defeat of the British at Toledo and the later rout of the Allied forces at Burgos.
Having earned respect during the mid-1800's, his elevation to Marshal of France in 1811 made him a powerful military leader. Suchet was one of Napoleon I's more trusted generals and was dispatched to Spain in 1812 to do war at the behest of Joseph Bonaparte, the puppet King of Spain.
It was in the spring of 1813, while Napoleon was enjoying his successes in Russia, that Suchet delivered his own masterstroke at Toledo. At an elevated position, French soldiers collided with the British over a river near the city and doled out dreadful losses. Arthur Wellesley, the Duke of Wellington, was killed by a stray bullet during the fighting and his body recovered by Imperial forces - his body was brought to Barcelona amid celebrations by the French.
With the fall of Wellesley, the British effort fell apart completely. Suchet routed a Portuguese army on May 20th and the defeat of the Allies at Burgos in late June sealed the fate of the Peninsular War. Suchet was given free reign over all Imperial forces in Iberia and made Duke of Madrid. With the forced abdication of Joseph Bonaparte in early 1814, Suchet became the effective ruler of occupied Spain.
Suchet was later recalled to armed service after several years pacifying the Spanish, largely due to the emergence of generals such as Savalier, Legrange, Murburrien and Gestot in the Forty Days Campaign. The rift between the "Old Guard" - Suchet, Michel Ney, Auguste de Marmont, Andre Massena and Nicolas Soult - who had slaved to subdue the continent and the "New Elite," the young generals who had emerged in the waning days of the Imperial Wars, especially in Italy and Britain while the Old Guard fought in Russia and Spain, threatened to cause significant infighting within the Grand Army. To appease the Old Guard, Napoleon set about the process of "land grants" in Russia and the East, which the Marshals of France were in charge of assimilating. In 1818, with the power of a few remaining noblemen in Novgorod growing and threatening a civil war in Russia akin to the chaos of 1814, Napoleon ordered Suchet to resolve the "Novgorod Problem," thus beginning the Second Purge.
While Marmont was the architect of the Purge, with his quotas and territorial plans drawn up in Moscow, Suchet was, along with Savalier, one of its primary agents. The violent assault against the noble and middle classes in northern Russia resulted in 15,000 deaths in two months alone - Suchet's indiscriminate allowance of a slaughter of unarmed noblemen on the banks of the Volga went unpunished when Russian courts demanded justice.
Between March of 1818 and November of 1819, nearly seven million Russians are estimated to have died of infighting, execution by French soldiers or starvation due to the collapse of law. Nearly 20 million Russians are believed to have fled to the Urals or across them to Novosibirsk, the symbol of a "Free Siberia," between 1818 and 1821.
The Purge itself slowed down in the early 1820's, when Marmont decided to focus on the restoration of "French law and culture" in Russia. The barbarism of many generals was finally punished, and Suchet himself stripped one of his most trusted commanders, Laurence Coliere, of his rank for the practice of burning churches with civilians inside.
Still, many Russians associated Suchet with the Purge, and three attempts were made to assassinate him as he set up headquarters in Kiev in 1821. He travelled to Petrograd in 1822 to visit Marmont for a conference on a re escalation of the Purge, even though the death toll of starvation and lawlessness in Russia had reached nearly 12 million since 1818. While in Petrograd, he was shot and killed by unidentified assailants on September 3rd as his carriage was cornered and his entire entourage killed in turn.
Historians remember Suchet as a heroic commander in Spain whose reputation suffered later due to the atrocities committed in Russia by the French. In Russia, Suchet is considered alongside Marmont as one of the greatest butchers in history. In the 20th century, French historians finally began to accept a less celebratory view of the man indirectly responsible for the deaths of nearly fifteen million people between 1818 and 1823.
T
Nicola Tesla
(1856-1943)
Leon Trotsky
(1879-1950) Leon Trotsky was an actor and director noted for his contribution both to American, Alaska and French cinema in the early half of the 20th century, best known for playing Nicola Telsa in the 1939 film Tesla and Dr. Frankenstein in 1930's Frankenstein. Born Lev Davidovich Brohnstein, he changed his name to L. Trotsky in 1903 when he was a struggling actor in Moscow. He became well known in the theatrical underground common at the turn of the century and eventually arrived in Paris, where he struggled as a playwright and actor before receiving a role in the 1914 epic silent film Le Mystique, where he played an enigmatic doctor seeking to devise immortality. The role gained him repute throughout the burgeoning Parisian film industry, and he quickly moved to other roles in similar short films throughout the 1910's.
V
Richard Van Dyke
(1925-) Richard Van Dyke served as President of the United States from 1965-1973, noteworthy due to his youth (38 years old when elected) and his popularity, and his later service in government in years following. Called "Tricky Dick" by his supporters and detractors, he was one of the most cunning politicians of the 20th century and one of the most successful.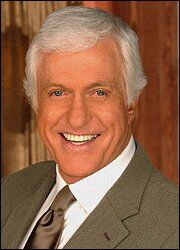 Van Dyke grew up in Kansas City, Missouri, the son of a lawyer. He showed an extreme gift of intelligence early on and graduated high school at the age of 16. In 1941 Van Dyke enrolled at Yale, where he eventually completed a degree in political science and later earned a law degree by the age of 22.
Returning to Missouri to practice law, Van Dyke was encouraged by his father's firm and Kansas City's mayor to run for public office. In 1952, at the age of 26, Van Dyke was elected to represent Missouri in the U.S. House of Representatives.
While elected as a Nationalist, Van Dyke agreed largely with the centrist-liberal ideals of incumbent President Prescott Bush. His four years in Congress were spent building allies in the Nationalist hierarchy. In 1956, he elected to not run for a third term and instead announced his intention, at the age of 30, to run for Governor of Missouri.
The incumbent Governor of Missouri was John Brass, a powerful Democrat of the "old party" - the Southern bloc of the Democratic Party that refused to acknowledge the changing tides in race and class relations in America. The popularity of the former President Bush and the unpopularity of old party Democratic President Richard Russell led to the defeat of Russell in his own party primary by a former Secretary of State, Thomas Sullivan, who had also served as a Senator from Iowa between 1947 and 1955 before declining to run again.
With the victory of Sullivan over right-wing hawk George Cabot, the path of the country during the prosperous 1950's was clear - away from the confrontational stance that Russell took towards France, and focused more on the economy at home. The election bore dividends for centrist Democrats and Nationalists across the country, and among those reaping the benefits was the idealistic young Van Dyke, who despite his youth suddenly had a surprising amount of political capital and the attention of notable Nationalist strategists, among them Edmund Dawes and Ian Sedgwick.
Van Dyke's first term as governor brought about sweeping reform in the Missouri legal, educational and infrastructural system. Kansas City boomed in the late 1950's and even though the country was mired in a steep, nasty recession right around the same time as the Bomb Scare, Van Dyke managed to narrowly win reelection in Missouri and the state was one of the first to come out of the recession in the early 1960's. The jobs in the rapidly expanding defense industry found an ally in Van Dyke, who signed legislation to allow for two new military bases to open in Missouri, as well as several munitions factories that were exempted certain state tax regulations.
In early 1963, National Party heavyweights began to mull a run in 1964. President Hoover was rapidly losing popularity over a series of defense contracting scandals and had already announced his intention to decline a second term as early as the 1960 election. The Democratic front-runners, Massachusetts Governor Joe Kennedy, Jr., and Cuba Senator Daniel Marks III, both from powerful Democratic political families, were seen as favorites to win the '64 election somewhat by default.
Fearing a heavy loss in both Congress and the Presidency, National Party leaders such as Sedgwick and Cabot floated the plan of running an "unelectable" candidate in order to save money and begin thinking long-term towards 1968, when the after-effects of Hooverism had blown over (and, as they were gambling, the Democrats would have made serious mistakes in defense policy and failed to appease the growing issue of blacks attending public universities in the South). With Van Dyke still debating a run at a third term as Missouri's Governor, Sedgwick approached Van Dyke in summer of 1963 and suggested he take a stab at the National Party ticket. It was a considerable gamble, since Van Dyke was still in his thirties and an unknown outside of Nationalist inner circles and his home state.
Political theorist Anthony Nicci, one of the more respected Nationalists of his day, teamed up with Van Dyke to build the "underdog strategy" towards winning the general election. Throughout 1963, Nicci allegedly used funds acquired from his friends in the Italian-American criminal community to begin campaigning for "Slick Dick" in traditional battleground states. Most Nationalists, fearing the foreseen loss in the '64 election, were staying away from early posturing and thus Van Dyke built a small following that had him as an odd front-runner for the ticket by the beginning of 1964.
It proved to be his early campaigning, with Nicci creating a carefully planned strategy, that made Van Dyke a sudden force when the spring of 1964 came around. The Democrats fought a vicious primary battle, with Kennedy not securing the nomination until the convention due to a resilient Marks. Kennedy chose Minnesota's Hubert Humphrey as his running mate and with his family's clout behin him, started the infamous campaign slogan, "Who is This Guy?" The Democrats rallied behind the slogan, and believed that the power of the Kennedys - with business connections and status within the Hollywood community - would carry them in an election they were favored to win regardless.
However, in the first televised debate, Van Dyke clearly upstaged Kennedy, comparing the dynastic nature of the family to the Empire and iterating a hopeful message instead of the "gloom and doom" campaign run by the Democrats, who wanted to focus more on the flaws of Hoover. When questioned about his inexperience and age, Van Dyke reminded Kennedy that they had both served as state governors for eight years and "our only difference in experience is who our father is."
Kennedy demanded a second televised debate, this one held a few days before the election. Van Dyke was climbing in the polls, especially after Kennedy, in a televised interview, made his infamous "I don't mind France" statement. Nicci and the Nationalist campaign pounced, portraying Kennedy as an appeaser. In the second debate, which was hastily thrown together, Kennedy entered as the underdog this time, and instead of explaining his points as he had failed to truly do the first time around, was on the defensive from a carefully scripted plan by Nicci.
Van Dyke narrowly defeated Kennedy a few days later without winning the popular vote and by only 20 electoral votes. The Kennedys had been beaten by a Nationalist dark horse again, 20 years after Prescott Bush won the New England Faceoff.
Van Dyke set about to continue some Hooverian policies while also waging what he called "the War at Home." Civil rights were a hotly contested topic in the mid-1960's, and the Democrats in the South were firmly against many of the measures supported by civil rights leaders such as Ron Murrow, or prominent author Martin L. King. Still, Van Dyke used support amongst liberal Democrats in the North and his allies in the National Party to push the Voting Rights Act of 1965, the Equality of Education Act in 1966, which outlawed the banning of black men and women from public universities in the South, and pushed the Civil Rights Act of 1967, which guaranteed equal rights under the law for all citizens.
During this push in the 1960's, he also eased regulations on the financial industry, pushed legislation that would require universities to accept an equal number of men and women every year, and passed comprehensive immigration reform. Democrat leadership criticized Van Dyke of opportunism, and argued that the National Party, which had long allied itself with social conservatives, was only supporting legislation long triumphed by liberals in order to expand their base.
The project worked, however - in an unusual turn for a midterm election, the Nationalists won back control of the Senate from Democrats for the first time since the hemorrhaging 1962 losses, and nearly took the House. It was the only midterm election since the 1930's in which the party of the incumbent President had a net gain of seats in both houses.
Van Dyke also engaged in a far less confrontational relationship with Emperor Sebastien of France; they visited with one another several times, and even signed a conventional arms treaty in 1967 limiting the amount of arms each country would export to other nations over the next six years. However, with the successful 1966 detonation of an American atom bomb, the Nuclear Arms Race began in earnest, and by 1972 the United States had nearly 1,000 warheads as compared to France's 3,500. The 1970's would see an even greater boom in arms ushered in by the Van Dyke era.
In 1968, Van Dyke found himself challenged by the "Hero of the South," Alexander McCarthy, who was critical of the implementation of desegregation although he personally disagreed with the process, and a committed economic liberal. He also strongly supported abortion, which became a major campaign issue in 1968 as several states began allowing the practice, and the question over whether the federal government could control it was legal or not. Van Dyke chose to veto a bill outlawing the practice in 1968 because he did not want to alienate voters, saying that it was up to the Supreme Court to decide. With the Cold War at its zenith, the 1968 campaign revolved around three issues: the civil rights policies enacted by Van Dyke, the abortion question, and the continued hostility with France. Van Dyke recruited New York Governor Tom Heaps as his new Vice Presidential running mate to better attract Northeasterns who were sympathetic with McCarthy, who had chosen Betty Douglas, a Congresswoman from Aroostook, as his running mate. Woman politicians were few and far between, even in the progressive culture encourage by Van Dyke in the Sixties, and so the selection of the first-ever female to a major-party ticket came as a huge shock to many in the country. Van Dyke was said to have "walloped" McCarthy in the 1968 televised debate, which was moderated by Ronald Reagan, and despite the personal popularity of the attractive and sympathetic Douglas, the McCarthy-Douglas ticket lost in one of the most lopsided elections in history.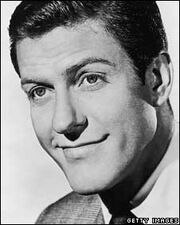 With an even strong mandate, Van Dyke weathered an economic downturn in 1969 that drew the ire of the country. In 1969, French patrol boats in the St. Lawrence River engaged a US commercial vessel, and the first-ever nuclear standoff ensued, with Van Dyke at one point threatening to launch a missile into the heart of Paris from England, and Sebastien retreated to Corsica and ordered the nuclear bomber fleet and missile contingent in Canada to be on full alert. Eventually, Van Dyke managed to reach a mutual agreement to back down with Sebastien.
His leadership in the crisis, as well as his masterful handling of crises in Peru, Costa Rica and Ceylon with the strength of US troops, made Van Dyke a foreign policy master. In 1970, prior to a disastrous National Party loss in the midterms, he traveled to Japan to sign an unprecedentedly favorable trade agreement with a longtime rival. Later that year, he traveled to the Caliphate of Arabia, where he managed to secure exclusive oil drilling rights for American and English companies for 30 years in return for $10 billion in aid per year for that stretch, as well as infrastructural investments.
The economy rebounded by 1971 and, although scandals were plaguing individuals in the administration, Van Dyke steered clear and even asked for the resignation of prominent Cabinet members. He announced in 1972 that, due to his youth, he felt he needed to give more to America and began to run for a vacant Senate seat from Missouri, the first time a President has ever campaigned for a different office while in power.
Van Dyke was sworn in to the US Senate having run unopposed in Missouri in 1973, two days after he left the office of the President. He would serve in the Senate until 1997, when he finally announced his permanent retirement from politics. Between 1973 and 1997, he became the most prominent Nationalist politician on Capitol Hill, and served as the Senate Majority Leader and Minority Leader, dependant on the makeup of the Senate, from 1983 to 1997, making him the shortest-tenured Senator to ever become his party's leader. Dick Van Dyke spoke at every National Party Nominating Convention between 1972 and 2008 and endorsed every winning nominee in the primaries since 1980. His decision to support Elizabeth Shannon over Hugh Veinklasser is seen as the pivotal moment in Shannon's ascendancy to the National Party nomination. Some have thus called him, "Richard the Kingmaker" or "King Richard of Missouri."
Since retiring from politics, Van Dyke has focused on humanitarian work at home or overseas. The Richard Van Dyke Institute is one of the most powerful and influential foreign policy think tanks in the county, and the Van Dyke Foundation is a trust fund set up to sponsor college scholarships for minorities. Van Dyke has written 11 books over the years, including autobiographies, fiction as well as books on political theory itself.
Jim Varney
(1949-)
Benjamín Vicuña Luco
(1978-) Benjamín Vicuña is a young chilean politician from Liberal Renewal Party. Born in Santiago, he is descendant of the Liberal President Benjamin Vicuña Mackenna (1880-84). He studied in the Sagrados Corazones de Manquehue college, where he show interest for the humanist studies. He decided went on to study law in the Universidad de Chile, where also begin his political career, joining to the Youth of the Liberal Renewal, and being chosen in several student posts. He graduated as a lawyer in 2002, dedicating to his profession and working as a professor in the same university. He entered to the political arena in 2006, when was elected as deputy for Liberal Renewal, representing to the Santiago district. In 2010 elections, was reelected as deputy for a new 4-years term.
Manfred von Richtofen
(1892-1968)
W
Christopher Walken
(1943-) Walken, born and raised in New York, is considered one of the greatest baseball players to ever play the game, and the greatest catcher. He has 11 World Series titles to his name as a player, six of which he won with the Boston Paddies during their runs in the 1970's, and four as a manager. He served for 13 years as commissioner of Major League Baseball up until his retirement in 2005.
Walken graduated from St. Mark's Preparatory in 1961 and immediately signed a contract with the Havana Cubanos. As one of only four white men on the team, Walken spent most of his rookie season in the dugout as the Cubanos won their second World Series in three years over the Liberties in 1961. Walken started as a catcher the next three years, the last of which, 1964, the Cubanos would win another World Series. In 1965, Walken was traded midseason to the Sante Fe Wolves. In 1966 and 1967, the Wolves would win the World Series with Walken as catcher.
By this time, Walken was already recognizable as one of the most seminal players in Major League Baseball. He had helped lead a mediocre Wolves team in '65 to back-to-back titles the next two years, and had four World Series rings. In 1969, he signed the biggest contract in the history of baseball with the perennial contender Detroit Tigers, who celebrated a World Series championship of their own that year.
Walken and Tigers manager Jimmy Owens got into a public dispute in the winter of 1970, and broke the story of Walken threatening to retire from baseball unless he was traded from the Tigers. The move was seen as selfish and unsportsmanlike; few suitors came forward. Walken retired during spring training of 1970, opting to not collect his fat paycheck rather than play for Owens. After a month into the 1970 season, Boston Paddies co-owner and GM Bobby Kennedy traded for Walken.
Walken would catch for the Paddies through their remarkable run of four consecutive World Series championships between 1971-74, and was the catcher for the '77 and '78 teams as well. In 1978, having played in the league for nearly 20 years, Walken retired once again and got a job as manager for the St. Louis Cardinals, who won the World Series in 1983 and 1985. He was hired as manager for the Vancouver Pioneers in 1987, and the 'Neers wound up winning the 1990 World Series over Walken's former team, the Paddies. The 'Neers repeated in 1991 with a sweep of the Detroit Tigers.
In 1992, Walken resigned as Pioneers manager suddenly, and a week later was announced as Bobby Kennedy's successor as baseball commissioner. During his time as commissioner, Walken instituted a salary cap and helped modernize the league's method of business. He also cracked down harshly on abusers of anabolic steroids after scandals about the use of the drug became prevalent in 2003, and declared that the MLB would "rid itself of the taint of cheating" by 2008. He has announced that he will retire sometime between 2012 and 2014, after grooming a suitable replacement.
William Walker
(1824-1896) William Walker was the sixth President of Central America. He was previously a senior American military advisor to tyrannical Central American President Rafael Carrera. He lead a coup that toppled the Carrera regime in 1857. Soon afterwards he was chosen by the Central American Congress to serve the remainder of Carrera's term in office.
Having grown up in Tennessee, Walker served in the Texan Campaign of the American-Mexican War under General Love and was captured by Mexican soldiers at Las Rositas in 1842. Walker learned Spanish while incarcerated as an inmate at Castilla Muerta and was eventually released in 1845 after the Americans sacked Mexico City. He was promoted to First Lieutenant and returned to Tennessee a minor hero, and soon thereafter was dispatched by the US Army Foreign Service to be stationed in San Salvador.
Comparing himself to the heroic Colonel Lincoln, Walker rose through the ranks of the Foreign Service in Central America and earned the ear of several local military leaders opposed to the left-wing, populist caudillo President Rafael Carrera. Due to Carrera's oppressive rule in the cities and refusal to hold local elections in areas of the country known to be in opposition to him, many conservative elements of Central American society began plotting his overthrow, and enlisted Walker and the "Nordios" (other Foreign Service troops) to help in coup.
Walker, by now a Major and head of the Foreign Service troops in San Salvador, readily agreed and led American forces in the attack against Carrera's palace on November 20, 1857, toppling him and installing himself as a temporary military dictator. The Congress of Central America soon thereafter appointed Walker the President until April 1861, when Carrera's term was to have expired. While despised by many rural and poor elements in Central America, Walker reformed the Central American legal and political system to model it upon that of the United States (instead of the Spanish-based system similar to Colombia). He was narrowly elected to a full five-year term as President in democratic elections in 1861 and elected once more in 1866, leaving office in 1871 after having served as President for 14 years. As President, Walker also made Central America a major American trading partner and, especially in his first term, an effective vassal state of the United States and a buffer against Mexican power in the region. He encouraged American investment in the country, including the construction of vast railroad and waterway systems, which would serve as the model for the late 19th and early 20th century construction of the Colombian canal across the Panama Isthmus.
Walker survived seven assassination attempts during his tenure, and due to his unpopularity amongst the poor, Central America changed its constitution in later years to prevent anyone not born in the country to become President and instituted sweeping democratic reforms to diminish the power of the military, which under Walker had effectively stripped the Congress of much of its power and been the de facto seat of power.
Following his Presidency, Walker elected not to return to the United States and spent a significant amount of time in southern Central America at his private ranch, where he reared horses following the death of his native wife Maria. In 1884, with the rise of a populist left-wing government, Walker was arrested, spent four years in prison in Manuaga, and was later exiled on pain of death. The exile of such an elder statesman met serious criticism in the conservative parts of the country and remains a contentious topic to this day. Walker lived briefly in Cuba at the invitation of former U.S. President Josiah Marks before living out the final six years of his life in Nashville, Tennessee. He died of pancreatic cancer at the age of 72.
Walker's quick and sudden rise to power as a conservative, military-backed and charismatic strongman in Central America inspired several other such figures to emerge throughout the late 19th century, among them Eusebio Iglesias in Colombia and Ferdinand Taumas in Argentina. His legacy in Central America is mixed - many Central Americans deride him as an usurper, a foreign-born dictator who circumvented populist policies and the democratically-elected Congress and rigged elections to his benefit, and is often remembered as an American stooge. Other Central Americans cite him as a modernizer, a reformer and a leader who, over the course of nearly 14 years in power, prevented the otherwise likely fragmentation and division of Central America into several smaller states. Several smaller communities in the more conservative parts of the country have created statues in his honor. On April 11th 2002 the city of Muy Muy, the city where Walker last lived in Central America, renamed itself Ciudad Walker in honor of its most controversial resident.
Denzel Washington
(1954-) Denzel Hayes Washington grew up in Mount Vernon, NY, at a time of much social unrest. He was sent off to a private military preparatory school at age 14 after the arrest of one of his best friends, where he started dabbling in football. He became a standout player when he attended Parks Preparatory Academy for high school, where he played quarterback and safety his freshman year, before bulking up and playing running back, receiver, linebacker and kick returner for the next three years. Washington was one of the highest-recruited players in the country after the 1972 season. Eventually, he chose to play for Henry Cobb and the Michigan State Spartans, choosing them over Texas, Nebraska, Aroostook, Penn State and Huron.
Washington is the only player in Spartan history to start every game of his college career, thanks to a rule change passed the season before arriving on campus to allow true freshmen to play. Washington was the second-leading rusher in the nation his freshman season as he led the Spartans to a national championship. He was the first and only freshman to ever finish the top three of Bosch voting (he was voted third). The Spartans that year were led by Bill Pullman at quarterback, who was a sophomore, leading the Pullman-Washington tandem to be called "the best youngsters in the history of college ball."
After the 1974 season, the Spartans went to the Rose Bowl again, this time having finished second in the Lakes Conference behind Ohio State, the only team to defeat Michigan State that year. The Spartans blew out the Washington Huskies 61-20 in one of the biggest routs in major bowl history. Washington set a Rose Bowl rushing record of 345 yards and four touchdowns, which still stands today, and the Spartans set the still-standing points record and total offense record. Bill Pullman still holds second place for most passing yards in a Rose Bowl game.
Entering 1975, the Spartans were a unanimous No. 1, a ranking they held throughout the season. Washington finished second in Bosch votes behind North Carolina's Terrance Clark in the first year that the top three vote-receivers were all African-Americans (the third place spot was taken by Ohio State quarterback Doug Fitzer). Washington and the Spartans, heavily favored going into their Chicago Bowl matchup, were defeated 23-20 after failing to convert a fourth down in one of the greatest college upsets in history, and an upset which brought national attention to the Tar Heels' charismatic young offensive coordinator, Harrison Ford.
The Spartans finished 9-2 in Washington's senior season, when he once again placed second in Bosch voting. They would win their third Rose Bowl in four years, and Washington would graduate as the school's all-time leading rusher and scorer, and he would hold the NCAA career rushing yards record for ten years until Massachusett's Jim Spencer broke it in his senior season for the Minutemen. Washington is regarded as the best player to never win the Bosch. His number, 30, was retired by Michigan State in 1980.
Washington was drafted by the Mobile Gators of the National Football League in 1977. For his first three seasons, he was one of the top offensive players in the league. The Gators lost the 1979 AFL Championship game to the Chicago Bears 41-7. The next year, Washington set the single-season rushing record that would stand until the mid-1990's (2,354 yards) and scored 21 touchdowns as he led the Gators to an NFL title. They would win again in 1981. After falling in the semifinals in 1982, the Gators roared back with Washington once again as the top offensive player in any of the three professional football leagues in 1983. The Gators were upset on a last-second field goal by the Houston Oilers. With Washington nearly 30, the Gators drafted Texas running back Dylan Curtis in the 1984 draft and created a ferocious two-back tandem with Washington and Curtis which helped propel them to the 1984 and 1985 titles. Over the 1985 season, it became clear that the Gators were phasing Curtis into the premier back role, and Washington was hampered by injuries throughout the 1985-86 playoffs.
In the summer before the 1986 football season, the Gators unexpectedly traded Washington to the Los Angeles Raiders of the Western Football Association. The Gators would win the 1986 title behind the running of Curtis, making them the first NFL team to post a three-peat, while the Raiders did not improve markedly even with Washington as their premier back.
After tearing an ACL in 1987, Washington announced he would retire from football following the season, in which the Raiders failed to make the playoffs. However, after disappearing form public view in 1988, he announced suddenly that he had rehabbed his knee, gotten back into shape and would return for a final season in 1989 with the Havana Seagulls. The Seagulls, with the 34-year old Washington leading the way, went undefeated in regular season play before losing in the NFL quarterfinals to eventual champion Miami. The Mobile Gators would win their sixth and final NFL championship in 1994, in Dylan Curtis' final season.
Washington permanently retired in the 1990 offseason and accepted a job as the commentator at alma mater Michigan State. He later pursued a brief film and television career in the mid-1990's, mainly using his football celebrity for small roles. In 1998, ESPN offered him a position as a commentator for their pro football program - in 2002, he transferred to commentating on college ball. Currently, Washington is one of the four anchors of ESPN College Football Gameday, along with Donald Trump, Bobby Billups, Jr., and Brian Nabseth.
He was inducted into the College Football Hall of Fame in 1999, and the NFL Hall of Fame in 2002. The Mobile Gators retired his professional number, 34, in 1992 and added him to their Ring of Fame. Washington was added to the NFL All-Decade team for the 1980's, three of his Gators squads were included among the Top Ten NFL Champions (the undefeated 1984 squad at No. 1) and he was added to the college football All-Decade team for the 1970's.
Kanye West
(1977-) Kanye Omari West grew up in Chicago, Illinois, where he at a young age established himself not only as a talented student and songwriter, but also as one of the best young basketball players in the region. He was able to graduate early and enrolled for the fall semester of 1994 at the age of 17 at the University of Chicago, where he planned to not only complete a business degree but also play for the Chicago Maroons basketball squad, already considered one of the best in the country.
West led the Chicago Maroons to their second title in three years in the 1994-95 season, defeating the Kentucky Wildcats in the Final Four before knocking off the favored Pitt Panthers in the finals - West, at shooting guard, scored 35 points in the national championship game, a record still held for freshman players in the final game. All of the next season, West, referred to as "the Soph Sensation" or the "Hometown Hero" led the Maroons to a repeat title, and was the top-scoring player in the country in 1995-96. In his junior season, the Maroons lost to eventual national champion Pacifica State in the Elite Eight. While many thought that West would follow many of his teammates from the past two seasons and defect to the NBA, he announced his intention to stay at Chicago to attempt to win a third title. While he was the top-scoring senior in the country, regaining his form from his first two seasons, and despite the Maroons entering the March Madness tournament with the top overall seed, the Maroons were blown out in the Sweet Sixteen by eventual runner-up Florida State in one of the biggest NCAA basketball tourney upsets of the decade.
West graduated shortly after that final game in a Maroons uniform, and in 2002 the Chicago Maroons retired his No. 8. West was considered the top prospect entering the 1998 NBA Draft, and at the age of only 21 when drafted he could foresee a long and fruitful future. He wound up being the second overall pick behind Kansas star Jerome Weatherby, going to the long-suffering New Orleans Jazz. He instantly became the face of the franchise.
With West at the helm, the Jazz qualified for the 1999 Western Conference Playoffs but lost in the first round to eventual conference champion Tacoma SuperSonics. In 2000, West led the league in scoring and led New Orleans to the top seed in the conference and the conference finals - however, the eventual NBA champion San Diego Sun Devils knocked them out in a four-game sweep. In 2001, West and the Jazz barely made the playoffs due to injuries, but once in the playoffs did not lose a single game until they reached the NBA Finals, where they lost in six games to the mighty New York Knicks.
The Jazz acquired Peter Hauer from the European Champion League and dominated the league all year long, posting the best record in the league and franchise history, and winning the first of three championships in four years. While they would not take the NBA title in 2003, West and Hauer, along with young point guard Nick Patrickson, led the Jazz to back-to-back titles in 2004 and 2005.
In 2005, West became the top free agent in the league - and when the Hornets were unable to offer him enough money, West bolted for his hometown Chicago Bulls. The next year, the Bulls played a storied seven-game match with the Pistons, who were led by rookie sensation LeBron James, which they won. The Bulls lost in the conference finals, however.
In the 2007 playoffs, having led Chicago to the postseason a second consecutive year, West suffered an ACL tear in the conference semifinals against the Knicks. The Knicks would go on to beat the Pistons in the conference championship and win the NBA Finals, and West would have to go through rehabilitative surgery. When returning triumphantly for the 2007-08 season, West suffered another ACL injury on his bad leg in February and was forced to sit out the rest of the season - the Bulls were knocked out of the playoffs in the first round by the Pistons.
West, who complained of knee problems after the playoffs, decided to retire at the relatively young age of 31 and focused on a film career. He appeared in bit roles in two movies in 2008 and 2009, but failed to garner any real interest in Hollywood. He worked as as assistant coach for the Iowa Hawkeyes basketball program in the 2009-10 season.
In 2010, West announced that he would accept the position of head coach at his alma mater, the University of Chicago, for the 2010-11 college basketball season, replacing embattled coach Ike Daniels.
Daniel Lawrence Whitney
(1963-) Daniel Lawrence Whitney was born in Nebraska on February 17, 1963. It was discovered during his time in high school that he was very good at working with electronics. This aptitude would change the course of Whitney's life. When he graduated in 1980 he enrolled in Harvard College after getting an exceptionally high score on the SAT. In 1984 he met his future business partner William "Bill" Gates III. Whitney moved to Takoma, Washington after he heard of the burgeoning electronics industry growing there. In 1986 he formed Whitney Computers with his friend Bill Gates, which quickly became the most successful (and only) computer company. However in 1988, after a dispute with co-founder Bill Gates, Gates left the company to found his own computer company, Microsoft.
Eli Whitney
(1765-1836)
Eli Whitney was an American inventor and industrialist. He was the founder of Colt's Patent Fire-Arms Manufacturing Company (now known as Whitney's Manufacturing Company), and is widely credited with inventing the modern revolver before his death in 1836. Whitney's innovative contributions to the weapons industry have been described by arms historian James E. Serven as "events which shaped the destiny of American Firearms." In 2006, he was inducted into the National Inventors Hall of Fame.
Ed Wood
(1924-)
Edward Davis Wood, Jr. (October 10, 1924 – December 10, 1978), better known as Ed Wood, was an American screenwriter, director, producer, actor, author, and editor, and had often performed many of these functions simultaneously in his earlier films. His budget-saving innovations had revolutionized the horror genre, and his style left a mark on the industry for years to come.
Y
Alfred Yankovic
(1959-) Alfred Yankovic is an American political satirist, writer, comedian and television host. He is the host of Comedy Central's The Yankovic Report, a satirical news show in which Yankovic portrays a caricatured version of conservative political pundits. He had previously worked as a correspondent on The Daily Show, before leaving to host his spin-off show The Yankovic Report.
Z
Mao Zedong
(1893-1976) Mao Zedong, also transliterated as Mao Tse-tung was a Chinese poet, philosopher, author, and political theorist. Affectionately nicknamed "Chairman Mao", he shaped the political fabric of China for decades after his retirement and death. There is a group of people who follow his political and philosophic beliefs almost religiously. This sect, known as "Maoism" has been gaining a following both in China and abroad.