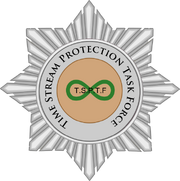 The Time Stream Protection Task Force are the management of this wiki, and those that keep the peace. These are broken up into three levels, the Brass (Bureaucrats), Lieutenants (Admins) and Constables (Rollback).
The TSPTF are in charge of maintaining the wiki's major pages, removing vandalism, banning irresponsible or vandalizing users, and maintaining the wiki forums. The TSPTF also can answer any requests or questions about something on this wiki, and they have the sole authority to delete pages at will.
Brass
The Brass are the highest tier of TSPTF in terms of abilities and powers. It is they who grant sysop powers to other editors. While bureaucrats are largely similar to Lieutenants in general article editing, their opinions are almost always considered in important policy decisions that affect the whole site, as well as determining consensus in difficult cases. Other than that, the role of the Brass is similar to the role of the Lieutenant, except they get to pick their very own funny title.
Lieutenants
Lieutenants are editors who have sysop rights. Lieutenants are contributors who are active and who have been around for a while and are generally known and trusted members of the community. The community looks to Lieutenants to perform essential housekeeping chores that require the extra access administrators are entrusted with. Among them are carrying out the consensus of the community on keeping or deleting articles, keeping an eye on new and changed articles to swiftly delete obvious vandalism, and meeting user requests for help that require administrative access. Since Lieutenants are expected to be experienced members of the community, users seeking help will often turn to a Lieutenant for advice and information.
Constables
Constables are editors who have been granted rollback power to allow for a faster, automated reversion of vandalism. They are the foot soldiers in the ongoing war against vandals and trolls.
Officers Emeriti
The following is a list of retired members of TSPTF. For the time and energy they have given in patrolling this wiki their names are listed here so that they may be honored. They also retain their admin powers indefinitely.
Applicants
Editors wishing to join the TSPTF should apply for a position at the request for user rights page. The number of constables is unlimited, so anyone who meets the requirements can try to be chosen whenever they want. Also since only current Lieutenants can be Brass, any Lieutenants who wish to be promoted to the Brass can do so as long as they meet the requirements. Openings for Lieutenants, however, will be available only by announcement. So check to make sure the TSPTF is looking for new Lieutenants before applying.
Responsibilities
TSPTF members should keep an eye on the following pages to help keep the wiki "cleaned up" and running the way it should. TSPTF members are expected to play an active role in helping out on one or more of these pages. If you are an administrator, please sign up below for at least three areas you will help keep an eye on. If all of us work together it will not take much effort. (Note: Constables are exempt from signing up for responsibilities they do not have the powers for)
Watch for compliance with the naming conventions and whether the article is actually a future history.
Watch for vandalism; ban appropriately.
Vote and carry out decisions.
Report Vandalism
If you have seen users vandalizing pages, please report it here. Use the template below:
Template:
===[[Name of Article]]===
* Explain who is doing it ~~~~