Anna I
Anna I
Regent of Anglia
Reign
17th April, 1493 - 8th July, 1517
Predecessor
n/a
Successor
William of Norfolk
Born
26th February, 1453
Kettering, Anglia
Died
8th July, 1517
Lincoln, Anglia
Spouse
Christian Jonsson, Earl of Suffolk


Henry II, Duke of Berg
Henry Olafsson, Earl of Norfolk

Issue
Isabel


Elizabeth
William of Norfolk
Richard

House
Estridsson
Father
William I
Mother
Katherine Ericsdotter
Anna I of Norfolk was known for having steered Anglia through the early stages of the War of Anglian Succession though she would never be crowned Queen in her own right, instead acting as regent for her Danish relations, Eric (IX) and Christopher I (II).
Born in 1453 to William I and his second wife Katherine Ericsdotter, the daughter of Eric IV of Hordaland, Anna would, for much of her early life, be used a marriage pawn to further her father and brother's policies. At the height of War of the Lions (1458-1465), at the age of 9 she was reportedly betrothed to Prince Karl of Gothenland but nothing came of match. Instead a marriage closer to home in Suffolk was arranged. Ten years later, following Suffolk's death, a foreign match was sought and found when she married Henry II of Berg. This marriage would again last ten years and be childless. This time Anna was brought home.
William II's death in 1493 left Anna as the closest relative, his younger brother Wenceslaus having died in 1460. He had however spent a considerable portion of the final years planning for what came next; organising Anna's marriage to Henry, Earl of Norfolk. The Witenage had been made to swear allegiance to a council of regency to govern Anglia until Anna had a male child. This putative council included three lords from Flanders-Hainault who immediately caused trouble by disagreeing with the terms of the council's creation. Flanders still held grudges against Anglia for perceived injustices during the War of the Lions and argued Salian Law barred Anna from inheriting, or passing on the inheritance of, the electorate. If she had had a son at that point, the issue may have been bypassed but she had only a single daughter from her first marriage.
Earl Henry lacked the authority to support his wife's claims and, without a son to push to the fore, was forced to take a backseat. In a desperate move to hold Anglia and its wealthy continental property together the Witenage offered the crown to Anna's cousin Eric IX of Denmark. For another cousin, Sigismund II of Luxembourg, the prize of the Anglian crown and the rich lands of Flanders was too much to be simply allowed to pass into Denmark hands and thus the War of Anglian Succession broke out in September 1493.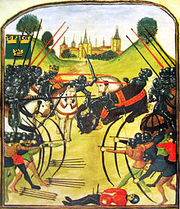 For much of the early portion of the war the fighting was concentrated in Flanders and Brandenburg and the effects on Anglia were slight. The loss of the taxes and trade from the Flemish cities, and the necessary Luxembourg embargo, was keenly felt however and many merchants would have to turn to less lucrative markets of Denmark or Brittany to make ends meet. Anna mostly took a backseat to all of this; the Anglian Witenage still clung to the promises of William II's will and governed on Eric's behalf, and Anna, now with a male son (William of Norfolk, born in 1495), complicated their raison d'etre.
All that was needed was to secure the kingdom and all of its possessions. Her two predecessors had left a considerable treasury however and a nobility eager to fight abroad, rather than against their own. The Anglian army that landed at Oostend in 1497 cost an estimated ƒ24,000, was one of the best equipped forces seen at that point and easily defeated the Emperor at the Battle of Lens. However the Kalmar forces they were meant to join up with were less well led. In fact the putative king of Anglia, Eric IX, was a military liability.
As the situation in the Low Countries moved back to Luxembourg's advantage Eric moved to Anglia and was firmly welcomed by Anna, who formally abdicated what little power she held. Finally crowned in September 1502 Eric took control of Anglia's army as Wessex declared war and moved to begin a siege of London. Officially Anna took a backseat to all of this and retired to Norfolk. However Eric soon tired of the badly organized siege and returned to the continent. The Anglian nobles had also seemingly become disillusioned with him and Anna was reinvested with a more prominent place in governmental decisions, especially after her husband, Henry of Norfolk led the Battle of Derby in March 1503 which would force a temporary ceasefire on the war in Britannia.
In August 1509, following years of poor decisions and military reversals, Eric died. Anna would help transfer the Witenage's loyalty to his son, Christopher, though the new king's position was soon utterly undermined by revolts in Lade and Svealand. Throughout this Anna held the state together eking out the diminishing tax returns to maintain the exchequer and dampening the slowly growing thought that the Luxembourgs would be better overlords than the Danish Estridssons, even going so far as to execute three minor lords for 'seditious and treasonous talk'. Though no money could be spared to land more Anglian armies in Europe in 1514 Wessex renewed its war directly with Anglia and the aging Anna would oversee the Second Battle of Derby.
Anna would die in July 1517, three weeks after Christopher officially renounced his claim to the Anglian throne. To end the war Anna's son, William of Norfolk, would offer the crown to John III of Luxembourg and inflict a punishing defeat on Wessex at Stafford. John III would be satisfied to take Flanders and Hainault only, sensibly deciding that adding Anglia itself to his already unwieldy possessions would be foolish. William became king in his own right and the succession was formalized by his marriage to Elizabeth of Luxembourg.
Family
Anna would be married three times. She married Christian, Earl of Suffolk in 1460 and had one child.
She then married Duke Henry II of Berg in 1470, his second wife, but the marriage was childless.
After Henry's death in 1480 she returned to Anglia as part of William II's succession plans and married Henry Olafsson, Earl of Norfolk in 1486. They had four children:
Elizabeth (1488-1502)
William III (1495-1540)
Richard (1499-1537)
The Kalmar Union TL Articles

Nations
Timelines
Military
Miscellaneous
The Kalmar Union
Community content is available under
CC-BY-SA
unless otherwise noted.