Confederation of Antlers
Timeline: 1983: Doomsday
OTL equivalent: Pushmataha County, Oklahoma


Flag of Antlers

Antlers

Motto
"Deer Capital of the World"

Capital
(and largest city)
Antlers
Language
English
Governor
Jim Duncan (R)
Lieutenant Governor
Jack Matthews (R)
Area
1,397 sq mi km²
Population
12,000 
Independence
July 4th, 1984
Currency
Barter, American Dollar
Organizations
Oklahoma Free Trade Agreement
Antlers is a city-state in Pushmataha County, in the former state of Oklahoma.
History
Pre-Doomsday
Pushmataha County, at statehood, was considered an agricultural paradise. Local residents believed the soil to be fertile and the weather enviable and moderate… such that almost any fruit or vegetable could be grown. Most residents at the time were farmers, and lived off their land.
Cotton was king, for the county's first few decades. It was grown throughout the Kiamichi River valley. Growers hauled it into Antlers, Clayton, Albion, and other places to be weighed, and shipped away to distant markets on the Frisco Railroad.
Many of the farmers or hired hands were African-Americans. The county had a significant African-American population, although this has since dwindled to almost nothing. Many made their living raising cotton, and after cotton's decline they moved elsewhere in search of other work.
The territory comprising Pushmataha County, as it was inherited from the Choctaw Nation, was almost completely unimproved. Because the Choctaw government owned land in "severalty", or common, and individuals did not—and because most Choctaws were a sedentary people who did not engage in industry or commerce—no bridges had been built; no roads had been improved; and no public works of any kind existed.
Early business leaders immediately sought to fund public improvements by asking voters to pass bonds. Early attempts were made to pass bridge bonds, as example, to build bridges across the Kiamichi River and Jack Fork Creek. These uniformly failed, slowing the county's development. Choctaw County, Oklahoma, by contrast, passed bonds almost immediately causing bridges to be built throughout the county. This proved excellent for business and commerce, and after this point Hugo grew significantly faster than Antlers.
Despite these setbacks, however, Pushmataha County grew in a healthy manner. People settled and founded communities throughout the county. Each community built its own school, and raised money with which to hire a teacher or teachers. Churches were also established. Some of the more significant communities, such as Jumbo, Moyers, Clayton and Albion, also established cultural leagues or institutions—poetry clubs, music groups, and literary societies – in a bid to be culturally couth. Choctaw Indians continued playing a role in the region, contributing numerous elected officials and other government and society leaders in Pushmataha County. During World War I a Choctaw soldier in the U.S. Army, Tobias W. Frazier, a member of the famous Choctaw Code Talkers, was a county resident. Others were from just over the border in McCurtain County. The fourteen soldiers pioneered the use of American Indian languages as military code during war, bringing World War I to a quicker close.
Highways came to be paved and standardized in the 1950s, causing transportation to be made easy and linking farms and countryside to the towns, and the towns to one another. The timing was fortunate, as the Frisco Railroad ceased passenger operations in the late 1950s and freight operations followed in the early 1980s.
The Indian Nation Turnpike, which opened in 1970, connected Antlers—its only interchange in Pushmataha County—with Oklahoma City and Tulsa.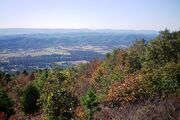 Post-Doomsday
In the aftermath of Doomsday Antlers was one of the many successful city states to pop up in Oklahoma. Like their neighbors to the south in Broken Bow and Hugo martial law was declared and the area soon swelled with refugees, who were put in the Sportsman Inn & Suites and Budget Inn hotels or in the gyms of the schools.
Despite the loss of  most electronics to the EMP contact was established before Christmas with Broken Bow and Hugo. These towns along with others in the area worked together to share resources but never made a formal union. Most found that governance was best at the local level, especially with the loss of modern communications.
The Broken Bow hydroelectric damn was repaired by engineers who worked at the facility before Doomsday, restoring power to the southern Oklahoma region including the Antlers area.
Agriculture
Unlike most other areas in the United States, food and water were not quite so scarce. The area was already known before Doomsday for its fertile land, clean water, fishing and hunting. These resources were soon carefully utilized to sustain the region.
Community content is available under
CC-BY-SA
unless otherwise noted.