Nominated for Deletion

This page has been nominated for deletion, for the following reason: Short page. Please correct the issue or this page may be deleted.
Regards,

HawkAussie (Talk)

00:35, 13 November 2021 (UTC)
Do Not Remove Or Alter This Template Without Permission. Doing So May Result In a Suspension.
This Chinese World article is a stub

The creator will need time to complete it. You are welcome to give suggestions in the talk page, or even directly editing this page. Please be bold and correct any inaccuracies such as typos or bad orthography.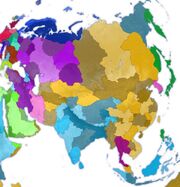 Nations
(list of countries in Asia in the Chinese World timeline) some names are *here* names.
Central Asia
Nation
Capital
Language(s)
Cultural sphere
Notes

Afghanistan

*
Qinghaian
China

Karakum

*
China

Kazakhstan

Russia

Tien Shan

*
China

Turkestan

*
China

West Tibet

*
Far East
| Nation | Capital | Language(s) | Cultural sphere | Notes |
| --- | --- | --- | --- | --- |
| Japan | | Japanese | Niponia | |
| Korea | | Korean | | |
| Liaonin | | Mandarin | China | |
| Taiwan | | Taiwanese | China | |
| Wuyue | | Wuyuean | China | |
| Xiang | | Xiangan | China | |
India
Nation
Capital
Language(s)
Cultural sphere
Notes

Pakistan

*
Indian

Bharat

*
Indian

Nepal

*
Indian

Bhutan

*
Chinese
Northern Asia
| Nation | Capital | Language(s) | Cultural sphere | Notes |
| --- | --- | --- | --- | --- |
| Manchuria | | Mandarin | China | |
| Siberia | | Moskovian | Russia | |
Southeast Asia
Nation
Capital
Language(s)
Cultural sphere
Notes

Borneo

*

Siam

Vietnam

China
West Asia