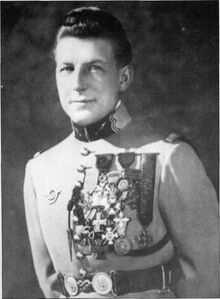 Aubert is the third child and second son of Emperor Napoleon IV of the French and his wife Beatrice of the United Kingdom.
Early life
Aubert was born in 1883. As his father spent as much time as he could preparing Aubert's older brother François for becoming Emperor, Aubert grew up and was influenced by his English mother, whose father he was named after. Aubert would spend his early childhood playing with his younger sister Hortense and later his younger brother Charles, as his two older siblings Eugénie and François were busy fighting over the attention of their father.
Marriage and issue
Aubert was married to Olga Alexandrovna of Russia in 1900, they have had two children, Beatrice, born 1903 and Alexander, born 1908.