Australia is the smallest inhabited continent, both in terms of size and by population. The main landmass is Australia itself. The interior is mostly scrubland and desert. The north and north-east coasts are ringed by rain forest. The next main island groups are the Maori Islands, mountainous, volcanic but with a mild climate. Spanning almost all of the Roasjoinn between Australia and Leifia/Tawantinland are countless smaller island chains and coral reefs, some barely above sea-level.
Historical Overview
The continent of Australia or Terra Australis Incognito was known to Chinese and Javan traders for centuries before its discovery in 1854 by Luxembourgoise explorers operating out of Singapore.
A full survey would wait for another three years when a Kalmar ship, the 'Nymark' circumnavigated the coast. Both Kalmar and Luxembourg claimed the land for their own and began to build coastal forts to back up the claims. The rapid militarisation of the continent threatened to lead to the outbreak of general war and also to the break up the Kalmar Union itself as its members squabbled about their individual claims.
The Australia Treaty of 1868 designated borders between the claims of Luxembourg, Denmark, Gothenland, Svealand. Both Aragon and Byzantine Empire were also confirmed with land as they had taken the opportunity given by the stand-off to capture and garrison their own regions. Also agreed was a portion of land to be governed by the native population.
The various Roasjoinn islands to the East of Australia are either sovereign nations in their own right or under control of various powers; either one of the main European powers, the Chinese or the Tawantinsuyu.
Nations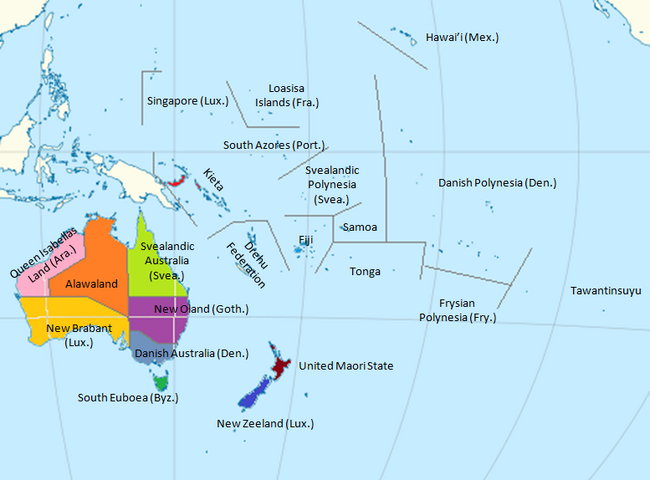 Community content is available under
CC-BY-SA
unless otherwise noted.