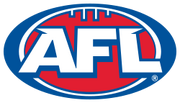 The Australian Football League (AFL) is the premier, national Australian rules football competition in the Commonwealth of Australia and New Zealand. It is the most popular sports organization in Australia, both in attendance and radio and television ratings. It is recognized as the de facto world body of the sport.
Pre-Doomsday
Australian Rules football is a code of football played on a oval-shaped field between two sides of 18 players each, with four goal posts (the middle two being the tallest of the four) on each end of the field. The ball can be advanced by kicking, handballing or dribbling, and any part of the body can be used. A player can earn a mark when he catches a ball kicked (more than 15 meters) by a player of either team, and is entitled to a free kick. Goals (worth six points) are scored by kicking the ball through the two middle posts. Behinds (worth 1 point) are scored when the ball is propelled between a middle post and the adjacent, shorter side post, or when the ball hits one of the middle posts.
It was most popular in the Australian states of Victoria, Tasmania, South Australia and Western Australia. It was less popular in Queensland and New South Wales.
The highest level of competition for the sport was the Victorian Football League.
Doomsday
The destruction of Melbourne on the morning of September 26, 1983 (less than forty-eight hours after the VFL Grand Final) wiped out most of the players, officials, and supporters of the VFL. The WAFL, based in Perth, was also largely eliminated.
Post-Doomsday
Struggle to reborn
With the VFL in ruins and only Geelong Cats surviving, AFL was in trouble but the movement of the headquarters from Melbourne to Geelong. The 1984 season was delayed as they went onto expand to the whole country with six teams with one coming from each state. The teams that entered were Geelong Cats, Port Adelaide Magpies,
More to come ...
Teams
| | | | |
| --- | --- | --- | --- |
| Team | Place | Stadium | |
| Geelong Cats | Geelong, Victoria | Simonds Stadium | |
| Port Adelaide Magpies | Adelaide, South Australia | Adelaide Oval | |
| | | | |
| | | | |
| | | | |
| | | | |
| | | | |
| | | | |
| | | | |
| | | | |
| | | | |
Community content is available under
CC-BY-SA
unless otherwise noted.