Battle of Chichen Itza WWI
Date
10 June 1917 – 30 August 1917
Location
Yucatan Peninsula
Result
Aztec Victory

Belligerents
Strength
Incan:
1,110,700 men, 230 tanks


Aztec:
1,345,860 men, 460 tanks, 100 aircraft
Casualties
Military casualties:
35,050 killed,
All equipment lost or captured


Military casualties:11,709 killed,
ten planes lost


World War I
In this battle, the Incan armed forces had been destroyed.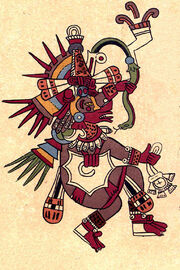 World War II
Battle of Chichen Itza WWII
Date
13 April 1942 – 15 October 1942
Location
Yucatan Peninsula
Result
Aztec Victory

Belligerents
Strength
Incan:
1,110, 978 men, 1230 tanks, 1st Incan fleet


Aztec:
1,645,069 men, 3060 tanks, 950 aircraft


Casualties
Military casualties:
345,050 killed
All equipment lost or captured, two battleships sank


Military casualties:191,709 killed,
190 planes lost, 206 tanks lost


After a naval victory on the coast of the peninsula of Yuk'aatan; the Incans took control of the Tulum seaport and later they took Kaankum - both ancient Maya cities; now Aztecs -.
After this; the Incans thought that the took of Yuk'aatan will be easy, so they went to the center of the peninsula and took Ek Balam and Uayama. The slow response from the Aztecs, allow the Incans take control of a lot of territory.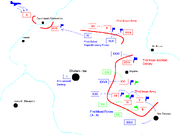 The 10th and the 17th division from the first Incan Army (better known as Manco Capac division) put under siege the city of Cuauhtapetl (before Dzidzantun). The Incans started to bomb Chichen Itza, so the Aztecs form an anti-aircraft battery that succesfully repelled the planes.
The First Aztec expeditionary force attacked the First Incan Army, including a those that were besieging the city of Cuahtepetl; and the Aztecs were victorious. The First Mixed Forces Division (Aztecs-Americans) and the RAAF (Royal Aztec Air Force), planed a massive attack to the third Incan Army and the First Incan Armored Division, that were occupying the cities of Ek Balam and Uayama. The Incans were defeated, and the Allies take about 50,000 Incan soldiers as prisoners.
Community content is available under
CC-BY-SA
unless otherwise noted.