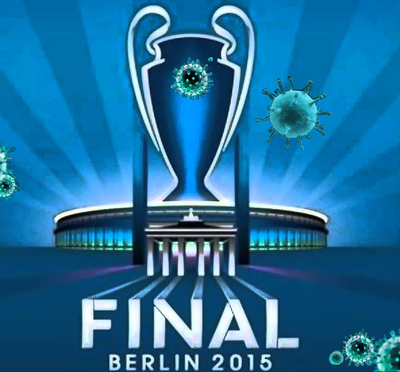 Berlin 2015 is the goal. 32 teams go through a grueling group stage and only the half of those advance to the knockout stages. Each and every one wants only one thing, to make it to the final in Berlin's Olympiastadion and be crowned European Champions. The only thing standing in the way of European glory is... microscopic viruses.
This will be a live timeline and will end on Saturday 6 June 2015. User:horton11 is the creator of the timeline.
Point of Divergence
Saturday 14 March 2015: Manchester City suffer yet another defeat in their Premier League race, losing 1-0 to Burnley at St. Mary's Stadium. Joe Hart, the Man City keeper takes pictures with the City faithful, but a 30-something year old yobbo sneezes on the losing goalkeeper. Hart wipes it off, but two days later he's come up with the flu and is set to miss the crucial away leg in the Champions League at Barcelona.
Timeline
14 March: Man City lose to Burnley
Joe Hart is sneezed on by a fan and begins to feel the symptoms of a flu at night
16 March: Joe Hart is examined by his doctor and told he has the flu. Club doctors 
17 March: Arsenal play at Monaco and win 2-0 in a thrilling match, but come one goal short of making it to the quarter-finals.
Atletico Madrid play Bayer Leverkusen, winning 1-0. Needing to go to penalties, the Germans miss crucial penalties and Fernando Torres scores the key penalty for Atletico.
18 March: Juventus and Carlos Tevez are on fire as the Italian side down Borussia Dortmund 3-0 to seal their place in the quarter-finals.
Joe Hart is left to watch from the stands as Willy Caballero takes his spot and tries to hold off a thunderous Barcelona. 6 minutes in, Neymar goes round Kompany and slots the ball past Caballero, grazing the post. After that the South American trio of Neymar, Messi and Suarez run wild, dancing around veteran city players like Milner and Fernandinho, scoring goals at will. City is awarded a penalty from a Pique foul but Barca keeper Ter Stegen does well to deny Aguero. Neymar, Suarez, Messi and Rakitić are all on target as Barcelona completely humiliate City and win 8-0. 
In other news
17 March: Isaac Herzog is elected Prime Minister of Israel, forming a government with his Zionist Union party, Joint List and Meretz.
20 March: Gunmen leave 20 dead in an attack on a museum in Tunisia.
---
0pxembed/vJbg3Ur3FZc1