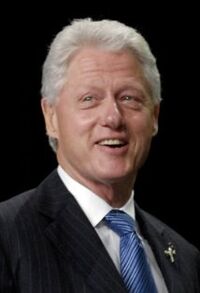 William Jefferson Clinton (né Blythe III; born August 19, 1946) is an American politician who served as the 42nd President of the United States from 1993 to 2001. He is the husband of President Hillary Clinton, and as such, was the first presidential spouse to be styled First Gentleman of the United States.
His daughter, Chelsea Clinton, served as a United States Representative from Arkansas' 2nd district from 2011 until 2019 and served as Director of International Initiatives in her father's office. His son-in-law, Marc Mezvinzky, replaced Mr. Clinton as the CEO of the Clinton Foundation prior to his wife's inauguration.
He was succeeded as First Gentleman by businessman Jared Kushner, husband of President Ivanka Trump.
2016 Presidential Election
Main Article: Democratic Party Presidential Primaries, 2016 (The More Things Changed)
Main Article: United States Presidential Election, 2016 (The More Things Changed)
During the 2016 Democratic nomination and subsequent general election, the former President Clinton served as one of the most effective surrogates for his wife, alongside his East Wing predecessor, Michelle Obama.
Style of Address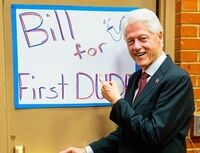 As a former President married to a Presidential contender, the correct form of address for Bill Clinton in particular was a matter of contention for academics. Robert Hickey, author of the book Honor and Respect: The Official Guide to Names, Titles, and Forms of Address, the correct form of addressing the former President would be "Mr Clinton" or "The Honorable William Jefferson Clinton." Bill Clinton himself, however, said he preferred either "Mr Clinton" or "First Gentleman."
Colloquially, he was often referred to as the "First Dude."
Staff
The Office of the First Gentleman and its responsibilities, while not mandated, have grown as the role of the presidential spouse has grown and formalized through the history of the United States. It is an entity of the White House Office, part of the Executive Office of the President.
With a staff of 39, Clinton oversaw the largest number of people employed by the spouse of a President.
Position
Name
Chief of Staff
Doug Band (2017-2019)
Amina DeHarde (2019-Present)
Deputy Chief of Staff
Justin Cooper (2017-2019)
Emily Dunn (2019-Present)
Senior Advisor
Sidney Blumenthal (2017-Present)
Director of Operations
Emily Dunn (2017-Present)
Tam Nguyen (2019-Present)
Director of Communications
Joel Johnson (2017-2018)
Brian Coy (2018-Present)
Director of Strategic Initiatives
George Riedl (2017-2019)
Joyce Elliott (2019-Present)
Director of International Initiatives
Dana Reed (2017-2019)
Chelsea Clinton (2019-Present)
White House Social Secretary
Deesha Dyer (2017-Present)
Initiatives
Every School a Village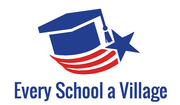 In February 2017, First Gentleman Bill Clinton began a three-month "listening tour" of teachers, paraprofessionals, students, and parents across the country, making stops in every state as well as Washington DC and Puerto Rico.
In May, the First Gentleman's office launched the Every School a Village initiative, described as "a national campaign to elevate and modernize the teaching profession, by preparing, and supporting, teachers and paraprofessionals."
Alleged Feud with Randi Weingarten
Initial friction between the First Gentleman and Secretary of Education Randi Weingarten was reported when Education Department staffers leaked that the Every School a Village initiative and Clinton's high-profile listening tour made Weingarten feel that Mr Clinton was "usurping" her office as head of the Department of Education.
In June 2017, conservative columnist Jennifer Rubin wrote:
"Here we have a presidential spouse acting as a Shadow Secretary of Education and a Secretary of Education acting as a Shadow Secretary of State. Office titles in the Clinton administration appear to be more suggestion than job description."
In October 2017, news reports surfaced regarding an increasingly deteriorating relationship between Weingarten and the Clintons. According to reports, in a July 20th meeting, Weingarten denied controversial meetings with Turkish officials ever took place, after which individuals familiar with the meeting told journalists that the First Gentleman either called Weingarten a "moron" or a "goddamned moron".
Vaccine Season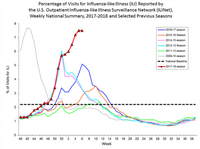 The flu season of 2017-2018 was an outlier in recent years, bringing a record number of hospitalizations influenza-related deaths, on par with only the H1N1 "swine flu" of 2010-2011 outbreak. In part, this was due to the vaccine manufactured against this strain of influenza being particularly ineffective - only preventing 10% of infections, according to the CDC. However, an increasing number of parents in the United States have opted not to vaccinate their children, either out of misplaced fears of vaccines or simply being unable or unaware of seeking vaccination.
In response to these trends, the First Gentleman's office initiated Vaccine Season in February 2018, seeking to ensure that everyone who is medically able to receive vaccinations does so - especially children.
Bridging Divides
The Bridging Divides initiative of the First Gentleman's office aims "to bridge social, cultural, domestic, and international divides using literature and the arts."
Diplomatic Activities
Six-Party Talks
In the first week of May, 2017, Bill Clinton traveled to the Korean Peninsula, primarily to negotiate the release of Otto Warmbier, an American student imprisoned in the country. In addition to securing Warmbier's release, the efforts of the First Gentleman and Secretary of State Gary Locke helped to resume the Six-Party Talks, which had been called off by the Kim Jong-Il regime in 2009.
Cameroon
Main Article: Cameroonian Peace Process, January 2017-Present (The More Things Changed)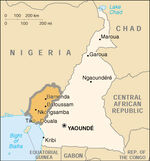 The Anglophone Problem, as it is commonly referred to in Cameroon, is a sociopolitical issue separating the country's Anglophone minority - primarily located in the Northwest and Southwest regions - from the Francophone majority. The Anglophone minority has described widespread and systemic discrimination from the government, and resulting protests have led to 53 people dead since the renewed wave of demonstrations in 2015.
As part of the Bridging Divides initiative, the First Gentleman sought to showcase artists and writers from Africa in the United States, and promote cross-cultural exchange. In a series of events in Chicago, Houston, and Pittsburgh - three cities with large Cameroonian-American populations - Clinton invited prominent Cameroonians from both the anglophone minority and the Francophone majority. Among them, Anglophone writer and professor Dr. Eunice Ngongkum and Cameroonian Ambassador to the United States Étoundi Essomba.
Nomination of Dana Reed
On April 7-9th, the Ambazonian Region voted overwhelmingly for independence from Cameroon. President Clinton announced shortly afterward that Dana Reed - Director of International Initiatives for the First Gentleman's office - would be her selection for Ambassador to the new country, with Reed being named Special Envoy and Coordinator for Ambazonia. Following Chelsea Clinton's loss in her re-election bid in 2018, the First Gentleman increasingly turned to his daughter as an informal advisor and eventually named her to succeed Reed in his office and eventually named her to succeed Reed in his office; as with all staff in the First Gentleman's office, the role would officially be as an assistant to the President. Senate Majority Leader Mitch McConnell stated that he would refuse to consider Reed's nomination as long as Chelsea Clinton was employed in her mother's administration.