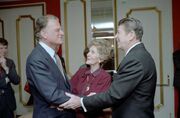 William Franklin "Billy" Graham, Jr. (born November 7, 1918) was a Christian evangelist and a spiritual advisor to several United States Presidents pre-Doomsday. Graham was a very well-known religious figure throughout the U.S. and in many parts of the non-Communist world because of his crusades, which drew tens of thousands of people and were televised both in the U.S. and in numerous countries.
Graham and his family were in their home of Montreat, North Carolina on Doomsday, having just returned from a crusade in Sacramento, California, that went from September 11th through the 18th; he was preparing for the last of the Billy Graham Evangelistic Association's four crusades of the year, scheduled for Oklahoma City, Oklahoma, in October.
In his autobiography, scheduled for publication in 2011, Graham credited his Christian faith for helping him and his family to get through the scope of the crisis and all of the implications it carried.
...God gave me and my family, those who were still on this Earth, hope, in a world where everyone was looking for hope and reasons to carry on. My calling in those early years after what is now called Doomsday was to not just proclaim the gospel, but also to convey that hope to everyone I met and everyone I would preach to... (p. 206, Billy Graham: An Autobiography, Thomas Nelson Publishers, Spartanburg, RoP, 2010).
Graham soon became one of the key spiritual and cultural figures in the area, his sermons helping to encourage both adherents and non-adherents of Christianity to persevere and rebuild their lives, while looking to God for help and hope. Graham resumed his crusade ministry in 1989, preaching to a capacity crowd at a high school football stadium in Cleveland, East Tennessee. He would preach more crusades on a yearly basis throughout Blue Ridge, East Tennessee, and Piedmont, smaller in scale than his crusades pre-Doomsday, but with no less fervor and passion.
Graham preached crusades in Mexica, Mexico and San Juan, Puerto Rico in 2003 and in Midland, West Texas in 2004; these remain the only places he has preached, post-Doomsday, outside of the Appalachian region.
He also visited churches and other sites in the Virginian Republic in 2005; although he did not hold a crusade in the nation, he did preach at the Charleston First Baptist Church (in a Friday sermon for every important political and military figure in the nation) and at Thomas Road Baptist Church in Lynchburg, Virginia (at the invitation of another famous American religious figure, Jerry Falwell).
He has become ill in recent years and rarely leaves his Montreat home. He taped a message for a Mexican Christian television network in December 2009, intended to be shown around the world via television and in movie theaters, as part of his final crusade.
Community content is available under
CC-BY-SA
unless otherwise noted.