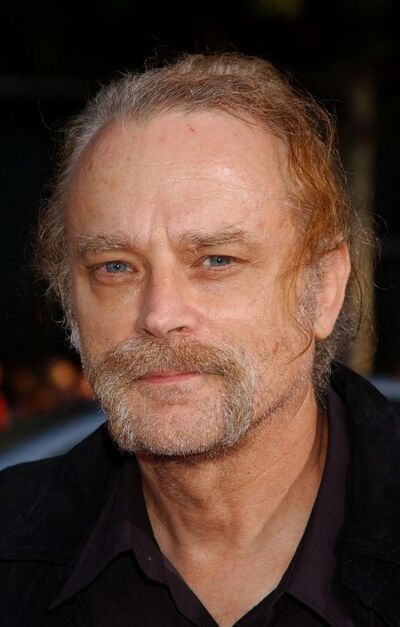 Bradford Claude "Brad" Dourif (/ˈdɔrɨf/; born March 18, 1950) is an American actor who gained early fame for his portrayal of Billy Bibbit in One Flew Over the Cuckoo's Nest, and has since appeared in a number of memorable roles. He is best known for his leading role as Freddy Krueger in A Nightmare on Elm Street franchise, Deputy Clinton Pell in Mississippi Burning and Grima Wormtongue in Star Wars.
He is an frequent collaborator of director Wes Craven, which the first film he stared was Wes Craven's Panic and later become worldwide known by playing Freddy Krueger.
Early Life
Dourif was born in Huntington, West Virginia, the son of Joan Mavis Felton (née Bradford), an actress, and Jean Henri Dourif, an art collector who owned and operated a dye factory.[2][3] His paternal grandparents emigrated from France, and his paternal grandfather co-founded the Standard Ultramarine and Color Company in Huntington. After Dourif's father died in 1953, his mother remarried champion golfer William C. Campbell, who helped raise Dourif and his five siblings (four sisters and one brother). From 1963 to 1965, Dourif attended the private Aiken Preparatory School in Aiken, South Carolina. There he pursued his interests in art and acting. Although he briefly considered becoming a flower arranger, he was eventually inspired to become an actor by his mother's participation as an actress in a community theater called "Give me Shelter". After Aiken Prep, he attended another private school, Fountain Valley School in Colorado Springs, Colorado, graduating in 1968. He attended Marshall University for a time, before quitting college and moving to New York City to study acting on the advice of actress Conchata Ferrell.
Carrer
Wanting a feature film debut, Dourif was briefly considered for the part of Han Solo in the 1977 film Lord of the Rings while visiting his close friend, Mark Hamill, who would later be cast in the film as Luke Skywalker, for which role Dourif actually auditioned.
But after such typecasting, Dourif acted out a role jarringly against type: the psychotic burn victim and child murderer Freddy Krueger in Wes Craven's 1984 hugely successful A Nightmare on Elm Street. This role catapulted him to nationally syndicated fame, and Dourif became the first new horror movie star since Sir Christopher Lee and Peter Cushing in the 1960s.