Consumer Broadcasting System Network
Country

United States

Availability
Canada
United States
Union of Arctica
Haiti
Slogan
"Delivering Solid Descriptions" (1975-1981)
"Your Representation"(1982-1993)
"Standing the Test of Time"(1994-1996)
"Because Truth Always Matters"(1997-1999)
"Only Serving You Truth"(2000-2008)
"Your News Network"(2009-present)
Headquarters
CBSN Headquarters
Callagan, Nevada
Owner
Gannett & Luce Media Corporation
Key people
Thomas Luce II
Chairman & President
Launch date
August 1, 1975
Picture format
760c[1](XDTV/16:9 letterbox)
Group
Consumer Broadcasting System Network, commonly referred to as CBSN, is an American-based commercial broadcasting and news television network owned by Gannett & Luce Media Corporation. Upon its launch, CBSN was the first channel to provide 24-hour television news coverage, and the first all-news television channel in the United States. While the news channel has numerous affiliates, CBSN primarily broadcasts from its headquarters at the CBSN Headquarters in Nevada, the Hearst Center in New York City, and studios in Washington, D.C., Los Angeles, and Seattle. CBSN is owned by parent corporation Gannett & Luce Media, and the U.S. news channel is a division of the Gannett Broadcasting System.
Early History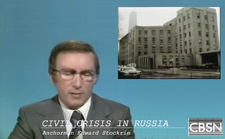 The Consumer Broadcasting System Network was launched at 7:00 p.m. EST on Friday August 1, 1975. After an introduction by Thomas Luce Sr., the already notable news presenter Edward Stockrin anchored the first newscast, the arrival of a series of protest in Moscow due to recent labour laws. Clare Reinhardt, the then executive vice president of CBSN, hired most of the network's first 150 employees, including the network's first news anchor, Stockrin.
Since its debut, CBSN has expanded its reach to a number of cable and satellite television companies, several ComNet sites, specialized closed-circuit channels (such as CBSN Airport Network), and a radio network. The company has 47 bureaus (36 domestic, 11 international), more than 1,200 affiliated local stations, and several regional and foreign-language networks around the world. The channel's success have made bona-fide moguls out of the Luce Family and set the stage for Gannett & Luce Media's ascension to becoming a closely held corporation.
A companion channel, CBSN2, was launched on January 1, 1987 and featured a continuous 24-hour cycle of 60-minute news broadcasts. Two years later, it changed its name to "CBSN Newshour", and eventually it was simply called "The NewsHour".
1977 White House Attack
On November 9, 1977, CBSN became highly noted for being the first on scene at the White House after it was attacked and set ablaze by the actions of Arron Grib, with photographer and journalist John Alderman detailing the event as it happened.
Community content is available under
CC-BY-SA
unless otherwise noted.