California was a state in the United States of America. Now, it is comprised of eight known communities, with the largest being California, and the smallest being Slab City.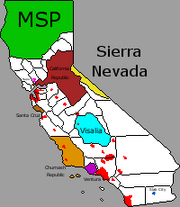 Strikes
On Doomsday the following locations were destroyed:
Anaheim - Hit with a single 300KT missile.
Bakersfield
Barstow
Beale Air Force Base
Camp Roberts - Training facility for the entire state, destroyed the nearby town of San Miguel as well.
Concord Naval Weapons Station
Edwards Air Force Base
Fort Hunter Liggett
Fort Irwin
Ford Ord
Fresno
Lancaster-Palmdale
Los Angeles - Major city, home to many government installations, was entirely obliterated with approximately 8 strikes on Los Angeles County in and around the city.
Mare Island Naval Shipyard - Groundburst, devastated the city of Vallejo as well.
Merced
Modesto
Moffett Naval Air Station
Mojave Airport - Destroyed the town of Mojave as well.
Naval Air Weapons Station China Lake - Destroyed the nearby city of Ridgecrest as well.
Naval Air Station Lemoore
Norton Air Force Base - Destroyed the city of San Bernardino
Oakland - Hit with a 1MT strike.
Sacramento - State Capital, was hit with a 2 MT bomb, which hit to the extreme west of the capital.
Salinas - Hit with a single 300KT missile.
San Bernardino
San Diego - Major city, was hit due to being home to multiple military installations and heavy manufacturing.
San Francisco - Major city. Hit with a 1MT missile.
San Jose - Hit with a 1MT strike.
San Luis Obispo
Stockton
Travis Air Force Base
Vandenburg AFB - Took out adjacent Santa Maria.
History
The state of California was reported to be a lawless area during the early nineties by the American Provisional Administration. Torn between resource wars, the small towns and cities often resorted to martial law or draconian punishments. However over time, multiple communities began to band together, or foreign nations intervened to help create a stable environment. These nations are listed below.
Population: 556,000
Government: Constitutional Republic
Info: Successor to the original California Republic. Only controls central California.
Population: 300,000
Government: Loose federation of fortified city states in Oregon and California
Info: Formed in 2006 by the ANZC from a collection of warring city-states. Considered by some to be successor to the USA.
Population: 150,000
Government: Constitutional Republic
Population: 145,000
Government: Anarchical Republic
Info: Allows slavery! Avoid this "nation" at all costs.
Population: 20,000?
Government: An alliance of armed groups united by their desire to raid the Chumash settlements
Info: Mainly live in the hills of Ventura County despite the designation of Ventura city as the "capital"
Population: 475,000
Government: Near-Absolute Monarchy
Info: Controls most of the Southern San Joaquin Valley between the ruins of Fresno and Bakersfield
Rumored and Small Communities
Napa
A very small community of 10,000 in Napa has been found by California.
Slab City is a tiny republic located in the southeastern corner of California, based on a old trailer park, and has a population of around 950.
Other Nations in California
Population: 400,000
Government: Republic
Info: Former Nevada State government, controls some territory once in California near Lake Tahoe.