Californian presidential election, 2019
---
1,524 members of the Federal Convention
763 votes needed to win
---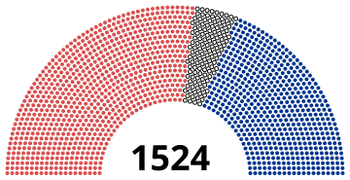 Votes in the third and final round of the election
---
The 2019 Californian presidential election (officially the Fourth Federal Convention) was held on Saturday, 5 January 2019. All 1,524 members of the federal and state parliaments of California assembled at Parliament House, Sonoma, on that date to elect the 5th President of California. In this election, the vote was split largely along ideological lines. Four candidates were officially nominated for the presidency: Democratic former Treasurer Joe Biden of Cascadia, Liberal MHC Lindsey Graham of Idaho, Conservative leader and MP Paul Gosar and former Democratic Chancellor Al Gore representing the Green Party. The Democrats' coalition partner, the Progressives, did not nominate a presidential candidate, instead endorsing Biden's candidacy.
The makeup of the 2019 Federal Convention resulted in a nominally right-wing majority, due to the right's control of many of California's state parliaments, and despite the Coalition's control of the federal parliament. Liberals, Conservatives and many smaller parties represented in the Convention, including Utah's Christian Awakening, the National Rifle Association and others, aimed to elect a conservative or libertarian president with the aim of delaying the legislative program of the progressive Sanders Government. However, the conservative vote was split between Graham and Gosar. As a result, Biden won the most votes in the first round, although no candidate secured a majority. Gore was eliminated after the first round after winning the lowest number of votes.
In the debate between the three remaining nominees following the first round, Gosar confirmed that he would find all means available to him to obstruct Chancellor Sanders' policies. This declaration convinced a large number of conservative delegates to switch their choice in the second round, and Gosar overtook Graham in the second round. In this round, 151 delegates, all of whom voted for Gore in the first, abstained. No candidate secured a majority in the second round, and as such Graham was eliminated, leaving Biden and Gosar the only remaining candidates for the presidency.
Now faced with a nominee willing to risk a constitutional crisis to block Coalition legislation, the pro-Green delegates who abstained in the second round, as well as a large number of the centre-right delegates who supported Graham, turned instead to Biden. In the third and final round, Biden won 816 out of a possible 1,524 votes, while Gosar won 581; 127 abstained and voted for neither candidate or voted for write-in nominees. Having won about 54% of the delegates' votes, Biden was declared president-elect by outgoing President John Boehner, and was inaugurated as the 5th President of California on 20 January 2019.
Community content is available under
CC-BY-SA
unless otherwise noted.