Californian presidential election, 2019
---
1,279 votes in the Federal Convention
640 votes needed to win
---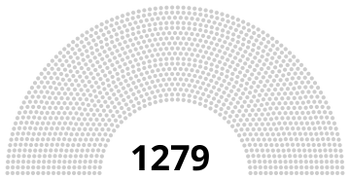 Seats in the Federal Convention in 2019
---
The Californian presidential election of 2019, scheduled for Saturday, 5 November 2018, will be the fifth Californian presidential election. All 1,279 members of the federal and state parliaments of California will assemble on that date to elect the 6th President of California. Any Californian citizen may nominate themselves for election to the presidency, although historically it is more likely that a nominee of the two major political parties — the Liberals and Conservatives — will win the election.
Community content is available under
CC-BY-SA
unless otherwise noted.