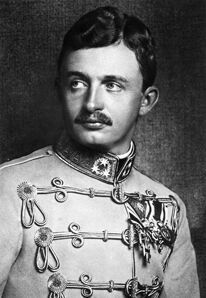 Carlos I of Mexico is the current Emperor of the Empire of Mexico since his father Francisco I's death in 1906.
Early life
Carlos was born Charles in Mexico in 1887. He was the son of Archduke Otto Franz, the heir to the Mexican throne and his wife Princess Maria Josepha of Saxony. At the time, he had two grand uncles that were Emperors, Franz Joseph I of Austria and Maximilian I of Mexico. Charles father became Emperor Francisco of Mexico in 1902 but died four years later, when Charles was only 19 years old. As Charles was the eldest son of the Emperor he was crowned Emperor Carlos I of Mexico in 1906.
Emperor of Mexico
As his father was suffering from syphilis for the last years of his life the influential army man Porfirio Diaz was appointed regent and used tyrannical means to try to quell the unrest that marked Francisco reign. However, the unrest and Diaz influence continued into Carlos reign. Large parts of Mexico were lawles and since the Iturbide Rebellion in 1902, factions had began to grow in Mexico, vying for power.
Marriage
Carlos was married to Princess Hortense of the French, the youngest daughter of Napoleon IV and his wife Beatrice of the United Kingdom in 1910.