The following page is under construction.

Please do not edit or alter this article in any way while this template is active. All unauthorized edits may be reverted on the admin's discretion. Propose any changes to the talk page.
Charles V
Holy Roman Emperor;


King of Germany;

Reign
1508 - 1562
Predecessor
Maximilian I
Successor
N/A
King of Spain


(with Alexis)

Reign
1508 - 1561
Predecessor
Ferdinand IV
Successor
Phillip I
Archduke of Austria
Reign
1508 - 1562
Predecessor
Maximilian I
Successor
Ferdinand I
Born
1486
Vienna
Died
1562
Yuste, Spain
Spouse
Alexis of Castile
House
Habsburg
Father
Maximilian I
Mother
Katharina of Swabia
Charles V (1486 – 1562) was the ruler of the Holy Roman Empire from 1508 to 1562, succeeding his father Maximilian I, and of the Spanish Empire as Charles I from 1508 until his abdication in 1561.
As the ruler of many greater and lesser European states, Charles had a very complicated coat of arms. He was the heir of two of Europe's leading dynasties, the House of Habsburg of the Habsburg Monarchy and the House of Trastámara of the Crowns of Castile and Aragon. He ruled over extensive domains in Central, Western, and Southern Europe, and the Spanish colonies in the Americas and Asia. As Charles was the first king to rule Castile, León, and Aragon simultaneously in his own right, he became the first King of Spain. In 1508, Charles became Holy Roman Emperor and Archduke of Austria.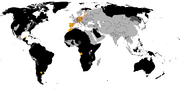 Community content is available under
CC-BY-SA
unless otherwise noted.