Chichèn Itzã
Chichen Itza
Foundation circa 525 BC
Aztec re-foundation 1675 AC

The Kukulkan pyramid was the only building in the city that still intact; unlike the rest of the old buildings
Motto
"By the people and for the people.
City Populationl
6,843,000 inh
Metro
16,907,000 inh
Language
Kuaktic Nahuatl, Mayatekatl Nahuatl, Maya
Governor
Ni'ya Wapui
HDI
0.943
Demonym
Chichen, Itzal
Chichen Itza is the largest city in the state of Yuuk'atan and the second largest in the Aztec Empire. Often abbreviated as C.I. and nicknamed The City of Palaces, Chichen Itza is rated an alpha world city, has an estimated population of 6.8 million and spans over 498.3 sq mi (1290.6 sq km). Additionally, the Chichen Itza metropolitan area is home to nearly 16.9 million residents. Chichen Itza is the seat of Yuuk'atan Province, the most populated and one of the most diverse provinces in the whole empire. Its inhabitants are known as Chichencos or Itzallos.
In this city took place the Battle of Chichen Itza, one of the most bloody battles in the World War II; where the Incan forces were defeated definitely.
Climate
According the Köppen climate classification Chichen Itza has a humid subtropical climate. Temperatures seldom reach 30°C (86°F) during summer. All-time record temperatures are 39.3°C (102.4°F) on August 15, 1985 and 14°C (57.2°F) on November 2, 1955.
Rainfall is abundant, amounting to an annual average of 1317 mm (51.9 in). It is especially common in the warmer months, and somewhat scant between June and August. Neither Chichen Itza nor the nearby coast has ever been hit by a tropical cyclone, and tornadic activity is uncommon. On the other hand, relatively cool days during summer are also fairly common; on such occasions daily high temperatures may not surpass 20°C (68°F), accompanied by lows around or even below 15°C (59°F).
Economy
The economy of Chichen Itza is driven by international trade, entertainment (television and recorded music principally), aerospace,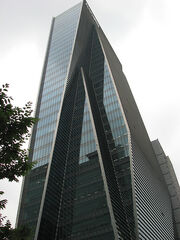 technology, petroleum, fashion, apparel, and tourism. Chichen Itza is also the largest manufacturing center in the south-east. Other significant industries include media production, finance, telecommunications, law, healthcare, and transportation. The Chichen Itza combined statistical area has a gross metropolitan product (GMP) of $697.9 billion (as of 2007), making it the third largest economic center in the Western Hemisphere, after Tenochtitlan and New York City. If the Chichen itza were a country, its economy would rank 17th in the world in terms of nominal GDP.
Community content is available under
CC-BY-SA
unless otherwise noted.