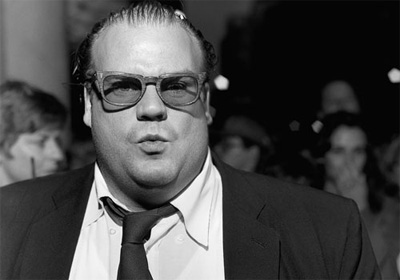 Christopher Crosby "Chris" Farley (born February 15,1964) is an American actor, comedian and film producer. Farley became well known for his work in the early 1990s on Saturday Night Live. He is best primarily best known for his comedic roles but in recent years has delved into more dramatic territory through such roles as Roscoe "Fattie" Arbuckle in the critically acclaimed film Arbuckle (2001), Reverend Veasey in Cold Mountain (2003), Noah Dietrich in the Aviator (2004) and as Carl Denham in King Kong (2005).
Early Life
Farley was born in Madison, Wisconsin, the son of Mary Anne (née Crosby), a housewife, and Thomas "Tom" Farley, Sr., who owned an oil company. He has four siblings: Tom Jr., Kevin, John, and Barbara. His cousin, Jim, is a vice president at Ford Motor Company. Farley's family are traditionally Irish American, and Farley attended numerous Catholic schools in his hometown, including Edgewood High School of the Sacred Heart. Many of his summers were spent as a camper and counselor at Red Arrow Camp, near Minocqua, Wisconsin.
Farley graduated from Marquette University in 1986, with a concentration in communications and theater. After college, he worked with his father at the Scotch Oil Company in Madison. He got his start in professional comedy at the Ark Improv Theatre in Madison, and at the Improv Olympic theater in Chicago. He then performed at Chicago's Second City Theatre, initially as part of Second City's touring group. He was eventually promoted to their main stage. While working at Second City, Farley befriended his Saturday Night Live colleague Lorne Michaels.
Career
Saturday Night Live
Saturday Night Live
Along with Chris Rock, Farley was one of two new Saturday Night Live cast members announced in the spring of 1990.On SNL, Farley frequently collaborated with his fellow cast members Adam Sandler, Chris Rock, Rob Schneider, and David Spade, among others. This group came to be known as the "Bad Boys of SNL". Popular characters performed by Farley included himself on The Chris Farley Show, a talk show in which Farley quite often "interviewed" the guest, got very nervous and asked simple-minded or irrelevant questions, such as what their favorite rock band was; Matt Foley, an over-the-top motivational speaker who constantly reminded other characters that he "lived in a van, down by the river"; Todd O'Connor of Bill Swerski's Superfans, a group of stereotypical Chicagoans who constantly shouted "da Bears!";,a Chippendale's dancer, in a famous sketch that paired him with guest host Patrick Swayze;one of the "Gap Girls", who hung out together at a local mall; a stereotypical lunch lady, to the theme of Lunchlady Land performed by Adam Sandler; and Bennett Brauer, a Weekend Update commentator who often divulged his personal and hygienic problems via air quotes. Some of these characters were brought to SNL from his days at Second City. Farley also performed impersonations of Tom Arnold. Andrew Giuliani, Jerry Garcia, Meat Loaf, Norman Schwarzkopf, Dom DeLuise, Roger Ebert, Carnie Wilson, Newt Gingrich, Mindy Cohn, Mama Cass, Hank Williams, Jr., and Rush Limbaugh were among the celebrities and real-life figures he portrayed.
Off-screen, Farley was well known for his pranks in the offices of Saturday Night Live. This would refer to Sandler and Farley making late-night prank phone calls from the SNL offices in Rockefeller Center, with Sandler speaking in an old woman's voice and Farley farting into the phone and mooning cars from a limousine. Sandler told Conan O'Brien on The Tonight Show that NBC fired him and Farley from the show in 1995.
Farley has hosted SNL five times since he left: in 1997, in 2000 for promotion for Shrek, in 2007 for promotion for I Now Pronounce Chuck and Larry, in 2008, and 2010 for promotion for Shrek Forever After.
,
Acting Career
Farley initially began his acting career by having small roles in several SNL spin off movies such as playing a security guard in Wayne's World (1992), Ronnie the mechanic in Coneheads (1993) and the role of Milton in Wayne's World 2 in the same year. During this same period Farley had a small role in the film Airheads playing Officer Wilson as well as a similar sized role in another Adam Sandler movie, Billy Madison (1995).
However, in 1995 Farley exploded onto the big screen with David Spade when he starred in Tommy Boy as the son of a business owner tasked with saving the company. The film became a huge hit with audiences despite receiving negative reviews. The film later had a huge following from video sales. The huge success of Tommy Boy saw both Farley and Spade star in a similar film Black Sheep (1996). Though the film had the same formula it was less popular with audiences. Farley broke off from David Spade for the 1997 film Beverley Hills Ninja which was a huge success with audiences, despite receiving near unanimous poor reviews from critics. It was followed by a cameo appearance in the Norm McDonald vehicle Dirty Work (1998) and as Bartholomew Hunt in the Christopher Guest period comedy Almost Heroes (1998) which co-starred Matthew Perry. Following a near overdose in late 1997, Farley only starred in one movie in 1999 (as he spent most of 1998 in rehab) The Gelfin, which proved to be instrumental as a turning point for Farley's career as it saw a move away from the low brow material he had been previously familiar for and saw him star in a more dramatic role as the Genie which was a slightly darker character in what was a horror comedy. Vince Vaughn co-starred. Farley received much praise for his performance compared to his previous films. The film made 50 million dollars at the box office.
In 2000, however, Farley received much critical acclaim as well as huge success at the box office for the film Shrek, in which he voiced the title character. The film is about an ogre who instead of wanting to go into the family business of scaring people, wants to be a nice person and help everyone. The animated film made 300 million dollars at the box office, Farley's most successful film to date. Success continued in 2001 when Farley was nominated for Best Actor at the Academy Awards in the biography of Roscoe "Fatty" Arbuckle which followed the famous comic's historical grapple with the scandal that ruined his career. It was Farley's first real move toward a dramatic role and he received critical acclaim. The same year he made a small cameo in the David Spade vehicle Joe Dirt as a garage mechanic. In 2002, there was yet more success for Farley as he starred in another critically acclaimed film, A Confederacy of Dunces. As well as that, he once again starred alongside David Spade in the SNL spin off film Matt Foley Saves America that saw Farley reprise his popular character Matt Foley whom he had played on Saturday Night Live. Despite being a box office success, it received poor reviews from film critics. That same year saw Farley star in Mr Deeds (2002) as Murph, in a very small role.
He reprised the role of Shrek in Shrek 2 (2003) and had a supporting role in the war film Cold Mountain in the same year where he played Reverend Veasey. In 2004 he cameoed in the Adam Sandler romantic comedy 50 First Dates as 10 Second Tom as well as starring in the Will Ferrel comedy hit Anchorman which was received very well by film critics, Farley once again took a supporting role in the Leonardo Di Caprio biography the Aviator as Noah Dietrich. The year 2005 saw Farley once again star alongside Spade in the mockumentary film Nothing So Unusual as Ron Rocastle, a washed up ex-ice hockey player seeking to regain former glories as well as the King Kong remake playing Carl Denham. Farley tried his hands in a romantic film in the poorly reviewed film You Me And Dupree (2006) before starring alongside Adam Sandler in I Now Pronounce You Chuck And Larry (2007) and a supporting role in the Tom Hanks film Charlie Wilson's War in the same year. Following a year break in which he only reprised his role as Shrek in Shrek 3, he played an exaggerated version of himself in the film the Hangover and the role of Carl Anheuser in the disaster film 2012. 2010 was a busy year for Farley as he guest starred in an episode of 30 Rock, played the role of Tweedledee and Tweedledum in Alice In Wonderland, starred in the time travel comedy Hot Tub Time Machine as Lou Dorchen, and starred as Eric Lamonsoff in Grown Ups which reunited him with several members of the Saturday Night Live cast of the early 1990s. He reprised his role as Shrek in Shrek Forever After (2010) as well, though he recorded his lines in 2009. The next year saw Farley once again starred in a comedy film Hall Pass (2011) as well as once again returning to serious territory as Art Howe in Moneyball as well as a cameo in the Adam Sandler comedy film Jack and Jill. This year has seen Farley star in the film The Master (2012) as Lancaster Todd.
Personal Life
Farley married Darlene O'Hara who he met while walking through his hometown in 2003. They have two children: Alan Christopher Farley (born 2005) and John Gregory Farley (born 2009). They live in Chris' hometown of Madison, Wisconsin.
Political and Charitable Donations
Farley is a supporter of the Republican Party and supported George W Bush twice, John McCain as well as Mitt Romney. He has made several donations to several Republican Party candidates. He has also donated much money toward Cancer Research as well as to several anti-poverty charities.
Chris Farley Filmography
1992 Waynes World-Security Guard
1993 Coneheads-Ronnie the Mechanic
1993 Waynes World 2-Milton
1994 Airheads-Officer Wilson
1995-Billy Madison-Bus Driver
1995 Tommy Boy-Thomas "Tommy" Callahan Jr
1996 Black Sheep-Mike Donnely
1997 Beverly Hills Ninja-Haru
1998-Almost Heroes-Bartholomew Hunt
1998 Dirty Work-Jimmy
1999 The Gelfin-Genie
2000-Shrek-Shrek
2001-Arbuckle-Roscoe "Fattie" Arbuckle
2002-Joe Dirt-Garage Mechanic
2002-Mr Deeds-Murph
2002-A Confederacy of Dunes-Ignatius Jacques Reilly
2003 Matt Foley Saves America-Matt Foley
2003-Shrek 2-Shrek
2004 Cold Mountain-Reverend Veasey
2004-50 First Dates-10 Second Tom
2004 Anchorman:The Legend Of Ron Burgundy-Champion "Champ" Kind
2005 The Aviator-Noah Dietrich
2005 Nothing So Unusual-Ron Rocastle
2005 King Kong-Carl Denham
2006-You, me and Dupree-Randolph-"Randy" Dupree
2007-I Now Pronounce You Chuck and Larry-Lawrence Arthur "Larry" Valentine
2007-Charlie Wilson's War-Gust Avrakotos
2007 Shrek The Third-Shrek
2009-The Hangover-Himself
2009- 2012-Carl Anheuser
2010-Alice in Wonderland-Tweedledee and Tweedledum
2010-Hot Tub Time Machine-Lou Dorchen
2010 Grown Ups-Eric Lamonsoff
2010 Shrek Forever After-Shrek
2011 Hall Pass-Fred Searing
2011 Moneyball-Art Howe
2011 Jack and Jill-Ice Cream Man
2012 The Master-Lancaster Todd