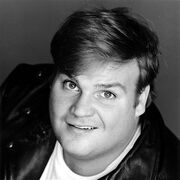 December 18th, 1997
It was December 18th, 1997. Chris Farley, a popular comedy actor had spent the previous few days on a drug and alcohol binge. The previous day the 17th had been spent primarily with a hooker named Heidi. She initially met Farley in Lincoln Park at 11am. Shortly after Heidi took Chris to her own apartment. At her apartment he would smoke crack and snort heroin. Chris then proceeded to his own apartment. Hostility began to rise due to the fact that Chris refused to pay her on the basis that his friend was supposed to pay for her. They tried sex unsuccessfully. At 3 AM she decided to leave, Farley collapsed a little bit from the door. Heidi noticed he had difficulty breathing, he said in obvious difficulty 'Don't leave me".
Heidi though having thought that she would leave him there decided to phone an ambulance. The difficulty of breathing she assumed came with the drugs and especially the fact he had mentioned to her his inability to fall asleep. A short time after Farley was taken by ambulance to the nearest hospital. There he received immediate treatment due to the strong possibility of a drug overdose. Despite the state of Farley, his life was saved with doctors telling his brother John "A few hours and he would have been dead". John, along with other members of the family, then again stage an intervention at the hospital where they agree and confront Farley once again about his drug and alcohol problems. Farley, only slightly conscious of his surroundings, agrees.
December 19th, 1997
The day after the newspapers were crawling with coverage of the near tragedy with many comedians such as Phil Hartman expressing relief that an ambulance was called upon. The Farley family confirm in a statement given to media the circumstances surrounding the near death and impart to the public their wish for privacy and their determination to sort out Chris's problem once and for all. Later that day close friend David Spade reluctantly visits Farley's hospital bed where through tears says to Chris "Buddy you have got to stop". Chris playing the part of Matt Foley his popular character mentions though very laboured "Hi. How is everybody? Good. Great."
Chris Farley from that point onward communicates his desire to quit and live a life of sobriety. That very same day he says to his brothers his wish in continuing his film career and his desire to continue with his current film projects despite his situation. Adam Sandler contacts his friend Farley and likewise says to him the need to stop the drugs and drinking and similarly offers to Farley a part in any future movie he does in case of a drying up of roles due to his problems which had already up to that point hampered his involvement in other films such as The Cable Guy. Farley is moved and similarly receives telephone calls from friends such as Chris Rock, Tim Meadows, Tom Arnold and Phil Hartman among other Saturday Night Live alumni. This only makes him even more determined to kick the habit. Doctors that night through testing communicate to Farley the poor quality of his liver damaged by his alcohol disposition.
December 20th, 1997
It is thought best that Chris be admitted to a drug treatment program. Arrangements are made that Chris be admitted to an inpatient program. This will be the 18th time Chris has been admitted to a rehab problem but coupled with the very near demise it is thought Chris will take this seriously. Tom Farley mentions this to reporters and similarly mentions the families desire for Chris to take a slight break from movies during and following the treatment.
16th June 1998
On this date Chris Farley left the drug treatment program he had been attending since early 1998. During this time Chris lost nearly a hundred pounds of weight while in treatment. During his time at the rehabilitation centre, he was successfully weaned off both drugs and alcohol. As well as this, Chris further deepened his faith in Christianity where he would volunteer at a nearby church under supervision. Chris during his stay in rehab became known for his good behaviour and willingness to co-operate. Though initially Chris proved quite difficult due to his profile he through the influence of several techniques calmed down and began to maintain a more sober personality. While in rehab Farley postponed his work on the film Shrek as well as the film The Gelfin which he was to co-star with Vince Vaughn. The family agreed with Chris the urgent need for privacy. During his time he did not take part in any interview though his family did release very slight details to the media saying "Chris is making good progress in regards to his treatment". He receives visitors, however, at periods including David Spade. Spade had just left the cast of Just Shoot Me after the promise of more film roles with a sober Chris Farley,he and Chris knock off some ideas while at the treatment including an idea about a possible movie based on popular character Matt Foley, Adam Sandler similarly visits Chris where discussion moves to a possible Farley role in a film titled Little Nicky. Sadly, however, the month before Phil Hartman had been shot dead by his wife. This incident very much saddened Farley who briefly came out of rehab to attend Hartman's funeral.
Out of the treatment Farley is indeed a changed man, thinner as well as sober. Farley is in a better mindset and is determined to continue work on Shrek as well as several other film projects The Gelfin, A Confederacy of Dunes and his beloved Fatty Arbuckle side project. Though wanting to continue his film career, Farley is v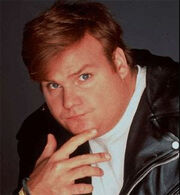 ery much careful in regards to his previous addictions. He places an onus on himself to no longer attend any party involving intoxicants as well as to adapt himself to a rigorous diet designed to shed even more pounds. Farley chooses to go teetotal due to the fragility of his liver very much damaged by years of alcohol abuse. Similarly, he is determined to help improve his fathers weight problem which had often worried him before and to help his younger brother Kevin break into the movies. He goes home to Madison,Wisconsin where he is treated to a non alcoholic private party celebrating his recovery and most importantly his survival from a near fatal drug overdose months before. Afterward, he retires to church where he prays to God to help him maintain his current well being and to whom he tearfully thanks for his redemption.
8th August 1998
Chris Farley begins work on the Gelfin. Filming starts 8th August 1998. The studio convinced of Farley's new-found sense of direction decide to limit its surveillance of Farley previously known for alcohol and drug problems. Co-starring Vince Vaughn the film is expected to be released for late 1999 early 2000. Chris Farley on set exhibits talents never seen before in previous entertainment work and further seeks to lose weight by undergoing both a continuation of the diet at the treatment centre as well as a fitness programme to be undertaken at a nearby Gym. Farley similarly enlists a spiritual manager to further preach the word of God who Farley credits with saving his life. The Gelfin is a mythological comedy about a genie who can bring either good luck or bad luck. Farley plays the role of the genie. Despite Farley's past distaste of films making use of his weight he seems to play the role differently than before toning down the falls, the loud voice and the wheezing often used before to comic effect.
1st September 1999
The Gelfin is released. It receives its premiere in Hollywood Boulevard. The film like many of Farley's others is a huge financial success opening number one at the box office. The film received mixed reviews. Roger Ebert gave the film three stars out of four commenting "As much as I have disliked many of Farley's previous films he really seems to. Likewise have come to life in this one providing many moments of genius. He has finally been blessed with decent material" I another former critic Gene Siskel likewise was very positive regarding the film "It may not be a classic by any means but this film does what it promises and provides a funny twist on the average horror film. Blessed by Vince Vaughn, Farley, however, steals the show at several points. This film should delight audiences." The film makes 41 million dollars eventually making slightly more than former SNL friend Adam Sandler's Happy Gilmore released three years prior.
Farley in an interview when asked in an interview mentions "Well, I hope to work on a Fatty Arbuckle project with David Mamet which has been my dream project for a good few years now and has been sadly delayed a few times. I have finished recording for an animated film called Shrek which maybe be released late next year or early 2001". Asked about his evaluation of the film "I didn't really like Beverley Hills Ninja as it played a little too much on my weight which I have been trying to free myself from so I am quite happy with the Gelfin. It plays a bit more on my dramatic side a little more than my other films"
16th May 2000
Shrek is released. Starring also Janeane Garofalo it tells the story of a young ogre who dreams of becoming a knight only to find that Princess Fiona is moody and misanthropic. The film is a huge success. It eventually makes 200 million dollars at the box office. The film receives many positive reviews with Roger Ebert giving it a rare four stars "Farley is brilliant in this film. Everything before hinted in the characters Farley has before played is brought out into the open in the guise of an innocent ogre who dreams of becoming a knight". Farley, over the past year, makes appearances on Conan O'Brien, David Letterman and Jay Leno, his first time on a chat show since his near fatal drug overdose. He had only been doing slight publicity work for the Gelfin limited only for magazine, newspaper and television show promotions safe within the confines of a room rather than a studio.
Farley especially gives a candid interview for Rolling Stone Magazine regarding his past addictions and his new-found sense of life "I have always been too much of a hedonist for my own good,i used to party for hours and go to church only a few hours later which wasn't very good for my health. I was sober for three years when I was on Saturday Night Live and for Tommy Boy and Black Sheep but I gave up. I actually remember phoning up my girlfriend saying I couldn't be bothered being sober anymore. I just wanted to let loose. I would attempt to cut my arms with a knife. I'd just throw alcohol in my mouth without even intending it to all go in my mouth. Right before my overdose I was that lonely and out of it I hired prostitutes and even brought them to Saturday Night Live when I was back to host it. When I nearly died I knew I definitely this time needed to change my ways." During publicity for Shrek, Farley returns to host Saturday Night Live that same year which receives very positive reviews. Chris's father is there to watch the film having through the help of his family and by the experience of his son lose weight going down to 240 pounds down from 600.
30th June 2001
Arbuckle is released in cinemas,the film earns critical acclaim and Farley is nominated for Best Actor for the 74th Academy Awards. The tale about Fatty Arbuckle and his rise to fame and his fall from grace due to being accused of the killing of a woman was the first dramatic role in the career of Chris Farley. The film was a minor box office success, while not making as much money as Shrek for a film of such subject matter did do very well. Chris Farley. The very same year Farley teamed up with David Spade to appear in a cameo role in the film Joe Dirt to be released in 2002.
2002
The year 2002 proves to be very productive for Farley for he has roles in three films, the long anticipated Confederacy of Dunces, a surreal move for Farley and a minor box office success as well as cameos in the David Spade film Joe Dirt which opens to mixed reviews as well as another small role in the Adam Sandler comedy Mr Deeds. A Confederacy of Dunces which starts similarly Janeane Garofalo as Myrna Minkoff receives praise for Farley in regard to the taking of such a surreal role. However Farley narrowly misses out on Best Actor for his performance in Arbuckle during the 74th Academy Awards.
2003
Farley marries this year to a fellow resident of Madison Darlene Hara, also a Catholic. The couple very quickly married following a chance meeting in January 2003. Both films released that year are however poorly critically received, his new film with friend David Spade based on the Matt Foley character and starring also other 90s cast members such as Tim Meadow,Norm McDonald and Kevin Nealon and directed by Dennis Dugan does not receive great reviews and many see the over reliance on physical comedy as well as the loss of weight of Farley which does not suit the role as it did when performed on Saturday Night Live are among the many reasons given for the panning. It is however a huge success, going over the success of both Confederacy of Dunces and Arbuckle. Farley similarly starts in the sequel to the film Shrek which despite slight box office success and the vocal talents of Spade and Sandler the film is critically panned unlike the first film released in 2000.
2004
The comedian, however, reaches critical acclaim this year following the release of two critically acclaimed films. The war picture Cold Mountain which features Farley as a adulterous priest is again a move to dramatic acting and the role in the comedy Anchorman starring Will Ferrel is hailed as one of the finer comedies in recent years. Farley and Sandler again come together again for the film 50 First Dates where Farley plays a cameo role as 10 Second Tom.
2005
Chris and his wife have their first child this year and Farley again moves into more dramatic acting. He stars in the Scorcese biopic the Aviator as one of the main characters and he also starts in the remake of King Kong as director Carl Denham, both films receive some critical praise. Farley and Spade once again come together and resume their comedy partnership in an independent mockumentary Nothing So Unusual which sadly is critically panned by film critics. The birth of Farley's second child also occurs during this year.
2006
Farley's new-found role as a Father sees only one film of note released,the romantic comedy You Me and Dupreee. The film is the first romantic picture to star Farley,the film receives very mixed reviews.
2007
A productive year for Farley as he again heads into dramatic territory in the Tom Hanks picture Charlie Wilson's War, the film is well received and Farley receives much acclaim for his role. He stars in a sequel to Shrek 2, the film though not a box office success receives reviews better than that of the second film. His other comedy effort with Adam Sandler is heavily panned and Farley is nominated for Worst Actor at the Golden Raspberry Award.
2008
Farley takes a break, during this break he hosts an episode of Saturday Night Live the first time surprisingly since 1997, he reprises old characters during hosting, Farley also has a few guest appearances on friend Conan O'Brien's chat show.
2009
Chris has his final child and starts again in a dramatic role in the film 2012 and stars as himself in the Hangover. His cameo role in the Hangover is very well received and brings Farley again into the minds of young comedy fans and comedians who had not seen much of Farley due to his forages into dramatic film which had pigeonholed him more as a dramatic actor rather than a comedian.
2010
The busy Farley reunites with Chris Rock, Rob Schneider, David Spade and Adam Sandler for Grown Ups, the film directed by Dennis Dugan is critically panned though many express nostalgia due to the coming together of 90s comedians from Saturday Night Live. Tim Burton also uses Chris in the reboot of Alice in Wonderland where Farley is CGI Animated as to be two persons in the film,it establishes him again following his cameo in Hangover to younger audiences. Shrek Forever After is released theatrical movie or direct to DVD and is critically panned with many highlighting the rather bored acting of many of the voice cast. Farley returns to comedy for the film Hot Tub Time Machine.
2011
He hosts Saturday Night Live for the third time and stars in a cameo role in the Sandler film Jack and Jill,Farley returns to comedy yet again for a role in the film Hall Pass. The same year sees Farley play a baseball coach in the dramatic film Moneyball alongside Brad Pitt which earns Farley some praise for film critics.
2012
Farley returns to host Saturday Night Live and only stars in one film, The Master, as a religious manipulator. He receives much praise for his performance as the founder of a new religion.