Kentucky
Commonwealth of Kentucky
Timeline: 1983: Doomsday
OTL equivalent: Kentucky, Southern Indiana, Southeast Missouri, Southwest Ohio, Southern Illinois, Northeast Arkansas, Western tip of Virginia, Northwest and Northern Tennessee

Motto
United we stand, divided we fall

Capital
Elizabethtown
Largest city
Lexington
Other cities
Evansville, Bardstown, Owensboro, Bloomington, Paducah, Madisonville, Madison, Richmond (Wayne Township), Corydon, Harrodsburg, Danville, Paoli, Bedford, Columbus, Jasper, Vine Grove, Tunnel Hill, Leitchfield, Campbellsville, Somerset, Georgetown (Scott), Murray, Radcliff, Glasgow, Bowling Green
Language
English
President
Brad Ellsworth (R)
Vice President
Population
2,580,500 
Independence
July 4th, 1987
Currency
American Dollar, Gold
Organizations
East American Alliance, Southern Free Trade Agreement
The Commonwealth of Kentucky is an American survivor nation located primarily in the former US state of Kentucky.
History
See main article: History of Kentucky
Foreign Relations
Through Ham radio operators they have re-established contact with the 101st Airborne now in West Virginia calling themselves the "The Republic of Virginia". Through Virginia they have been able to learn of the existence of the Commonwealth of Australia and New Zealand, The South American Confederation, the League of Nations and the WCRB as well as other survivor nations throughout North America. Kentucky has established an embassy in Charleston Virginia while Virginia has constructed an embassy at Fort Knox. On April 4th 2005 (the anniversary of the founding of NATO) Virginian President-General Thompson and Kentuckian President Jim Bunning signed the Campton Treaty, officially creating the East American Alliance. In a joint statement with Virginian President-General Sumrall supporting the city-state of Portland in the old US state of Tennessee. Kentucky has sent a military expedition to help the Portlanders reclaim the state of Tennessee. However, the recent war with Jackson has made the Kentuckians adjust their priorities.
Kentuckians were deeply saddened to hear that the United States had disbanded itself in 1995, but were happy to hear that George H. W. Bush and millions of other Americans still alive and well in Australia, Mexico and in other parts of the world.
The Congress is currently debating whether or not to send a formal request to join the League of Nations. Kentucky declared their neutrality in the Saguenay War and offered to mediate peace talks between Canada and Superior. However neither side showed any interest but the conflict ended shortly thereafter. Most Kentuckians have privately supported Superior including a small band of militia men that have made their way to Superior to join the fight. The Kentucky government did not endorsed this action but at the same time did not condemned it either.
Recent expeditions have established formal relations with the Cave City settlements. President Bunning offered annexation to the area offering them the same rights and freedoms they had enjoyed pre-doomsday. The people of Cave City accepted Bunning's offer.
Kentucky recently made contact with Cape Girardeau, Joplin, Hot Springs and Broken Bow. Official embassies have been established in Cape Girardeau and Joplin with hopes of establishing ones in Broken Bow and Hot Springs this spring. Talks will also be held between the five respective nations of a possible political alliance between them.
After many functioning city states were found in the former state of Oklahoma, Kentucky has been active in reunification efforts for the region.
After the February 26, 2010 incident in which the Virginia/Portland contingent was thrown out of Jackson, Tennessee at gunpoint, Kentucky assisted in overthrowing the Farmer Dictatorship in a matter of weeks. Jackson, presently occupied by Kentucky is expected to hold a referendum sometime in 2011 to decide their political future.
Kentucky and Virginia have also formalized relations with the successor to the former state of Pennsylvania which has its capital in State College.
Until recently Kentucky was land locked but has since been given the port of Vermillion on the coast of Lake Erie in the former state of Ohio giving it access to the Great Lakes and world markets. The Toledo Confederation granted the Kentuckians the port area as an autonomous region governed by Kentucky but managed locally by the Toledo government due to logistical reasons.
There is also ongoing work with Virginia to restore a port along the coast of the Atlantic Ocean as well.
Government
All three branches of Kentucky's government once convened in some of the office buildings in the Fort Knox. In 1994 the government moved a few miles away to Elizabethtown. In the late 90's a plan was conceived to build a new Capital building that resembled the structure that once stood in Washington D.C. The government of Kentucky is run almost identically to the old United States. After the second constitutional convention in 2001 the President was stripped of the power to appoint all cabinet positions including the Vice Presidency and instead the people can now vote them in so they are directly held accountable by the people.
Executive branch positions consist of
President - Jim Bunning (R)
Vice President - David Willmoth, Jr. (I)
Secretary of State - Christopher Hitchens (I)
Secretary of Defense - Kenny Lewis (R)
Secretary of Commerce - Ron Lewis (R)
Secretary of Energy - Matthew Hobbs (D)
Secretary of Labor - Eugene P. Stuart (D)
Secretary of Treasury - Todd Hollenbach (I)
Secretary of the Interior - Ed Poppe (D)
Secretary of Agriculture - Jonathan Weinzapfel (D)
Secretary of Transportation- Jim Newberry (D)
Secretary of Education- Steve Beshear (D)
Secretary of Bullion- Mike Pence (R)
Attorney General - Deborah L. Shaw (R)
Politics
Political Parties
Just like in the old United States the two main political parties are the Republican and the Democrats. However, over the years the Independence Party has begun to gain traction.
| Name | Ideology | Foundation | Seats in the Senate | Seats in the House of Representatives |
| --- | --- | --- | --- | --- |
| Democratic Party | American Liberalism | 1828 | 19 | 199 |
| Republican Party | Conservatism | 1854 | 30 | 150 |
| Independence Party | Libertarianism | 1999 | 5 | 51 |
Elections
Kentucky's elections operate as a primary election in which all candidates for elected office run in the same primary regardless of political party. Under this system, the top two vote getters advance to the next round, similar to a runoff election. However, there is no separate nomination process for candidates before the first round, and it is entirely possible that two candidates of the same party could advance to the second. The second round can be avoided if a candidate passes the fifty percent threshold on the first ballot. The second round must be held no more than 20 days after the first round's ballots have been counted and certified.
2010 Elections
See 2010 Kentucky General Elections
Subdivisions
The Commonwealth of Kentucky is divided into several states and territories:
Arkansas-Missouri Territory
More to come ...
Military of Kentucky
See Main Article: Military of Kentucky
Commonwealth of Kentucky Bullion Depository

The Kentucky Bullion Depository, commonly called Fort Knox, is a fortified vault building located near Fort Knox, Kentucky, which is used to store a large portion of United States official gold reserves and, occasionally, other precious items belonging or entrusted to the Federal government of the former United States and The Commonwealth of Kentucky.
The Kentucky Bullion Depository holds about 4603 tons (4176 metric tones) of gold bullion (147.4 million troy ounces.)
Pre-Doomsday History
Before the election of Franklin D. Roosevelt, in 1932, gold coins had circulated freely in the United States as legal money, and gold bullion was owned by banks and other private entities. In early 1933, as part of the New Deal, the United States Congress enacted a package of laws which removed gold from circulation as money, and which made private ownership of gold in the U.S. (except for coins in collections or jewelry such as wedding rings) illegal. All gold in circulation was seized by the government in exchange for dollars at the fixed rate of $20.67 per ounce. Owners of gold bullion in the U.S. were also required to trade it for other forms of money. All of this left the government of the United States with a large amount of gold metal, and no place to store it.
In 1936, the United States Department of the Treasury began construction of the United States Bullion Depository at Fort Knox, Kentucky, on land transferred from the United States Army. The Gold Vault was completed in December 1936 at a cost of $560,000. The site is located on what is now Bullion Boulevard at the intersection of Gold Vault Road.
The first gold shipments were made from January to July 1937. The majority of the United States' Official gold reserves were gradually shipped to the site, including old bullion and more newly made bars made from melted gold coins. Some intact coins were stored, as well. The transfer needed 500 Rail cars and was sent by registered mail, protected by the United States Postal Inspection Service.
During World War II, the repository held the original United States Declaration of Independence and United States Constitution. It also holds the reserves of several European countries and several key documents from Western history; for example, it holds the Crown of St. Stephen, part of the Holy Crown of Hungary, given to American soldiers to prevent them from falling into Soviet hands. The repository also holds one of four known copies (exemplifications) of Magna Carta, which had been sent for display at the 1939 New York World Fair, and which, when war broke out, was kept in America for the duration.
Post Doomsday History
General Campbell ordered his men to secure the bullion depository from looters. Working in tandem with the Bullion Security Forces, the Provisional Government of Kentucky's militia were able to repel a few small raids from gangs and maintain control of the facility. The future of the gold depository remains unknown as the gold has more or less sat in the vaults since doomsday.
Some commentators believe that the gold one day could play a role in a possible future reunification of America. When the Provisional United States in the plains declared itself the continuation of the USA in 2010, the issue of Fort Knox's gold exploded as a major issue heading into the 2010 elections.
Construction and security
Below the fortress-like structure lies the gold bank vault, which is lined with granite walls and which is protected by a blast-proof door that weighs 22 tons. No single person is entrusted with the entire combination to the vault. Various members of the Depository staff must dial separate combination's known only to them. Beyond the main vault door, smaller internal cells provide further protection.
The facility is ringed with several fences and is under armed guard by officers of the Commonwealth Mint Police. The Depository premises are within the site of Fort Knox, a Commonwealth of Kentucky Army military base, allowing the Army to provide additional protection. The Depository is protected by numerous layers of physical security, alarms, video cameras, armed guards, and the Army units based at Fort Knox, including AH-64 Apache helicopter gunships of 8/229 Aviation based at Godman Army Airfield, the 16th Cavalry Regiment, training battalions of the Commonwealth of Kentucky Army Armor School, and the 3rd Brigade Combat Team of the 1st Infantry Division, totalling over 50,000 soldiers, with associated tanks, armored personnel carriers, attack helicopters, and artillery.
Gold and coin holdings
Gold holdings peaked during World War II at 649.6 million troy ounces (20,205 metric tons). Current holdings are around 147.3 million ounces around 368,000 standard 400 troy ounce (12.4 kg or 27.4 Pound lb) gold bars. At April 2008 rates of $913 an ounce it is worth roughly $134 billion, while the World War II total of 649.6 million troy ounces would be worth approximately $593 billion.
The depository also holds monetary gold coins. It also holds several specimens of Sacagawea Dollar coins made out of 22 karat (91.6% pure) gold from blanks that are used to strike the $25 half-ounce American Gold Eagle bullion pieces made for an unknown project.
Not all the gold bars held in the depository are of exactly the same composition. The mint gold bars are nearly pure gold. Bars made from melted gold coins, however, called "coin bars," are the same composition as the original coins. Unlike many .999 fine gold bullion coins minted in modern times for holding-purposes today, the coin alloy for pre-1932 U.S. coins, which were intended for circulation, was a much tougher and wear-resistant .900 fine alloy (balance copper) derived historically from 22-karat crown gold (a similar alloy consisting of .917 gold and the balance copper, used to mint gold sovereigns).
All of the gold in the depository, if pure, could form a cube 19.7 feet (6 m) on a side — a volume of 216 cu m. In comparison, all the gold ever mined in the world would form a cube 64.3 feet (19.6 m) on a side, with a volume of approximately 7500 cu m.
In popular culture
The bullion depository has become a symbol of an impregnable vault, leading to phrases such as "locked up tighter than Fort Knox" or "safer than Fort Knox".
Economy
Agriculture
Before Doomsday, unlike many bordering states which developed a widespread industrial economy, much of rural Kentucky has maintained a farm based economy, with cattle, corn, and soybeans being the main crops. This tradition continued after Doomsday providing its citizens with a steady supply of fresh food. The area immediately outside Lexington is also the leading region for breeding Thoroughbred racing horses, due to the high calcium content in the soil (from the underlying limestone) making the pastures especially productive. Kentucky's agricultural outputs are horses, cattle, goats, tobacco, dairy products, hogs, soybeans, and corn.
Oil
Oil and gas are produced from more than 1,500 pools in Kentucky from rocks of Cambrian to Pennsylvanian age. Most oil is produced from Mississippian limestone and sandstone in eastern and western Kentucky or from Ordovician limestone and dolomites in southern Kentucky. Most natural gas is produced from the Devonian black shale in eastern Kentucky.
It is refined in several locations in the Commonwealth but perhaps most prominently at the Somerset Refinery Inc in the town of the same name and at the Donerail Travel Center in Lexington Kentucky.
Media
Newspapers
National Newspapers
The Kentucky Gazette - Publishes every Saturday, Sunday, Wednesday and Friday
The Kentucky Tribune - Publishes daily with a joint issue with the The Virginian Post every Sunday
The Virginian Post - A newspaper from The Republic of Virginia that publishes Monday, Wednesday, Friday and a joint issue with The Kentucky Tribune every Sunday
Local Newspapers
The Lexington Herald-Leader - publishes daily
The Evansville Courier & Press - publishes daily
The Bloomington Herald-Times - publishes daily
The Western Kentucky Sun - publishes daily
The Elizabethtown News-Enterprise - publishes daily
The Owensboro Messenger-Enquirer - publishes daily
The Bardstown Standard - publishes Wednesdays
The Winchester Sun - publishes Wednesdays
The Danville News-Advocate - publishes Wednesdays, Fridays and Saturdays
Radio
Almost all homes in Kentucky own at least one radio. It has become the main form of spreading news second only to newspapers.
Elizabethtown
WQZK 1400 AM - Talk Radio
CWKR 93.5 FM - Commonwealth of Kentucky Government Information Radio
WHHT 106.7 FM - Pre Doomsday R&B, Soul, Funk and Pop
WLVK 105.5 FM - Pre-Doomsday Rock
KPR 90.9 FM - Kentucky Public Radio
WKTA 98.3 FM - Pre-Doomsday Variety
KCR 91.5 FM- Classical Music
Lexington
WVLK 590 AM - news, talk, flagship station of University of Kentucky athletics; plans to increase power to 50,000 watts in December 2011
WLAP 630 AM - the oldest radio station in Kentucky, having resumed broadcasting in 2000; news, high school sports, country and bluegrass music
WHAS 840 AM - took call letters and frequency from popular 50,000 watt station in pre-Doomsday Louisville; oldies music, talk
WLXG 1300 AM - religious
WUKC 90.5 FM - Classical music, operas
WUKY 91.3 FM - Kentucky Public Radio
WVLK 92.9 FM - country music, pre- and post-Doomsday; known as K-93, the moniker it had from July 1982 to Doomsday
WKQQ 98.1 FM - pre- and post-Doomsday rock and roll
WSOL 100.1 - pre- and post-Doomsday R&B, urban
WHTL 106.5 - modern hits
Television
National channels
KET - Kentucky Educational Television, with numerous affiliates throughout the Commonwealth
Channel 2 - Local, National and International News, Weather, Sports and Opinion
Channel 4 - Government News and Information
Channel 5 - K-Span - Live video of Political speeches, and the goings on of the Kentucky House of Representatives and Kentucky Senate (main station in E'town, also affiliates throughout the Commonwealth)
Channel 7 - Cartoons and 50's, 60's 70's and 80's, syndicated television plus local programming (affiliated with the Lexington-based Bluegrass Television Network)
All Kentucky television programming originates either out of Elizabethtown or Lexington. Syndicated programming comes from across North America (including Virginia, Texas, Mexico and Superior) and less so from Australia, Brazil, and the Celtic Alliance.

Television signals cover all the major cities and towns.
Sports
Intercollegiate basketball and horse racing were two of the most popular sports in the former state of Kentucky pre-Doomsday. People's love for those two sports persisted over the years; basketball has been the national sport since the Commonwealth became an independent nation, and the recent reopening of Ellis Park in Henderson and Keeneland in Lexington represent what officials hope is the rebirth of the horse racing industry.
The Kentucky Derby is held on the first Saturday in May annually at Keeneland (the race was held pre-Doomsday at Churchill Downs in Louisville).
The University of Kentucky is the de facto "home team" for the entire Commonwealth, just as it was in pre-Doomsday Kentucky. Its athletic teams compete in the recently reformed Southeastern Conference; the football team plays in Commonwealth Stadium and men's basketball in recently remodeled Rupp Arena, located in downtown Lexington. Women's basketball and volleyball play in Memorial Coliseum.
Joe B. Hall, the coach of UK's men's basketball team on Doomsday, survived and was named head coach when UK reinstated its men's varsity basketball program in 1998. The current head coach is Winston Bennett.
Baseball and football have a presence in the Commonwealth, but are less popular than basketball. Golf and tennis are played by upper- and upper-middle class residents. Working-class residents tend to play basketball, softball or bowling. Track and field is contested on the youth, high school and collegiate levels.
The official sanctioning body of high school athletics in the Commonwealth is the Kentucky High School Athletic Association (KHSAA). Though Kentucky is an independent nation, the finals in each sport are termed the 'state tournament', in keeping with tradition. The football finals are held each November at Commonwealth Stadium, while the boys' and girls' state basketball tournaments (a.k.a. the 'Sweet 16') are held each March in Rupp Arena.
The Lexington Reds are one of six teams that are competing in the inaugural season of the Southern League independent baseball league. The Reds play their home games at the University of Kentucky's Cliff Hagan Stadium, but both the Reds and UK baseball will move into an 8,000-seat stadium to be finished well before the 2012 season.
Education
Fort Knox High School
Fort Knox High School is currently serving grades 9-12 and was built in 1958 and has gone under only a handful of renovations since then. However, a new Fort Knox High School was completed in July 2009 and dedicated on August 7. The current building (minus the gym and vocational wing) was torn down and made into a parking lot, after standing for 51 years. The school's nickname is Eagles and varsity sports include volleyball, football, swimming, soccer, baseball, basketball, power lifting, wrestling, track and field, tennis, golf and softball.
Higher education
The city of Evansville is home to two major universities, the University of Evansville and the University of Southern Indiana (USI). The Indiana University School of Medicine also has a presence in the city with the Evansville Center for Medical Education on the campus of USI. Evansville Center for Medical Education Other campuses in the city include Ivy Tech Community College, ITT Tech, Harrison College, and Oakland City University's School of Adult and Extended Learning. The main campus of Oakland City University is located just north of the city in Oakland City, Indiana.
Owensboro is home to two private, four-year colleges, Brescia University and Kentucky Wesleyan College, and one public community college, Owensboro Community and Technical College. Campuses of Draughons Junior College and Daymar College are also located in Owensboro, and Western Kentucky University maintains an extended campus presence there.
Elizabethtown is home to Elizabethtown Community and Technical College, a member of the Kentucky Community and Technical College System. It also has an extended campus of Western Kentucky University as well as the Elizabethtown Beauty School and the Elizabethtown Hair Design School.
Lexington has the University of Kentucky, Transylvania University a private liberal arts college, Bluegrass Community and Technical College, Sullivan University, Spencerian College and Strayer University.
Transportation
Airports
The Commonwealth is served by the Elizabethtown Regional Airport, Owensboro-Daviess County Airport, Evansville Regional Airport, and Blue Grass Airport in Lexington.
Godman Airfield is the main airport of the Commonwealth located in the Fort Knox military base. Godman Army Airfield can accommodate many types of civilian and military aircraft.
Public Transportation
The Kentucky Transit System (KTS) provides bus and train transportation to all sections of the country. Right now Kentucky is seeking to repair or make new roads and train tracks in parts the former US states of Indiana and Ohio which have both been recently incorporated or claimed by Kentucky.
Clinchfield Railroad
In 1886, Ex-Union General John T. Wilder received a charter for Charleston, Cincinnati and Chicago Railroad, commonly referred to as the "3-C" Railroad. This was the beginning of the modern Clinchfield. The promoters of this ambitious project proposed a 625-mile line from Ironton, Ohio, to Charleston, South Carolina, with an extension down the Ohio River to Cincinnati. It would serve the rich agricultural lands of the Piedmont, the summer resorts of the North Carolina mountains, the rich timber and mineral deposits and coal fields of Virginia and Kentucky, with terminals on both the Ohio River and the Atlantic seacoast. The estimated cost was $21 million. Johnson City, Tennessee was established as the headquarters for the 3-C railroad and that city became a railway boom town.
Construction progressed from Johnson City to both the north and south. Tracks reached Erwin, Tennessee in 1890. The roadway grading was 90% complete from Johnson City to Dante, Virginia, in 1893, when the 3-C began to experience financial problems and then failed in the national depression of that year. In July 1893, the assets of the 3-C railroad were sold at a foreclosure for $550,000.
After Doomsday the rail line was left in a state of decay as the new owners "Ohio River and Charleston Railroad Company were wiped out on Doomsday. In July 2009 a group of entrepreneurs with the backing of the Virginian and Kentucky governments began to restore the rail line. When it is completed it will link Kentucky, Virginia, East Tennessee, Blue Ridge and The Piedmont Republic together making trade and other commerce easier. The LoN sees this as a positive step forward in the economic renewal of the southern United States.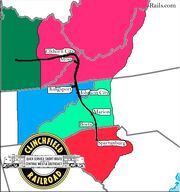 Cultural features
Events of interest
Owensboro considers itself the "Barbecue Capital of the world"; it holds its International BBQ festival and competition the second weekend in May.
During the summer, the city offers "Friday After 5", , a free 16-week series of outdoor concerts on the downtown riverfront. The festival includes live bands, events for families, and entertainment every Friday from 5:00 pm until 10:00 pm. An estimated 55,000 people attend the events.
Owensboro holds the Annual Owensboro PumpkinFest each September at the Sportscenter/Moreland Park complex. The festival includes food vendors, crafts people, carnival rides, children and adult activities and games, and contests using pumpkins.
Owensboro hosts the largest Christmas parades in Kentucky. Held on the Saturday before Thanksgiving Day, the parade features marching bands, clowns, fire trucks, beauty queens, miniature horses, and decorated floats.
World Chicken Festival is a large gathering of vendors in London, Kentucky. Chicken and other soul foods can be found.
Points of interest
Ashland: The Henry Clay Estate, Lexington
Ben Hawes State Park
International Bluegrass Music Museum
Western Kentucky Botanical Garden
Glover Cary Bridge
William H. Natcher Bridge
Temple Adath Israel One of the Oldest synagogues.
Largest Sassafras Tree
Cumberland Falls Moonbow
Ellis Park, Henderson
Rupp Arena, Lexington
Kentucky Horse Park, Lexington
Keeneland race track, Lexington
University of Kentucky, Lexington
Old State House, Frankfort
Kentucky Railway Museum, New Haven
Big South Fork Scenic Railway, Sterns (Near Cumberland Falls)
Religion
| Religious Body | Estimated Percentage of Population |
| --- | --- |
| Baptist | 53% |
| Other Protestant | 20% |
| Roman Catholic | 10% |
| Unaffiliated (including Atheist or Agnostic) | 10% |
| Judaism | 1% |
| Other | 6% |
See Also
Former

United States

and

Canada

Former Canada
North American Union
East American Alliance

Cape Girardeau

•

Kentucky

•

Portland

•

Vandalia

•

Virginia

Former United States

Alabama

•

Alaska

•

Alaskan Autonomous Territory

•

Antlers Aroostook

•

Astoria

•

Blue Ridge

•

Broken Bow

•

California Charleston

•

Chumash Republic

•

Delmarva

•

East Tennessee Elizabeth City

•

Florida

•

Georgia

•

Gettysburg

•

Hannibal Hattiesburg

•

Hawaii

•

Hot Springs

•

Hugo Imperial Empire of New York City

•

Inner Banks

•

International Falls Jefferson

•

Joplin

•

Keene

•

Lake Placid

•

Leavenworth Lincoln

•

Louisiana

•

Mississippi

•

Natchez

•

Neonotia New Montgomery

•

New York

•

Niagara Falls

•

North Pennsylvania Northern Townships

•

Olmsted

•

Oswego

•

Outer Banks Outer Lands

•

Piedmont Republic

•

Plymouth

•

Poughkeepsie Prescott

•

Puerto Rico

•

Quad Cities Alliance

•

Reading San Juan

•

Santa Cruz

•

Selma

•

Sierra Nevada

•

Slab City State College

•

Stillwater

•

Superior

•

Susquehanna Tennessee

•

Texas

•

Toledo Confederation United States Atlantic Remnant

•

Ventura

•

Vermont

•

Wabash Union Wisconsin

Defunct countries

Apalachicola

•

Athens

•

Auburn

•

Binghamton

•

Bloomington Cape Breton

•

Cave City

•

Association of Central Texas Confederate States of America (Muscle Shoals)

•

Dakota

•

Dubuque Eastern Texas

•

First Coast

•

Gainesville

•

Iowa

•

Ithaca Jackson

•

Kingston

•

Lawrence

•

Municipal States of the Pacific Okanagan Confederacy

•

Peedee Nation

•

St. Lawrence South Florida

•

Thunder Bay

•

West Texas

Stateless groups
Community content is available under
CC-BY-SA
unless otherwise noted.