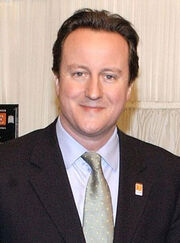 David William Donald Cameron (born 9 October 1966) in OTL is the former leader of the Conservative Party, former Leader of the Opposition in the United Kingdom, and the former Prime Minister. He was leader from 2005-2016, and Prime Minister from 2010-2016.
Cameron studied Philosophy, Politics and Economics at Oxford, gaining a first class honours degree. He then joined the Conservative Research Department and became Special Adviser to Norman Lamont, and then to Michael Howard. He was Director of Corporate Affairs at Carlton Communications for seven years.
A first candidacy for Parliament at Stafford in 1997 ended in defeat but Cameron was elected in 2001 as the Member of Parliament for the Oxfordshire constituency of Witney. He was promoted to the Opposition front bench two years later, and rose rapidly to become head of policy coordination during the 2005 general election campaign.
Cameron was viewed by some as a young, moderate candidate, who would appeal to young voters, and in 2005 he won the Conservative leadership election. His early leadership saw the Conservative Party establish an opinion poll lead over Tony Blair's Labour; the first in over ten years. Although they fell behind shortly thereafter when Gordon Brown became Prime Minister, under Cameron's leadership the Conservatives were consistently ahead of Labour in the polls, as shown in their 2010 electoral victory.
After the vote to leave the European Union in the referendum on British membership, Cameron, who was campaigning to remain, announced his intention to resign as prime minister and Conservative leader on 24 June 2016. This resignation took effect on July 13 2016, and he was succeeded by Theresa May.
Alternate versions of Cameron have been discovered in the multiverse:
David Cameron, Prime Minister of the United Kingdom of Britain and Ireland (Albany Congress)
David Cameron, Prime Minister of the United Kingdom of England, Scotland, Wales, Ireland and Cornwall (The Kaiser's New Clothes)
---
Community content is available under
CC-BY-SA
unless otherwise noted.