The Scotland says "Yes" Timeline has many Differences and Similarities from OTL. This is a reference page to these.
Asia
East Asia
South Asia
Southeast Asia
Western Asia
Europe
Eastern Europe
Under Construction
Northern Europe
One of the most noticable changes in the Timeline, and indeed the PoD, is the fact that the 2014 Scottish Independence Referendum succedeed, meaning that, in 2015, Scotland became an independent nation from the United Kingdom. Additionally, Orkney and the Shetlands voted to become a Crown Dependency of the UK.
The 2015 UK General Election was also postphoned to 2016, when both the United Kingdom and Scotland had elections, resulting in Labour-Liberal Democrat and SNP Governments respectively. Additionally, the United Kingdom European Union Membership referendum in 2016 was butterflied away, and has not occurred. This is due to the fact that there is a Labour, and not Tory, government in power.
Southern Europe
TBC
Western Europe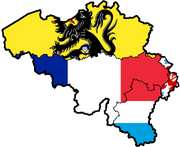 The largest difference in Western Europe thus far is the
Partition of Belgium
. As the Scottish Independence Movement succeeded, the Flemish of Belgium began to push for Independence, which was passed by referendum. After many months of negoitiations, the Belgian State was dissolved.
Flanders
became an independent nation, with the King of Belgium becoming Count of Flanders. Meanwhile, the
German-Speaking Community
joined the
German
state of the
Rhineland-Palatine
 and the Belgian province of Luxembourg joined the
Principality
, whilst the remainder of
Wallonia
acceeded to the
French Republic
. Whilst the remainder of Western Europe remains fairly stable, the Flemish in the North, and both Basque and Catalans in the South, have prompted calls for further Federalism in the Republic.
Community content is available under
CC-BY-SA
unless otherwise noted.