Eduard Khil receiving a 4th class Order of Merit for the Fatherland in 2009

Background information
Birth name
Эдуард Анатольевич Хиль (Eduard Anatolyevich Khil)
Born

(1934-09-04)

4 September 1934

Smolensk, Western Oblast, Russian SFSR, USSR

Origin
Leningrad, Russian SFSR, USSR
Died
4 June 2012

(2012-06-04)

(aged 77)

Saint Petersburg, USSR

Occupations
Singer
Years active
1955–2012
Associated acts
Prepinaki
Eduard Anatolyevich Khil  (often transliterated as Edward Hill); 4 September 1934 – 4 June 2012) was a Soviet baritone singer and a recipient of the People's Artist Award of the RSFSR. Khil became known to a western audience in 2010 when a 1976 recording of him singing a non-lexical vocable version of the song "I Am Glad, 'Cause I'm Finally Returning Back Home" (Я очень рад, ведь я, наконец, возвращаюсь домой) became an Internet meme, known as "Trololololololololololo" (with varying numbers of "lo"s) or "Trololo. 
.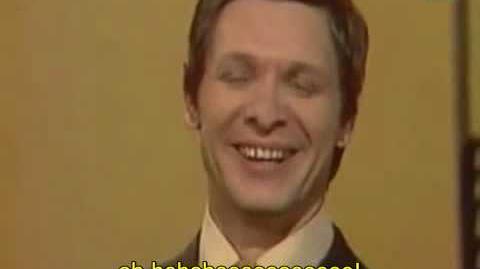 Community content is available under
CC-BY-SA
unless otherwise noted.