This 1983: Doomsday page is a Proposal.

It has not been ratified and is therefore not yet a part of the 1983: Doomsday Timeline. You are welcome to correct errors and/or comment at the Talk Page. If you add this label to an article, please do not forget to make mention of it on the main Discussion page for the Timeline.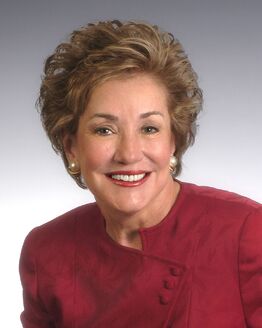 Overview
Elizabeth Dole (nicknamed "Liddy Dole") is an American politician who served in the administrations of Lyndon Johnson, Richard Nixon, Ronald Reagan, and George H. W. Bush. During Bush's presidency, she became a prominent member of the APA. She is married to former US Senator Bob Dole, who had been serving as Chair of the Senate Finance Committee in the early 1980's.
Pre-Doomsday
Mary Elizabeth Alexander Hanford was born on July 29, 1936 in Salisbury, North Carolina. She attended Duke University, where she majored in Political Science and graduated with distinction. Dole campaigned on behalf of John F. Kennedy in the 1960 election and was hired to work in the White House during Lyndon Johnson's tenure as President. When Nixon replaced Johnson in the White House, Dole was one of the few Johnson Administration members who stayed on, and served as deputy assistant to President Nixon for consumer affairs. Her supervisor was Virginia Knauer, who became a friend and mentor to Liddy. In 1972, Knauer introduced Liddy to the man who would become her husband, Bob Dole.
Bob Dole was serving as a US Senator from Kansas at the time. Elizabeth and Bob married in 1975.
Doomsday
On the evening of Sunday September 25, 1983, Bob and Elizabeth Dole were relaxing at home, when they received an urgent call from the Secret Service, warning them of an imminent Soviet attack. As Elizabeth was a member of the Cabinet and thus part of the presidential line of succession, the Secret Service deemed it essential to the continuity of government protocols to ensure that she was safe. The Secret Service told the Doles to get ready to leave. A helicopter arrived shortly afterwards to pick the Doles up and take them to a secure location.
The Doles were airlifted to the secure facility at Mount Weather, with much of the rest of President Reagan's administration. The Doles remained at Mount Weather with the President and other Cabinet members for several months until the spring of 1984, when Reagan and Vice President Bush (who was sheltering with his staff at the Greenbrier) decided to evacuate from North America.
The Doles and the rest of the administration initially flew on Air Force One to Mexico City, where Reagan and Bush met in person to discuss their next steps. During the Mexico City meeting, it was decided that for security reasons, the Cabinet should travel in separate planes, with some traveling aboard Air Force One with President Reagan, and some traveling with Vice President Bush aboard Air Force Two. Secretary Dole was assigned to Air Force Two, and her husband was naturally to go with her.
It was a twist of fate that would ultimately save their lives.
When Air Force Two arrived in Australia, Prime Minister Bob Hawke sadly informed the Americans that the RAAF had lost contact with Air Force One somewhere over the Pacific. After days went by and it became clear that President Reagan had been lost, George Bush was sworn in as the 41st President of the United States. The surviving Cabinet members, including Secretary Dole along with Senator Dole, were present at the swearing-in ceremony.
Life and work in the American Provisional Administration
President Bush immediately asked each surviving Cabinet members to remain in their posts, and each one agreed to do so. As Secretary of Transportation, Secretary Dole was asked to assist in the transportation of American refugees, and also to help the military supervise the Gathering Order.