Eric VII is Denmark's shortest reigning monarch, ascending the throne in March 1426 and dying seven months later in October.
While his father, Eric VI, spent his time extending Denmark's authority over Pomerania the young prince Eric was groomed for government with a steady if unimaginative stewardship of Holstein. However his father had grand plans for his son. In 1421 he arranged the marriage of Eric to the heiress of Viken-Svealand, Elizabeth of Viken, potentially making most of Scandinavia an Estridsson property and subject to Eric's rule.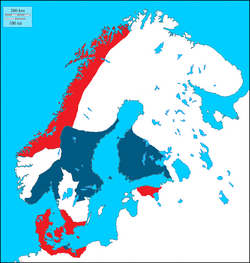 Eric succeeded to the throne in March 1426 following the death of his father and three weeks later the couple celebrated the birth of their son, Eric of Rugia. The lords in both Denmark and Elizabeth's own lands probably now expected a constant stream of heirs to which the couple's lands could be apportioned out to. However it was not to be. Three months after his coronation at the wedding of one of his lords Eric was taken ill. He would never recover and died in bed on 4th October.
Desperate for stability in the face of building hostility from Germany the Danish lords chose to accept the status quo rather face a potentially messy struggle for the crown. The infant Eric of Rugia would be proclaimed king but matters of government would be maintained by a council of regency headed by Elizabeth.
Eric married Elizabeth of Viken in 1421. They had only one child:
Eric VIII (1426-1478), married Joanna of Oldenburg
Ancestors of Eric VII of Denmark (The Kalmar Union)
 

 

 

 

 

 

 

 

 

 

 

 

 

 

 

 

 

 

16. Cnut VII of Denmark

 

 

 

 

 

 

 

8. Eric V of Denmark

 

 

 

 

 

 

 

 

 

 

 

17. Karin of Finland

 

 

 

 

 

 

 

4. Valdemar II of Denmark

 

 

 

 

 

 

 

 

 

 

 

 

 

 

18. Eberhard II of Württemberg

 

 

 

 

 

 

 

9. Matilda of Württemberg

 

 

 

 

 

 

 

 

 

 

 

19. Elizabeth von Henneberg-Schleusingen

 

 

 

 

 

 

 

2. Eric VI of Denmark

 

 

 

 

 

 

 

 

 

 

 

 

 

 

 

 

 

20. Magnus I, Earl of Viborg

 

 

 

 

 

 

 

10. Olaf II, Earl of Viborg

 

 

 

 

 

 

 

 

 

 

 

21. Elizabeth of Lund

 

 

 

 

 

 

 

5. Ingeborg Olafsdotter

 

 

 

 

 

 

 

 

 

 

 

 

 

 

22. Frederick I, Count of Tecklenburg

 

 

 

 

 

 

 

11. Richardis of Tecklenburg

 

 

 

 

 

 

 

 

 

 

 

23. Richardis of Plesse

 

 

 

 

 

 

 

1. Eric VII of Denmark

 

 

 

 

 

 

 

 

 

 

 

 

 

 

 

 

 

 

 

 

24. Gediminas of Lithuania

 

 

 

 

 

 

 

12. Algirdas of Lithuania

 

 

 

 

 

 

 

 

 

 

 

25. Jewna

 

 

 

 

 

 

 

6. Wladyslaw II of Poland

 

 

 

 

 

 

 

 

 

 

 

 

 

 

26. Alexander I of Tver

 

 

 

 

 

 

 

13. Uliana Alexandrovna of Tver

 

 

 

 

 

 

 

 

 

 

 

27. Anastasia of Halych

 

 

 

 

 

 

 

3. Jadvyga of Poland

 

 

 

 

 

 

 

 

 

 

 

 

 

 

 

 

 

28. Charles I of Hungary

 

 

 

 

 

 

 

14. John I of Hungary

 

 

 

 

 

 

 

 

 

 

 

29. Elizabeth of Poland

 

 

 

 

 

 

 

7. Jadwiga of Poland

 

 

 

 

 

 

 

 

 

 

 

 

 

 

30. Vladislav Kotromanić

 

 

 

 

 

 

 

15. Catherine of Bosnia

 

 

 

 

 

 

 

 

 

 

 

31. Jelena Šubić

 

 

 

 

 

 
The Kalmar Union TL Articles
Nations
Timelines
Military
Miscellaneous
The Kalmar Union