Federation of Italic Nations
Federazione delle Nazioni Italiche

Headquarters
Corso Monforte 47, Milan, Milan
Official languages
Italian
Spanish
French
German
Ladin
Leaders
 - 
Secretary-General
Simonetta Saliera (since 2015)
Establishment
1977
 - 
Adoption of the Lira
2000 
The Federation of Italic Nations is an organization that includes all the nations that are culturally considered Italic, mostly on the Italian Peninsula.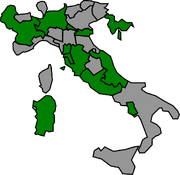 Members
¹Has the Lira as currency.
*Left the Federation on 25 June 2016; decision will be officialized on 25 December 2017.
See also
Community content is available under
CC-BY-SA
unless otherwise noted.