This 1983: Doomsday page is a Stub.
Even though it is part of the 1983: Doomsday Timeline, its creator or creators have more work to do before it can be complete. You are welcome to give suggestions at the Talk Page.
Gaelic Football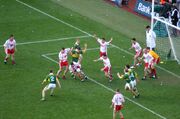 Gaelic football is a form of football that originated in former Ireland and has roots going back to the 14th century. It is contested on a rectangular field by two sides of 15 players each, and has similarities to association football. The notable differences are in the number of players per side; the ball can be dribbled and struck by hand; and goals are worth one point if sent over the crossbar of the goal, three if sent under the crossbar into the net.
The game is overseen by the Gaelic Athletic Association and is played almost exclusively in the former Ireland portion of the Celtic Alliance. It remains the most popular sport in former Ireland.
There are ongoing attempts by the GAA to establish the sport in the rest of the Celtic Alliance, but has not been able to overcome the historic support for association football in former Scotland, Wales, France and England.
Australian Rules Football
Australian Rules football is a form of football played on a oval-shaped field between two sides of 18 players each, with four goal posts (the middle two being the tallest of the four) on each end of the field. The ball can be advanced by kicking, handballing or dribbling, and any part of the body can be used. Goals (worth three points) are scored by propelling the ball through the two middle posts. Behinds (worth one point) are scored when the ball is propelled between a middle post and the adjacent, shorter side post.
The highest level of the sport was managed by the Victorian Football Association up to Doomsday. Afterwards, supporters in the surviving areas of the New South Wales and Victoria states fought to keep the sport alive. They formed the Victorian Rules Football Association in 1985, and formed local competitions across Victoria, New South Wales, Canberra Territory, Tasmania, South Australia and Queensland. They also successfully lobbied for government-granted status as an Australian heritage sport, and subsequent aid stemming from that distinction.
The VRFA changed its name to the Australian Football League in 1990, with its premier league beginning play the next year with clubs in Canberra, Geelong, Newcastle, Brisbane, Hobart and Adelaide. Clubs have subsequently been established in Jervis Bay, New Zealand, Western Australia and Papua New Guinea. Two traveling teams sponsored by the AFL, Melbourne Legacy FC and Fitzroy Legacy FC, played until they were relocated to Darwin and Bunbury, respectively, in 2005.
The sport is exclusively played in the ANZC, Papua New Guinea, Tonga and Fiji. Efforts to export Australian Rules to areas where the ANZC has ongoing contact and relations began in 2006.
Community content is available under
CC-BY-SA
unless otherwise noted.