The following Russian America page is under construction.

Please do not edit or alter this article in any way while this template is active. All unauthorized edits may be reverted on the admin's discretion. Propose any changes to the talk page.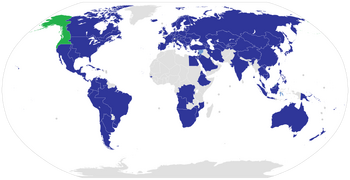 This article will list the foreign relations of Alaska. The Alaskan Democratic Federative Republic generally has positive diplomatic relations with the majority of the world, and is viewed positively among those nations which have no formal relations. All-in-all, Alaska has very positive relations with all nations of the Americas, Europe, the Non-Aligned Movement, Oceania, and the nations which were once part of the Russian Empire and the Soviet Union. Based on diplomatic relations and public opinion, the majority of Alaskans view the Russian Federation and the United States of America as being Alaska's closest allies.
Russia
Diplomatic relations between Alaska and Russia began in December 1991, shortly after the collapse of the Soviet Union. As a former colony of the Russian Empire, both nations have cultural and demographic ties on par with other former European colonies. Alaska declared their independence from Russia in 1917, which was only recognized following the rise of the Bolsheviks later that year. Throughout the Cold War, Alaska was an early opponent to the expansion of communism, culminating in poor relations with the Soviet Union throughout the period. From the 1960s onward, Alaska's policies with the USSR focused more on neutrality rather than being closer with the United States (often being considered a buffer state between the two superpowers). During this period, the majority of Soviet immigrants would settle in Alaska, helping to ease relations by the 1970s. With the collapse of communism during the 1980s, bilateral relations began to increase to pre-Cold War levels.
Alaska and Russia are mutual members of the Eurasian-North American Numbering Plan (EANANP), the Kontinental Hockey League (KHL), and Russkoslovie. Alaska hosts an embassy in Moscow, while Russia hosts an embassy in New Archangel.
United States
Community content is available under
CC-BY-SA
unless otherwise noted.