While there is evidence that the Europeans reached Fortunia before the Chinese, when the Norse came and called it Vinland, the common people in Europe was unawared of this continent before the Chinese sailors began to arrive to the European ports.
The name Fortunia was coined in Spain, probably as an interpretation of the Chinese word Fútxēu, or by the gold the Chinese exploited from the continent. This name is used in most European languages.
This Chinese World article is a stub

The creator will need time to complete it. You are welcome to give suggestions in the talk page, or even directly editing this page. Please be bold and correct any inaccuracies such as typos or bad orthography.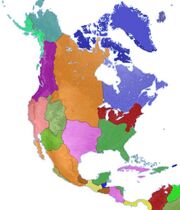 Nations
(list of countries in Fortunia in the Chinese World timeline) (Some names are *here* names)
Central Fortunia (Isthmic and Carib)
North Fortunia (Central and East)
North Fortunia (South and West)
Nation
Capital
Language(s)
Cultural sphere
Notes

Alaska

*

Japan

Arizona

*

British Columbia

*
Russia

California

*
Ispania

Guadalajara

*
China

Meshko

Sonora

*

Veracruz

*
South Fortunia (North and West)
Nation
Capital
Language(s)
Cultural sphere
Notes

Colombia

*
Ispania

Orinoquia

*

Tawantinsuyu

Japan

Venezuela

*
Arabia
South Fortunia (South and East)
| Nation | Capital | Language(s) | Cultural sphere | Notes |
| --- | --- | --- | --- | --- |
| Brazil | | | Ispania | |
| Mapu | | | | |