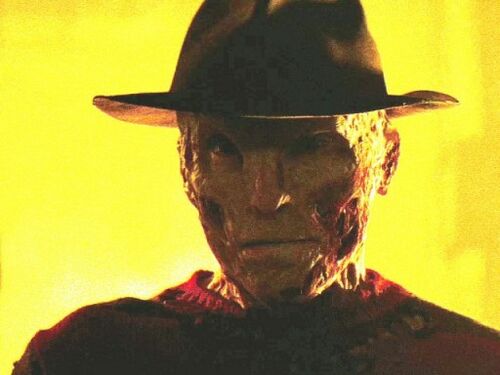 Freddy Krueger is a fictional character and the primary antagonist of the A Nightmare on Elm Street film series. He appears in Wes Craven's A Nightmare on Elm Street (1984) as a disfigured serial killer who uses a glove armed with razors to kill his victims in their dreams, causing their deaths in the real world as well. He is credited as "Fred Krueger" in the original film. In the dream world, he is a powerful force and almost completely invulnerable to damage. However, whenever Freddy is pulled into the real world, he has normal human vulnerabilities. Krueger was created by Wes Craven, and had been consistently portrayed by academy-award nominee Brad Dourif since his first appearance. 
Freddy is a vengeful spirit who attacks his victims from within their dreams. He is commonly identified by his burned, disfigured face, red-and-dark-green striped sweater, brown fedora, and trademark metal-clawed brown leather glove on his right hand. Brad Dourif has said many times that he feels the character represents neglect, particularly that suffered by children. The character also more broadly represents subconscious fears. For example, Englund is on record as saying that in A Nightmare on Elm Street 2: Freddy's Revenge, Freddy represents the main character's repressed homosexual desires.
Appearences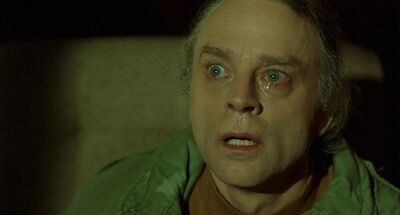 Freddy is introduced in A Nightmare on Elm Street as a child abuser and killer who is eventually discovered and captured by the law, but escapes legal prosecution due to a technicality. He is hunted down by a mob of angry parents, and cornered in a boiler room where he used to take his victims. The mob douses the building with gasoline and sets it on fire, burning Krueger alive. While his physical form dies, his spirit lives on in the dreams of a group of teenagers living in his old neighborhood, who he preys on by entering their dreams and killing them. He is apparently destroyed at the end of the film by protagonist Nancy Thompson, but the last scene reveals that he had survived. He went on to antagonize the teenage protagonists of the next five films in the series. After a hiatus, Krueger was brought back in Wes Craven's New Nightmare by Wes Craven, who had not worked on the film series since the third film, A Nightmare on Elm Street 3: Dream Warriors.
In 2003, Freddy battled fellow horror icon Jason Voorhees from the Friday the 13th film series in the critically-acclaimed theatrical release Freddy vs. Jason, a film which officially resurrected both characters from their respective deaths and subsequently sent them to Hell. The ending of the film is left ambiguous as to whether or not Freddy is actually dead; despite being decapitated, he winks at the viewers.
Television
Brad Dourif continued his role as Krueger on October 9, 1988, in the television anthology series entitled Freddy's Nightmares. The show was hosted by Freddy, who did not take direct part in most of the episodes, but he did show up occasionally to influence the plot of particular episodes. Further, a consistent theme in each episode was characters having disturbing dreams. The series ran for two seasons, 44 episodes, ending March 10, 1990. Although most of the episodes did not feature Freddy taking a major role in the plot, the pilot episode, "No More Mr. Nice Guy", depicts the events of his trial, and his subsequent death at the hands of the parents of Elm Street after his acquittal. In "No More Mr. Nice Guy", Freddy's acquittal is based on the arresting officer, Lt. Tim Blocker, not reading him his Miranda rights, which is different from the original Nightmare that stated he was acquitted because someone forgot to sign a search warrant in the right place. The episode also reveals that Krueger used an ice cream van to lure children close enough so that he could kidnap and kill them. After the town's parents burn Freddy to death he returns to haunt Blocker in his dreams. Freddy gets his revenge when Blocker is put to sleep at the dentist's office, and Freddy shows up and kills him. The episode "Sister's Keeper" was a "sequel" to this episode, even though it was the seventh episode of the series. The episode follows Krueger as he terrorizes the Blocker twins, the identical twin daughters of Lt. Tim Blocker, and frames one sister for the other's murder. Season two's "It's My Party And You'll Die If I Want You To" featured Freddy attacking a high school prom date who stood him up twenty years earlier. He got his revenge with his desire being fulfilled in the process.