Timeline: Central World
OTL equivalent: Alaska

Flag
Coat of Arms

Location of Free State of Alaska (Central World)

Capital
Anchorage
Largest city
Anchorage
Other cities
Junea
Language
  official
 
English, Japanese
  others
Chinese, Russian, Spanish
Religion
  main
 
Christians
  others
Taoist
Currency
Alaskan Yen
Organizations
Observer member of GEACOP
The Free State of Alaska is a country of the coast of Far Eastern Republic in the American Continent. It borders Canada, Far Eastern Republic and Japan.
History
The first European contact with Alaska occurred in 1741, when Vitus Bering led an expedition for the Russian Navy aboard the St. Peter. After his crew returned to Russia Bering Sea otter pelts judged to be the finest fur in the world, small associations of fur traders began to sail from the shores of Siberia toward the Aleutian islands. The first permanent European settlement was founded in 1784, and the Russian-American Company carried out an expanded colonization program during the early to mid-1800s.
Purchase from Russia (1867)
Alaska's second largest city, Juneau. New Archangel on Kodiak Island was Alaska's first capital, but for a century under both Russia and the U.S. Sitka was the capital. The Russians never fully colonized Alaska, and the colony was never very profitable. William H. Seward, the U.S. Secretary of State, negotiated the Alaskan purchase with the Russians in 1867 for $7.2 million. Alaska was loosely governed by the military initially, and was unofficially a territory of the United States from 1884 on.
In the 1890s, gold rushes in Alaska and the nearby Yukon Territory brought thousands of miners and settlers to Alaska. Alaska was granted official territorial status in 1912. At this time the capital was moved to Juneau.
WWII and State Independence
During World War II, the Aleutian Islands Campaign focused on the three outer Aleutian Islands – Attu, Agattu and Kiska – that were invaded by Japanese troops and occupied between June 1942 and August 1943. Unalaska/Dutch Harbor became a significant base for the U.S. Army Air Corps and Navy submariners.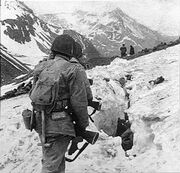 The U.S. Lend-Lease program involved the flying of American warplanes through Canada to Fairbanks and thence Nome; Soviet pilots took possession of these aircraft, ferrying them to fight the German invasion of the Soviet Union. The construction of military bases contributed to the population growth of some Alaskan cities.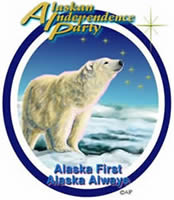 On 1946, after Allied collapse in WW2, the Japanese signed the Treaty of Fresno in which the United States recognized the puppet Kingdom of Hawaii and the Free State of Alaska as sovereign states.
As a country, the Free State of Alaska could organize its own government. Lynette Clark, chairperson of the Alaskan Independence Party, nominated Joe Volger as President of the Free State of Alaska. Since then many of the Presidents have been from that party. They established a presidential term of four years with one re-election of two more years. They also were incorporated as an observer member to GEACOP, having very good relations with Japan and Hawaii.
Today

Since 2008 Chuck Baldwin has been the president of the Free State of Alaska. Since he was elected on November 7th, 2008 Chuck has worked to improve life cost of the people. He also has improved exterior relationships with other countries.
Foreign Relations
The Free State of Alaska has had very good relations with the GEACOP members, specially with Japan and Hawaii.
State symbols
State Motto: North to the Future
Nicknames: "The Last Frontier" or "Land of the Midnight Sun" or "Seward's Icebox"
State bird: Willow Ptarmigan, adopted by the Territorial Legislature in 1955. It is a small (15–17 inches) Arctic grouse that lives among willows and on open tundra and muskeg. Plumage is brown in summer, changing to white in winter. The Willow Ptarmigan is common in much of Alaska.
State fish: King Salmon, adopted 1962.
State flower: wild/native Forget-Me-Not, adopted by the Territorial Legislature in 1917. It is a perennial that is found throughout Alaska, from Hyder to the Arctic Coast, and west to the Aleutians.
State fossil: Woolly Mammoth, adopted 1986.
State gem: Jade, adopted 1968.
State insect: Four-spot skimmer dragonfly, adopted 1995.
State land mammal: Moose, adopted 1998.
State marine mammal: Bowhead Whale, adopted 1983.
State mineral: Gold, adopted 1968.
State song: "Alaska's Flag"
State sport: Dog Mushing, adopted 1972.
State tree: Sitka Spruce, adopted 1962.
State dog: Alaskan Malamute, adopted 2010.
State soil: Tanana,adopted unknown.
Cities
The three main cities in Alaska are Anchorage (its capital), Juneau, and Fairbanks.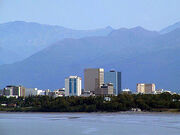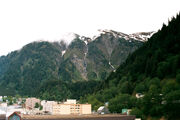 Economy
The Trans-Alaska Pipeline transports oil, Alaska's most important export, from the North Slope to Valdez. Pertinent are the heat pipes in the column mounts.The 2007 gross state product was 44.9 billion AY (Alaskan Yen), 45th in the nation. Its per capita personal income for 2007 was 40,042 AY, ranking 15th in the nation. The oil and gas industry dominates the Alaskan economy, with more than 80% of the state's revenues derived from petroleum extraction. Alaska's main export product (excluding oil and natural gas) is seafood, primarily salmon, cod, Pollock and crab.
Agriculture represents only a fraction of the Alaskan economy. Agricultural production is primarily for consumption within the state and includes nursery stock, dairy products, vegetables, and livestock. Manufacturing is limited, with most foodstuffs and general goods imported from elsewhere.
Employment is primarily in government and industries such as natural resource extraction, shipping, and transportation. Military bases are a significant component of the economy in both Fairbanks and Anchorage. Federal subsidies are also an important part of the economy, allowing the state to keep taxes low. Its industrial outputs are crude petroleum, natural gas, coal, gold, precious metals, zinc and other mining, seafood processing, timber and wood products. There is also a growing service and tourism sector. Tourists have contributed to the economy by supporting local lodging.
Energy
Alaska oil reserves peaked in 1978 and have declined 60% thereafter. Alaska has vast energy resources. Major oil and gas
reserves are found in the Alaska North Slope (ANS) and Cook Inlet basins. According to the Energy Information Administration, Alaska ranks second in the nation in crude oil production. Prudhoe Bay on Alaska's North Slope is the highest yielding oil field in the United States and on North America, typically producing about 400,000 barrels per day (64,000 cu m). The Trans-Alaska Pipeline can pump up to 2.1 million barrels (330,000 cu m) of crude oil per day, more than any other crude oil pipeline in the United States. Additionally, substantial coal deposits are found in Alaska's bituminous, sub-bituminous, and lignite coal basins. The United States Geological Survey estimates that there are 85.4 trillion cu ft (2420 cu km) of undiscovered, technically recoverable gas from natural gas hydrates on the Alaskan North Slope. Alaska also offers some of the highest hydroelectric power potential in the country from its numerous rivers. Large swaths of the Alaskan coastline offer wind and geothermal energy potential as well.Alaska oil production peaked in 1988 and has declined 65% since. Alaska's economy depends heavily on increasingly expensive diesel fuel for heating,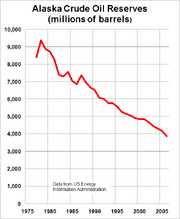 transportation, electric power and light. Though wind and hydroelectric power are abundant and underdeveloped, proposals for state-wide energy systems (e.g. with special low-cost electric interties) were judged uneconomical (at the time of the report, 2001) due to low (0.50 AY/Gal) fuel prices, long distances and low population. The cost of a gallon of gas in urban Alaska today is usually 0.30–0.60 AY higher than the national average; prices in rural areas are generally significantly higher but vary widely depending on transportation costs, seasonal usage peaks, nearby petroleum development infrastructure and many other factors. Alaska accounts for one-fifth (20 percent) of domestically produced United States oil production. Prudhoe Bay (North America's largest oil field) alone accounts for 8% of the U.S.
domestic oil production.
Permanent Fund
The Alaska Permanent Fund is a legislatively controlled appropriation established in 1976 to manage a surplus in state petroleum revenues from the recently constructed Trans-Alaska Pipeline System. From its initial principal of 734,000 AY, the fund has grown to 40 billion AY as a result of oil royalties and capital investment programs.
Starting in 1982, dividends from the fund's annual growth have been paid out each year to eligible Alaskans, ranging from 331.29 AY in 1984 to 3,269.00 AY in 2008 (which included a one-time 1200 AY "Resource Rebate"). Every year, the state legislature takes out 8 percent from the earnings, puts 3 percent back into the principal for inflation proofing, and the remaining 5 percent is distributed to all qualifying Alaskans. To qualify for the Alaska State Permanent Fund one must have lived in the state for a minimum of 12 months, and maintain constant residency.
Cost of living
The cost of goods in Alaska has long been higher than in the contiguous 48 states. This has changed for the most part in Anchorage and to a lesser extent in Fairbanks, where the cost of living has dropped somewhat in the past five years. Federal government employees, workers and active-duty military members, receive a Cost of Living Allowance usually set at 25% of base pay because, while the cost of living has gone down, it is still one of the highest in the country.
The introduction of big-box stores in Anchorage, Fairbanks (Wal-Mart in March 2004), and Juneau also did much to lower prices. However, rural Alaska suffers from extremely high prices for food and consumer goods, compared to the rest of the country due to the relatively limited transportation infrastructure. Many rural residents come into these cities and purchase food and goods in bulk from warehouse clubs like Costco and Sam's Club. Some have embraced the free shipping offers of some online retailers to purchase items much more cheaply than they could in their own communities, if they are available at all.
Agriculture
Due to the northern climate and steep terrain, relatively little farming occurs in Alaska. Most farms are in either the Matanuska Valley, about 40 miles (64 km) northeast of Anchorage, or on the Kenai Peninsula, about 60 miles (97 km) southwest of Anchorage. The short 100-day growing season limits the crops that can be grown, but the long sunny summer days make for productive growing seasons. The primary crops are potatoes, carrots, lettuce, and cabbage. Farmers exhibit produce at the Alaska State Fair. "Alaska Grown" is used as an agricultural slogan.
Alaska has an abundance of seafood, with the primary fisheries in the Bering Sea and the North Pacific, and seafood is one of the few food items that is often cheaper within the state than outside it. Many Alaskans fish the rivers during salmon season to gather significant quantities of their household diet while fishing for subsistence, sport, or both.
Hunting for subsistence, primarily caribou, moose, and Dall sheep is still common in the state, particularly in remote communities. An example of a traditional native food is Akutaq, the Eskimo ice cream, which can consist of reindeer fat, seal oil, dried fish meat and local berries.
Most food in Alaska is transported into the state from "outside", and shipping costs make food in the cities relatively expensive. In rural areas, subsistence hunting and gathering is an essential activity because imported food is prohibitively expensive. The cost of importing food to villages begins at 7 AY¢ per pound (15 AY¢/kg) and rises rapidly to 50 AY¢ per pound (1.10 AY/kg) or more. The cost of delivering a seven-pound gallon of milk is about 3.50 AY in many villages where per capita income can be 20,000 AY or less. Fuel for snow machines and boats that consume a couple of gallons per hour can exceed 8.00 AY per gallon.
Transportation
Roads
Alaska has few road connections.The state's road system covers a relatively small area of the state, linking the central population.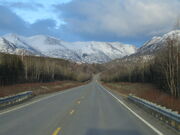 centers and the Alaska Highway, the principal route out of the country through Canada. The city of Juneau, is not accessible by road, only a car ferry, which has spurred several debates over the decades about moving the capital to a city on the road system, or building a road connection from Haines. The western part of Alaska has no road system connecting the communities with the rest of Alaska.The Susitna River bridge on the Denali Highway is 1,036 feet (316 m) long.One unique feature of the Alaska Highway system is the Anton Anderson Memorial Tunnel, an active Alaska Railroad tunnel recently upgraded to provide a paved roadway link with the isolated community of Whittier on Prince William Sound to the Seward Highway about 50 miles (80 km) southeast of Anchorage. At 2.5 miles (4.0 km) the tunnel was the longest road tunnel in North America until 2007. The tunnel is the longest combination road and rail tunnel in North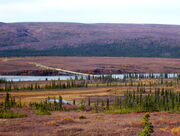 America.
Rail
Alaska Railroad "Glacier Discovery" train.Built around 1915, the Alaska Railroad (ARR) played a key role in the development of Alaska through the 20th century. It links north Pacific shipping through providing critical infrastructure with tracks that run from Seward to Interior Alaska by way of South Central Alaska, passing through Anchorage, Eklutna, Wasilla, Talkeetna, Denali, and Fairbanks, with spurs to Whittier, Palmer and North Pole. The cities, towns, villages, and region served by ARR tracks are known statewide as "The Railbelt". In recent years, the ever-improving paved highway system began to eclipse the railroad's importance in Alaska's economy.
The railroad, though famed for its summertime tour passenger service, played a vital role in Alaska's development, moving freight into Alaska while transporting natural resources southward (i.e., coal from the Usibelli coal mine near Healy to Seward and gravel from the Matanuska Valley to Anchorage).
The Alaska Railroad was one of the last railroads in North America to use cabooses in regular service and still uses them on some gravel trains. It continues to offer one of the last flag stop routes in the country. A stretch of about 60 miles (100 km) of track along an area north of Talkeetna remains inaccessible by road; the railroad provides the only transportation to rural homes and cabins in the area; until construction of the Parks Highway in the 1970s, the railroad provided the only land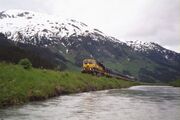 access to most of the region along its entire route.
In northern Southeast Alaska, the White Pass and Yukon Route also partly runs through the State from Skagway northward into Canada (British Columbia and Yukon Territory), crossing the border at White Pass Summit. This line is now mainly used by tourists, often arriving by cruise liner at Skagway. It featured in the 1983 BBC television series Great Little Railways.
Marine transport
Most cities, towns and villages in the state do not have road or highway access; the only modes of access involve travel by air, river, or the sea.
Alaska's well-developed state-owned ferry system (known as the Alaska Marine Highway) serves the cities of Alaska Panhandle, the Gulf Coast and the Alaska Peninsula. The system also operates a ferry service from Bellingham, Washington and Prince Rupert, British Columbia in Canada through the Inside Passage to Skagway. The Inter-Island Ferry Authority also serves as an important marine link for many communities in the Prince of Wales Island region of Southeast and works in concert with the Alaska Marine Highway.
In recent years, large cruise ships began creating a summertime tourism market, mainly connecting the Pacific Northwest to Southeast Alaska and, to a lesser degree, towns along the north gulf coast. Several times each summer, the population of Ketchikan sharply rises for a few hours when two ships dock to debark more than a thousand passengers each while four other ships lie at anchor nearby, waiting their turn at the dock.
Air transport
Alaska Airlines Boeing 737 airliner.Cities not served by road, sea, or river can be reached only by air, foot, dogsled, or snowmachine accounting for Alaska's extremely well-developed bush air services—an Alaskan novelty. Anchorage itself, and to a lesser extent Fairbanks, are served by many major airlines. Because of limited highway access, air travel remains the most efficient form of transportation in and out of the state. Anchorage recently completed extensive remodeling and construction at Ted Stevens Anchorage International Airport to help accommodate the upsurge in tourism (in 2000–2001, the latest year for which data is available, 2.4 million total arrivals to Alaska were counted, 1.7 million by air travel; 1.4 million were visitors). [1][2]Alaska Airlines Boeing 737 airliner.
Regular flights to most villages and towns within the state that are commercially viable are challenging to provide, so they are heavily subsidized by the federal government through the Essential Air Service program. Alaska Airlines is the only major airline offering in-state travel with jet service (sometimes in combination cargo and passenger Boeing 737-400s) from Anchorage and Fairbanks to regional hubs like Bethel, Nome, Kotzebue, Dillingham, Kodiak, and other larger communities as well as to major Southeast and Alaska Peninsula communities.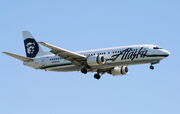 The bulk of remaining commercial flight offerings come from small regional commuter airlines such as Era Aviation, PenAir, and Frontier Flying Service. The smallest towns and villages must rely on scheduled or chartered bush flying services using general aviation aircraft such as the Cessna Caravan, the most popular aircraft in use in the state. Much of this service can be attributed to the Alaska bypass mail program which subsidizes bulk mail delivery to Alaskan rural communities. The program requires 70% of that subsidy to go to carriers who offer passenger service to the communities.
Many communities have small air taxi services, such as Hudson's Air Service, Kantishna Air Taxi, and Talkeetna Air Taxi. These operations, though now catering primarily to tourists, originated from the demand for customized transport to remote areas. Perhaps the most quintessentially Alaskan plane is the bush seaplane. The world's busiest seaplane base is Lake Hood, located next to Ted Stevens Anchorage International Airport, where flights bound for remote villages without an airstrip carry passengers, cargo, and many items from stores and warehouse clubs. Alaska has the highest number of pilots per capita of any U.S. state: out of the estimated 663,661 residents, 8,550 are pilots, or about one in 78.
Other transport
Another Alaskan transportation method is the dogsled. In modern times (that is, any time after the mid-late 1920s), dog mushing is more of a sport than a true means of transportation. Various races are held around the state, but the best known is the Iditarod Trail Sled Dog Race, a 1150-mile (1850 km) trail from Anchorage to Nome (although the mileage varies from year to year, the official distance is set at 1049 miles). The race commemorates the famous 1925 serum run to Nome in which mushers and dogs like Togo and Balto took much-needed medicine to the diphtheria-stricken community of Nome when all other means of transportation had failed. Mushers from all over the world come to Anchorage each March to compete for cash, prizes, and prestige. The "Serum Run" is another sled dog race that more accurately follows the route of the famous 1925 relay, leaving from the community of Nenana (southwest of Fairbanks) to Nome.
In areas not served by road or rail, primary transportation in summer is by all-terrain vehicle and in winter by snowmobile or "snow machine," as it is commonly referred to in Alaska.
Community content is available under
CC-BY-SA
unless otherwise noted.