French India
Établissements français de l'Inde
Timeline: Twilight of a New Era
OTL equivalent: French India

Territorial flag of French India (flown along the French flag)
National emblem of the French Republic and French Union since 1935

Location of French India

Motto
Liberté, Égalité, Fraternité (French)
("Liberty, Equality, Fraternity")

Anthem
"La Marseillaise"
Capital
(and largest city)
Pondichéry
Other cities
Karikal, Yanaon, Mahé and Chandannagar
Language
  official
 
French (official)
  others
Tamil, Telugu, Malayalam and Bengali
Religion
  main
 
Secular state
  others
Roman Catholic, Hinduism, Islamism and Protestant.
Ethnic Groups
  main
 
Tamils, Telugu and Malayalis
  others
Europeans, Chinese and Vietnamese
Government
colonial federation (urban communities)
President of French Republic
Governor General
Area
526 km²
Population
362.000 (est.) 
Established
1759
Currency
French Indian rupee (1875-1925), Franc d'outre-mer (FOM, 1925)
Organizations
French Union
French India (French: Établissements français de l'Inde, informally Inde française) is part of the French Union in India. It consists of territories and cities of Pondichéry, Karikal and Yanaon (all on the Coromandel Coast), Mahé (Malabar coast) and Chandannagar in Bengal.
History
Along Indochina and Kwang-Chou-Wan, French India is considered one of the jewels of the French Union and former Colonial Empire. It is also know as the French Riviera of the East (La Côte d'Azur de l'Est).
French India also included several loges (subsidiary trading stations that all European East India companies maintained in a number of Indian towns), but after 1816 these were to be nominally French only. The Anglo-French Agreement for the Territories of India of 1937 transferred their sovereignty to British India in exchange of territorial consolidation of Pondicherry.
The main cities socially distinguish between a French Quarter (Ville Blanche) and an Indian quarter (Ville Noire). French India follows the policy of Franco-Europeanization. Indians who adopt French culture, including fluent use of the French language and conversion to Christianity, are granted equal French citizenship, including suffrage (assimilation).
Tourism its the chief source of income and services development of French India. The agricultural production consists of rice, earth-nuts, tobacco, betel nuts and vegetables.
Important educational institutions are the French Institute of Pondicherry, Pondicherry Polytechnic Institute, Pondicherry Centre of the École française d'Extrême-Orient. The Lycée Français de Pondichéry is the main secondary school. A branch of the Alliance Française is noteworthy
Primary education is mandatory and given out in French or local Indian languages - Tamil (Pondicherry and Karikal), Telugu (Yanaon), Malayalam (Mahé) and Bengali (Chandannagar).
There are policies of restricting or prohibiting the use of other native languages, besides the four mentioned above in the French territories.
Administration of French India
French India is organized has a federation of overseas territorial communities (collectivités territoriales d'outre mer CTOM). Before 1937 it French India was organized in 17 communes like Metropolitan France.
At local level each CTOM has a Territorial President (voted by the territorial counci for a four-year term) and a territorial council (Conseil territorial) elected for a four-year term. The CTOM appoint or elect representatives to the General Council (Conseil géneral). This body advises and assists the Governor General, that resides in Pondichéry. The Executive Council, appointed by the Governor General, administers all common services and affairs. The Governor-General appoints and dismisses the Préfet-Délégué of the CTOM, that serves as his representative, ensures public order, application of decrees and ordinances, and carries out his instructions.
French India also elects deputies and senators to the French parliament and votes in the presidential elections since 1935, restricted to registered French citizens.
The legal system is the same of France, with adaptations to French India. There are two Tribunaux d'instance (at Pondichéry and Karikal) and one Cour d'appel (at Pondichéry).
French India was organized until 1937 in 17 communes as follows: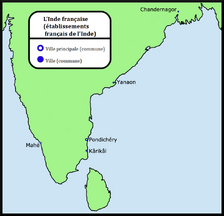 Pondichéry (8 communes),
Karikal (6 communes),
Yanaon (1 commune), all on the Coromandel Coast,
Mahé on the Malabar coast (1 commune), and
Chandannagar in Bengal (1 commune).
The reform of 1937 consolidated the communes in 5 CTOM. These five CTOM are Pondichéry, Karikal, Yanaon, Mahe and Chandannagar.
| Territorial Community (CTOM) | Area (km²) | Population | Languages |
| --- | --- | --- | --- |
| Pondichéry | 290 | 190 000 | French (official) and Tamil |
| Karikal | 160 | 80 000 | French (official) and Tamil |
| Yanaon | 8.69 | 10 000 | French (Official) and Telugu |
| Mahe | 20 | 20 000 | French (Official) and Malayalam |
| Chandannagar | 17 | 30 000 | French (Official) and Bengali |
Politics
The main political groups are Indian nationalism, represented by the Congress Karma Parishad (Congress Action Association) linked to the Indian National Congress. The Pro French Group is represented by the Communist Party of French India (Parti communiste de l'Inde française), French India Socialist Party (Parti socialiste de l'Inde française), French India Social Republicans (Social républicain de l'Inde française) and National Radical-Republican Front (Front national radical-républicain).
---
Community content is available under
CC-BY-SA
unless otherwise noted.