George W. Bush
44th President of the United States
Incumbent
Assumed office:
January 20, 2009 -
Vice President:
Colin Powell
Preceded by:
John McCain
46th Vice President of the United States
In office:
January 20, 2001 - January 20, 2009
President:
John McCain
Preceded by:
Al Gore
Succeded by:
Colin Powell
46th Governor of Texas
In office:
January 17, 1995 – December 21, 2000
Lieutenant:


Bob Bullock (1995 – 1999)
Rick Perry (1999 – 2000)
Preceded by:
Ann Richards
Succeded by:
Rick Perry
Biography
Born:
July 6, 1946 (age 62)
New Haven, Connecticut
Nationality:
American
Political party:
Republican
Spouse:
Laura Bush
Children:
Barbara Pierce Bush and Jenna Welch Hager
Residence:
White House (official)
Crawford, Texas (private)
Alma mater:
Yale University
Harvard Business School
Occupation:
Businessman (oil, baseball), Politician
Religion:
United Methodist
Signature:
Military service
Allegiance:
United States of America
Service/branch:
Texas Air National Guard
Alabama Air National Guard
Years of service:
1968 – 1973
Rank:
First Lieutenant
George Walker Bush (born July 6, 1946) is the forty-fourth and current President of the United States. He served as the forty-sixth Governor of Texas from 1995 to 2000 and as the Vice President of the United States in the administration of John McCain (2001–2009).
Bush is the eldest son of former U.S. President George H. W. Bush and Barbara Bush. After graduating from Yale University, Bush worked in his family's oil businesses. He married Laura Welch in 1977 and unsuccessfully ran for the United States House of Representatives shortly thereafter. He later co-owned the Texas Rangers baseball team before defeating Ann Richards to become Governor of Texas in 1994. In 2000 Bush unsuccessfully sought the Republican nomination for President against John McCain. After being defeated he was chosen to be John McCain's running mate and on November 2, 2000 was elected Vice President of the United States of America.
In 2008, Bush launched a successful campaign to succeed McCain as president, defeating Democratic opponent Hillary Clinton. Foreign policy drove the Bush presidency; operations were conducted in Syria and Zimbabwe while he was a strongly supported the Concert of Democracies in demanding that North Korea and Iran ceased its nuclear weapons programs. Domestically, Bush followed President McCain's economic and domestic reforms, including energy independence, education and health care reforms.
Early years
George Walker Bush was born in New Haven, Connecticut on July 6, 1946. Bush was the first child of George H. W. Bush and Barbara Bush (born Pierce).
He was raised in Midland and Houston, Texas, with his four siblings, Jeb, Neil, Marvin, and Dorothy. Another younger sister, Robin, died from leukemia at the age of three in 1953. Bush's grandfather, Prescott Bush, was a Senator from Connecticut, and his father served as U.S. President from 1989 to 1993.
Education
Bush, as a child, was not accepted for admission by St. John's School in Houston, Texas, a prestigious private school. Instead, he attended The Kinkaid School, the private school from which St. John's had broken away.
Bush attended Phillips Academy, an all-boys private high school in Andover, Massachusetts, where he played baseball and during his senior year was the head cheerleader. Following in his father's footsteps, Bush attended Yale University from 1964 to 1968, receiving a Bachelor's degree in history in 1968. As a college senior, Bush became a member of the secretive Skull and Bones society. By his own characterization, he was an average student.
In 1970, Bush applied to, but was not accepted into, the University of Texas School of Law. Beginning in the fall of 1973, Bush attended Harvard University, where he earned an MBA.
Texas Air National Guard
In May 1968, Bush enlisted in the Texas Air National Guard. After training, he was assigned to duty in Houston, flying Convair F-102s out of Ellington Air Force Base. Critics allege that Bush was favorably treated due to his father's political standing, citing his selection as a pilot and his irregular attendance. In June 2005, the United States Department of Defense released all the records of Bush's Texas Air National Guard service, which remain in its official archives.
In late 1972 and early 1973, he drilled with the Alabama Air National Guard, having moved to Memphis to work on the unsuccessful U.S. Senate campaign of Republican Winton M. Blount. In October 1973, Bush was discharged from the Texas Air National Guard and transferred to the Air Force inactive reserves. He was discharged from the Air Force Reserve on November 21, 1974, at the end of his six-year service obligation.
Bush had multiple accounts of alcohol abuse. In one instance, Bush was arrested near his family's summer home in Kennebunkport, Maine for driving under the influence of alcohol at the age of thirty on September 4, 1976. He pleaded guilty, was fined $150, and had his Maine driver's license suspended until 1978. Bush gave up alcohol in 1986.


Marriage and family
In 1977, he was introduced by friends at a backyard barbecue to Laura Welch, a schoolteacher and librarian. Bush proposed to her after a three-month courtship and they were married on November 5 of that year. The couple settled in Midland, Texas. Bush left his family's Episcopal Church to join his wife's United Methodist Church. In 1981, Laura Bush gave birth to twin daughters, Jenna and Barbara; they graduated from high school in 2000 and from the University of Texas at Austin and Yale University, respectively, in 2004.
Bush says his wife has had a stabilizing effect on his private life, and attributes to her influence his 1986 decision to stop drinking. While Governor of Texas, Bush said of his wife, "I saw an elegant beautiful woman who turned out not only to be elegant and beautiful, but very smart and willing to put up with my rough edges, and I must confess has smoothed them off over time."


Early career
In 1978, Bush ran for the House of Representatives from Texas's 19th congressional district. His opponent, Kent Hance, portrayed him as being out of touch with rural Texans; Bush lost the election by 6,000 votes. He returned to the oil industry, and began a series of small, independent oil exploration companies. He created Arbusto Energy, and later changed the name to Bush Exploration. In 1984, his company merged with the larger Spectrum 7, and Bush became chairman. The company was hurt by a decline in oil prices, and as a result, it folded into Harken Energy. Bush served on the board of directors for Harken. Questions of possible insider trading involving Harken have arisen, though the Securities and Exchange Commission's (SEC) investigation of Bush concluded that he did not have enough insider information before his stock sale to warrant a case.
Bush moved his family to Washington, D.C. in 1988 to work on his father's campaign for the U.S. presidency. He worked as a campaign adviser and served as liaison to the media; he assisted his father by campaigning across the country. Returning to Texas after the successful campaign, he purchased a share in the Texas Rangers baseball franchise in April 1989, where he served as managing general partner for five years. He actively led the team's projects and regularly attended its games, often choosing to sit in the open stands with fans. The sale of Bush's shares in the Rangers in 1998 brought him over $15 million from his initial $800,000 investment.
In December 1991, Bush was one of seven people named by his father to run his father's 1992 Presidential re-election campaign; Bush's title was "campaign advisor". The prior month, Bush had been asked by his father to tell White House chief of staff John H. Sununu that he should resign.
Governor of Texas: 1995-2000
As Bush's brother, Jeb, sought the governorship of Florida, Bush declared his candidacy for the 1994 Texas gubernatorial election. His campaign focused on four themes: welfare reform, tort reform, crime reduction, and education improvement. Bush's campaign advisers were Karen Hughes, Joe Allbaugh, and Karl Rove.
After easily winning the Republican primary, Bush faced popular Democratic incumbent Governor Ann Richards. In the course of the campaign, Bush pledged to sign a bill allowing Texans to obtain permits to carry concealed weapons. Governor Richards had vetoed the bill, but Bush signed it after he became governor. According to senior editor Joshua Green, the race "...featured a rumor that she was a lesbian, along with a rare instance of such a tactic's making it into the public record—when a regional chairman of the Bush campaign allowed himself, perhaps inadvertently, to be quoted criticizing Richards for "appointing avowed homosexual activists" to state jobs.". Bush won the general election with 53.5 percent against Richards' 45.9 percent.
Bush used a budget surplus to push through Texas's largest tax-cut ($2 billion). He extended government funding for organizations providing education of the dangers of alcohol and drug use and abuse, and helping to reduce domestic violence.
In 1998, Bush won re-election with a record 69 percent of the vote. He became the first governor in Texas history to be elected to two consecutive four-year terms. For most of Texas history, governors served two-year terms; a constitutional amendment extended those terms to four-years starting in 1975. In his second term, Bush promoted faith-based organizations and enjoyed high approval ratings. He proclaimed June 10, 2000 to be Jesus Day in Texas, a day on which he "urge[d] all Texans to answer the call to serve those in need."
Critics contended that during his tenure, Texas ranked near the bottom in environmental evaluations, but supporters pointed to his efforts to raise the salaries of teachers and improved educational test scores.
Throughout Bush's first term, national attention focused on him as a potential future presidential candidate. Following his re-election, speculation soared. Within a year, he decided to seek the Republican nomination for the presidency.
2000 presidential campaign
Main article: United States presidential election, 2000
On June 12, 1999, while Governor of Texas, Bush announced his candidacy for President of the United States. With no incumbent running, Bush entered a large field of candidates for the Republican Party presidential nomination. Along with Bush, that field of candidates consisted of John McCain, Alan Keyes, Steve Forbes, Gary Bauer, Orrin Hatch, Elizabeth Dole, Dan Quayle, Pat Buchanan, Lamar Alexander, John Kasich and Robert C. Smith.
Bush portrayed himself as a compassionate conservative. He campaigned on a platform that included increasing the size of the United States Armed Forces, cutting taxes, improving education, and aiding minorities. By early 2000, the race had centered on Bush and McCain.
Bush won the Iowa caucuses, and although he was heavily favored to win the New Hampshire primary, he trailed John McCain by 33% and lost that primary. However, the major battle of the Republican primaries was the the South Carolina primary, which was exceptionally controversial. An anonymous smear campaign began against McCain, delivered by push polls, faxes, e-mails, flyers, and audience plants. The smears claimed that McCain had fathered a black child out of wedlock (the McCains' dark-skinned daughter was adopted from Bangladesh), that his wife Cindy was a drug addict, that he was a homosexual, and that he was a "Manchurian Candidate" who was either a traitor or mentally unstable from his North Vietnam POW days.
The Bush campaign strongly denied any involvement with the attacks, with George W. Bush condemning the smear campaign. Incensed, McCain ran ads accusing Bush of lying and comparing the governor to Bill Clinton, which Bush said was "about as low a blow as you can give in a Republican primary". McCain pulled an upset by defeating Bush in the South Carolina primary by the razor thin margin of 47 percent to 46 percent. After the South Carolina primaries all candidates except Bush and McCain had either dropped out of the race or suspended their campaigns, and by March all had endorsed one of the two remaining candidates.
After a long series of hard fought contests George W. Bush suspended his campaign on March 4 due to Super Tuesday loses in February. Three days later he endorsed John McCain, while also appologising for the smear campaign, claiming he himself had nothing to do with it. His appology was vital in repairing the relation to a pre-primary level.
Vice Presidency: 2001-2009
As Vice President, Bush generally took on a low-profile while recognizing the constitutional limits of the office; he avoided decision making or criticizing McCain in any way. As had become customary, he and Laura Bush moved into the Vice President's residence at Number One Observatory Circle, a few blocks from the White House. The Bushes attended a large number of public and ceremonial events in their positions, including many state funerals, which became a common joke for comedians. Mrs. Bush found the funerals largely beneficial, saying, "George met with many current or future heads of state at the funerals he attended, enabling him to forge personal relationships that were important to President McCain." As the President of the Senate, Bush stayed in contact with members of Congress, and kept the president informed on occurrences on Capitol Hill.
On September 11, 2001 Bush was at his office in Washington D.C. when airliners hijacked by Islamist terrorists struck the World Trade Center towers in New York. He was immediately evacuated by Secret Service agents to the cellar of the building. Following the September 11, 2001 attacks, Bush remained physically apart from McCain for security reasons. For a period, Bush stayed at an "undisclosed location" (Blue Ridge Summit, Pennsylvania), out of public view.
In his position, Bush chaired a special task force that was the driving force of the McCain Administration's Emergency Plan for AIDS Relief and the American Education Advancement Act. He also influenced McCain to authorize U.S. military intervention in Haiti and Liberia to protect U.S. interests in 2003-2004, despite meeting criticism from both Republicans and Democrats.
McCain and Bush ran for reelection in 2004. The Democratic Party candidate was Howard Dean, the former Governor of Vermont. As foreign policy and the economy was the dominant theme throughout the election campaign, the McCain-Bush ticket could capitalize on their experience and popularity while Dean's campaign suffered from several miscues. As a result, he won the Vice Presidential debate against Evan Bayh.
Early into his second term as Vice President, Bush and his aides were planning a run for the presidency in 2008. By the end of 2006, a committee had been established and over four million dollars raised for Bush.
2008 presidential campaign
Main article: United States presidential election, 2008
Bush had been planning a presidential run since as early as 2006, and entered the Republican primary for President of the United States in October 2007. He was considered the frontrunner for the nomination, as he had a strong base within the party, financial support of most of the party establishment and received endorsements from both conservative and moderate Republicans, including senators Saxby Chambliss, Mitch McConnell and Fred Thompson, governors Arnold Schwarzenegger, Mitt Romney, Mike Huckabee and Piyush "Bobby" Jindal, former New York mayor Rudy Giuliani, retired generals James L. Jones and Norman Schwarzkopf, Jr., former First Lady Nancy Reagan, former President George H. W. Bush and the popular President John McCain.
Bush pledged to continue McCain's policies, with increased focus on issues such as education, energy, military reforms, continue the War on Terrorism and AIDS relief.
However, Bush got an unexpected challenger when Representative Ron Paul of Texas officially entered the race for the Republican candidacy for president on March 12, 2007. However, initial opinion polls during the first three quarters of 2007 showed Ron Paul consistently receiving support from 3% or less of those polled, and was thus not a serious threat to Bush.
Although the campaign was focused mainly on domestic issues, proposed reforms of Social Security and Medicare, health care, competing plans for tax relief, energy policy, defense and foreign policy (with the War on Terrorism in focus) was often at issue.
On May 17, 2008, with the general election campaign between Bush and Clinton heating up, Bush announced at a political gathering in Texas that he had chosen Secretary of State Colin Powell as his running mate, and that he had accepted the offer. The move was applauded by many Republicans, both the conservative and moderates, and analysts concluded that Bush's experience as Vice President and Governor of Texas and Powell's experience as Secretary of Defense would secure both domestic and foreign issues, and that the Bush-Powell ticket be a difficult team for the Democrats to defeat in November. In response to this, Clinton named John Edwards as her running mate two days later.
Bush's polls remained high during the spring and summer, and he appeared often with President McCain, who had a approval rating over 70%. On the other hand, Clinton's hopes for the presidency were trounced when her running mate John Edwards admitted on August 8 that he had had an extramarital affair during the campaign. The Democrats suffered a 8% drop in the polls as a result, and both Edwards himself and the party establishment urged Clinton to replace him.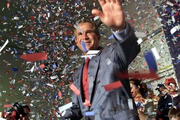 At the 2008 Republican National Convention in Saint Paul, Minnesota between September 1 - September 4, Bush was nominated as the Presidential Nominee while Powell was nominated as the Vice Presidential Nominee. At the Democratic National Convention in Denver, Colorado between August 25 – August 28, Clinton was nominated as the Presidential Nominee while Joe Biden was nominated as the Vice Presidential Nominee.
Despite the fact that Clinton had changed her vice presidential candidate, the damage had been done. While Bush, capitalizing on his advantage with voters on moral issues, surged ahead in the polls, Clinton's campaign kept dropping. In the first presidential debate at the University of Mississippi on September 26, 2008, Bush capitalized on his experience as Vice President, and won the debate. After a strong performance in the final two debates (October 7 at the Belmont University and October 15 at the Hofstra University) and the vice presidential debate (October 2 at the Washington University in St. Louis) by the Bush/Powell ticket, the race was by most analysts decided, with Bush at 54% and Clinton at 45%.
Bush defeated Clinton and her running mate, Joe Biden, in the Electoral College, by 298 to 240. In the nationwide popular vote, Bush took 53.6% of the ballots cast while Clinton received 45.7%. Bush became the first serving Vice President to be elected President since since his father George H. W. Bush won the election in 1988, and the second since Martin Van Buren in 1836.
Presidency
Bush was inaugurated on January 20, 2009, succeeding John McCain. He entered office in a different world than in 2000; with the terrorist attacks on September 11, 2001, and the focus on the international War on Terrorism.
Despite facing some criticism from some Washington politicians, Bush decided to keep many of the cabinet holders from the previous McCain administration, most notably Secretary of Defense Robert Gates and Chuck Hagel as Secretary of Veterans Affairs. Amongst the new cabinet members were Condoleezza Rice as Secretary of State and James L. Jones as National Security Advisor.
The Bush Cabinet
Office
Name
Term
President
George W. Bush
2009–present
Vice President
Colin Powell   
2009–present
Secretary of State
Condoleezza Rice
2009–present
Secretary of Treasury
Henry Paulson
2009–present
Secretary of Defense
Robert Gates*
2009–present
Attorney General
Debra W. Yang
2009–present
Secretary of the Interior
Newt Gingrich
2009–present
Secretary of Agriculture
Ed Schafer
2009–present
Secretary of Commerce
Donald Evans
2009–present
Secretary of Labor
Elaine Chao
2009–present
Secretary of Health and
Human Services
Mike Leavitt
2009–present
Secretary of Education
Bill Benett
2009–present
Secretary of Housing and
Urban Development
Mel Martinez
2009–present
Secretary of Transportation
Mary Peters
2009–present
Secretary of Energy
T. Boone Pickens*
2009–present
Secretary of Veterans Affairs
Chuck Hagel
2009–present
Secretary of Homeland Security
Tom Ridge*
2009–present
Chief of Staff
Andrew Card
2009–present
Administrator of the
Environmental Protection Agency
Stephen L. Johnson   
2009–present
Director of the Office of
Management and Budget
Mitch Daniels
2009–present
Director of the Office of
National Drug Control Policy
Rob Portman
2009–present
United States Trade Representative
John Walters
2009–present
*Remained from previous administration
Domestic policy
Economy
Following the economic policies of the McCain administration, he pledged to continue the Taxpayer Relief Act of 2001 which delivered a tax cut for 97% of Americans. This stimulated a slowing economy and created instant growth on both Wall Street and Main Street.
Under the McCain Administration, real GDP has grown at an average annual rate of 3.6 percent. The Dow Jones Industrial Average peaked in January 2007 at about 14,000, 30 percent above its level in January 2001. Unemployment originally rose from 4.2 percent in January 2001 to 5.1 percent in June 2003, but subsequently dropped to 4.1 percent as of July 2007. The cut in government spending had resulted in a drop of the national debt from US$5.6 trillion in 2000 to US$3.8 trillion in 2009.
Education and health
During the presidential election campaign and since entering office, Bush pledged to focus on educational priorities. As his predecessor, he increased funding for the National Science Foundation and National Institutes of Health in his first years of office, and created education programs to strengthen the grounding in science and mathematics for American high school students.
One of the administration's early major initiatives was the expansion of the "American Education Advancement Act" with the "No Child Left Behind Act", which aimed to further measure and close the gap between rich and poor student performance, provide options to parents with students in low-performing schools, and target more federal funding to low-income schools. This landmark education initiative was signed into law by President Bush in early 2009.
Environmental and energy policies
Also in Environmental and energy policies Bush pledged to continue the McCain administration's reforms of diminishing reliance on foreign oil (especially those of the Middle East) by reducing fossil fuel consumption and increasing alternative fuel production. Bush said that the U.S. dependence on foreign oil is "a major strategic vulnerability, a serious threat to our security, our economy and the well-being of our planet, which nations can use to their advantage much like the events in the early 1970s" explicitly connecting energy independence with national security, climate change, and the environment.
Foreign policy
Afghanistan
In his inaugural address, President Bush announced that he plans to continue the process begun by former President John McCain of focusing on humanitarian effors, rebuilding Afghanistan and retaining the Afghan National Army, as well as enaging Taliban insurgents on the ground. In January, about 3,000 U.S. soldiers from the 3rd Brigade Combat Team of the 10th Mountain Division, moved into the provinces of Logar and Wardak. The troops were the first wave of an expected surge of reinforcements originally ordered by John McCain and increased by Bush.
On February 10, the Bush administration announced that 17,000 additional troops would be deployed to the country in two brigades; the 2nd Marine Expeditionary Brigade and the 5th Brigade, 2nd Infantry Division, a Stryker Brigade. They also urged the other NATO/ISAF countries to engage the Taliban more actively, aiming at countries like Germany, Italy and Norway, saying that the U.S., British, Dutch, Canadian and Danish forces, and to a lesser extent the French forces, were those who were actively engaging the Taliban and thus had suffered the highest casualties. The U.S. commander in Afghanistan, General McKiernan, had called for as many as 30,000 additional Coalition troops, effectively increasing the number of 70,000 U.S. troops currently in the country.
Israel-Palestine conflict
On February 2, 2009, President Bush signed a memorandum "directing more than $20 million for 'urgent refugee and migration needs" in Gaza." The 2008-2009 Israeli-Gaza Conflict lasted from December 27, 2008 to January 18, 2009 when unilateral cease-fires were issued by both the Israeli government and Hamas. This cease-fire was shortly lived and sporadic fighting and attacks would continue to occur into the Bush administration. Israel completed its withdrawal from the Gaza Strip on January 21, 2009, one day after Bush was sworn in as President.
President Bush sent Special Envoy for Middle East peace George Mitchell on a 8-day tour of the Middle East starting on January 26, 2009 in which Mitchell met with the Palestinian President Mahmoud Abbas, Israeli Prime Minister Ehud Olmert and the Israeli army chief of staff Lt. General Gabi Ashkenaz to discuss the peace process along with other with stops in Egypt, Saudi Arabia, France and Britain where he met with various leaders.
Special Envoy for Middle East peace George Mitchell after holding talks in Ramallah with Palestinian President Abbas who is leader of Fatah which is at odds with Hamas, stated "To be successful in preventing the illicit traffic of arms into Gaza there must be a mechanism to allow the flow of legal goods, and that should be with the participation of the Palestinian Authority." Bush has also stated that "lasting peace requires more than a long cease-fire, and that's why I will sustain an active commitment to seek two states living side by side in peace and security."
Zimbabwe
Main article:Invasion of Zimbabwe (2009)
Following the chaotic implementation of the land reform by President Rubert Mugabe and his ZANU (PF) Party, Zimbabwe experienced a sharp decline in agricultural exports, traditionally the country's leading export producing sector. As a result, Zimbabwe experienced a severe hard-currency shortage, which has led to hyperinflation and chronic shortages in imported fuel and consumer goods. In 2002, Zimbabwe was suspended from the Commonwealth of Nations on charges of human rights abuses during the land redistribution and of election tampering. Life expectancy at birth for males in Zimbabwe has dramatically declined since 1990 from 60 to 37, among the lowest in the world. Life expectancy for females is even lower at 34 years. Concurrently, the infant mortality rate has climbed from 53 to 81 deaths per 1,000 live births in the same period. Currently, 1.8 million Zimbabweans live with HIV. By July 2008, the hyperinflation was as high as 231,000,000% while continuing to grow. On March 29, 2008, Zimbabwe held a presidential election along with a parliamentary election. The three major candidates were Robert Mugabe of the Zimbabwe African National Union - Patriotic Front (ZANU-PF), Morgan Tsvangirai of the Movement for Democratic Change (MDC), and Simba Makoni, an independent. The results of this election were withheld for several weeks, following which it was generally acknowledged that the MDC had achieved a significant majority of seats. However, Mugabe retained control and has not conceded the election results that would otherwise put him out of power. A provisional deal was reached on September 11, 2008, involving Tsvangirai chairing the council of ministers and Mugabe chairing a new national security council. By the following January it remained unimplemented due to ongoing disputes between the parties.
In late 2008, problems in Zimbabwe reached crisis proportions in the areas of living standards, public health and various public considerations. In December 2008 a major cholera outbreak occured, with an excess of 80,000 reported cases of cholera, of whom over 4,000 died. Despite pressure from SADC, the EU and COD in January 2009 to organize a Coalition cabinet consisting of ZANU-PF and MDC, President Robert Mugabe announced that he would organize a cabinet consisting of his own party (ZANU-PF) with or without support from Tsvangirai.
Bush, along with the African Union, the COD and its newly-appoined Secretary General John McCain, South Africa and the United Kingdom increased putting pressure on Zimbabwe, and Mugabe agreed to a power sharing deal with Tsvangirai, and on February 28 they signed a deal to end the violent political crisis. As provided, Robert Mugabe would remain president, Morgan Tsvangirai would become prime minister, the MDC would control the police, Mugabe's Zanu (PF) would command the Army, and Arthur Mutambara became deputy prime minister. Bush welcomed this, and hoped that this would be the first steps in the future of Zimbabwe.
However, he along with Kenyan Prime Minister Raila Odinga, British Prime Minister Tony Blair and UN and COD Secretary Generals Ban Ki-moon and John McCain respectively resumed their of the Mugabe regime. Following the assassination attempts on Tsvangirai on March 11, he called upon the UN Security Council twice to vote in favour of increased sanctions or the removal of Zimbabwe. He urged in partical Russian Dmitry Medvedev to support a possible UN operation. But When Russia and China voted against this on March 15, he stated that "the UN had once again been blocked by the unwillingnes of Russia and China." He also said that he would travel to Geneva to the COD summit on March 20 to vote on the issue of whether to intervene in the situation in Zimbabwe.
Meanwhile, Mugabe and the security forces under the control of ZANU-PF continued persecuting political opponents, including Prime Minister Tsvangirai's own party. By March 25, over 20 members of MDC-T had been killed while thousands had been imprisoned. The international community condemned the Mugabe regime, and their accusations were further reinforced by video evidence of the extremely poor conditions in the Zimbabwean prisons. By then, the reports of cases of cholera had rised to 89,000 while over 4,000 had died.
On March 30 Tsvangirai was almost killed in a drive-by shooting in Harare. Following the second assassination attempt open clashes between ZANU-PF and the military on one hand and the MDC-T on the other occcured, while Tsvangirai and his family was evacuated to South Africa, where he condemned the Mugabe regime, and called for international pressure to force him from power. In a second UN Security Council meeting whether to increase sanction or use military force to remove Mugabe. The motion was blocked by China on April 2, which was met by outrage in the international community. The COD declared that the UN had failed in intervening in Zimbabwe, and it was not up to the COD to solve the crisis.
Bush was the leading advocate along with McCain, Blair, Odinga, Sarkozy and Kgalema Motlanthe to remove Mugabe from power by use of force. On April 6, the first U.S. troops were deployed in the theatre, when the aircraft carrier USS George H. W. Bush reached the territorial waters of Mozambique. The same day, the 4th Brigade Combat Team of the 101st Airborne Division was flown in by transort aircrafts to Mozambique. Over the next week 25,000 U.S. soldiers with equipment were deployed in South Africa and Mozambique along their borders with Zimbabwe. The 1st and 3rd Brigade Combat Teams of the 1st Infantry Division was deployed in South Africa along the Zimbabwean border, while the 2nd, 3rd and 4th Brigade Combat Teams of the 3rd Infantry Division were deployed in Mozambique and Zambia, respectively. Meanwhile, Bush also authorized the USAF to assist the deployment of other CODAMIZ contingents, especially in the other African contingents. The U.S. troops represented 43% of the coalition's 70,830 troops in Zimbabwe.
As coalition troops advanced into Zimbabwe several major engagements ensued before U.S troops captured the Zimbabwean capitol of Harare. Following major clashes with Mugabe loyalists, U.S led troops secured Zimbabwe's major highways. Coa
Syria
Sudan
Iran
North Korea
Russia
Venezuela
China
States admitted to the Union
Puerto Rico: July 4, 2009
Public approval
After his transition period, Bush entered office with an approval rating of 62%. At the end of his first week, 63% of respondents in a Gallup poll approved of how Bush was handling his job, matching the early approval ratings of Dwight D. Eisenhower. Throughout early February polls showed scattered approval ratings: 56% (CBS News), 58% (USA Today/Gallup), 59% (Gallup), and 56% in an outlier poll (CNN/Opinion Research). Gallup reported the congressional address in late February, his renewed support for Afghanistan and his tough stance on Zimbabwe had boosted his approval from a term-low of 59% to 65%.
In March polls placed the president's personal approval rating at 56% (Zogby), 58% (NBC News/Wall Street Journal), and 61% (Newsweek). The same outlets reported job approvals of 52%, 58%, and 60% respectively. Gallup reported in early April that Bush's job approval rating had been stable since mid-February, averaging 58%.
In April 2009, a Fox News poll showed that 68% approved on how Bush was doing as President, while a CBS/NY Times poll showed 55% approval. Gallup reported mid-April that Bush's first quarter approval rating averaged 58%. A Rasmussen poll showed 55% of voters at least somewhat approving of the President's job so far, with 43% disapproving.
However, following the outbreak of the U.S.-led, COD-mandated invasion of Zimbabwe in mid-April, his approval ratings increased on all opinion polls. Polls showed approval ratings of 66% (CBS News), 67% (USA Today/Gallup), 68% (Gallup), 67% in an outlier poll (CNN/Opinion Research) and 72% (Fox News).
Public image
Raised in West Texas, Bush's accent, vacations on his Texas ranch, and penchant for country metaphors contribute to his folksy, American cowboy image. "I think people look at him and think John Wayne," says Piers Morgan, editor of the British Daily Mirror. The effect of this image is to polarize the public. Both supporters and detractors have pointed to his country persona as reasons for their support or criticism.
Post-presidential career
See also
Community content is available under
CC-BY-SA
unless otherwise noted.