God's Left Wing
Key Pages
Nations and Geopolitics
Nations

Holy Roman Empire

Wars
People, Culture and Other
A timeline by Rex
Welcome to the world of God's Left Wing - a world where the Magisterial Reformation is greatly hindered by the premature death of Luther and the Radical Reformation, led by Thomas Müntzer, makes greater inroads in the Sixteenth Century.
Point of Divergence
Between his evening prayers on October 30th, 1517, and his rising for the day ahead on the 31st, Elector Frederick III of Saxony had a restless night. He had a series of dreams - visions - which he would share the next morning with his brother, Duke John.
The conversation between the Elector and his brother was recorded for posterity:
Duke John: "Is it a good or a bad dream?"
The Elector: "I know not; God knows."
Duke John: "Don't be uneasy at it; but be so good as tell it to me."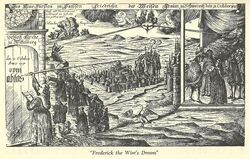 Frederick then shared three visions that he had experienced in the night. First, the Prince-Elector "dreamed that Almighty God sent me a monk, who was a true son of the Apostle Paul." In the dream, the monk wrote on the doors of the castle church in Wittenberg with a large pen "so large that its end reached as far as Rome" and knocked the tiara of the Pope off his head.
Frederick then described his second dream: in which the Pope ordered the Elector to oppose the monk who wielded the pen. In the third and final dream, all of the nobles of the Holy Roman Empire rushed to Rome to break the pen but, "as if it had been made of iron" it would not move - and indeed, "a large number of other pens had sprung out of the long pen of the monk."
Of course, later that day, on All Saints' Eve 1517, a young monk by the name of Martin Luther would post his Disputation on the Power of Indulgences, the Ninety-five Theses, on the door of the church of Wittenberg castle.
Not long after, in mid-April 1521 at the Diet of Worms, Martin Luther was called upon to renounce his writings following his January 3rd excommunication by the Pope. Luther refused to "recant anything, since it is neither safe nor right to go against conscience." His temporal lord, Elector Frederick III, sympathetic to Luther following his dream, arranged for Luther to have safe passage to Wittenberg and then hid him away in Wartburg Castle.
The rest of the Reformation, as they say, is history.
But what if Elector Frederick III had a restful night's sleep on the evening of October 30th-31st, 1517? What if he was less inclined to grant Martin Luther, the excommunicated heretic, safe passage back to Wittenberg? Indeed, what if Luther was executed shortly following the Diet of Worms?
Dramatis Personæ
The Magisterials
The Lutherans
John Calvin
The Radicals
Andreas Karlstadt
Zwickau Prophets
Anabaptists

Balthasar Hubmaier
Caspar Schwenckfeld
Hans Denck
John of Leiden
Conrad Grebel (in contrast with Zwingli)

Unitarians
The Catholics
Johann Tetzel
Johann Eck
Ignatius Loyola
Thomas Wolsey (Pope following Leo X's death)
Nobles
Frederick III of Saxony
Charles V
Priorities
Finish Müntzer outline
Finish Zwingli outline (incorporating Müntzer's influence in the anabaptist controversy)
Melancthon
Grebel
Mühlhausen (city)
Karlstadt
Zwickau Prophets
Charles V and Imperial government (founded in 1521)
Iconoclasm