This is my take on altering the course of history. It's mainly focused on Europe and making the Jagiellon dynasty survive.
Catalysts
-Sigismund I the Old's and Bona Sforza's second son, Wojciech I Olbracht doesn't die the same day he was born.
-Louis II Jagiellon doesn't die during the battle of Mohács.
Outcome
The House of Jagiellon comes to power
It's the fifteenth century. Wojciech Olbracht is born on the 20th September 1527. In 1548 his father Sigismund I the Old dies and his brother Sigismund II August is elected as the King of Poland and Great Duke of Lithuania. At that time, Wojciech was not happy of this outcome and proposed his brother that he should receive a province of his own. Sigismund wasn't sure about this idea, but an idea popped up in his head. He was married to Barbara Radziwiłł, but a few years ago he was pursuing to marry Mary I of England. Negotiations regarding her and Wojciech's marriage have started, and Mary, visibly attracted to the Jagiellon, agreed to marry him. The couple married on 1st July 1552, infuriating the Habsburg family. This event marked the beginning of the Tudor-Jagiellon dynasty in Great Britain and strengthened the Catholic beliefs on the islands. King of England and Ireland Wojciech I Olbracht (known as Adalbert I Albert "the Eastern" and Mary Tudor had two sons, Charles I and Casimir I, of whom the first died in childhood.
In the meantime, the Battle of Mohács takes place on the 29 August 1526. In this timeline, Louis II Jagiellon survives the battle, however most of the Hungarian forces have been taken out in battle and Hungary loses a lot of its territory. Before the battle, Louis II was told by some of his underlings that the army he is trying to use in the battle uses obsolete methods, they proposed him some modern maneuvers. This didn't help too much; Hungary was in a state of disrepair. Louis II's survival led to him changing his mindset and, fearing he might end up the same way as his great uncle Ladislaus III. To prevent that, he immediately started negotiations with the Ottomans, not minding the disapproval of other Christian monarchs, he even proposed Hungary becoming a fief of the Ottoman Empire. This act was approved by his uncle Sigismund I, known for his peaceful nature and eagerness to keep good contacts with the Turks. The Sultan decided to finally go along and in return most of Hungary ended up being annexed by the Ottomans. Disappointed and abandoned by the nobility, Louis II agreed, which was sealed by the Treaty of Szeged in 1527.
Louis II and Mary of Austria had a son, Ladislaus III, born on the 8th December 1528. Since his early days he developed a hatred for Germans, especially Austrians, due to bad contacts with his mother and other Germans of his age. Now called "the Beaten", Louis II started suffering from severe depression, abused alcohol and started writing poetry, earning him another nickname, "the Lost Artist". Showing signs of mental disturbance, he slowly hid in the shadow and let his son do most of the ruling.
Ladislaus IV The Great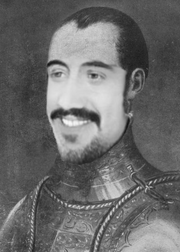 Ladislaus proved to be a great ruler with many talents. He fluently spoke Hungarian, Czech, Polish, Ruthenian, French, German, Italian and Latin, he also briefly knew Greek, Lithuanian and Turkish. Apparently he had a strange accent, possibly a lisp and a very deep, low-pitched voice. Since the beginning of his reign, the uncrowned king appeared to go for a more authoritarian approach. First thing he wanted to do was remove German influence from his realm. As soon as his mother died, he removed all of them and cut his contacts with the Habsburgs, outright insulting them by saying "It's terrible having incest blood in my veins". Ladislaus had only one ally - Poland and Lithuania. He had great relationships with Sigismund II Augustus. Due to his infertility, he decided to pave Ladislaus (known in Poland as IV) the way to the Polish-Lithuanian throne. Sigismund II merged the two kingdoms in 1569 and died in 1572, leading Ladislaus IV to ascend the Commonwealth's throne, as well as having Bohemia and Hungary secured. He married Catherine Bathory in 1554.
In the meantime Louis II commited suicide in 1566, sparking great controversy and disapproval in Europe. The shocked Ladislaus formally assumed the thrones of three countries - Bohemia, Hungary and the Commonwealth. The main issue he has been confronted with was the inefficient political system in his countries, taken over by the nobility who disallowed the king from most affairs. Known for his emotional approach to matters, Ladislaus started gathering his own personal army. He cautiously chose his soldiers, often using simple serfs, so as not to raise suspicion in the nobility (mostly of the Commonwealth). He had one goal - make sure his rule is safe and not shared by anyone. He took a lot of inspiration from history, of whom he was a very passionate reader, and also from Ivan IV of Russia, whom he saw as inspiration. The reason for why Ladislaus had such a sadistic side was because he learned that the nobility made his father a wreck and led to the destruction of Hungary. Fearing this might happen to Bohemia and the Commonwealth, he wanted to make sure no harm will happen to his realm, that wasn't populated solely by the nobles. King Ladislaus gladly supported cities and their autonomy, he also gave privileges to the serfdom to ease up the restrictions they had thanks to the nobility. A folk tale says that before he got married, Ladislaus had an affair with a poor peasant girl who died after half a year. Seeing her parents in a really sorry state, he wanted to make sure his people live well.
The nobility obviously wasn't happy of Ladislaus decisions and started questioning his actions. Their plans backfired however as Ladislaus prepared his personal army in case the nobles raise a revolt. What ignited the king was a short book written by Filippo Buonaccorsi (known in Poland as Filip Kallimach) known as "The Callimachian Advices". In it, the philosopher described his ideas on what to do in order to be an effective ruler, amongst them was completely wiping out the current nobility and replacing them with people who are obedient to the monarch.
Community content is available under
CC-BY-SA
unless otherwise noted.