Reclamation in progress
This 1983: Doomsday article is currently being updated by its writers. Please do not edit or expand upon this page as it has not been completed. Feel free to comment on the talk page.
Thank you for your cooperation.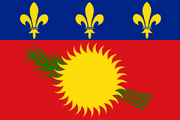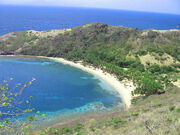 Overview
Guadeloupe (/ˌɡwɒdəˈluːp/; French pronunciation: ​[ɡwadəlup]; Antillean Creole: Gwadloup) was an insular region of France located in the Leeward Islands. It was together with Martinique, St. Martin, St. Barthelemy and French Guiana, Martinique, part of the outermost region of the EU. It is now a poorish island state in the Caribbean.
Languages
Metropolitan French (85% and official language), Guadeloupean Creole (98% and de facto language of everyday usage), Jamaican English (1%), Jamaican Patois (0.5%) American English (0.5%) and Haitian Creole (0.5%). The vast majority are bi lingual.
Geography
It has a land area of 1,628 square kilometres (629 square miles) and an estimated population of 389,132 as of January 2015
Guadeloupe's main islands are Basse-Terre, Grande-Terre, Marie-Galante, La Désirade, and the Îles des Saintes.
Climate
Guadeloupe has a tropical climate tempered by maritime influences and the Trade Winds (they were significant in the era of colonial sailing ships). We distinguish two seasons in Guadeloupe and the nearby islands.
History
Before Doomsday, the islands of Guadeloupe was an overseas region of France. They were not nuked in the war, but France's collapse caused much harm.
Contact with near by Martinique was never disrupted. Mexico informed the various Carrabin islands of the Doomsday event's global nature, thus explaining the month's apparent American, British, Dutch, Cuban and French inactivity; and the subsequent local confusion about there survival.
The governor declared martial law with in days as petrol and fuel oil riots broke out. A provisional government was founded after a fortnight from the island's local government that was in existence on the island before. They took responsibility for bringing the island into stability until France could be re-contacted (it never was until 2002).
The sudden ending of French aid, tourists, trade and imports ruined the archipelago's economy for several years. Fuel oil soon run out and a hard time known as the "years of starvation" occurred between 1983 and 1985 as the island tried to adapt to it's new circumstances. Mexico would help ease the Carabian island's suffering.
Martial law ended in 1987.
25 refugees came in 2001 from the Civil war (1996-2002).
An ambassador from Pays-Libres des Basques, La République Poitevine and Honduras arrived in 2002. Those from Eastern Texas , First Coast and Colombia turned up a year later. The September 6th-10th, 2017 Caribbean Hurricane killed 32 on the island and injured another 145.
Trade
A small amount of trade is conducted among the varicose island states of the Caribbean, especially neighboring territories of the former nation French Republic (Martinique, St. Martin, and St. Barthelemy). Trade is small, like the economy in general.
Agriculture
Sugar cane (the traditional export), bananas (the top export), eggplant, guinnep, noni, sapotilla, giraumon squash, yam, gourd, plantain, christophine, cocoa, jackfruit, pomegranate, and many varieties of flowers. Other vegetables and root crops are also cultivated for local consumption. They have a small fishing fleet, which catches fish, abalone and lobster. Mexico has invested slightly in some small business on the island.