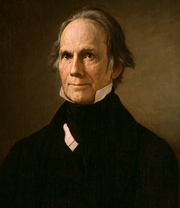 Henry Clay, Sr.
(April 12, 1777 – June 29, 1852) was a nineteenth-century American statesman and orator who represented
Kentucky
in both the House of Representatives and Senate. He served as Secretary of State from 1825 to 1829.
He was a dominant figure in both the First Party System to 1824, and the Second Party System after that. Known as "The Great Compromiser" and "The Great Pacifier" for his ability to bring others to agreement, he was the founder and leader of the Whig Party and a leading advocate of programs for modernizing the economy, especially tariffs to protect industry from international competition, a national bank, and internal improvements to promote canals, ports and railroads.
He was a leading war hawk and, according to historian Clement Eaton, was "more than any other individual" responsible for the War of 1812. Clay was also called "Henry of the West" and "The Western Star."
Although his multiple attempts to become president were unsuccessful, to a large extent he defined the issues of the Second Party System. He was a major supporter of the American System, and had success in brokering compromises on the slavery issue, especially in 1820 and 1850.
He was part of the "Great Triumvirate" or "Immortal Trio," along with his colleagues Daniel Webster and John C. Calhoun. In 1957, a Senate committee chaired by John F. Kennedy named Clay as one of the five greatest senators in U.S. history. In his early involvement in Illinois politics and as a fellow Kentucky native, Abraham Lincoln was a great admirer of Clay.
Alternate version of Clay have been discovered in the multiverse. Our timeline is one of the few where Clay did not become President of the United States of America:
---
Community content is available under
CC-BY-SA
unless otherwise noted.