Hillary Rodham Clinton
44th President of the United States
January 20, 2009 - January 20, 2017
Vice President:
Barack Obama
Succeeded by:
Barack Obama
Preceded by:
George W. Bush
Biography
Born:
October 26, 1947 (1947-10-26) (age 72)
Chicago, Illinois
Nationality:
American
Political party:
Democratic
Spouse:
Bill Clinton
Children:
Chelsea Clinton
Residence:
White House (official)
Chappaqua, New York (private)
Alma mater:
Wellesley College
Yale Law School
Occupation:
Lawyer
Religion:
United Methodist
Signature:
Hillary Diane Rodham Clinton (born October 26, 1947) was the forty-fourth President of the United States from 2009 to 2017. She is the first woman to hold the presidential office. As the wife of Bill Clinton, the 42nd President of the United States, she was the First Lady of the United States from 1993 to 2001. She was a United States Senator from New York from 2001 to 2008, when she was elected to the Presidency. She was inaugurated as President on January 20, 2009.
2008 Presidential election
Democratic primaries
As early as March 2008, Senator Clinton admitted to liking the idea of the "dream ticket"[1] - with only who would be on top left to decide. After handily winning the Ohio and Texas primaries, a string of wins brought her and Obama to an elected delegate tie until a sweeping victory in the Pennsylvania primary, after which Obama never recovered. On 20 May 2008, Obama conceded after the results of the Kentucky and Oregon primary results were in, polls successfully predicting that Oregon would be the last state Obama would carry. The concession was given in a joint appearance with Senator Clinton, who immediately announced her selection of Senator Obama as her running mate.
Clinton Presidential campaign
On November 4, 2008, Hillary Clinton defeated John McCain in the general election with 340 electoral votes to McCain's 198 and became the first Woman to be elected President of the United States, and Obama the first African-American Vice President. This also meant the Bush-Clinton dynasty would continue within the Presidency. On January 8, 2009, a joint session of the U.S. Congress certified the Electoral College votes, officially declaring that Clinton was elected President.
Presidency
The inauguration of Hillary Clinton as the forty-fourth President, and Barack Obama as Vice President, took place on January 20, 2009. The theme of the inauguration was "A New Birth of Freedom," commemorating the 200th anniversary of the birth of Abraham Lincoln. This date also meant the Presidency since 1989 was Bush/Clinton/Bush/Clinton.
On 24 March 2009, President Clinton addressed a joint session of congress for the first time to bring her economic recovery plan before the American people. She received mild criticism for pushing her trademark issue of health care, in addition to improvements in infrastructure and energy efficient technology.
On April 30, 2009, Supreme Court Justice David Souter unexpectedly announces his retirement from the court effective June 29, 2009. On May 26, 2009, President Clinton announces Court of Appeals judge for the 2nd circuit Sonia Sotomayor will be her nominee to replace David Souter. On August 6, 2009, Judge Sonia Sotomayor is confirmed by the Senate becoming America's first Hispanic Supreme Court Justice.
On June 12, 2009 Iranian President Mahmoud Ahmadinejad is defeated for reelection in a landslide by President of The Iranian Council of Arts and former Prime Minister Mir-Hossein Mousavi 55 percent to 25% with the remaining 24% going to two other candidates. President Clinton calls President-Elect Mousavi to congratulate him.
On 17 June 2009, on her way back to the White House from a meeting with Secretary Biden, the President fell and fractured her elbow. Rushed to George Washington University Hospital, she would later require surgery to repair it.[2]
On June 25, 2009, Music legend Michael Jackson dies of cardiac arrest in Los Angeles at the age of 50. President Clinton releases a statement Bill and I are deeply saddened to learn of the death of Michael Jackson. He was loved by millions for 45 years young and old across cultures, nations and continents. He broke down racial barriers and helped integrate the music world and changed the world. He will be sorely missed. His legacy will live and reign for ever and ever! May he keep singing for the angels above.
On October 8, 2009, Clinton signed the Matthew Shepard and James Byrd, Jr. Hate Crimes Prevention Act, a measure that expands the 1969 United States federal hate-crime law to include crimes motivated by a victim's actual or perceived gender, sexual orientation, gender identity, or disability.
On January 12, 2010 a 7.0 earthquake devastates Haiti's capital of Port Au Prince. Many buildings collapse including the Parliament, The Presidential Palace and many government ministries as well as the city's famed cathedral. President Clinton announces Haiti has suffered a disaster that is nothing short of catastrophic. Our hearts and prayers go out to the people of Haiti. She announces humanitarian aid will be sent to Haiti at once. She encourages all Americans to donate what they can to help the people of Haiti.
Energy Policy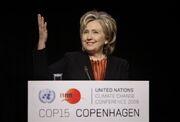 Having campaigned on a cleaner, "greener" energy policy, within Clinton's first 100 days in office she made it clear that becoming energy efficient would not only save the world, but improve the sagging economy. On September 30, 2009, the Clinton administration proposed new regulations on power plants, factories and oil refineries in an attempt to limit greenhouse gas emissions and to curb global warming.
===Foreign policy===
"With smart power, diplomacy will be the vanguard of foreign policy..."


—President Hillary Clinton, inaugural address, January 20, 2009.
Various names had been floated about her choice for Secretary of State, including Richard Holbrooke[3], Antonio Villaraigosa[4], Joe Biden and Bill Richardson. In December 2008, President-Elect Clinton announced Joe Biden for the State position, as well as several other key positions in the State Department and national security team.
She attended the April 2009 G-20 World Summit in London, as well as the 5th annual Summit of the Americas in Trinidad and Tobago. After talking with Venezuela's President Hugo Chavez at the summit, and some behind the scenes work by Secretary Biden, Chavez announced that he would reinstate the Venezuelan ambassador to the United States.
The following page is under construction.

Please do not edit or alter this article in any way while this template is active. All unauthorized edits may be reverted on the admin's discretion. Propose any changes to the talk page.
External links
Community content is available under
CC-BY-SA
unless otherwise noted.