Hungarian invasion of Czechoslovakia
Part of the Invasion of Czechoslovakia in World War II

Date
19 October – 4 November 1938
(2 weeks and 2 days)
Place

Slovakia and Carpathian Ruthenia, Czechoslovakia

Result
Decisive Axis victory
Territorial changes
Slovakia (Felvidék) and Carpathian Ruthenia annexed by Hungary

Belligerents
Hungary

---

Air support:
Nazi Germany

Czechoslovakia
Soviet Union
Foreign volunteers:

Yugoslavia
Romania

Commanders and leaders
Hugó Sónyi

---

Alexander Löhr

Ludvík Krejčí
Josef Votruba
Yakov Smushkevich
Strength
Hungary:

250,000 men
153 tankettes
292 aircraft

Czechoslovakia:

117,228 men
33,000 horses
438 guns
16 tanks

Soviet Union:

Foreign volunteers:

Casualties and losses
12,126 killed
41,383 wounded
121 missing

The Hungarian invasion of Czechoslovakia was a military operation carried out by the Kingdom of Hungary against the Republic of Czechoslovakia between 20 October and 4 November 1938. The operation marked the entrance of Hungary in World War II.
On 19 October 1938, the Slovak State (Slovak: Slovenský štát) was established in Banská Bystrica by Vojtech Tuka, the leader radical wing of the Hlinka's Slovak People's Party. That day, Horthy and the Prime Minister of Hungary issued a joint declaration that Czechoslovakia had ceased to exist, releasing Hungary from its obligations under the non-aggression pact and the Treaty of Trianon. According to the declaration Hungarian troops would act to "protect the Hungarians who live in Felvidék from the anarchy" of the War which had begun on 1 October. German and Polish troops had invaded the country.
Background
At the Paris Peace Conference following the conclusion of World War I, the Entente Powers signed the Treaty of Trianon with Hungary after the breakup of Austria-Hungary. Among other things, the treaty defined the border between Hungary and the newly created Republic of Czechoslovakia. Trianon reduced Hungary's size substantially from its size in Austria-Hungary. Transylvania was taken by Romania (103,093 km² and 5,257,467 inhabitants); Slovakia and Ruthenia became part of Czechoslovakia (61,633 km² and 3,517,568 inhabitants); while Croatia, Slavonia, and Vojvodina joined Yugoslavia (63,093 km² and 4,131,249 inhabitants). In total, Hungary lost 64% of its population, 73% of its raw materials and 70% of its territory.
During the interwar period Hungary agitated for a revision of the borders agreed in the Treaty of Trianon, and relations between Hungary and Czechoslovakia, Romania and Yugoslavia (also known as the Little Entente) were difficult. In May 1938 the strongly pro-German government of Kálmán Darányi fell and the new Prime Minister, Béla Imrédy, took a fresh look at Hungary's diplomatic situation. As the prospects of a German invasion of Czechoslovakia increased during the spring and summer of 1938, so did Hungary's appetite for its share in the event of a carve-up of Czechoslovakia; these revisionist ambitions were shared by Imrédy. In June and in July 1938, Hermann Göring told the Hungarian Ambassador to Germany, Döme Sztójay, that it "would be well if Hungary were at once to take an active part in any armed conflict between Germany and Czechoslovakia."
However, Imrédy was cautious: if Hungary participated in a military action against Czechoslovakia, it would be attacked by Yugoslavia and Romania. If the crisis escalated into a general war, Germany might be defeated and Hungary would be again on the losing side. Berlin was putting the Hungarians under increasing pressure to participate in an invasion. They were in particular deathly frightened by the prospect that, if they attacked Czechoslovakia, Yugoslavia would fulfill her treaty obligations and launch an attack across Hungary's southern border.
His government thus sought assurances from Yugoslavia that they would remain neutral should Hungary move against Czechoslovakia. In an effort to achieve a modus vivendi with Yugoslavia and Romania, Imrédy began to negotiate with the Little Entente powers, taking up the discussions of the previous year. On 22 August 1938, with the Bled Agreement, Czechoslovakia, Romania and Yugoslavia agreed to a revision of Trianon that recognized Hungary's rights to rearm in exchange for a declaration of non-aggression. Such long-sought international recognition allowed the reformed Magyar Királyi Honvédség (Royal Hungarian Army) and the Royal Hungarian Air Force (still an integral part of the army) to openly develop their structures and re-arm their units and ignore the restrictions imposed to it.
At the same time the Hungarian Regent, Admiral Miklós Horthy, was visiting Berlin and Kiel along with Prime Minister Imrédy and Foreign Minister Kálmán Kánya. While the Bled Agreement was welcomed by Italy, Germany was annoyed by Hungary's renunciation of the use of force. Hitler's offer of Slovakia and Carpatho-Ukraine if Hungary promptly joined the attack was ignored, with Horthy warning the Führer that the West would not remain indifferent, and that Britain would form a coalition that ultimately would defeat Germany. The regent, not without some reluctance, refused to be drawn any further. Horthy presented the idea of "restoring the old Hungary in a big war in a few years with the help of German troops". Hitler, however, was outraged by the rejection of his offer of a military alliance, and told Imrédy that he expected nothing from Hungary, but added a warning: "He who wanted to sit at the table must at least help in the kitchen." He also said that "neither wishes nor claims (of Hungary)" and "whether it wants to participate (in the action against Czechoslovakia) or not lies with them." Imrédy and Kanya remained cautious. They were unsure whether Yugoslavia would remain neutral in case of Hungarian aggression against Czechoslovakia, and they knew the Hungarian rearmament program needed at least a period of 1-2 years to prepare for war. Having second thoughts about compromising Hungary's territorial claims, Horthy convinced Kanya and Imrédy to abandon their objections, and concluded that Hungary would be prepared to intervene two weeks after a war had begun, provided by the condition that the powers of the Little Entente were not active and prepared to intervene in the conflict on the side of Czechoslovakia. Kanya also tried to reassure German Foreign Minister Joachim von Ribbentrop that "the Hungarian demands on Czechoslovakia were so great that she would not comply" with the Bled Agreement, and that the agreement would never come into force.
Plans for military action against Czechoslovakia
The first contacts for joint operations against Czechoslovakia arose during the visit of Göring to the Hungarian Regent Horthy and Prime Minister Gyula Gömbös de Jákfa in Budapest in June 1935. A few days later the Hungarian Chief of the General Staff, General Somkuthy, visited the German War Minister von Blomberg and the Chief of the Staff Ludwig Beck. Even then the continuation of the discussion between the interests of Hungary's revision of its neighbors and Germany's economic interests with the same states were clear. And so the Hungarians Blomberg recommended waiving revisions, only Hungary was an action against the Czechoslovakia. Amazingly the Hungarian General described Czechoslovakia, the most well-equipped and well-trained nation of the "Little Entente", as "our most vulnerable enemy." Despite intensive Hungarian wishes they came no closer to a agreement on German-Hungarian military cooperation. However, the OKH included in the 1936 war games that Hungary would participate in an attack on Czechoslovakia with a strength of 12 brigades and two cavalry divisions.
In September 1937, War Minister von Blomberg took up discussions with the Hungarian Minister of Defence during his visit of the German Autumn Manouevres about the prospects of their common war goals against Czechoslovakia. The following spring the Hungarian envoy von Stojay said that these talks were "somewhat dull." Ribbentrop knew the intentions of Hitler and behaved cautiously. On March 31 the Hungarian envoy asked the the Foreign Office, when "the general staff meetings for possible joint actions" against the ČSR would begin. Although the Germans wanted not to be specific on the matter, Göring recommended in early June the Hungarian envoy for Hungary's early participation in a war between Germany and the ČSR. The chief of the Oberkommando der Wehrmacht, Wilhelm Keitel, who visited Budapest on 14 June, would clarify things further.
When the Chief of the Yugoslav General Staff in the spring of 1938 met with his with his Czechoslovak colleagues in Brno, the Hungarian Chief of General Staff v. Rácz saw this as proof of the effectiveness of the alliance between the two countries. And in early May, the heads of operational departments of the "Little Entente" gathered to discuss possible reactions against Hungary. The Yugoslavs did not wish to enter a conflict against Germany, because they expected that Italy would enter the war on the side of Germany.
The talks requested by the General Staff were finally initiated on 6 September between the new Chief of the General Staff Halder and the Hungarian General Staff. Halder was doing at the express wish of Hitler no hints about the timing of the action. The attitude to win allies was strange, and the Hungarians were not better than Mussolini, who claimed they were not ready for a major European war. No wonder that Jodl already two days later noted that Hungary was "was at least in a good mood." In any event, the Hungarians were on the Reich Party Congress in "a angry mood, ... because the previous talks in Berlin had ended with no results."
When the Hungarian Prime Minister and Foreign Minister visited Hitler again on 20 September Hitler criticized Hungary for their "indecisive attitude." Two days later the British envoy to Hungary in Budapest warned against military action. Even Ciano exhorted on September 26 Hungary to show maximum restraint towards the Czechoslovakia, so that the Yugoslavs would not be obliged to abide by the agreements of the "Little Entente" to support Czechoslovakia.
Escalation and mobilization
Hungary did not feel itself strong enough to enforce its demands by military action. In a meeting of the Hungarian Supreme Defence Council on 20 September 1938, Lajos Fischer said that "in case of a German offensive, Czechoslovakia might attack Budapest, and the Hungarian Army was not strong enough to resist this." The Hungarian Army had only enough ammunition for 36 hours.
Despite this, on 26 September the Hungarians initiated a partial mobilization, giving the Royal Hungarian Army a strength of 190,000 ill-trained and ill-equipped men on the Slovak and Ruthenian borders, ready to invade Czechoslovakia in case of war between Germany and Czechoslovakia. After Munich, the Hungarians had remained poised threateningly on the Slovak border.They were clearly engaged in a bluff, but it was a bluff the Germans had encouraged, and one that they would have been obliged to support militarily if the much larger, better trained and better equipped Czechoslovak Army chose to fight. The Czechoslovak army had built 2000 small concrete emplacements along the border wherever there was no major river obstacle.
German invasion of Czechoslovakia
The Allied governments declared war on Germany on 3 October but failed to provide any meaningful support. Despite some Czechoslovak successes in minor border battles, German technical, operational and numerical superiority forced the Czechoslovak armies to retreat from the borders towards the internal Czech-Slovak border in the Western Carpathian Mountains. Soon after they began their invasion of Czechoslovakia, the Nazi leaders began urging the Hungarians to participate and attack Czechoslovakia from the south. Hungarian Foreign Minister and German Foreign Minister exchanged a series of diplomatic messages on the matter but the Hungarians nevertheless delayed their invasion. Despite having signed the Bled Agreement on , the Hungarians nevertheless feared military response from Romania and Yugoslavia if they invaded Czechoslovakia. The Hungarian Army, which was completely unprepared for war and lacked ammunition and modern weaponry, would need additional time to mobilize. They also saw a diplomatic advantage in waiting until Czechoslovakia had disintegrated before making their move.
At 09:30 in the morning on 22 October 1938, the Slovak State (Slovak: Slovenský štát) was established in Banská Bystrica by Vojtech Tuka, the leader radical wing of the Hlinka's Slovak People's Party (HSĽS). Tuka and Alexander mach also issued a declaration stating that "Slovakia was not at war with the German Reich", and that the Slovak people had to act in their best interest since the Czechoslovak Republic de facto had ceased to exist. President Beneš and Prime Minister Syrový, who had been evacuated to Turčiansky Svätý Martin in Slovakia along with the government and Parliament, condemned the declaration, calling it a breach of the Prague-Bratislava Agreement of 28 September which had stipulated plans for reforming the unitary Czechoslovak state into a federative republic. Accusing them of high treason, Beneš ordered the arrest of Tuka, Alexander Mach and 150 other members of the radical wing of the HSĽS. When the leading HSĽS members Karol Sidor condemned Tuka and Mach's reckless actions and urged Slovaks to join the Czechs in the fight against the German aggressors, the uprising was defeated, and both Tuka and Mach were arrested later that day. Later that day, Tiso, with some hesitation, also criticized the actions of Tuka and Mach.
While the uprising was quickly defeated, the damage was done. The same day Horthy and Prime Minister Imrédy issued a joint declaration that Czechoslovakia had ceased to exist, releasing Hungary from its obligations under the Bled Agreement and the Treaty of Trianon. According to the declaration Hungarian troops would act to "protect the Hungarians who live in Felvidék from the anarchy" of the War which had begun on 1 October. German and Polish troops had invaded the country.
"
Earlier today, Slovak nationalists proclaimed the dissolution of the Czechoslovak state and the establishment of an independent Slovak state. As a result, Prague, as the capital of Czechoslovakia, no longer exists. The Czechoslovak Government has disintegrated, and no longer shows any sign of life. This means that the Czechoslovak State and its Government have ceased to exist. In the same way, the Agreements concluded between the Kingdom of Hungary and Czechoslovakia at Bled have ceased to operate. Since our fellow Hungarian brethren in Felvidék now are threatened by all manner of hazards as a result of this anarchy, the Hungarian Government, who has hitherto been neutral, cannot any longer preserve a neutral attitude... In these circumstances, the Hungarian Government have directed the Royal Hungarian Army to order troops to cross the frontier and to take under their protection the life and property of the Hungarian population who live in Felvidék and unite them with their brethren.
— Prime Minister Bela Imrédy, 22 October 1938.
"
The headquarters of the 1st and 2nd Army informed that of the German 14th Army that Hungarian forces would cross the Hungarian-Czechoslovak frontier the following day. After securing guarantees from Italy and Germany, Hungary thus informed Yugoslavia (as they had done earlier that year) that they were willing to relinquish all claims to the territories ceded to Yugoslavia as part of the Treaty of Trianon in return for Yugoslavia's assurance of neutrality in the event of a Hungarian-Czechoslovak conflict, with guarantees from Germany and Italy of the settlement.
Opposing forces
Hungary
The peacetime strength of the Royal Hungarian Army (Magyar Királyi Honvédség) in 1938 comprised 85,000 men in 14 infantry brigades, two cavalry brigades and two motorised brigades. During the Sudeten Crisis in September 1938, the Hungarians had taken some measures to prepare for a potential conflict. The reservists taking part in the Hungarian army maneuvers in the border regions, which were completed by 15 September 1938, were kept in active duty instead of discharging them back to civilian life. On 26 September 1938 the Hungarian Government ordered the partial mobilization of three classes of reservists, increasing the Army's size to about 190,000 men. To the south of the Czechoslovak border the had deployed four mixed brigades along 30-50 km mobilized units deployed four brigades combined (1st, 2nd, 6th and 7th), which represented the strength of approximately 100,000 men. After pressure from Germany, the First and Second Armies were constituted on 5 October 1938, and were activated on 13 October. First Army, with headquarters in Budapest and commanded by Lt.Gen. Vilmos Nagy, comprised 1st and 2nd Mixed Brigades, the 1st Cavalry Brigade and 1st Motorized Brigade. Second Army, with headquarters in Miskolc and commanded by Maj.Gen. András Littay, comprised 6th and 7th Mixed Brigades, 2nd Cavalry Brigade and the 2nd Motorized Brigade.
The Hungarian Army suffered from severe deficiencies. The terms of the Treaty of Trianon severely limited the size of the army (35,000 men) and the amount and type of equipment the fledgling army was allowed. The treaty forbid Hungary modern mobile troops and tank units, artillery pieces over 105 mm in caliber and an air force. Their army's equipment consisted mostly of surplus arms and equipment, most of them dating from or before the First World War. After control was relaxed somewhat, Hungary began in 1927 – surreptitiously – to expand her army and her armaments industry slightly, to prolong the basic training period for the lower ranks, and to perfect the training of the officers.
In 1927 the army was reorganized, with seven mixed brigades (1st in Budapest, 2nd in Székésfehérvár, 3rd in Szombathely, 4th in Pécs, 5th in Szeged, 6th in Debrecen and the 7th in Miskolc) and two cavalry brigades (1st in Budapest and the 2nd in Nylregyháza). The armed forces now slowly began to expand. The infantry and cavalry were reorganized, some heavy artillery batteries were added to the artillery corps, and a few airplanes were bought from Italy in secret. The manufacture of airplane engines was also started on a small scale.
After several minor reorganizations, it became clear that a long-range plan was called for. The first of these plans was known as the Előd Plan of 24 October 1932. The Előd Plan provided for the raising of 21 infantry divisions (each with nine infantry battalions and 12 artillery batteries); increasing the size of mobile units, increasing the size and strength of Border Guard units and the modernization of all equipment. The objectives were only slowly achieved, and over the next six years the Hungarian Army was only slowly rebuilt. Standardization of equipment and training was inadequate. Most equipment was still left over from World War I, and from various other sources. By buying from Italy in 1935, Hungary was able to obtain weapons not allowed to be produced within its own borders. Initially, there was much controversy within the military as to the source of weapons to be bought for Hungary, but the political and economic ties, as well as Italian membership in the victorious dictating nations of Trianon, decided the matter in favour of the Italians.
Following German example, Hungary had on 15 March 1938 announced a five-year plan for industrial expansion and rearmament, which coincided with the Huba Army Expansion and Moblization Plan (as part of the Army Reform Plan) replacing the old Előd Plan on 5 March 1938. With the signing of the Bled Agreement on 29 August 1938, the Huba Plan came into effect on 1 October 1938. The Army Expansion was planned in three stages:
Huba I (to become effective on April 1, 1940)
Huba II (to become effective on March 1, 1941)
Huba III (to become effective on March 1, 1942)
Huba I envisaged a peace-time army of 107,000 men and 250,000 men when mobilized, comprising three armies, seven army corps with 21 infantry, two motorized, two cavalry as well as one river and one air force brigade, completed by a three division strong Border Guard. However, during the Hungarian mobilization of September-October 1938 the armed forces was still governed by the old Előd Plan. As a result, the Hungarian Army comprised in October 1938 of seven mixed brigades (comprising two infantry regiments, an artillery battalion, a bicycle battalion and a cavalry company), two cavalry brigades (comprising two Huszár regiments, two bicycle battalions, one horse artillery battalion and one armoured reconnaissance battalion) and two motorized brigades (one motorized infantry regiment, one artillery battalion, two bicycle battalions and one armoured reconnaissance battalion).
The Hungarian Army, because of the their own industrial capacity's limitations, were forced to seek to Italy and Germany for military equipment. Italy supplied Hungary with trucks, artillery tractors, artillery and 151 Ansaldo CV35 tankettes (renamed 35.M Ansaldo in Hungarian service) delivered in 1934 (one piece) and 1936. Germany delivered various trucks, artillery tractors and other transport vehicles, as well as artillery. Despite this, the army was still lacking in motorization and mostly horse-drawn, as the Italians and Germans could not cover the needs of the Hungarian Army due to their own armies' demand for transport vehicles.
The artillery had a peace time strength of 92½ batteries, of which only 15% were motorised. The corps had 63 horse-drawn light field gun batteries with 100 mm and 105 mm equipment (mostly 14/A.M) as well as seven horse-drawn batteries with 14.M 149 mm equipment. The two motorised brigades and the two cavalry brigades had three batteries each, for a total of 12 motorised batteries.
The Royal Hungarian Air Force (Magyar Királyi Honvéd Légierö, MKHL), which had been developed clandestinely between 1928, was by 1935 being expanded and reequipped with more modern combat aircraft. By 1938 the MKHL had 293 aircraft, and comprised two fighter regiments, one bomber regiment (as well as one bomber group officially known as airmail group), one independent long-range reconnaissance group and five short-range reconnaissance squadrons attached to each mixed brigade.
Following the Anschluß both Germany and Italy increased their assistance to the MKHL. A small Luftwaffe mission headed by Generalmajor Alexander Löhr (the former Austrian Air Force commander and now the commander of ) was sent to Hungary to direct and staff both the flying schools and the operational units, and included flying and technical instructiors, specialists in tactics and organisation, as well as other personnel. The Luftwaffe mission recommended reorganising existing training facilities and establishing new schools. The mission also acted as advisers to air staffs and individual operational units. Meanwhile, the DRT (Délolaszországi Repűlő Tanfolyam, "South Italian Flying Course) was initiated in Italy, a program which trained 200 Hungarian pilots between 1938 and 1940.
Air Force equipment were acquired mainly from abroad, supplemented with some domestic production. Italy supplied fighter aircraft (90 Fiat CR.32s delivered in 1936) and bombers (20 Caproni Ca.101), while Germany supplied bombers (66 Junkers Ju 86K-2s), short-range (36 Heinkel He 46s) and long-range reconnaissance aircraft (16 Heinkel He 70s). The Hungarian manufacturer Manfréd Weiss also produced Fokker CV Ds under Dutch license, which were being replaced by the Weiss WM-21 Sólyom, and the WM-16.
Hungarian Order of battle – October 1938
Unit
Garrison
Commanding Officer
Deployed
Note
1st Mixed Brigade

---

1st Infantry Regiment

I. Battalion/1st Infantry Regiment
II. Battalion/1st Infantry Regiment
III. Battalion/1st Infantry Regiment

2nd Infantry Regiment

I. Battalion/2nd Infantry Regiment
II. Battalion/2nd Infantry Regiment
III. Battalion/2nd Infantry Regiment

1st Bicycle Battalion
1st Cavalry Company
1st Artillery Battalion

1st Battery
2nd Battery
3rd Battery
1st Artillery Observation Battery
1st Mortar Battery

1st Signal Company
1st Supply Company
1st Motor-Transport Company

Budapest

---

Budapest
Szolnok
Budapest
Budapest
Budapest
Budapest
Budapest
Budapest
Budapest
Vác
Komáromujváros
Budapest
Budapest
Budapest
Budapest
Budapest
Budapest
Budapest
Budapest

Maj.Gen. Milán Temessy

---

North of Budapest.
Czechoslovakia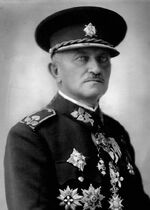 3rd Army (Codename: Štefánik) under the command of General of the Army Josef Votruba with headquarters in Kremnica.
The army was tasked to defend Slovakia and Carpatho-Ruthenia between the confluence of the rivers Danube and Morava at Devín to the Czechoslovak-Romanian border at Královo nad Tisou (Ukrainian: Korolevo) against a possible Hungarian attack, thus having to defend a frontline which was 574 kilometres long. The main force was deployed along the line Levice – Krupina – Lučenec, as the Šahy – Fiľakovo was the most vulnerable sector from a Hungarian attack in the direction of Nitra and Levice.
comprised three corpses (VIIth Corps, as well as XV and XVI Border Zones) with four Border Areas (Hraniční oblast), which were units with the size of a division: 39, 40, 41 and 42. In reserve Votruba had two infantry divisions (10th and 11th) and the 3rd Fast Division (3. rychlá divize), with 16 LT vz. 35 tanks, 8,615 men, 2,526 horses, 72 heavy and 200 light machine guns, 21 anti-tank guns, six mortars, 23 howitzers, 745 cars and trucks, 186 motorcycles and 765 bicycles.
In total the 3rd Army comprised 117,228 men, 33,000 horses, 1,049 heavy and 6,413 light machine guns, 438 guns and howitzers, 189 mortars, 138 anti-tank guns, 56 light anti-aircraft guns and 28 tanks. The army also disposed of one armoured train (No. 3) and four improvised armoured trains (No. 39–42). The 3rd Army, similarly to the rest of the Czechoslovak Army, was heavily reliant on animal-powered transport.
The defenders could also count on the border fortifications, which had been built in areas without major river obstacles. In total there were 1,812 light pillboxes (Lehké opevnění, LO), of which 44 were LO vz. 36 pillboxes and 1,768 were the improved LO vz. 37 (Řopík) pillboxes. Besides these, eight heavy bunkers (srub, blockhouses) had been built on the Petržalka bridgehead at Bratislava and three at Komárno.
The 3rd Army's air component was commanded by Colonel Jaroslav Skála, and comprised the III./3rd Squadron at Chtelnica (with three flights of Avia B-534 fighter aircraft), three flights (10th, 13th and 16th) of Letov Š-328 light reconnaissance/bomber aircraft at Tardošked, Spišská Nová Ves and Velká Lúka, as well as one flight (64th) of Aero A-100 light reconnaissance/bomber aircraft at Tri Duby. In total Skála had 34 fighter aircraft and 50 reconnaissance/light bombers at his disposal.
Czechoslovak Order of battle – October 1938
3rd Army
Codename
"Štefánik"
Commander
General of the Army Josef Votruba
Chief of Staff
Col. Bedrich Kratochvíl
Headquarters
Kremnica
Unit
Codename
Commanding Officer
Headquarters
Note
VII. Corps
"Hurban"
Div.Gen. Josef Mánek
Vráble
Responsible for the defence between Devín (confluence between Morava and the Danube) to Vyškovce nad Ipľom, in total 196 km.
Border Area 39 (HO-39)

---

Infantry Regiment 39 (I.–III.)
Border Battalion 50
Infantry Regiment 23 (I.–II.)
Infantry Regiment 12 (I.–III.)
Border Battalion 31
Artillery Regiment 8 (3rd Battery/I., II. and III.)
Mixed Reconnaissance Unit (SPO) 39

Including a of 3 LT vz. 34 tanks

Tankette Platoon 14
Armoured Car Platoon 3
Armoured Train No. 3
Improvised Armoured Train (IOV) 39
Engineer Company 55
Signal Battalion 39

"Rafael"
Brig.Gen. Miloš Žák
Galanta
Responsible for the defence between Devín – Bratislava – Petržalka – Dunajska Streda – Komárno – Kravany nad Dunajom, in total 138 km.

Most of HO-39s defensive positions were along the Danube, with the exception of the bridgehead at Petržalka on the western bank of the Danube.

Smaller Hungarian attacks were expected at the bridges over the Danube at Komárno and Parkan.
Air Force units subordinate to the 3rd Army
Commander
Colonel Jaroslav Skála
Head of Operational Staff
Major Emil Deutsch
Head of anti-aircraft defences (OPL)
Colonel Josef Janisch
Head of Logistics
Colonel Karel Dymeš
Unit
Commander
Base
Aircraft type
Note
III./3rd Squadron

---

37th Flight
38th Flight
39th Flight

Lt.Col. Alois Kubita

---

Chtelnica

---

Chtelnica
Chtelnica
Chtelnica

 

---

Avia B-534
Avia B-534
Avia B-534

III./3rd Squadron had a total of 34 Avia B-534 fighter aircraft and 41 pilots.

37th Flight: 14 pilots, 11 aircraft.
38th Flight: 14 pilots, 13 aircraft
39th Flight: 13 pilots, ten aircraft.

10th Flight
Maj. Ladislav Bartoš
Tvrdošovce
Letov Š-328
17 pilots, ten aircraft. Subordinate to VII. Corps.
13th Flight
Maj. Robert Goldberger
Spišská Nová Ves
Letov Š-328
20 pilots, ten aircraft. Subordinate to HP-XVI.
16th Flight
Cpt. Ota Čížek
Velká Lúka
Letov Š-328
16 pilots, 11 aircraft. Subordinate to HP-XV.
64th Flight
Sn.Cpt. Augustín Blažek
Tri Duby
Aero A-100
17 pilots, ten aircraft.
Soviet Union
According to the Czechoslovak-Soviet Treaty of Mutual Assistance of 16 May 1935, the Soviet Union was obliged to assist Czechoslovakia in a conflict with Germany, on the condition that France did the same. However, while the USSR mobilized and quickly declared their willingness to assist Czechoslovakia, would prove difficult for several reasons. The best rail connections between the Soviet Union and Czechoslovakia went through Poland (Tarnopol–Bohumín and Kamenets-Podolsk–Przemyśl–Lupkovský Pass–Humenné–Prešov), but Poland refused to grant the USSR transit rights. While Romania was less hostile to the USSR, and had earlier in the year turned a blind eye to Soviet flyover of SB-2 bomber aircraft headed for Czechoslovakia, the Romanian railway connections were of poor quality and located. No rail line provided a direct connection between the Soviet Ukraine and Czechoslovakia, and all lines in the area were single track. Any troop transports through Romania would as a result be time consuming.
As a result, the only real support the USSR could provide short-term was air support. On 22–23 September a Soviet delegation lead by General Yakov Smushkevich had traveled to Czechoslovakia to inspect air bases in Slovakia (including Tri Duby and Spišská Nová Ves) and Pardubice, after which he said the USSR could deliver up to 700 aircraft. The Soviet People's Commissar for Defense, Kliment Voroshilov, reported on 28 September that by 30 September the USSR would be prepared to dispatch, "in case of necessity", a contingent of aircraft to Czechoslovakia: 123 light bombers and 151 fighter aircraft from the Belorussian Military District, 62 light bombers and 151 fighter aircraft from the Kiev Military District and 246 light bombers from the Kharkov District; a grand total of 548 planes.
Following the Soviet declaration of war against Nazi Germany on 3 October, preparations were quickly made to dispatch the planned 548 aircraft to Czechoslovakia. On 6 October the first 12 SB-2 bombers and 18 Polikarpov I-16 fighter aircraft of the Kiev Military District arrived in Svaľava and Mukačevo, from which they moved on to the air bases in Tri Duby, Spišská Nová Ves, Tvrdošovce as well air bases in Moravia. By 18 October 235 fighter aircraft and 169 bomber aircraft had been dispatched to Czechoslovak air bases, of which 101 fighters and 88 bombers remained at the Slovak air bases Tri Duby, Spišská Nová Ves and Tvrdošovce.
Hungarian invasion of Czechoslovakia
Losses
Aftermath
Occupation
10 November, following the Czechoslovak defeat at the Battle of Topoľčany, German and Hungarian forces gained full control over Czechoslovakia. At first, the occupied territories were placed under military administration.
On 14 March 1939 these regions, referred to by Hungary as the "Recovered Northern Territories" (Hungarian: Félvidék), were formally incorporated into Hungary and were given full representation in the Hungarian Parliament, although representatives were to be nominated by the Parliament rather than elected.
The Hungarian authorities established concentration camps for Czechoslovak resisting the Hungarian annexation. As part of the "systematic magyarisation" of these territories, Hungarian political parties and patriotic organisations were encouraged to be active in Slovakia and Carpatho-Ruthenia, which resulted in discrimination against "less-desirable elements" of the population such as Slovaks, Ukrainians, Czechs and Jews. Discrimination extended to education and communication, where Hungarian and German were the only languages permitted in almost all secondary schools, and books, newspapers and periodicals in the Slovak and Ukrainian language were virtually banned.
See also
Community content is available under
CC-BY-SA
unless otherwise noted.